If you're looking for the best scope for .22LR squirrel hunting, you have bumped into the buying guide that will shed light on the top seven picks on the market. We'll also help you figure out the things to look for when trying to compare your options.In this buying guide, we'll also discuss important information on the things that make a riflescope for squirrel hunting special.
With this information, you will be able to study your options well and determine the most important features to check for the right purchase. If you're ready, let us go ahead and discuss the things to find in your sighting tool for hunting.
Best Scope for 22LR Squirrel HuntingReviews of 2022
Simmons 3-9x32mm .22 Mag(R) Matte Black Riflescope
One of the things I'm impressed with about the Simmons riflescope is its high-quality fully-coated optics. This scope delivers the sharp images you desire. Now, couple this with the HydroShield lens of this scope and you have bright and clear pictures under any weather conditions.
I also like the quick target acquisition eyepiece that the Simmons riflescope has. This helps you acquire target fast. Its consistent eye relief is a plus. It protects your brows from impact and prevents eye strain. The Simmons riflescope is generally easy to mount which I find convenient. This scope even comes with rings to secure and hold your scope together. Adjustments in this quality rifle scope can also easily be done with the SureGrip adjustments this scope offers.
The quality and durability of the Simmons riflescope is one you can trust for long-term use. This scope is waterproof, fog-proof and recoil-proof. It is designed to give you the longevity you want in your product so you can utilize it for a long time.
Let's not forget to mention the beautiful appearance of the Simons scope low price scope. I particularly like its black and matte finish for a more beautiful scope perfect for even the most expensive firearms.
The only downside is that the Simmons riflescope is difficult to hold zero requiring you to make frequent adjustments.
Pros
QTA eyepiece
Fully-coated optics
Consistent eye relief
Includes rings
Waterproof and fog proof
Overall, the Simmons riflescope is the best .22 scope for squirrel hunting for your shooting needs. It will help you significantly improve performance on the field.
Bushnell Optics 2-7x32mm Drop Zone-22 BDC Rimfire Riflescope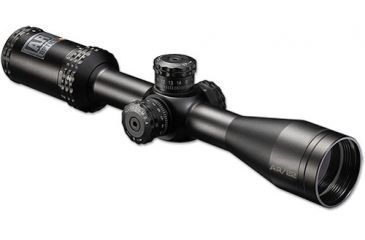 One of the wonderful features of the Bushnell riflescope is its AR Optics. The optics in this scope are fully multi-coated. It provides bright and crisp images to ensure accuracy. It also has an anti-reflective coating to reduce glare for optimal accuracy.
The Bushnell riflescope also has the scope power for squirrel hunting and a fast-focus eyepiece which I like. It is easier to acquire targets. Not only that, but this scope also provides a side focus parallax adjustment which makes it easier to focus at targets even at long distances.
The target turrets that the Bushnell riflescope has is another plus. It allows fast and precise adjustments at any shooting position. This generous eye relief that this scope has makes it comfortable for the eye.
The quality of the Bushnell budget riflescope is guaranteed. This scope is sturdy and compact. It is made of high-grade aluminum alloy for a long-lasting scope. It is also O-ring sealed and nitrogen-purged which prevents entry of any elements to your scope. It is fog proof and waterproof. If you want a long-lasting scope, this scope is perfect for you.
However, as to the downside of the Bushnell riflescope, its construction is quite heavy which some shooters might not prefer.
Pros
AR optics for bright and clear images
Fast-focus eyepiece
Generous eye relief
O-ring sealed and nitrogen-purged for complete protection
Fog proof and waterproof
Overall, I would highly recommend the top rated Bushnell riflescope for our shooters who wants a scope with great accuracy but without breaking the bank. The coolest scope is reliable, works well and affordable.
BARSKA 3-9×32 Plinker-22 Riflescope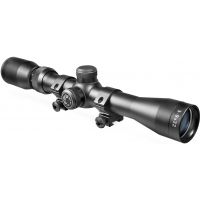 The Barska riflescope features fully multi-coated optics which is preferred. This scope offers bright and clear images for uncompromised performance. It also offers a 3-9x magnification to help you aim and shoots at target accurately at any distance.
The turrets in the Barska .22 rifle scope is great. Its windage and elevation turrets allow easy and precise adjustments while in action. It offers generous eye relief to provide comfort to your eye.
I also like the durable construction of the Barska riflescope. It is made of high-grade materials and is waterproof and fog proof. But even with its durable construction, the Barska riflescope remains lightweight. It is perfect for hunting and target practice. The Barska riflescope comes with dovetail rings and scope caps which makes it even better.
For its design, I like the black and matte finish of the Barska riflescope. It looks great and complements well with any rifles even the most expensive ones.
However, the downside of the Barska riflescope is that the rings included in this scope do not properly fit. But these can be easily replaced.
Pros
Bright and clear optics
Windage and elevation turrets allow fast adjustments
Durable and lightweight
Comes with dovetail rings and scope caps
Cons
Rings do not fit properly
Overall, the Barska riflescope is an excellent choice and reliable scope that can guarantee unparalleled performance for our dedicated shooters.
Nikon ProStaff 4-12x40mm Rimfire Scope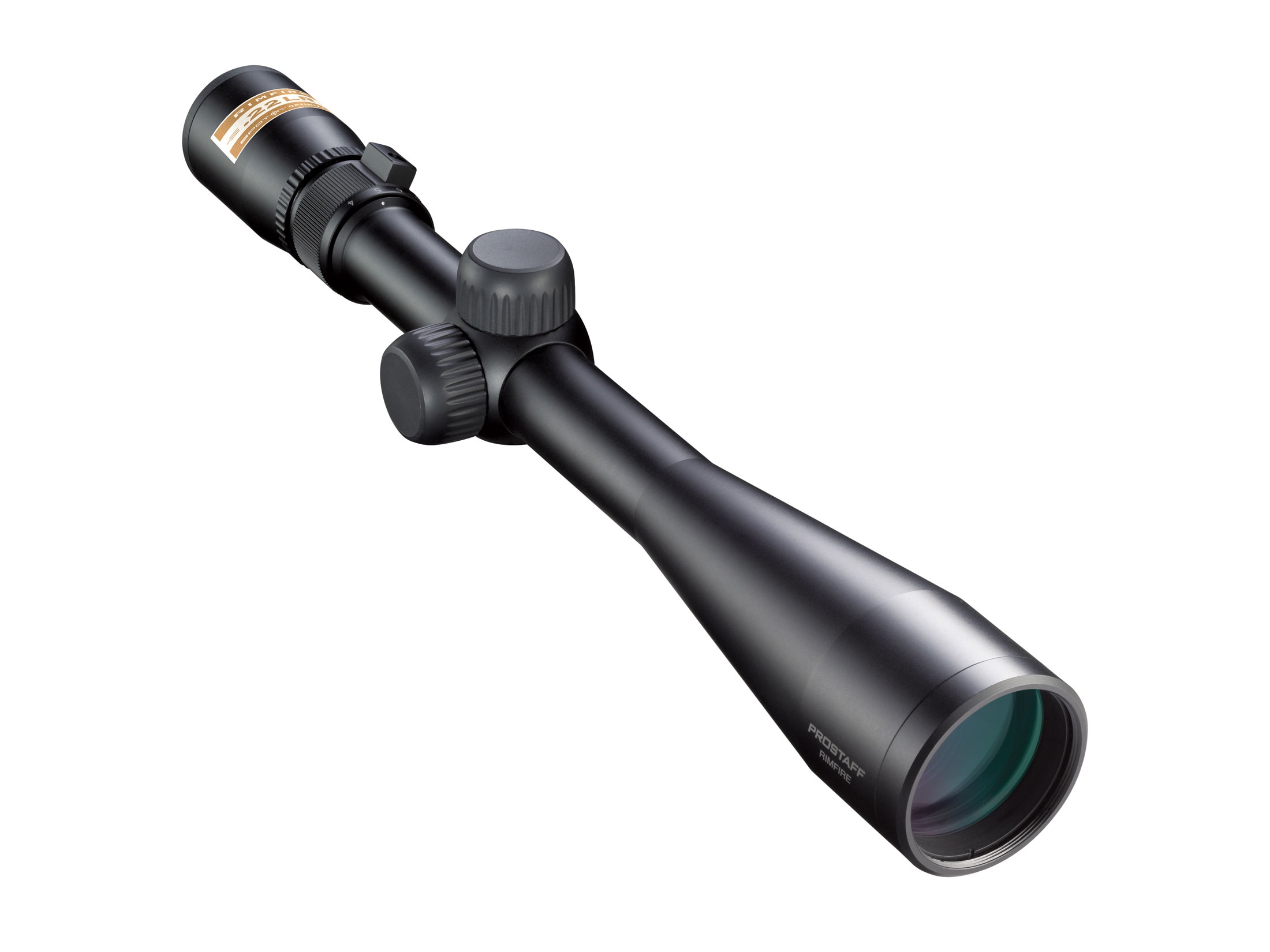 The reticle and fully multi-coated optical system of the Nikon ProStaff Rimfire allow you to have a perfect sight of your target. It is anti-reflective. Images are more clear and bright for optimal performance. Its optimum light transmission is perfect, especially under dim light conditions.
The Nikon ProStaff Rimfire also hold zero pretty well. It features instant zero-reset turrets which allow the shooter to make a frequent adjustment and reengage with easily. The Nikon ProStaff Rimfire is ideal for long-range shootings. It has a magnification range of 4 to 12x for accuracy at various distances. Its generous eye relief offers protection for the eyes from recoil and eye strain.
The quality of the Nikon ProStaff Rimfire is also uncompromised. It is nitrogen-filled and O-ring sealed for protection for your scope. The stylish scope is waterproof, fog proof and shockproof for optimal performance under any outside conditions. If you want a scope that is sure to last, then the Nikon ProStaff Rimfire is perfect for you.
The downside of the Nikon ProStaff Rimfire, however, is that it has no side focus parallax adjustment.
Pros
Spot On Ballistic Match Technology with optimum light transmission
Fully multi-coated lens
Instant zero-reset turrets
Durable construction, waterproof and fog proof
Generous eye relief
Cons
No side focus parallax adjustments
Despite that, I think the Nikon ProStaff Rimfire is a high quality scope. It has great features and does what it is intended. It is a well-made scope at an affordable price point. It allows a shooter to enjoy and perform the greatest on the field.
Leupold VX-Freedom 2-7x33mm Rimfire Riflescope
Leupold VX-Freedom Rimfire Riflescope
amazon.com
Check price
Model #174179 - VX-Freedom Rimfire 2-7x33mm Riflescope with a Rimfire-MOA reticle and Matte finish
100% Waterproof, fogproof, and shockproof.
Parallax adjusted for 60 yards, ideal for rimfire cartr...
The Leupold riflescope uses Twilight Light Management System. This system provides industry-leading brightness and clarity. It has an optimal light transmission and reduces glare for optimal performance under different lighting conditions.
Its rugged durability makes the Leupold riflescope a good investment. It is made of premium quality materials. It is 100% waterproof, fog proof and shockproof. Its lens is of military standard and scratch-resistant. It is also proven and tested to withstand extreme climate exposure. This scope is guaranteed to deliver heavy-duty performance.
Aside from its quality, the Leupold riflescope looks beautiful with its black finish. It is a perfect addition for whatever rifle you have.
Adjustments can be easily made with the ¼ MOA finger click adjustments of the Leupold riflescope. Windage and elevation turrets are efficient and easy to access perfect for frequent adjustments as the situation requires.
For its downside, however, some users said that they're unhappy with the brand's service of repairing and replacing items for their scope.
Pros
Twilight Light Management System for HD quality
Durable construction for a long-lasting scope
Beautiful appearance
Make easy adjustments with ¼ MOA finger click adjustments
Cons
Negative feedbacks about repairing and replacing process of the brand
I would highly recommend the Leupold riflescope. It offers relentless performance. It is good quality and rugged durability. The scope is completed with great features to let shooters enjoy on the field. It is certainly one of the finest choices on the market. You should check it out if you're looking for very nice scopes for your rifle.
Vortex Optics Diamondback 2-7×35 Rimfire Riflescope
The build quality of the Vortex optics diamondback riflescope is off the charts. It is a solid one-piece tube made with durable aluminum material. It is argon gas purged and O-ring sealed to secure your scope. It is also fog proof and waterproof for a lifetime relentless performance.
The image quality of the Vortex optics diamondback riflescope is also uncompromised. It has a fully multicoated lens for the HD quality images you aspire. It has great light transmission which ensures bright images even until dusk.
You can also trust the fast focus eyepiece of the Vortex optics diamondback riflescope to help you acquire targets fast and accurately. You can also easily adjust the magnification of your scope using the magnification adjustment ring. This helps you focus on targets at various distances.
The windage and elevation turrets of the Vortex optics diamondback riflescope offer great advantage allowing you to make frequent adjustments while in action. The turrets also allow you to reset to zero after sight-in.
As for its downside, the Vortex optics diamondback riflescope, however, does not have a generous eye relief which some other shooters might find inconvenient.
Pros
Rugged durability, waterproof and fog proof
Fast focus eyepiece and with good scope magnification for squirrel hunting
Fully multi-coated lens
Windage and elevation turrets allow frequent adjustments
Overall, the Vortex optics diamondback riflescope is of good quality, reliable and affordable sighting tool for a squirrel hunt. With this scope, your enjoyment and relentless performance are guaranteed. It is what you need if you are a serious hunter.
TASCO Rimfire Series 3-9x32mm .22 Riflescope
First off, the TASCO rimfire riflescope is designed beautifully. It has a beautiful black with matte finish. This can suit any type of firearm you own.
The TASCO rimfire riflescope is guaranteed to deliver clearer visuals and images. It sports a magenta multi-layered lens coating and fully-coated optics. It reduces glare, balances contrast and offers optimum light transmission for bright and clear images at any time of the day.
Another advantage that the TASCO rimfire high-quality .22 rimfire scope for squirrel hunting offers is its wide magnification range. This is particularly perfect for changing light, weather and environmental conditions. It allows you to aim and shoot more accurately under different conditions and distances.
The TASCO rimfire high-quality .22 rifle scope for squirrel hunting also offers a 50-yard parallax setting. This feature is convenient for you to make adjustments for a clearer image, especially for long-range shooting.
You can also trust that your budget-friendly scope will last for many shooting sessions with its rugged durability. Its durable construction is 100% waterproof and fog proof so you can be assured that your scope will perform under any outside weather conditions.
The TASCO brand's reliable and responsive customer service is another plus.
As for its downside, the rings included in the TASCO rimfire riflescope would not hold properly but you can easily replace them for ones that fit perfectly.
Pros
Beautiful design
Bright and clear optics
Wide magnification range
Rugged durability, 100% waterproof and fog proof
Responsive customer service
Cons
Rings included would not hold properly
Overall, the TASCO rimfire riflescope is one of the most reliable .22 scopes. With its great features, it offers unmatched performance for the devoted shooters and definitely one of the finest high quality scopes.
What Makes a Great Scope for 22LR Squirrel Hunting?
Squirrel is one of the most popular targets in hunting sports. It is important to understand the scopes for squirrel hunting if you're serious about this sport. It is also imperative to weigh your options in getting the best scopes that suit your hunting needs. Since squirrels are quick-moving creatures, you need to be a precise shooter with the help of a reliable riffle. The following article will guide you in choosing the scopes for squirrel hunting.
What does it make for a great scope for .22LR squirrel hunting? Some hunters would say it depends on your hunting habits and the time you're out to hunt. But there are general rules on what to consider finding the best scopes for squirrel hunting.
First, a .22LR should be of high-quality and durable. It must be fully coated with optical glass for precise magnification and view. As for the view finder, some hunters find it helpful to have a sharp and bright imaging feature with high contrast. Equipped with multi-layer and anti-reflective optical finish, it will be easier for you to focus without the glaring sunrays.
It must be made with a durable one-piece tube that can endure all types of weather. It means it must be water and fog proof. The material should be sturdy enough when mounted and shockproof as you need to be firm as you fire.
It should have adjustable mounting rings for you to fine-tune the position of your .22LR when eyeing for the target. As for the grip, you should seamlessly fit your hand within, even when you're wearing gloves. Most .22LR available in the market has a rubber surface for a sure-grip feature.
What Magnification Do You Need?
The magnification requirement for the best scopes for squirrel hunting depends on your optical condition and the distance you usually get from the target. It is one of the most vital specs that you should consider in buying scope for your .22LR squirrel hunting. The magnification refers to how far you could enlarge the target to focus before firing. It is composed of the eyepiece focal length and the focal length of the eyepiece.
There are several magnification specifications for different brands. But the general rule of the thumb is, the safest distance for magnification and object in terms of millimeter is 3 mm to 9mm x 32.
It is advisable to pick a scope with longer magnification lengths. Some scopes start at x7 and can magnify up to 40. Some are maxed at 7x. The catch here is for you to have the scope tested first before purchasing. Simply look into the eyepiece and try to rotate the focusing ring for you to determine how far you can go in terms of distance. Some professional hunters prefer scopes that can see through 150 yards. This is quite a distance but if you have a clear and precise magnification, your target will be as clear as 5 yards away.
Factors to Consider when Buying a Scope for 22LR Squirrel Hunting
Choosing among the best scopes for squirrel hunting is important, especially if this is your first unit. There are several points you need to factor in before buying one. Here are some:
Clarity and accuracy
Choose the best one with the clearest eyepiece and the most accurate magnification as this will determine your chance of successful shots. It is also better to get the unit with a wider target view.
Features
The features of the best scopes for squirrel hunting is based on the materials they are made of. Some scopes are made from aircraft materials – making them more durable, weatherproof, and well, a little bit expensive. But scopes like these can really last for years.
You should also consider its stability and how well they mount on the rifle. You should consider a scope that really fits well with the rifle you use. It will shake if it's too wide or too big or small for the rifle.
When it comes to features, you should always consider the grip and feel once the scope is mounted on the rifle. Some scopes have rubber handle for easy grip.
Price
Perhaps one of the most important things to consider apart from the clarity and accuracy is the price. As of today, the most widely reviewed scopes are affordable. Price may vary depending on the material, focal length and magnification, and of course, the brand. Although you can still find affordable scopes with good quality in the market – you just need to be crucial and patient in looking. And of course, you can always read product reviews for pros and techs when it comes to scopes.
User friendly
It is important to have a riflescope that is easy to use. No matter how high tech the scope is based on reviews, if it's not easy to use, then it's not that good. What is important here is that you will be able to focus well on the target without too much effort.
Clear and bright picture
The main objective of a scope is to see your squirrel from the distance – and not only to see it from afar but to see it well and accurately. Some of the best reviewed scopes available in the market are the ones with anti-glare features. This feature allows you to see the target clearly without squinting your eyes due to harsh sunrays. Also, consider an anti-fog optics. This allows you to see and shoot clearly even during frosty weather.
Low Maintenance
Lastly on the important things to consider in buying scope for .22lr squirrel hunting is the type of maintenance that the unit would need. Choose a scope that does not need to much care keeping. This will be an outdoor equipment so it must be durable and sturdy and not too fancy.
Above all of these considerations, you should understand that no matter how clear and accurate your scope is, there will always be outside factors that could affect your shooting. Remember that .22 caliber bullets are lighter than most other bullets, so the wind and humidity may have some effect on the accuracy of your shot.
Conclusion
Finding the best scope for .22LR squirrel hunting can be less time consuming with a clear picture of the things you need to know when searching for this special scope. We're hoping that you will be able to study your options using the information we have presented earlier.
You should compare the top choices on the market with the factors to check when looking into the different scopes on the market. Again, don't forget to check for accuracy, price and ease of use features, to name some. With an idea, you can make a more informed decision. Buy the right sighting tool for squirrel hunting today!
Post ID: zRzzemB9Y
Category ID: lMb9k43
The responses below are not provided, commissioned, reviewed, approved, or otherwise endorsed by any financial entity or advertiser. It is not the advertiser's responsibility to ensure all posts and/or questions are answered.