The .308 Winchester is as a fully powered rifle, making it ideal for both moderate and long-range shooting—but you have to combine it with the best scope in order for it to deliver what it promises.
With the right scope for the .308 caliber rifle, you can truly enjoy all of the benefits that the rifle has to offer, including aerodynamic shooting, comfortable weight, economic power consumption, and multiple-use capabilities. The .308 can also eject cleanly, guaranteeing a kill.
For the best performance, you must invest in a quality scope that is compatible. Start with a review of the top 11 scopes for the .308 Winchester rifle.
The 11 Best Scopes for the .308 Winchester for 2022
Vortex Optics Crossfire II 3-12×56 AO Hog Hunter Riflescope
Due to its incredible performance and dependability, the Vortex Optics 3-12×56 Crossfire II is one of the top-rated scopes for the .308 rifle. Primarily constructed for serious shooters and hunters, this scope excels in low light. That's because this scope's V-Brite reticle, as well as its large objective lens, increases your confidence when taking shots.
Additionally, this scope comes with various pieces that improve its performance, including a long eye relief and a forgiving eye box. Both of these features can help you achieve a quick sight picture and target acquisition. Due to its exceptional fast-focus eyepiece, you can also focus the reticle with speed and ease. This scope comes in a single tube made of strong aircraft-grade aluminum. With its nitrogen-purged and O-ring-sealed design, this construction makes the scope shockproof, fog-proof, and waterproof.
Another reason to fall in love with this .308 scope is the built-in, adjustable objective lens. This valuable feature offers proper image focus, while letting you remove or adjust the parallax. You can also take advantage of clear and bright views provided by its fully multi-coated lens. The anti-reflective coating also boosts light transmission to near perfection.
Pros
Perfect for low-light hunting
Long eye relief guaranteed
Good fog-proofing and waterproofing features
Offers proper image focus and the ability to adjust or remove the parallax
Provides clear and bright pictures
The Vortex Optics 3-12×56 Crossfire II is one of the best investment that a hunter or shooter can make. It has a rugged and tough build that promotes multiples uses: shooting or hunting.
UTG 3-12X44 30mm Compact Scope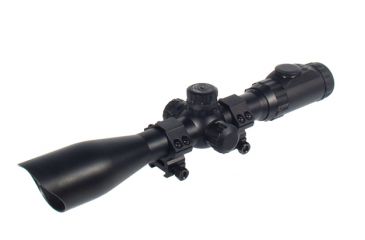 In terms of compact scopes, nothing can beat the quality of the UTG 3-12×44 scope. This scope is one of the best pieces of equipment in its price range, and it is appropriate to use for long-range shooting, as well as professional hunting and shooting. One of the best traits of this compact and reliable UTG scope is its amazing optic that suits various rifles, including the AR-10, AR-15, and .308 rifles.
Several of its features make shooting and hunting easier. Thanks to the innovative illumination-enhancing reticle, this scope can support multi-color models and personalized illumination. It even features a spectrum, which provides up to 36 colors. This will suit all of your environmental preferences and requirements. Additionally, the high-quality optics in this scope have multi-coated lenses with an anti-glare, angled sunshade.
Furthermore, the construction of this scope provides great strength and durability. For a highly accurate target-aiming experience, the zero-locking and zero-resetting target turrets let you make quick adjustments on the field. It also comes with a limitless parallax adjustment, which contributes to the accuracy of shots—no matter what the target distance is.
Pros
Supports multi-color models and personalized illumination
Great low-light performance guaranteed
Fog-proof, waterproof, and shockproof
Comes with a limitless parallax adjustment
Comes in a compact size
Cons
Slightly heavy for its size
FSI Sniper 6-24x50mm Riflescope
More suitable for hunting, the FSI Sniper 6-24x50mm uses T6 aircraft-grade aluminum, which showcases its ability to handle heavy recoil. Aside from being fog-proof and waterproof, this scope can also resist reflection, glare, and abrasion, thanks to its O-ring seals, nitrogen-filled barrel, and multi-coated optic system.
This scope has a rugged body and features turrets that promote precise adjustments. In other words, you can place highly accurate shots each time you look for a game. The ball-bearing turrets are also easy to control, giving you the best feel for making adjustments. It also has lockable rings for its windage and elevation turrets. This is a big advantage, as it works in making your settings secure.
You can also take advantage of the impressive adjustable optics that let you alter the objective lens' focus to fix any distortion in the parallax. You can do the adjustment from the front, which is helpful in optimizing accuracy and clarity without any hassle. This .308 scope is suitable for long-range shooting, but the low life of its batteries require immediate and frequent replacement.
Pros
Capable of resisting reflection, glare, and abrasion
Easy to control and adjust ball-bearing turrets
Easy to secure settings, thanks to the built-in lockable rings
Suitable for long-range shooting
Can handle heavy recoil with the help of its rugged aircraft-grade aluminum body
Nikon Buckmasters II 3-9x40mm Riflescope
Nikon Buckmasters II 3-9x40 BDC
amazon.com
Check price
Extremely bright sight picture
Fully multicoated lenses
Patented BDC reticle
Generous, consistent eye relief
Waterproof, fog proof, shockproof
The simple yet solid construction of the Nikon Buckmasters II 3-9x40mm is impressive. It comes with a BDC reticle, which also features transparent ballistic circles to help long-range shooters and hunters up their ante. This allows you to retain highly accurate shots in a wide range of distances. Additionally, this reticle lets you input a range marker, which will prevent you from losing your target.
The sturdiness and the features of this scope do not disappoint its users. This scope is made for heavy use, and because it is already set at 100 yards, it does not require parallax correction. The optic is fully multi-coated, which optimizes light transmission and results in clear image quality. Additionally, the lens has anti-reflective system that has an efficiency rate of 92%.
Pros
Affordable without losing its quality
Sturdy construction, showcased by its fog-proof, waterproof, and shockproof integrity
Optimal light transmission, thanks to its multi-coated optics
Equipped with a bright anti-reflective system
Retains accurate shots with its BDC reticle
Primary Arms 4-14×44 FFP Riflescope
The Primary Arms 4-14×44 FFP is both rugged and durable, most notably due to its high-quality construction and anodized finish. It features an illuminated reticle, which promotes quick engagement, especially for close-range targets. It is equipped with a side-mounted knob for parallax adjustment, which ensures that the reticle remains free of parallax, while also providing sharp target images.
The design of this scope is what amazes its users. This scope has six brightness settings and features an off-notch that you can see in between every setting. It has a front focal design, which is known for delivering a consistent BDC, regardless of the set magnification. This scope also makes it easy for users to hold zero. It is equipped with a ring, which allows you to match the reticle to your eye. This results in a sharp reticle for each shot.
Pros
Rugged and durable structure, thanks to the quality aluminum material used in it
Shockproof and waterproof
Guarantees quick target engagement
Allows you to adjust the parallax through the side-mounted knob
Equipped with six brightness settings for your convenience
Cons
Some difficulties in putting the chevron on long-range targets
Vortex Optics Diamondback HP 4-16×42 BDC Riflescope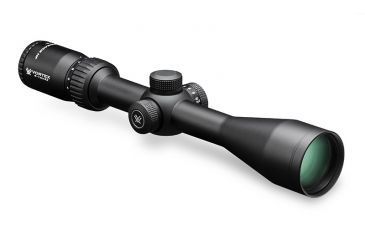 The Vortex Optics Diamondback HP 4-16×42 BDC is one of the best scopes in the market. It has a Dead-Hold BDC reticle, which is favorable for shooting or hunting at various ranges, especially when holdover estimation is a concern. Additionally, its customized dot design aids in eliminating guesswork when making windage corrections and holdover.
The versatility of this scope's reticle is one of its best features. You will find it effective to use on various firearms, such as slug shotguns, black powder rifles, rimfire rifles, and high-powered rifles. It is also equipped with a fast-focus eyepiece, which plays a huge role when it comes to focusing the reticle easily. This scope can also optimize the focus of the image and the removal of parallax through the easy-to-access side focus.
Pros
Eliminates guesswork when making windage corrections and holdover
Nitrogen-purged and O-ring sealed, making shockproof, fog-proof, and waterproof
Highly versatile reticle
Promotes ease and speed when focusing the reticle, thanks to the fast-focus eyepiece
Allows the removal of parallax through its side focus
Cons
Not equipped with extra batteries
Burris 2-7x32mm Scout Ballistic Plex Reticle Riflescope
Burris Ballistic Plex Hunting Riflescope, 2.75X-20mm
amazon.com
Check price
Designed for shooters who need a working rifle or fighting carbine and use the multi-purpose scout rifle; Finger-adjustable, low-profile turrets create a sleek profile
Forward mounting design allow...
The Burris 2-7x32mm Scout Ballistic Plex Reticle should be at the top of your list of considerations. One advantage of this scope is that it uses a lens with a diameter greater than the majority of other scopes. This results in clear pictures, no matter what the situation is. It also acts as a slim optic that offers low-to-medium magnification. This makes it possible for you to place it forward on the .308 rifle, allowing you to keep your eyes locked on field targets.
The multi-coated lens of this scope delivers amazing brightness and clarity. It has a coating that eliminates light glare, while offering incredible light transmission up to 95%. Additionally, its tightly controlled and generous eye relief provides you with a crisp and full view, without dark rings at the edges. This results in speedy target acquisition.
Pros
Promotes a high level of accuracy
Amazing brightness and clarity, guaranteed by its multi-coated lens
Uses a lens coating, which gets rid of light glare and promotes high light transmission
Generous eye relief
Cons
Not equipped with mounting hardware
Leupold VX-3i 3.5-10x40mm Riflescope
The Leupold VX-3i 3.5-10x40mm is an amazing scope that uses a Duplex reticle. This makes it the perfect scope for general purposes. It is equipped with a fast-focus eyepiece that can speedily focus your reticle deliver a target acquisition, which is locked on.
This scope is built to be strong. You can even expect it to handle air guns, slug guns, and muzzleloaders. The superb lens coating used in this scope helps increase light transmission and boost its abrasion resistance. It can also withstand recoil, due to the 6061-T6 aircraft-grade aluminum used in its construction. This scope also utilizes a system designed to provide additional minutes of shooting light, which significantly minimizes glare. With this features, you can expect premium image quality. Overall, this Leupold scope is an excellent deal that promises plenty of advanced and quality features for a reasonable price.
Pros
Built to be strong and tough while resisting fog, shock, abrasion, and water or moisture
Can significantly lessen glare, improving the quality of images
Works for heavy recoil
Compatible with various ammunition and rifles without losing zero
Plenty of eye relief provided
Cons
A bit difficult to monitor turrets revolution
Nikon P-Tactical .308 4-12X40 Matte BDC800
Nikon P-Tactical .308 4-12X40 Matte BDC800
amazon.com
Check price
The BDC 800 reticle offers Shooters unique open circles, dots and hash marks aiming from 100 to 800 yards
One inch body tube
Spring loaded instant zero resets turrets
Elevated windage and elevation...
The Nikon P-Tactical .308 4-12X40 Matte BDC800 works amazingly as a night vision scope. The matte black finish makes this scope look strong and sturdy, and the scope is compatible with a wide range of rifles.
This scope from Nikon offers several amazing features for its affordable price. Its flexibility promotes ease and convenience during each shooting session. The built-in locking and zeroing mechanisms of this scope allow it to perform well, and it guarantees a higher number of shooting sessions with a lower risk of complicating the zero.
It also makes use of spring-loaded turrets to create an instant zero that is capable of holding several ammunition magazines. By offering a good field of view and detail, the flexible zoom range satisfies the majority of hunting and shooting demands. The adjustable magnification ring is a disadvantage because it does not feature an adjustment notch.
Pros
Guarantees an almost-instant zero through its spring-loaded turrets
Can satisfy most hunting and shooting demands, thanks to the flexible zoom range
Compatible with numerous rifles
Provides up to 98% light transmission
Cons
No notch in the magnification ring for easy magnification adjustment
Nikon M-308 4-16x42mm Riflescope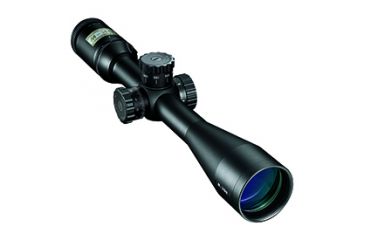 Product Info for Nikon M-308 4-16x42mm Riflescope
opticsplanet.com
Check price
Features of Nikon M-308 4-16x42mm Fogproof Riflescope:
BDC 800 Reticle - Developed specifically for the trajectory of the .308 Win/7.62 NATO Match round with 168gr. HPBT match bullet. The BDC 800 r...
The Nikon M-308 4-16x42mm performs excellently when used for elk and deer hunting. It offers shooters the user-friendly Nikoplex reticle, which is unique and distinctive. A benefit of using this type of reticle is that it is equipped with an elevation cap with markings in the form of yards. This promotes a clean look overall. Additionally, it does not cause dots and hashes to clutter your view. In fact, you can expect it to deliver an undisturbed clear view through the fine crosshairs.
Its 42-mm objective lens makes it possible for this scope to be mounted low, while still remaining large enough to offer a clear and bright image. The scope uses the aerospace-grade aluminum alloy as the main material for its body. The scope also features a multi-coated optic inside, which has reflective compound layers on every glass. This supplies bright and clear views at all times. It also has adequate eye relief.
Pros
Works well for long-distance engagements
Makes use of the unique yet reliable Nikoplex reticle
Provides an undisturbed clear view
Appropriate to use on elk and deer hunting
Fog-proof, shockproof, and waterproof interiors, showing how sturdy it is
Cons
Eye relief is slightly difficult to adjust
Trijicon VCOG 1-6×24 Horseshoe Dot Crosshair .308/175 Riflescope
The built-in first focal plane reticle integrated into the Trijicon VCOG 1-6×24 Horseshoe Dot Crosshair .308/175 is one of its best features. It is LED-illuminated, allowing it to handle long distances and close-quarter battle. The fact that it belongs to the Variable Combat Optical Gunsight (VCOG) category also offers a strong advantage, as it promotes easy target engagement.
It is built with sophistication, allowing any user to utilize it in the quick and accurate acquisition of targets. This is possible whether you are doing long-range shooting or dealing with close-quarter battles. The ability of this scope to estimate the correct range quickly, while also implementing the correct hold, is what ranks it highly.
The premium-quality glass integrated into this VCOG scope is also one of its strengths. This helps improve its ability to gather light without any distortion. With this, expect brilliant clarity and brightness regardless of the time of day you decided to use the scope. In other words, you can also easily hit your target, even when your environment is not that bright.
Pros
Equipped with a robust and sturdy housing
Can gather light without distortion, thanks to its premium-quality glass
Easy and quick target engagement guaranteed
Ideal for long-range and close-quarter battles
Easy to mount through the built-in thumb screw mount
What Makes a Great .308 Scope?
The .308 Winchester is probably the most popular hunting rifle in the United States, and maybe even the whole world. Not only does it have an excellent range (1000 yards according to the USMC), it is also one of the most consistent performing ammunition in the market today.
If you want to make the best use of its long effective range, you will need a scope that can give you a good sight picture up to 800 yards. Note that unless you are an army-trained sniper, aiming for 1000 yards is a bit challenging.
The .308 Winchester also has little recoil, so eye relief is not a priority. Still, you should not place your face too close to the eyepiece, because you might not be able to brace yourself enough to prevent the rifle from kicking back. This means that something with around 3-1/2" to 4" eye relief will be fine.
The magnification power and other aspects of the scope will depend mostly on where you will be using your rifle. If you will be using it for hunting, you need to keep the scope as lightweight as possible. When you are game hunting, you want to get as close to your target as possible. You will not risk it by shooting at it from 800 yards away. At most, you will be shooting from 150 yards, even when you are using a .308 Winchester. A scope that maxes out at 9x or 12x is more than enough for your needs.
What Magnification Do You Need?
In general, the type of scope magnification that you should get depends on for what you will be using the rifle the most. If you will be using the rifle for game, elk, or deer hunts, and you will only be shooting up to 150-200 yards, a scope with around 6-9x power will suffice. When you are hunting in the woods, your target will not be waiting for you while you make slight adjustments for windage and bullet drop, and of course, you will not be shooting from 800 yards away.
On the other hand, if you will be using the .308 rifle in the shooting range, and you will see if you can do the 1000-yard shot that USMC snipers routinely do, then you should get a scope that has a high magnification power—something that has 24x magnification range is the minimum that you should strive toward. Also, remember that something that has a BDC reticle will make taking long range shots much easier.
Should you choose a fixed magnification or a variable zoom scope? If you are out hunting, you need something that is convenient to use. Choose a hunting scope that you do not have to tweak to get a good sight picture. A fixed magnification is the best choice.
You just peek into the scope and place the crosshairs on your target and then pull the trigger—no fuss or mess. If you will be shooting in a range and you have all the time in the world to line up your shot, then a variable powered optic or variable zoom will work the best.
Factors to Consider when Buying a Scope for 308
So what are the things and factors to look out for when shopping for a good .308 scope? Here are a few:
The Correct Magnification Power Is Essential
When you are buying a scope for a .308, the magnification power is the first thing that you should check out. How much magnification you need will depend on your particular use. Note that just because a scope has a higher magnification power than another, this does not instantly mean that it is better all around.
Sometimes, you will not need ultra-high magnification power, especially if you will be using the rifle for deer, game, or elk hunting. Regarding whether or not a fixed zoom or a variable zoom is best, it is subjective. For hunting, you need your scope to have the ability to acquire the target easily the moment you peek into it.
A Large Eye Relief Is Less of a Concern
For the .308 Winchester, the eye relief is not much of a concern, mainly because it does not have quite as much recoil as other ammunition with the same effective range. With that said, it does not mean that eye relief should be completely ignored.
If you are a beginner at using a rifle, you might not be able to fully absorb the recoil of the rifle using your shoulder. This means that it, along with the scope, will have a way to go before it stops. If your eye socket is in its way, it will hurt and possibly cause serious injury. Get a scope with at least a 3-1/2" to 4" eye relief.
Keep in Mind the Weight
The weight of the scope can be due to a number of sources. Most of the time, the majority of a rifle scope's weight comes from the lenses it has inside, so you will need to make a compromise at this point.
For instance, if you want a light scope, then something that has a fixed 9x zoom with a 42mm objective lens is what you should get. It might not be usable for hitting targets 900 yards or more away, but if you will be using the scope for hunting, you will love having something that will not add any more weight to your gear.
Choose a Reticle That Matches Your Shooting Style
The reticle or crosshairs in your scope will depend on how you like to shoot. For instance, if you like shooting long distance, a BDC reticle might be good for you. These reticles have millings so that you can take into consideration the bullet-drop, as well as windage and elevation adjustments with every shot.
There are many different kinds of reticles you can choose from, and there is no one or two reticles that are actually better than the rest. It will all depend on your shooting style and which reticle you are comfortable using.
The objective lens is the one at the front of the scope, and its job is to allow light to come into the scope and give you a clearer sight picture. The bigger the objective lens is, the more light gets into the tube and the clearer the sight picture you can get. This is great when you are shooting in poor lighting conditions and you need to get a clear shot at your target.
The Objective Lens Will Minimize Extra Light
However, the bigger the lens system is, the heavier it is. You need to find some sort of middle ground so you can get the best image quality, but not add quite as much weight to your rifle. For hunting, a 42mm objective lens will do fine, although you could also get away with using 50mm, if you can find one with a fixed zoom so it will not be too heavy.
The Parallax Adjustment Is Important for Long-Range Scopes
In short to mid-range scopes, parallax is not really an issue because those scopes are already parallax-adjusted to those ranges. However, on a long-range scope, parallax is something that you have to deal with constantly.
Parallax happens when the reticle is not in the same focal plane as the target. As a result, the reticle will move about over your target when your eyes move in relation to the scope. If you are looking for a long range scope, find one with parallax adjustment. Those are the ones with a turret at the top of the tube.
Weatherproofing Avoids Damage
This is extremely important if you will be using your rifle primarily for hunting. It is quite rare that when a person goes out hunting, it will be a perfectly clear day. Most of the time, you will be hunting in the rain, thick fog, or a combination of both.
You will need a scope that can handle whatever mother nature can throw at it. Ideally, you should get a scope that is waterproof, dustproof, fog-proof, and also a bit shockproof, so you do not have to worry about banging your scope on the trees and rocks while you're hunting.
The Lens Coating Eliminates Light Reflection
The lens coating of a rifle scope enables the lenses to absorb as much ambient light as possible from low light environments, while reducing the amount of glare that will make it hard for you to aim properly. The lens coating also reduces the amount of light reflected by the lenses.
This is important because reflected light does not only add to the glare. It also gives out your location to your target. Lens coating comes in coated (single coat, single external lens only), fully coated (single coat, both external lenses), multi-coated lenses (multiple coats, single external lens), and fully multi-coated optics (multiple coats, both external lenses).
Frequently Asked Questions
What size scope should I get for the AR .308?
There are many different sizes of scopes that can fit on an AR .308, and there is not one that can be called the "best." It is purely subjective. You can use any size of scope that you want. You can even use the biggest one available if you want, as long as it does not interfere with the functions of the rifle. However, if the scope that you mount on your rifle does not suit the use that you are planning for it, then it is worthless.
The objective lens is one of the parts of the scope that dictates how big it will be. For instance, a scope with a 50mm objective lens is much bigger than one that has a 42mm objective. Although the 50mm objective scope can gather in more light, it is much too bulky for most people to use it for serious hunting. Choose the size of scope that fits your needs.
How do you sight in a rifle with a .308 scope?
It does not matter if you have a sophisticated rifle scope mounted on your .308 rifle. If it is not sighted in properly, you will not be able to use it to hit any target at any range. If this is the first you are using a rifle scope, here are the steps on how to sight it in properly.
1. Ensure that the scope is installed properly:
Almost all modern rifles available today already come with built-in mounting systems for scopes. Regardless if your rifle comes with pre-drilled and tapped holes for screwing in scope bases, or if it has a grooved rail system, like the Weaver and Picatinny rail systems, you need to make sure that the scope mounts and rings that you will get actually fits the mounting system of your rifle.
Do keep in mind that there are some scope rings that will only fit in certain types of scope bases, which is why it is of utmost importance that all your components match each other.
2. Adjust the eye relief:
Position your eyepiece so that you can see a clear image when you peek into the scope. You need to fine tune the scope and create the right amount of eye relief, which is the distance between the back end of the scope and your eye.
This is a key component to sighting your scope because you have to be sure that when you fire the rifle, the recoil will not send the scope far enough to smack you in the face and cause serious injury.
3. Set your rifle on a level shooting position:
To sight your scope properly, you need to set it on a stable shooting position. You can either use a bipod, or better, clamp your rifle on a shooting bench with a mount.
The thing about the rifle mount is that it can absorb almost all of the recoil, while still holding your rifle securely. There are many different mounts that you can choose from, but if you are going to get one, choose the one specifically designed for scope sighting.
4. Align the reticle:
Most beginner shooters do not take into consideration the alignment of their scope's reticle when they are sighting in their new scopes. When the reticles are not aligned to the directions of the elevation and windage adjustments, it is called "reticle cant."
This is important, especially for .308 scopes, because they are meant for long range. A reticle cant can result in your shots missing either right or left of the target, especially if the target is beyond 250 yards away.
5. Set the Minute of Adjustment (MOA):
Setting your scope's zero involves several steps, and it is easiest to do it in an outdoor shooting range, mainly because you will need to set targets at multiple distances that are at least 100 yards away from you. In addition, you need to keep your rifle stable, so you will need a mount for it.
Most rifle scopes allow you to adjust the crosshairs in ¼ MOA increments, which equates to ¼" movement for every click when sighting at 100 yards. Most professional hunters set their MOA to 1/8" and ¼" MOA click value. To make your bullet hit an inch, or one MOA at 100 yards, you need to turn the elevation or windage turret by four clicks. The click value increases by ¼" per 100-yard increase in distance.
6. Fire three shot groups:
Once your rifle is on a level base, fire three shot groups at the target, then take note of where your shots land on the target. Depending on your use, you might want to sight in slightly high at 100 yards away then aim at the center of the target at 200 yards—It depends on you how to set your MOA. The important thing is that you are familiar with your MOA settings so you can quickly adjust at different ranges.
7. Keep tweaking until you are satisfied:
You should try different distances and repeat the sighting in process so you can consistently hit grouped shots that are close to the bull's eye, regardless of how far they are. Keep in mind that you should not just factor in the rifle scope and distance from the target, but also the direction and strength of the wind and other environmental variables.
Nikon M-308 vs. P-308: Which one is better?
Between these two riflescopes made by Nikon, the M-308 is the higher-end model. These two riflescopes have similar features, but the M-308 has a couple of "premium" features that are not in the P-308, including the parallax setting, higher magnification, and large range of FOV and eye relief.
However, the P-308 sells for just half the price of the M-308. This is also combined with the fact that the additional features of the M-308 are somewhat niche features for long-range shooting. For value, the P-308 is the better choice of these two scopes.
Leupold Mark AR MOD 1 3-9x 40mm vs. Nikon Buckmasters II 3-9x 40mm Riflescope: Which one is better?
These two scopes from different companies have similar features. The Nikon Buckmasters II and the Leupold Mark AR MOD are both made for short- to medium-range shooting. The two also have almost identical profiles. However, the Nikon Buckmasters II is selling for just half the price of the Leupold.
The Leupold Mark AR MOD 1 was made entirely in the United States, so if you do not have a smaller budget, the Nikon Buckmasters II is one of the best scopes for the money.
Leupold VX-2 3-9x40mm Riflescope vs. Leupold VX-3i 3.5-10x40mm Riflescope: Which one is better?
These two copes made by Leupold are both good scopes, but one is much better: the VX-3i. The VX-2 does a little bit of everything. It is the kind of hunting scope that you take with you for a regular weekend hunting trip.
The VX-3i, on the other hand, has a little more to offer underneath its matte black exterior. Surely, the VX-3i is more expensive than the VX-2, but that is because it has more features.
If you are looking for a regular, reliable scope, go for the Leupold VX-2. It is the perfect choice if you want something a bit more special that can push the .308 to the test.
Conclusion
The .308 Winchester still holds the title of being the most popular ammunition today, due to its long effective range and its consistent reliability. You need to take advantage of the .308 Winchester's accuracy and consistent performance by pairing it with a long-range scope that will help you make each and every shot hit its mark.
Unlike other rifles, there is little to no contention about using a scope for .308 rifles on the market, mainly because you can only shoot accurately up to 250 yards using just the iron sights. If you want to accurately shoot targets that are 500, 700, and up to 1000 yards away, then you really need to look for the best scope for .308.
Post ID: gr22oDnvG
Category ID: lMb9k43
The responses below are not provided, commissioned, reviewed, approved, or otherwise endorsed by any financial entity or advertiser. It is not the advertiser's responsibility to ensure all posts and/or questions are answered.