The AR-15 firearm's 5.56 NATO has various potent alternatives. However, the Remington 6.8 SPC stands out as the best cartridge for universal use. The 6.8 x 43mm cartridge is ideal for shorter barreled weapons.
The 5.56 NATO/.223 Remington round's design was built for 20-inch barrelled weapons, but this isn't ideal for tighter firearm scenarios. Unlike this round, the 6.8 SPC was purpose-built to deliver optimal performance in short barrels. This means that you'll achieve a better performance when you fire 6.8mm ammunition from the universal SBR than what you'll achieve when you fire the 5.56mm from a shorter barrel.
This detailed guide offers an analysis of the most popular 6.8 SPC barrels in the market.
What's The 6.8 SPC's Preferred Barrel Length?
The 6.8 SPC ammunition was developed as a solution to the 5.56mm ammo complaints, improving the cartridge's casualty rate compared to the 16-inch barrel (M4 carbine). The 6.8 mm was created for 12- and 16-inch barrels.
The 6.8 SPC can easily push .227-caliber, 110gr ammunition from the 16" barrels up to 2,500 feet per second. This means a significant improvement in wound ballistics over the 5.56 NATO 77gr with a muzzle velocity of 2,679 feet per second.
Furthermore, reducing the barrel length leads to a decreased ballistic of the 5.56 in the AR family of weapons. The 6.8 SPC ammunition was designed for optimal efficiency in an SBR (short-barreled rifle), hence performs well in a shorter barrel.
While the 6.8 SPC performs exceptionally in the 16" barrel, the velocity will decrease with an increase in barrel length.
Reasons to Upgrade An 6.8 SPC Barrel
You already know how the barrel lengths affect the ballistics performance of the 6.8 SPC and your shooting form. However, your intended use is what determines the optimal barrel length. In fact, studies have shown that your velocity benefit can improve to about 30fps/inch with 16- to 20-inch barrel length. So the latter offers better accuracy in the long range, a higher velocity, and relatively lower bullet drop.
On the other hand, it's ideal to use the 6.8 SPC ammunition in a 12.5-inch SBR or under AR firearm setup for home and vehicle defense. But the 16" carbine is the most popular, offering between 85–90 percent of the optimal velocity. Besides, most states designate this as the shortest approved barrel length.
Consideration Factors When Shopping for a 6.8 SPC Barrel
Here are the primary consideration factors to help you find the most appropriate 6.8 SPC barrel for your needs:
Rust-Resistant Finish – Typically, barrels are constantly exposed to the elements, which may potentially weaken the structural integrity when corrosion and rust set in. You not only need a durable barrel but also one coated to deter corrosion made with rust-resistant materials like nitride and Cerakote finishes.
Build materials – The build materials used in the barrel constriction can directly impact the product's overall longevity and quality. If you're looking for the best material with excellent strength and durability, go for titanium and stainless steel.
The 6.8 SPC II Chamber – The barrel you choose must come with the improved 6.8 SPC II breech that performs better than the original. However, this isn't a big deal since virtually all 6.8 SPC barrel manufacturers offer the 6.8 SPC II chamber.
Twist Rate – This essentially refers to the distance, in inches, that the bullet must cover to complete a whole rotation. For instance, a twist rate of 1:7 means that the barrel will move seven inches for it to complete a rotation. The ideal twist rate for the 6.8 SPC is 1:11.
Barrel Profile – In essence, this refers to the barrel's overall length and width. The original pencil barrels are ideal for single shots, but they can overheat in a continuous, semi-automatic, and fully-automatic shooting. Heavier and thicker DMR or SPR barrels are ideal for this. Their longer lengths mean you'll sacrifice a little maneuverability, though. 
The 6.8 SPC Barrel Buying Guide – Which Are the Top Products?
Below is an overview of the highest-ranking 6.8 SPC barrels on the market, their features, pros, and cons:
Wilson Combat - AR-15 Recon Barrel 6.8 SPC II
WILSON COMBAT - AR-15 RECON BARREL 6.8 SPC II
brownells.com
Check price
Build Your Own General-Purpose Rifle
While many AR-style rifle builders like to put together platforms designed around a specific purpose, there's also a huge benefit to having a general-purpose ri...
The manufacturer is among the household names when it comes to 6.8 SPC barrels. Its stainless steel, 16-inch recon barrel is ideal for different tasks, from hardcore hunting to general field scenarios and plinking. Its "Recon" fluted profile boosts its robustness, and it has an enhanced cooling effect for long-string firing.
Wilson's match-grade, medium contour barrel has hand-polished feed ramps (M4 style) and gas system of mid length. It has to pass the rigorous inspection process. The established 6.8 SPC II barrel also features a precise muzzle crown comprising CNC marking and 5/8" x 20 muzzle threads.
Each recon barrel comes with its four-grove precision button that can achieve a twist rate of 1:11 that facilitates excellent performance for 85–115-grain bullets.
Bottom Line
A combination of a match-grade shorter barrel and the stainless steel construction 416R gives the barrel the advantage of increased durability and reduced mass.
Wilson Combat - AR-15 Ranger Barrel 6.8 SPC II
WILSON COMBAT - AR-15 RANGER BARREL 6.8 SPC II
brownells.com
Check price
Shave Weight from Your Heavy AR
Have an AR-15 that's too heavy and bulky to carry around in the field? Well, thanks to decades of skill and experience, engineers at Wilson Combat developed a soluti...
The Ranger rifle, a product from the venerable Wilson combat, is designed as an easily-toted, reliable hunting rifle. For this series, the manufacturer has created the Ranger, a tapered match-grade barrel that comes in both 14.7- and 16-inch variants.
The Ranger profile barrels from Wilson Combat are ideal if you seek to create a precise, quick-handling, AR long-barrel carbine. The company's 6.8 SPC II chamber uses the TR68RAMG16RT11 model that comes with a 16-inch barrel, weighing fewer than 27oz.
The construction material consists of stainless steel Type 416R for durability. It uses a mid-length gas system and comes with a .750" journal with gas block. This product also features feed ramps in an M4 style and has 5/8 x 24 muzzle threading on the barrel top.
Ranger barrel has a combination of 1.11 right-hand twist rate and six-groove button-rifling for exceptional precision with standard bullet weights ranging between 90–110 grains.
These barrels are manufactured in line with military specifications, but some users have complaints regarding wrongly cut chambers.
Bottom Line
If you wish to upgrade your current AR-15 rifle and reduce your rifle's weight without affecting the accuracy, this is the product for you. Besides its ease of carrying, the barrel also allows you to transition between targets quickly.
Black Hole Weaponry - Barrel 20" 6.8 ARP SPC II
Details about 6.8 SPC barrel NEW
ebay.com
Check price
Item specifics
Condition:
New: A brand-new, unused, unopened, undamaged item in its original packaging (where packaging is ... Read moreabout the condition
Type:
Barrel
Part Material:
Steel
Specifi...
Black Hole Weaponry was recently acquired by Columbia River Arms, but the manufacturer continues to leverage cutting edge techniques to create custom rifle barrels. If you're focused on achieving substantial accuracy enhancements, upgrading to these barrels will offer excellent value.
The manufacturer uses stainless steel 416R alongside Rockwell 27 with a polygonal rifling approach typical in H&K and Glock firearms. It also uses arch-shaped rifling to offer gentle valley and hill forms for additional accuracy, enhanced gas cutting, easy cleaning, and increased velocity.
The 20" barrel from Black Hole Weaponry features 1:11 twist rifling, 6.8 SPC II chambers, and caudle three polygonal rifling. Compared to the five-groove rifling alternative, this riffling match style allows for longer barrel precision and accuracy.
The code AR15-6.8SPC-1x11-20-CON barrel offers several contours and customized barrel fluting choices, making it highly configurable. It includes the appropriate rifle-length gas system, straight fluting, and Bull profile. It achieves good heat management and heavy barrel accuracy thanks to the 5/8" x 24 muzzle threads.
These barrels have successfully undergone MPI (magnetic particle inspections) and additional nondestructive examination. For the barrel to be broken properly, you'll have to discharge up to 50 rounds.
Bottom Line
The match-grade barrel upgrades from Black Hole Weaponry can help you maintain accuracy in continued firing.
Wilson Combat - Match Grade Barrel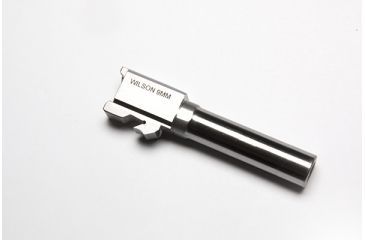 The manufacturer produces more than 40 different barrel variations classified in six favorite chambering categories.
Nonetheless, if you need to customize your general-purpose use rifle and equip it for home defense, tactical competition, or hunting, the Recon Tactical Profile 14.7-inch barrel from Wilson Combat will be ideal. The configuration allows your rifle to swing quickly and with ease with tactical gunfire while maintaining accuracy.
The manufacturing material for the medium-weight match-grade barrel is the 416R rifle-rated stainless steel, hence an ideal accessory for high rates of fire. The barrel features feed ramps in M4-style and polished bore and flawless button rifling and machining for superb accuracy. It also includes a mid-length gas system, mate bead blast finishing, and a 1:11 twist rate.
The initials SR refer to Suppression Ready, to mean its muzzle comes with 5/8×24 TPI threading to optimize the AR platform's build to allow sound suppressors. The barrels also work well in non-suppressed applications.
Ensure that you meet the 16-inch minimum barrel legal requirement. This will help you stay away from the SBR (short-barreled rifle) configuration and avoid registering your carbine in the NFA weapons category. In this case, you must attach the muzzle flash/brake hider permanently to the required lengths.
Bottom Line
If achieving precision in a compact setup is your goal, the Wilson Recon SR 14.7-inch barrel should be your consideration. Installing it on your custom rifle can be ideal for CQB situations and with a permanent muzzle brake or flash hider.
Key Takeaway
Currently, when most AR enthusiasts are focusing on high-end ARs built for a number of different duties, every project must focus on match-grade barrels as the core.
Whether your goal is to utilize your 6.8 SPC chambered AR-15 as a functional, all-around AR configuration or DMR, all these purposes require a trade-off in handling and carry weight in addition to heat absorption and muzzle velocity for maximum performance.
Post ID: YgQDQWnyM
Category ID: qEbxpYK
The responses below are not provided, commissioned, reviewed, approved, or otherwise endorsed by any financial entity or advertiser. It is not the advertiser's responsibility to ensure all posts and/or questions are answered.