Air rifle scopes can help you get more out of your shooting experiences, but a low-quality scope can be destroyed within a few shots. That's why it's important to pick a good scope that will last. To help you pick a sight for your air rifle, refer to the following review on the top 10 air rifle scopes in 2022. First, take a look at the top-rated models. Then, use the buying guide to learn how to choose the right one for you.
Best Scope for Air RifleReviews of 2022
UTG 3-9X40 1″ Hunter Scope
Because of its adjustable magnification, the UTG 3-9X40 1″ Hunter Scope maximizes your performance, even at long distances. It comes with emerald lens coatings, which improves the image quality. It can also deliver clear and bright images without blurriness, which is a common issue among other scopes.
This model is reliable for its EZ tap illumination system, along with its RGB in dual color mode. It also comes complete with accessories like lens caps, as well as weaver rings for easy and quick mounting. This scope is an excellent scope for Gamo air rifles because it features resettable turrets, which allow for easy adjustment and retention. However, this scope might be hard to adjust for some beginners.
Pros
Premium emerald lens coating
Sealed for waterproof and fog proof performance
Optimal shooting with mil dot range estimating reticle
Comes with accessories like lens caps and rings
Clear instructions
Cons
Adjustments need familiarization
UTG 4X32 1″ Hunter Scope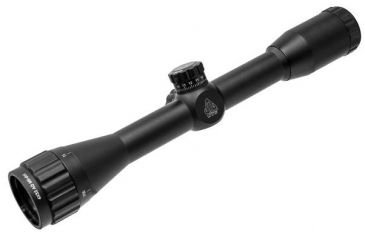 The UTG 4X32 1″ Hunter Scope is what you need to keep up with your heavy demands. If you're planning to use the sighting tool regularly, you need a heavy-duty sighting tool that can withstand rough weather conditions. The scope is nitrogen filled, meaning it is both waterproof and fog-proof.
This scope is for serious hunters and tactical shooters that want long-term use from their scope. It can offer maximum light transmission and ensure brightness and clarity. On the downside, according to some users, this scope has a few sighting issues.
Pros
Rainproof and shockproof
Fixed magnification scope
Includes finger adjustable turrets
Optimal light transmission
Sapphire coated lenses for max light transmission
Gamo 4X32 Air Gun Scope
Gamo Air Gun Scope LC4X32 with Rings
amazon.com
Check price
4 power 32mm diameter scope
Fully coated objective lens
Rings are included
Lens coating: fully coated
Reticle focal plane location: 2nd
4 power 32mm diameter scope
Fully coated objective lens
Rings...
If you want to make your airgun more accurate, you should consider the Gamo Air Gun Scope. This scope is worth the money because it is made of premium materials. With it, you can always see clearly, even in low lighting conditions.
You can also rely on the versatility of this scope—It can be used for various hunting scenarios. Also, due to its fixed 4x magnification power, this model can make your airgun more accurate. However, there were reports of blurry images for some users.
Pros
Fully coated and multiple coated lens
Includes rings and lens covers
Second focal plane
Fixed power scope
Easy windage and elevation adjustments
Hawke Vantage 3-9×40 AO 1″ Riflescope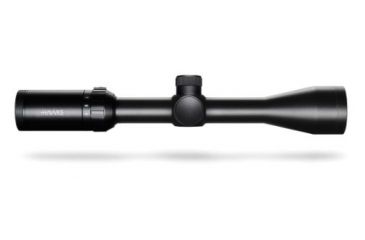 If you're looking for an excellent build quality, you should consider this scope in your selection. The Hawke Vantage 3-9×40 AO 1″ has solid and robust features that make it dependable for all hunting conditions. It comes with premium features, including fingertip target turrets with positive click for convenience. It also comes with protective caps that can ensure that these turrets are safe on the field.
This scope is also a solution for those who want a versatile and high-performance scope. It has multi-coated lenses, which can deliver superior clarity, as well as image quality and contrast. In addition, you can use the adjustable objective for parallax correction. Although it is also ideal for close shooting, some users reported issues with precision.
Pros
Low profile turrets
Versatile and high-performance scope
Superior build and quality
Side Focus Parallax
Optimal aiming and shooting points
Winchester by Daisy Outdoor Products 2-7×32 AO Air Rifle Scope
The Winchester by Daisy Outdoor Products 2-7×32 AO Air Rifle Scope is an excellent choice for those who love the outdoors and want a reliable scope with a great value. This scope is made with quality lenses that work at all times.
Additionally, it works well for short and long-distance shooting because you can adjust the magnification between 2x and 7x. With these adjustments, you can receive clear and bright pictures that improve precision. For ease of use, it also comes with an adjustable objective.
The scope has color correction and is both shockproof and weatherproof. You can use it in any weather conditions and still see clearly when the ambience is not permitting a great view. However, it can be blurry at high magnification levels.
Pros
Adjustable magnification settings
Shockproof performance
Premium crosshair reticle
Unmatched precision for improved target acquisition
Adjustments for windage and elevation
Cons
Can be blurry at high magnification
Mantis 3-9x40mm AO Mil-Dot Air Rifle Scope
Mantis 3-9 x 40mm AO Mil-Dot Air Rifle Scope
amazon.com
Check price
Product Type: Sporting Goods
Country Of Origin: China
Item Package Weight: 0.726 Kgs
Item Package Dimensions: 7.62 L X 7.62 W X 35.56 H (Cm)
Included components: Scope, Lens Cloth, Lens Covers
The Mantis 3-9x40mm AO Mil-Dot Air Rifle Scope is a great option for those who who want a reliable scope for their pellet guns. The adjustable magnification settings (3x to 9x) make it perfect for short or long-range shooting. In addition, the wide magnification range and adjustable objective makes it suitable for air rifles, too.
The quality lens offers optimal light transmission that grants a clear sight picture. With this, you can shoot with more confidence. This scope also has a mil-dot reticle that further improves shooting accuracy and precision.
Additionally, it has a standard 1-inch tube that enhances durability. This model is also one of the top scopes because it is easy to mount and use. In addition, it offers a parallax adjustment from five to infinity. However, the scope is a bit heavy and bulky.
Pros
Airgun rated scope
Variable magnification settings
Ideal for short to long distance shooting
Can be used for a regular firearm
Heavy-duty aluminum construction
Hammers 3-9×32 AO Air Rifle Scope
The Hammers 3-9×32 AO Air Rifle Scope is a model that can deal with shocks from high-powered air rifles. If you're looking for a variable scope that can offer clear and bright pictures, this is one of the best options. It comes with premium lenses and coating that create optimal light transmission in low lighting. This air rifle scope is versatile and can also be used for a magnum air rifle. The construction is made to deal with shock, but it is a bit bulky.
Pros
Built with an adjustable objective
Ideal for use even on a magnum air rifle
One-piece mount
Internally reinforced to deal with shocks
Broad magnification settings
BARSKA 3-12×40 AO Mil Dot Airgun Scope
BARSKA 3-12x40 AO Airgun, Black Matte, Mil-Dot
amazon.com
Check price
Precision Aiming: The 3-12x magnification scope features 1/4 MOA click adjustments for precision accuracy.
Quality Construction: The scope comes with fully-coated optics, providing impressive viewi...
The BARSKA 3-12×40 AO Mil Dot Airgun Scope has many desirable features. For one, its high precision is made possibly by the adjustable magnification. You can choose between 3x and 12x, depending on the situation. This scope also features easy MOA adjustments that improve precision, too.
This scope is also suitable for deer hunting because it can deliver bright and high contrast images. The quality of the construction, which is made with fully coated optics, is impressive and offers great clarity. Importantly, it also comes with an easy parallax adjustment for convenience. However, this scope can be a bit complicated to use for beginners.
Pros
Improved aiming precision
Waterproof design and build
Premium and quality construction and fully multiple coated optics
Allows target ease for its mil dot reticle
Can deal with recoil of airguns
Cons
Can be a bit hard to use for newbie users
CenterPoint 6-20x50mm Air Rifle Scopes
The CenterPoint 6-20x50mm Air Rifle Scopes is an excellent choice for its low price and precision. The easily adjustable objective lens makes it ideal for beginners. Additionally, the broad range of magnification adjustments allows you to select the perfect level of magnification.
In addition, the scope's illuminated reticle delivers bright images, and the solid construction makes it dependable for long-term use. It is also made with premium materials, which is standard among high- quality scopes for an airgun. Nevertheless, these features make it one of the best scopes available.
Pros
Tough one-piece tube
Standard TAG reticle
Easy windage and elevation adjustments
Broad magnification range for all hunting or shooting conditions
Tough to deal with shock and bumps
Can deal with the heavy recoil
TASCO 3-9X40 AO Air Gun Scope
The TASCO 3-9X40 AO Air Gun Scope is one of the top choices on the market because it is constructed for heavy recoiling airguns. This scope has fully coated lenses that allow for viewing fine details. Overall, we recommend this scope for its 3x to 9x magnification range that provides amazing clarity. However, the scope might not be as durable as other scopes on the market.
Pros
Comes with mount rings
Can withstand the heavy and reverse recoil of air rifles
Easily adjustable objective
Shockproof and fog proof performance
Durable aluminum material
Cons
Not the most durable around
What Is an Air Rifle Scope?
An air rifle scope is a durable sighting device designed to withstand the heavy recoil of a powerful rifle. Because of its tough construction, users should expect the scope to last a long time. The air rifle scope, either on a first or second focal plane, comes in two types: fixed and variable.
How Do Air Rifle Scopes Work?
The airgun scope has an adjustable objective that improves vision when hunting or shooting in low lighting. Just like a typical scope, it also attaches to a mount on your air rifle. The primary purpose of the scope is to make it easy to see the target.
What Makes a Great Air Rifle Scope?
If you're buying an air rifle scope for the first time, you might be wondering what makes a great one. These special scopes are made with high recoil resistance and can withstand the heavy recoil of an air gun or rifle. In addition, air rifle scopes are made with high-quality lenses, which translate to clear and bright images. Another thing that makes a great budget scope is its brand. You should look for a reputable brand that is trusted by many hunters, shooters, and tactical operators.
What Magnification Do You Need?
When thinking about magnification, you should base it on your shooting range. For example, some shooters might prefer 12x for shooting at 25 yards, but they might prefer 20x if the distance is more. If you're hunting, check out a scope that has a large field of view. A scope with 3x to 9x, or 4x to 16x, can work great. In general, the magnification range is a personal choice.
Factors to Consider When Buying an Air Rifle Scope
Types of air gun rifle scope
You can find two types of air gun scopes on the market, the fixed and the variable scope. A fixed scope means it has a constant magnification. The variable scope has a variable power magnification, which means you have different settings of magnification available.
Focus adjustment
It can also help if you find a sighting device that offers focal adjustment, especially if you wear glasses.
Objective lens
You should look for a scope that has quality a objective lens, too. It is responsible for collecting photons, which is useful for looking through the lens.
Magnification
You should also look for power adjustment. If you're planning to shoot at different distances, you might want to check out a scope with variable magnification ranges and adjustments.
Generous eye relief
Airguns are known for their heavy recoil. Buy a scope that has enough eye relief to protect you from injuring your eyes and eyebrows.
Lens quality
Aside from an adjustable parallax, you should also look for a scope that has quality lenses and provides bright, sharp and clear images.
Reticle types
In choosing a scope, you should also check the reticle type. For example, the crosshair type is ideal for target shooting. On the other hand, duplex reticles are very common among hunters and shooters. These reticles are notable for their thick outer lines that allow for easier viewing.
FAQ
Do air rifles need special scopes?
Yes, they do. It's better to find a scope that can offer high resistance against heavy recoil. It will also help to find a scope that has generous eye relief, which can protect your eyes and eyebrows from the heavy recoil produced by air guns or air rifles.
Are air gun scopes different?
The air rifle scope is special because of its characteristics. For example, the air rifle scope is engineered to deal with high levels of vibration and heavy recoil that an air gun or air rifle can produce. Many experts also suggest not to use a firearm scope on the air rifle. These scopes can also give you a clear focus on the target, improving target acquisition.
Can you use an air rifle scope on a real rifle?
Yes, you can. While you should not use a firearm scope on an air rifle, you can use an air gun scope on a real firearm. According to experts, they are even better because they can deal with heavy recoil.
How do you mount a scope on an air rifle?
Start by fitting the mounts on the base of the gun. When done, you can put the scope into the rings, and then tighten it. When finished, you can establish the right eye relief so that you can have a clear picture of your target. In this case, you might also move your scope to achieve it before fastening tightly. Make sure that the scope is on a level position, and that the center crosshair is up and down properly. When done, tighten the rings.
What does AO stand for in rifle scopes?
The AO means "adjustable objective." What does it mean? It just means that the sighting device has a parallax adjustment.
How do you zero an air rifle scope?
Set your chosen zero distance with your target. Then, you can shoot five pellets. Take note of the average POI before adjusting to the zero. You can repeat the process until you achieve the average POI is getting around the ball.
How do you adjust a scope on an air rifle?
First, see if the scope's top portion is too low or too high. Then, you can detach the knob's plastic cover before turning the knob clockwise. For the opposite, you can turn the knob counterclockwise. Next, you should cross check to see if the scope is correctly sighted at 10 feet. Now, you must aim at hitting the bulls-eye of your next target by releasing the gun's trigger.
Conclusion
With as many air rifle scopes that are available on the market, it pays off to spend time comparing the available models. Buy utilizing the information in this article, you'll have a clear picture of what you're buying and be able to find the right sighting device that can improve your hunting or shooting activities.
Post ID: ZgKKZDEd9
Category ID: lMb9k43
The responses below are not provided, commissioned, reviewed, approved, or otherwise endorsed by any financial entity or advertiser. It is not the advertiser's responsibility to ensure all posts and/or questions are answered.