The AR-15 is a rifle platform that is best known for its versatility, reliability, and efficiency. Fans of the AR love its modular design, which is made more astonishing by the growing number of companies providing accessories and mod kits.
One of the accessories that you can add to your AR is a good and dependable scope. If you are new to the AR platform or are not yet ready to purchase an expensive optics, then a sub-$200 scope is a good starting point. Allow us to help you choose the best AR-15 scope under $200 with this Top 10 list we prepared for you.
Best Scope for AR-15 Under $200 Reviews of 2022
Bushnell Optics Drop Zone-223 3-9x40mm Riflescope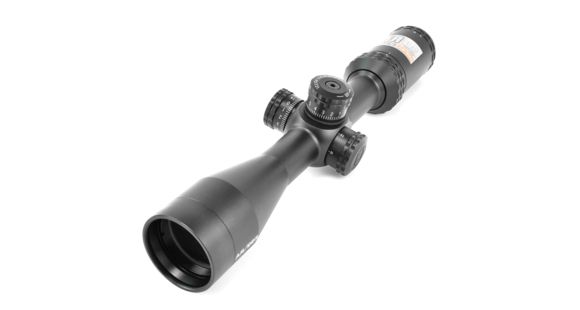 The Drop Zone-223 comes with a BDC reticle that makes it super easy to compensate your shots. Since the AR15 is well-known for its accuracy, having this Bushnell scope further enhances your rifle's performance in the field. What we love about the Bushnell reticle is the simplicity of its design. However, it is useful enough to ensure better shot accuracy.
While it can never compete with the glass of premium, thousand-dollar scopes, the Drop Zone-223 can, nevertheless, provide you with images that are as free from distortion as possible. It is remarkable what Bushnell did with this scope to make it as affordable as possible, without compromising one's enjoyment of the hunt.
The dials are crisp as they are stocky. We prefer such turret design because they are easier to dial. There is also that very reassuring click with each turn. The scope does not feel like a burden to carry, too. Its weatherproofing is also very commendable. We would never hesitate to bring this device wherever the action is.
Our gripe about the Bushnell Drop Zone-223 is its inconsistency in retaining the zero. Sometimes it works. Other times, it does not.
Pros
Clear, near-distortion-free images
Simple, clutter-free reticle
Reliable turret dials
Robust and lightweight body
Good for medium-range shooting
Cons
Unreliable retention of zero
Other than that, we could say that this scope is the best affordable AR optics for anyone who owns the rifle platform.
Nikon P-Tactical .223 3-9×40 Matte BDC600 Riflescope
Nikon P-Tactical .223 3-9x40 Matte BDC600
amazon.com
Check price
The BDC 600 reticle offers Shooters unique open circle aiming points and hash marks from 100 to 600 yards
One inch body tube
Spring loaded instant zero resets turrets
Elevated windage and elevation...
The P-Tactical provides the same level of performance and quality of construction as a thousand-dollar scope. The only thing that makes Nikon's scope a much better option for many owners of the .223 caliber AR-15 is its very nice price.
You will still get premium-quality glass that offers exceptional clarity. Whether your target is some 600 yards away or is as close as 25 yards, one can always expect P-Tactical to deliver an awesome punch. After all, Nikon never reneges on its mission to provide shooters with the best budget scope for AR-15.
The eye relief is enough. It makes peering through its crystal-clear glass so much more fun. Setting and resetting the zero are quick and easy. The turrets will never make you fumble with the dialing process.
While this is not an issue for us, we did find some people having problems with the P-Tactical's reticle. It tends to look very small when set on a backdrop that is darker than the surroundings.
Pros
Impressive glass quality for its price
Good for short- to medium- range shooting
Instant resetting of the zero
Good turret dynamics with great feedback
More than adequate relief for the eyes
Cons
Some people may find the reticle too small when shooting a target with a dark background
It would be a huge mistake not to include the Nikon P-Tactical in your consideration for the right scope for your AR. In our opinion, it is the best AR optics on a budget.
Pinty Rifle Scope 3-9×32 Rangefinder Riflescope
This low-priced scope for your AR-15 combines two types of scopes for the price of one. There is a reflex sight sitting on top of its conventional scope. The reflex sight effectively gives you the performance of a holographic sight without the hefty price. The glass is clear to provide you with amazing images.
The scope itself is not bad, either. It cannot compare with premium units, of course. The good news is that the Rangefinder can blast other scopes in this price range. The brightness of its reticle is easy to adjust. It helps you to aim at your target a lot easier in different lighting conditions.
We tested the versatility of the Pinty Rangefinder on an AR-10. Unfortunately, our test revealed that the scope sits too high. When you look from the side, the scope increases the height of the AR variant by almost two times. Removing the reflex sight can reduce the overall height. But then, doing so will defeat the purpose of having this device in your AR.
Pros
Combines the tactical efficiency of a reflex sight and the performance of a riflescope
Unique 4-in-1 design
Clear and durable optics
Adjustable brightness settings
Solid build
Cons
Sits too high on some AR variants
We now understand why people consider the Pinty 3-9×32 Rangefinder as the best budget AR scope. You get two formidable sighting devices for the price of one. Both systems also perform a lot better than what the scope's price suggests.
UTG 3-12X44 30mm Compact Scope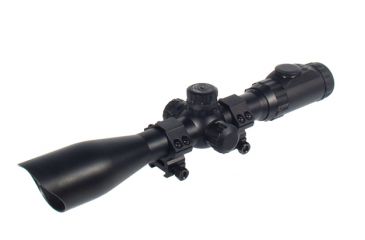 There are plenty of reasons why we believe the UTG Compact Scope is the best budget AR-15 scope. It has a powerful design that lends credibility to the AR's awesome looks. The turret dynamics also improve the accuracy of the rifle. The dials are large and you will never have to strain to adjust them according to your needs. The Compact retains its zero very well, too.
As the best AR optic under $200, we commend Leapers for making a glass that is at par with expensive devices. We noticed very minimal distortion at the 12x setting. We also found helpful the UTG's lens hood. Glare can take the fun out of any shooting situation. The Compact makes sure you get all the fun. The Mil-dot reticle does not have wavy edges. It makes for more accurate aiming of the AR.
The downside? Well, the UTG Compact is heavy. This can be a concern for those with reduced arm strength as the AR is also heavy enough.
Pros
Crystal clear lens
Repeatable turret dynamics with good feedback
Retains zero very well
Includes a lens hood for better protection against glare
Clear and easy-to-use reticle
The UTG Compact Scope is one of the best optical devices for the AR platform, if not THE best. The Compact's maximum magnification, coupled with its exceptional glass quality and efficient turrets and reticle make it a good long-range scope, too.
Vortex Optics Diamondback 3-9×40 SFP Riflescope
Many people believe that the Diamondback is the best AR scope under $200. We are inclined to agree. The scope has glass that we often see in premium devices. Yet, this device will never make you eat potatoes for a year. The lens is as clear as the cloudless sky.
It helps that the Diamondback comes with a fast focus eyepiece. You get to track targets faster, set your sights on them, and pull the trigger. It makes shooting the AR more enjoyable and meaningful. You will never have issues with the scope's zero. The only time you will have to make the necessary adjustment is when you decide to leave for another hunting ground.
The construction of the Diamondback is as tough as any other VO scope. You will never complain of fogging in the lenses or damage to its internal components.
One real issue for us about the Diamondback is its small dials. We do have stubby fingers, which can make adjusting the turrets quite difficult. It becomes more challenging if you are wearing thick gloves.
Pros
Unquestionable quality of the lenses
Very precise and repeatable dials
Solid scope body design and construction
Reliable and consistent zero retention
Good for various applications
Cons
Some people may find the turrets too small
The size of the turrets is not really a deal-breaker for most people. The Vortex Optics Diamondback 3-9×40 is still one of the most reliable budget AR scopes around.
Vortex Optics Crossfire II 1-4×24 AO SFP Riflescope
Vortex Optics' glass quality is known throughout the rifle industry and the hunting world. The glass has a premium look to it that can even put to shame some expensive brands. The lens quality is remarkable among budget AR-15 scopes.
People like the Crossfire II's V-Brite reticle. The black dot in the center of the reticle turns to red as soon as night sets in. while the Crossfire II is not a night vision scope, it does function like one. The illuminated reticle can allow you to place the crosshairs right where you want it to on your target.
We personally like the capped turrets. There is a very distinct feel to it every time you make the adjustment. The eyepiece is quick to focus and the scope body is as strong as any other weather- and terrain- conquering device.
One thing that puzzled us about the Crossfire II is its tendency to produce fisheye effects. This is most evident when your eye is not in line with the ocular of the scope. Despite this, however, the Crossfire II still provides amazing target views.
Pros
Very clear FMC glass
Clear reticle with adjustable illumination
Capped turrets for easier manipulation
Easy to focus eyepiece
All-terrain, all-weather performance
Our assessment of the VO Crossfire II 1-4×24 confirms what many people already know. It is the best AR-15 optics under 200 dollars. Its construction is reliable and its remarkable performance undeniable.
Vortex Optics Strikefire II Red Dot Sight
Like all Vortex Optics scopes, the Strikefire II comes with a reliably efficient lens. Distortions are non-existent. What you get is a device that allows you to aim and shoot as fast as the quick-drawing cowboys of the Wild West.
What is commendable in this red dot sight is the adjustability of its brightness settings. Most similar systems we have tested do not allow for brightness adjustments. Locking onto a target is very easy with the Strikefire II, regardless of how much the environmental conditions change.
We also love the caps that come with the scope. They enhance the durability of the glass.
What annoyed us a bit about the Strikefire II is the edges of its red dot. It should be a well-defined circle. Unfortunately, our test unit came with a dot that have very irregular edges. Sometimes, the dot looks more like a star twinkling at night.
Pros
Clear FMC optics
Adjustable dot brightness
Lightweight, weatherproof, and compact design
Includes lens caps for better protection
Comes with offset cantilever mount
Cons
Irregular edges of the red dot
Regardless, we still recommend the Vortex Optics Strikefire II for those who want the best budget AR optics for tactical purposes. Acquiring targets is fast and its handsome look will make your AR rifle look even more formidable. The VO Strikefire II is not only an affordable AR-15 scope. It behaves more like high-end systems, too. Its compact design also makes it ideal to mount on the AR platform.
Leupold VX-Freedom 2-7x33mm Riflescope
The VX-Freedom is a good budget AR scope. Its glass has all the characteristics of a classic Leupold, capable of delivering crisp images across its magnification range. Set it down low and you will never see unnecessary artifacts in the glass. Dial it to 7x and you will be amazed at the absence of distortions.
Part of the VX-Freedom's amazing properties is its unique light transmission technology. All Leupold's scopes have this system to provide you extended hours in the field, hunting your favorite animal. The simple reticle is a fitting reminder to what many of us often forget. The true marksmen of the past never relied on complicated crosshairs.
The Leupold's turrets are as crisp and responsive as they should be. There was also never an instance in our tests when the VX-Freedom failed to hold its zero.
Do not expect the VX-Freedom to make it easy for you to shoot over 500 yards. However, we did try it with our AR and the scope surprisingly performed beyond our expectations.
Pros
Unquestionable quality of the lens
Advanced twilight lens technology
Scratch proof and ultra-durable glass
Repeatable, precise, and crisp turrets
Simple, easy-to-use reticle
Cons
Not for long-range applications
We could run hundreds of tests on the VX-Freedom and we will still get one inescapable conclusion. This is a high-quality scope for AR-15 under $200. It can best other scopes out there in any shooting scenario and in any weather and terrain.
TRUGLO TRU-Brite 30 Series 1-6X24mm Rifle Scope
The TRU-Brite scope is ideal for AR-15 rifles because of its awesome look that can complement that of the AR platform. The scope also delivers crystal clear views of any kind of target. This helps ensure you optimize the precision and reliability of the AR. The durability of the TRU-Brite's glass can also match the longevity of your AR.
This TRUGLO creation is also very easy to mount, unlike other rifle scopes for your AR-15. It sits solidly on the picatinny rail of the rifle. We also like the TRU-Brite's reticle illumination technology. However, we did not use it as frequently as we liked since the lens of the scope already guarantees clear and bright images.
Compensating shots is also easy. The dials are very precise and they give you that reassuring feedback. The 30 Series is also easy to sight. Moreover, there is no issue of the scope ever losing its zero.
If there is anything that we would like TRUGLO to reconsider about the TRU-Brite, then that would be its weight. At more than two pounds, this is a heavyweight.
Pros
Crisp, clear, and durable optics
Precise and crisp turret adjustment
Adjustable illuminated reticle
Easy to sight and maintains its zero
Very easy to mount
We understand why the TRUGLO TRU-Brite is heavy. That is why it does not matter that much to us. If you want a good scope for AR-15 under $200, then we strongly suggest picking the TRUGLO TRU-Brite 30 Series.
Monstrum G2 1-4×24 FFP Rifle Scope
It is surprising to learn that the G2 is an FFP type of scope, considering it only costs this much. Scopes with FFP design are more expensive than those with an SFP type. One advantage of an FFP is that you get better aiming precision when you zoom in on your target. The size of the reticle also increases with the size of the image in the sights. This is perfect for ranging.
The other plus point going for the G2 is its illuminated reticle. The system does not use tritium. However, it does use a 3-volt CR2032 battery that should last the service life of the G2.
We also find the relief of the G2 to be exceptional. At 4 inches, you can still see the image very clearly without the tunneling effect. Such an attribute also makes firing the AR-15 rifle a lot safer.
Monstrum also did a splendid job with the design of the G2's scope body. It is as solid and robust as any other tactical optics we have on the field.
What saddens us about this scope is the unreliability of its turret dynamics. They do not retain their settings in an efficient and consistent manner.
Pros
Good quality optics
Clear, illuminated rangefinder reticle
Generous relief for the shooter's eye
Inexpensive for an FFP type of scope
Solid, lightweight scope body
Cons
Unreliable turret dynamics
The Monstrum G2 1-4×24 remains a good candidate for the best budget AR-15 optics. It has reliable range-finding capabilities and a performance that is good for tactical purposes.
Who Are Scopes for AR-15 Under $200 Best Suited For?
Owners of AR-15 rifles have plenty of options when it comes to the right optics for their firearm. A scope that costs 200 dollars or less is for people who are not yet fully committed to a lifetime of hunting or shooting using the gun platform. They can include people who take shooting more as a hobby.
Sub-$200 rifle scopes for the AR platform are a good choice for those who want reliable target sighting performance without spending a lot of money on such a device. After all, scopes hardly last a lifetime. They are a lot like other things in life that deteriorate with time and with increasing exposure to the elements. Spending a fortune on a scope for the AR platform is simply not worth it if the glass is not going to last if the rifle platform itself.
Hunters and tactical shooters will also like a scope for their AR-15 that will only cost around $200. The nature of their activities often exposes them to factors that can have an adverse effect on the performance of the scope. This makes such a device a better alternative than a $1000 scope or one that costs around $100.
What to Expect from the AR-15 Scope Under $200
There are many qualities that sub-$200 scopes for AR-15s share with other optical devices for rifles. There will also be differences between these scopes, between brands, and among models of scopes of the same brand. Nevertheless, a scope that costs around $200 should always have good quality and reliable optics.
Different brands may have different technologies in the making of optics that they can fit into rifles like the AR-15. However, they all have the same objective – to give you the best possible shooting experience for a fraction of the price of a thousand-dollar scope.
A good scope for AR-15s on the market also has repeatable turret dynamics. You need to be able to set and reset the turrets relative to the range of the target and the presence of other factors. While a scope for under 100 bucks can also offer you such a benefit, a sub-$200 scope should perform better.
Reliable inexpensive scopes should also maximize the characteristics of various AR-15 cartridges. Whether it is a .223 Remington, a .224 Valkyrie, or a .204 Ruger, the scope should be able to complement the ballistic characteristics of these cartridges. The scope should allow for precision aiming, very fast acquisition of targets, and exceptional compensation of shots.
You will also need the scope to perform well in various light conditions. The sub-$200 scope should prevent flooding the lens with light during the day and promote better visibility at dusk or dawn. It goes without saying that its performance surpasses that of a scope you can get for 100 dollars.
How to Choose the Best AR-15 Scope Under $200
There are different ways one can choose the best optics for AR-15 under $200. One is to read comprehensive reviews like the one we are sharing with you. The other method is to set out on your own search for the best possible scope to fit your AR-15 flat top platform. This method can be resource-draining. However, it does provide you with results that are more tailor-fit to your needs. Here's how.
Determine the Main Purpose of Your AR-15
There are people who prefer a tactical scope over a hunting optics. This is understandable, since tactical shooters have a very different set of requirements for their rifle optics. They need scopes that allow for very quick target acquisition. Hunters have different requirements. Many do not have a need for some of the advanced technologies found in tactical optics for AR15s. That is why you need to start your selection process by determining the main job that your rifle will be performing.
Assess the Scope's Optical Quality
Once you have decided on getting either a tactical or a hunting scope, you can start assessing the different characteristics of one group of scopes. The most critical characteristic of any scope is the clarity of its lens. The glass should be as clear as possible. Otherwise, you will have a much better chance aiming at a target using your rifle's iron sights. Make sure to get a low cost scope with multiple lens coating for better light management.
Consider the Size of the Lens Relative to its Use
The objective lens of a scope can help you obtain a better view of any target. Most scopes for the AR rifle have a lens size of between 30 mm and 40 mm. There are also those that offer smaller diameter lens, such as a 24mm. Lenses with smaller diameters are ideal when shooting in extra-bright conditions. In low light environments, you will need a scope with a larger objective diameter.
Choose between FFP and SFP
Your choice of the focal plane of the scope will depend on whether you will be shooting over great distances or not. A scope with an FFP will have the reticle size maintaining its proportion relative to the change in magnification. If you zoom in, you enlarge the target in your sights. This also enlarges the markings of the reticle. A scope with an SFP will retain its reticle size irrespective of changes in magnification.
Try the Magnification and Turrets
Always check the target turrets of the scope you wish to buy. They should provide you both auditory and tactile feedback to adjust easier. Also try out the magnification range. A budget scope option for your AR-15 should give you enough magnification power to hit targets within a range.
Check the Scope's Construction and Build Quality
It is also critical to inspect the overall build quality of the scope you will fit on your AR-15. It should be fog proof and shock proof. The seals should also never allow the ingress of any particle. Remember, the scope contains many delicate components. The ingress of dust particles or moisture can affect the function of these components. Do not forget to get a scope that guarantees easy mounting. Lastly, you will also want to assess the aesthetics of the scope to complement your AR-15's powerful look.
Conclusion
The best AR-15 scope under $200 shares many characteristics with high-end scopes. From the quality of the lens to the range of magnification and the responsiveness of the turrets, a scope for the AR rifle platform should enhance the different qualities of the rifle itself. It should guarantee precision and speed.
The scope should also be stylish enough to complement the modern look of the AR. The reliability of the scope's operation and performance should also be at par with that of the AR. After all, the main purpose of using a scope is to make your shooting experience more enjoyable.
Post ID: W3OOqKDyV
Category ID: lMb9k43
The responses below are not provided, commissioned, reviewed, approved, or otherwise endorsed by any financial entity or advertiser. It is not the advertiser's responsibility to ensure all posts and/or questions are answered.