Finding the best Barska scope can be a challenge for first time users who get overwhelmed by the thousands of choices they encounter on searches. This is normal, though. Even the most seasoned hunters have difficulties finding their ideal Barska scope.
To help you pick the right rifle scope for your hunting needs, we have provide reviews on the best Barska scopes. We have also highlighted the features to check when finding this kind of scope. In this guide, you will find a comparison table of the top Barska rifle scopes on the market.
Best Barska Scope Reviews of 2022
Barska 3-9×32 Plinker-22 Rifle Scope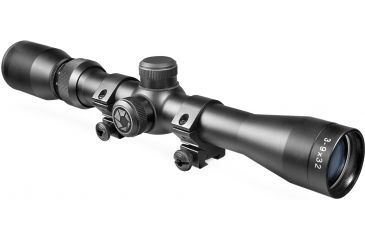 Barska's Plinker Rifle Scope features a 3-9x magnification and parallax-free at 50 yards, making it perfect for short-range shooting. The 32mm lens improves accuracy and helps you zero in targets far away.
With fully coated optics, the scope allows full light transmission for clear and sharp images, no matter the situation. Moreover, Barska's Plinker Rifle Scope has 0.25" MOA fingertip adjustment that enables you to alter magnification for more accurate sighting.
The Barska Plinker Rifle Scope is also lightweight, quality and durable. Weighing only 11.5 ounces, Barska's product is waterproof, shockproof and fog-proof. This ensures a high quality and reliable performance that can withstand different conditions.
The rifle scope comes with a set of mounting rings, a lens cover, and a cloth. The rings create a tight seal in scope, preventing debris and dust from penetrating the lens.
The only downside to this product is that some users found the free rings a bit small for their firearms. However, this can easily be remedied.
Pros
Lightweight
25" MOA adjustment that allows variable magnification
Parallax free at 50 yards
Durable and reliable
Comes with free rings, a lens cover, and a cloth
Cons
Rings may be a bit small for some firearms models
Nevertheless, the BarskaPlinker Rifle Scope remains a reliable and durable product that delivers a high-quality performance every time you use it. If you are looking for a solid and efficient plinking scope for your .22 rifles and rimfires, you should consider buying this product.
Barska 1-4×28 IR Hunting Scope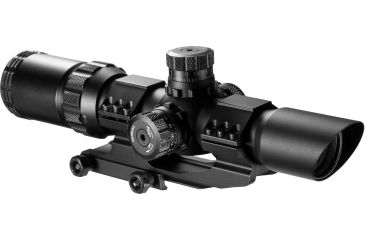 The Barska IR Hunting Scope is equipped with a high-quality optic system that provides crystal-clear and sharp images. Its zooming capabilities enable precise shooting in different ranges. The 1x magnification can be used for close-range shooting while the highest magnification of 4x allows for mid- to long-range shooting.
The Hunting Scope also comes with a mil-dot reticle, which flashes green, red and black, and helps hunters see in different lighting situations. The green light is best for day use, while the red light is best for dim environments.
The scope has fine crosshairs. However, when first purchased, you need to shoot about 10 to 20 rounds for them to zero in. But once it's done, there's no need to readjust it again.
Barska's IR Hunting Scope also comes with an angled sunshade that can reduce lens glare. This further enhances the vision and view of the hunter.
The Barska IR Hunting Scope is made of high-quality materials, which can assure you of its durability. It can withstand various weather conditions since it is shock-proof and waterproof. It also has lens covers that can prevent dust and dirt from getting in.
Barska's Hunting Scope also comes with a mount and turrets to lock windage and elevation, resulting in more stable shooting. It has two batteries that eliminate the fear of low batteries during hunting sessions.
On the downside, Barska's Hunting Scope weighs 16 ounces, which some users may find a bit bulky.
Pros
Multi-dot reticle
Illuminated crosshairs
Variable magnification
Angled sunshade
More stable shooting
Regardless of its size, Barska's IR Hunting Scope is a great investment for hunters considering its features and performance. It promises a smooth and reliable hunting experience.
Barska 6.5-20x50mm AO Varmint Rifle Scope
Barska's Varmint Rifle Scope has a zooming ability of 6.5-20 that allows users to zoom in on their targets. The multi-coated 50 mm lens allows for clearer and brighter images, no matter the environment. Moreover, the objective lenses also use a parallax correction mechanism that can adjust down to 20 or more yards.
The Varmint Rifle Scope also features a crosshair reticle, which can improve accuracy and precision in hunting. Both its magnification abilities and cross-hair reticle make it an ideal hunting and long-range scope.
This Barska precision rifle scope is true to its promise of accuracy and stability because it comes with windage and elevation turrets. These can easily be adjusted in 1/8" MOA and, and the scope gives a satisfying click whenever rotated.
Barska's Varmint Rifle Scope is also durable since it is made of high-grade materials. It is waterproof, fog-proof and shock-proof, allowing it to withstand different environments and weather situations.
The only downside to this product is that the cross-hair reticle might not be enough, especially if you are using it for long-range shooting. Some users commented that a BDC-type reticle or an illuminating mil-dot reticle would be more appropriate.
Pros
Long-range magnification
Parallax correction system
1/8" MOA
Durable and reliable
Bright and crisp images
Cons
No illuminated or BDC reticle
Nevertheless, Barska's Varmint Rifle Scope is a flexible scope, equipped with many great features. With its high magnification, parallax correction system, and durability, it allows you to hunt large or small targets without the extra effort.
Barska 3-12x50mm Huntmaster Pro Rifle Scope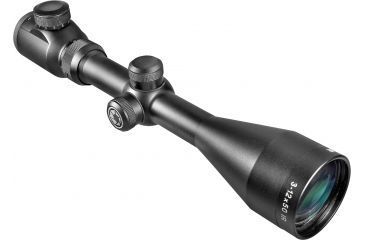 Barska's Huntmaster Pro Rifle Scope boasts a magnification capability of 3-12x, allowing users to zero in targets no matter how far the distance. Moreover, the variable magnification means a larger field of vision, making it easier to spot and track objects. This feature enables the user to see clear and sharp images.
The Huntmaster Pro also has a 50 mm objective lens for usage in dim environments. The large lens diameter allows a great amount of light to enter the scope, while the multi-coated feature reduces glares. Barska's Huntmaster Pro also has a 0.25-inch click value, allowing you to adjust magnification.
Aside from that, it comes with an infrared cross reticle that can improve accuracy during night hunts. This IR feature has 11 different brightness settings that can adjust and match to the conditions.
The Huntmaster Pro also comes with adjustable windage and elevation turrets that provide more stability and precision when hunting.
Barska's Huntmaster Pro is also durable and long lasting. It is waterproof, shock-proof and fog-proof, which can allow usage despite the weather condition. Moreover, it comes with a scope cap for further protection.
The only downside to this tactical scope is its short eye relief. Measuring only 2.7 inches, it may cause pain for some users who are not used to its recoil.
Pros
Variable magnification
Infra-red cross reticle for accuracy in dim conditions
Large 50 mm objective lens
Durable and long-lasting
11 brightness settings
Nevertheless, the Barska Huntmaster Pro is a great investment. Its top-notch technology makes it perfect to use in dim and low-light conditions. With its features and durable design, it is necessary for every hunter to have.
Barska 3-9x40mm Colorado Rifle Scope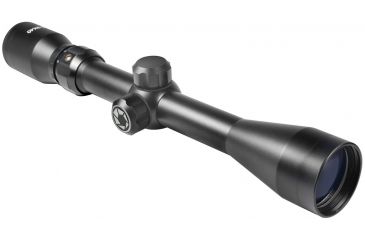 A quality rifle scope can usually be determined based on the vividness of vision that it offers to shooters or hunters. If you closely scrutinize the BARSKA CO11342 Colorado Rifle Scope, you will see that one of its best assets is the pristine vision it provides.
The construction of this rifle scope is well thought by BARSKA. It has an absolute 3-9x magnification range and a whopping 40mm front objective lens. The large size lens allows more light for a brighter view at the shooting arena.
Another feature that supports the riflescope to deliver brighter vision is its 30/30 fully coated optic. Hence, it is highly dependable to capture the aim point. In terms of field of view, it has a wide range of 100 yards.
The said item also comes with free accessories, which include scope caps and a lens cloth. This is rare among rifle scope brands, so it saves you some additional costs.
On a little weakness, this rifle scope model has some blurry vision issues.
Pros
Popular for high quality in lower price
Optics that are fully coated
Crystal clear 30/30 reticle
Durable rugged construction
With accessory inclusion (Scope Caps plus lens cloth)
Cons
Some magnification issues
In general, the BARSKA CO11342 3-9X40mm Colorado Rifle Scope is a stunning type of rifle scope that comes in a quite inexpensive price. Yet, its decency and accuracy in the shooting field are indubitable.
Barska 4×32 Plinker-22 Rifle Scope
BARSKA 4x32 Plinker-22 Riflescope Black Matte, 4x32mm
amazon.com
Check price
Precision Aiming: The 4x magnification scope features 1/4 MOA click adjustments for precision accuracy.
Quality Construction: The scope comes with fully coated optics, providing impressive viewing ...
In looking for a good rifle scope, the quality of the optic is non-negotiable. It should be clear and precise. That is one characteristic you can find to BARSKA Plinker-22 Rifle Scope. Its optics are made fully coated, so it provides maximum support for clear shooting sight.
This one-tube rifle scope has an impressive magnification range of 4x and an objective lens of 32mm. Hence, when the hunter uses it, he or she may expect vivid spots to boost the accuracy of the aim point. Another contributing factor is its 30/30 reticle, which is also adjustable for brightness. It will work up to 100 yards field of view range.
What is even better is that the Plinker-22 is free from parallax up to 50 yards. For additional ease of using this scope, it also has a ¼ MOA click adjustment. This is an advantage for elevation of turrets, as well as the windage.
There are also freebies included in the package. You can expect two dovetail rings for mounting (3/8), as well as covers for the lens and scope.
However, it is obvious that the BARSKA Plinker-22 Rifle Scope has a lower 32mm objective lens than the other BARSKA models. Its visual performance may be more limited at a given distance than other scopes.
Pros
Inexpensive yet top performer
Fully coated optic for brighter vision
With ¼ MOA click values
Water, fog and shock resistant
Free accessories included (two dovetail rings for mounting (3/8) and covers for the lens and scope)
Cons
Lower objective lens of 32mm
Still, the BARSKA Plinker-22 Rifle Scope is a superstar, especially for a maximum of 100 yards field of view. It is an effective instrument for hunting and plinking enthusiasts because of its convenient adjustable parts, high precision on targets, and durability.
Barska 3-9×40 Huntmaster 30/30 Rifle Scope
BARSKA 3-9x40 Huntmaster 30/30 Riflescope
amazon.com
Check price
Waterproof, fogproof and shockproof
Parallax free at 100 yards
Fully coated
Includes scope caps
Huntmaster line of riflescopes is made to provide target shooters and hunters with firing precision a...
One of its valuable features is 30/30 duplex reticle that can swiftly capture the subject in unfavorable shooting positions. Aside from that, it has a 3x to 9x magnification range and 40mm size of objective lens so you can see seamlessly in the scope.
Also, the BARSKA Huntmaster Rifle Scope has a fully coated optic. The one-inch tube is also adjustable for zoom to shoot properly from a mid-range station. Hence, said scope is highly functional for hunting, tactical shooting, and plinking.
The way this scope was constructed was really simple yet well strategized. It contains 1/4 MOA for turret adjustment to see the spot closer. It can reach up to 36-foot field of view and impressively has zero parallax up to 100 yards.
Its entire body looks attractive due to its silver color. While it is looking good, you can also be sure that its body and optics are made with robust materials so that it can withstand fog, water and shock.
However, this rifle scope has no other special illumination technology that can boost transparent vision.
Pros
Cheaper than the other brand but with competitive performance
Clearer coated optical vision
With ¼ MOA click turret adjustment
Water fog and, shock resistant
Attractive silver finish
Cons
No illumination technology
Overall, the BARSKA Huntmaster Silver Finish is a very competitive type of rifle scope in terms of functionality, sturdiness, style, and affordability.
Barska 4-16×60 IR Euro-30 Pro Rifle Scope
BARSKA 4-16x60 IR Euro-30 Pro 30-mm Riflescope
amazon.com
Check price
European-style riflescope that's suitable for big-game and general hunting
4A illuminated cross reticle with 11 brightness adjustments; fast-focus eyebell
Zoom adjustment ring with thumb lever; fin...
The top selling point of the BARSKA Euro-30 Rifle Scope is its European accent mixed with high-class construction to withstand large-scope hunting games. Its illuminated European 4A reticle serves as a very dependable guide to determine the exact aim point. Said reticle has an amazing 11 brightness settings, in case the shooter needs adjustments depending on the conditions.
Furthermore, the Barska AR-15 scope model promotes a heavy-duty shooting performance in inconvenient firing stations with its magnification range of 4-16x. It is also noticeable that the scope has the extra higher objective lens of 60mm. That means higher accuracy when shooting from a short- to medium-range focal point.
Another contributing factor for the efficient vision of BARSKA Euro-30 Rifle Scope is its zoom ring adjustment technology that contains a thumb lever. It is an advantage when the user wants to adjust the elevation and windage level of the scope depending on the shooting condition and distance of the target. It is easier to reach your target with this scope because of its 5/8-inch extended transparent ring.
It also contains optical technology that allows the hunters and shooters to not only nail a high performance during the game, but also during their leisure activities, such as on bird watching and fishing.
Like the other BARSKA rifle scopes, the Euro-30 Rifle Scope comes at an affordable price and is made of strong materials to withstand various weather conditions. It is crafted to be waterproof, shock-proof, and fog-proof.
However, using this rifle scope may bring the possibility of being exposed to Toluene disocyanate, or TDI.
Pros
Excellent magnification range of 4-16x60mm for short and medium-range shooting
4A IR cross reticle
Stunning European Style for big hunting sessions
Zoom, windage, and elevation adjustment ring
Water, fog, and shock-proof
Higher 5/8-inch transparent rings
Cons
A precaution for possible TDI exposure
Nevertheless, the BARSKA Euro-30 Rifle Scope is a good investment for tactical gamers due to its beautiful, durable, and cost-efficient qualities.
About the Barska Brand
Where are Barska Scopes made? These scopes are made in China by a company with offices in Pomona, California. This brand is a manufacturer of sports optics products. Barska is a trusted brand in the outdoor sports industry. One of its known product lines is precision sports optics. They also make protective travel cases, biometric safes, and other products.
The brand's scopes are known for superior quality and affordable prices. With these scopes, users don't have to shell out a big amount of money. These scopes are not only affordable, but they are also designed with the latest technology to ensure that you can use the scope for years to come.
The brand is known for manufacturing sports optics with components from leading parts manufacturers. They use top quality parts, including high-density glasses and different coating options. They are highly competitive with their dynamic supply chain. This company uniquely offers optics and products for their corporate customers.
Barska has a solid reputation in the business. It is a long-known brand that commits to offering their customers with only top-notch products at affordable prices. Their scopes are made of heavy-duty components and use great design. Regardless if you're looking for a scope to use for small or large targets, you can rely on one of the Barska optics.
Barska Scopes vs. Nikon Scopes
Both Barska and Nikon scopes are well known in the outdoor sporting industry. Through the years, both brands have been offering their customers top-of-the-line and durable scopes.
Barska optics are made in China and are offered at affordable prices. A varied price range can be found in their selection. Nikon also offers both affordable and expensive scopes. Nevertheless, prices vary based on certain things like features and reticles. Customers, however, can still choose from a wide range of scopes based on the things they're looking for in a scope.
Nikon is a known brand for making premium optics for hunting and outdoor sporting pursuits. It also has many years of experience in manufacturing top-notch optics. Just like Barska, it uses advanced technology and precise computer design.
As a result, both brands can make optics with accuracy and precision to balance light transmission along with aberration-free, sharp, and high-resolution images. Both Barska and Nikon use quality materials for building the world's best scopes.
If you want a long-lasting scope with superb features, take a look at their scopes and find a reliable scope for hunting, tactical shooting, and competitions, among other outdoor sporting pursuits.
Factors to Consider When Buying a Barska Scope
Are you looking for the best Barska optic? In the following, we're going to discuss the most important factors to consider when finding a suitable scope for you. As there are many of them on the market, buying one must be decided on carefully.
Magnification
With the right magnification, you can have a better sight picture. When choosing the correct magnification, you must also think about your hunting style and plans for using the scope. If you use a scope for the same average distances, you might want to pick a scope with a fixed magnification setting. If not, it would help to choose one offering a wide magnification range.
Objective lens
In addition to the magnification, you should also consider the objective lens of the scope. More likely, those with a larger diameter can be better in ensuring a good view of the target, even if you use the scope at night. It will also help if you're hunting in a low lighting condition. I would also like to note that you must choose quality lenses for ensuring proper performance and compatibility.
Coating
Another thing to look into when comparing your options for a Barska scope is the coating used. Good coating reduces any unnecessary lighting. It will also help focus more light for your Barska scope, especially when working in low lighting conditions. Coating materials are not the same, though. They may vary from model to model. But in most cases, higher quality coatings can also mean a higher price.
Construction
Aside from the magnification and objective lens, you should also look into the construction of the product. For the most part, high-quality scopes are those made of aircraft grade aluminum. This can mean better durability. Of course, we hunt in different terrains and conditions, so it will help if we can find a heavy-duty optics system, which can withstand heavy use.
Price
When shopping around for a Barska scope, you must also compare their prices to ensure you're not overspending. You should consider both the price and its features. Weigh your options well and consider the most useful features you need for your optics system.
Compare Barska Scopes
| | | | | | | | |
| --- | --- | --- | --- | --- | --- | --- | --- |
| Product | Reticle | Magnification | Objective Lens Diameter | Eye Relief | Tube Size | Length | Weight |
| Barska 3-9×32 Plinker-22 Riflescope | 30/30 | 3-9x | 32mm | 3.5" | 1 inch | 12-Inch | 11.5 oz |
| Barska 1-4×28 IR Hunting Scope | mil dot | 1-4x | 28mm | 4.5″ | 30mm | 10 inches | 16 oz |
| Barska 6.5-20x50mm AO Varmint Riflescope | Fine Crosshair | 6.5-20X | 50mm | 3.6″ | 1-inch | 15.95 in | 22.3 oz. |
| Barska 3-12x50mm Huntmaster Pro Riflescope | IR Cross | 3-12x | 50mm | 2.7-Inch | 1 inch | 13-inch | 21.3-Ounce |
| Barska 3-9x40mm Colorado Riflescope | 30/30 Reticle | 3-9X | 40mm | Not specified | 1 Inch | 12.8 inches | 13 ounces |
| Barska 4×32 Plinker-22 Riflescope | 30/30 | 4x | 32mm | Not specified | Not specified | 12 inches | 1.5 lbs |
| Barska 3-9×40 Huntmaster 30/30 Riflescope | 30/30 | 3-9x | 40mm | 3.3-inch | 1 inch | 12.2-inch | 12.9-ounce |
| Barska 4-16×60 IR Euro-30 Pro Riflescope | 4A IR cross | 4-16x | 60mm | 3.34 to 3.62 in | 30mm | 14.5 inches | 28.2 oz |
Conclusion
Using the best Barska scope can aid your naked eyes when hunting or tactical shooting. However, it will only be possible if you can determine which one is most suitable for your budget, shooting style, and skill level. You will be able to find the right scope using the Barska scope reviews and buying guide, which outlines the things to look for when comparing different models on the market.
Post ID: 06kkKpDnn
Category ID: lMb9k43
The responses below are not provided, commissioned, reviewed, approved, or otherwise endorsed by any financial entity or advertiser. It is not the advertiser's responsibility to ensure all posts and/or questions are answered.