The military community has not always been receptive to any changes brought about by recent technological advancements. However, the transition to sub-caliber AR-platform was widely received across the military echelons, and it is not hard to see why. The AR-15 boasts exceptional features and reliable performance out to 500 yards.
However, many gun enthusiasts face a dilemma when choosing between .223 and 5.56 ammo for their AR-15. This guide provides all the information to help you make a quick choice regarding the best ammo for you, depending on your specific preferences and needs. Keep reading to find out the best brands to get today. If you are looking for cheap high quality .223 ammo, we've written another post on the best places to buy it online here.
At a Glance: Our Best Choices for AR-15 Ammo
The Best AR-15 .223 and 5.56Ammo: Similarities and Differences
Federal Fusion Ammo 223 Remington 62gr Bonded BT
Key features:
Boasts high muzzle energy making it ideal for shooting competitions and matches
Ideal for small and medium-sized hunting games
62 grain bonded type bullets that provide reliable performance
American Eagle Ammo .223 Remington 55 GR FMJ-BT
Key features:
Full metal jacket boat tail bullets
Ideal for use with rifles marked for 5.56 NATO with guaranteed safety
Boasts versatile bullets compatible with the AR
Hornady Superformance Match Ammo .223 Remington 75GR HPBT
Key features:
Boasts a tail hollow point bullets 
Best for hunting bigger game
High-quality bullets best for long-range shooting
Features a robust BC that reduces wind drift and provides increased range
The .223 vs. 5.56 Ammo: The Features
The AR-15s are designed with larger chambers that enable the NATO 5.56 mm to shoot both the .223 Remington ammo and 5.56 safely. Typically, both ammos share the same case dimension, but the 5.56 mm mil-spec ammo operates at higher chamber pressures and acts as a +P+ ammunition. Ideally, the most common AR-15 chamber, the .223 Remington, is slightly tighter and smaller and thus not so ideal for the 5.56x45 NATO.
Apart from the differences in chambering, the AR15s made for .223 Remington have challenges with shooting heavier ammo. This means that the 77 grains (5g) and above, which are the top choices for Sport Rifle competitions, may also have problems with this type of ammo.
Another weakness to the .223 caliber has everything to do with the spiral groove inside the barrel. Notably, the AR-15 civilian rifles in .223 are typically designed to stabilize frangible varmint bullets that weigh between 490 and 60 grains. As such, their barrels cannot adequately stabilize heavy military bullets due to their standard 1:12 and 1:9 twist rates. The best barrel with .223 is therefore at 1:7 twist, and an inadequate twist often results in reduced accuracy, especially in higher distances.
Most experts recommend using rifles with a .223 Rem chamber to fire only .223 and use a .5.56 chamber to fire both a .223 and 5.56. However, when looking for competition-level accuracy, it is best to go for a .223 Wylde chamber that shoots both ammos well.
Essential Features to Look For When Buying Ammo
Buying the best ammo for your AR-15 requires that you consider many things to guarantee that you are getting the best. Before you buy any ammo, it is essential first to understand the specific characteristics you are looking for. Here are some of the things to help you distinguish great ammo from an array of available choices:
The Type of Caliber
Understanding the kind of caliber that you use is critical. Typically, the .223 round is much smaller than 5.56 NATO rounds, and during your buying processes, double-check the specific caliber that your rifle is chambered to fire. This will guide you in the choice of the ideal ammo for your rifle.
The Intended Purpose
The intended purposes will definitely influence your choice of ammo. If hunting is on your mind, go for the right ammo, especially those considered Full Metal Jacket. These rounds boast greater power and impact that can easily penetrate through thick animal skin with ease compared to the other options available out there.
Price
It doesn't matter your budget's size; you should always go for the ammo that is affordable for you. For the shooters working on tight budgets, the rule of thumb is to invest in ammo with guaranteed top quality yet affordable by relative standards. However, you should never compromise the quality just to make a small savings. Your budgets will also be influenced by your preferences depending on the intended use. If you are looking for ammo ideal for general shooting/ range training purposes with an AR-15, go for the FMJ or ball ammo. If hunting is your game, ideal ammo would be the hollowpoints/ soft points. Check out our next chapter for the best .223 ammo for AR-15.
The Best Ammo for the AR-15 In.223 and 5.56 2021 Reviews
We undertook extensive research on the best ammo ideal for your needs. Our team has tested and reviewed the following best AR-15 ammo to get you started. We focused our review on each brand's unique features, characteristics, and selling points. Check out our review to have an idea of the best ammo that meets your personal needs.
Top Overall: Federal Fusion Ammo.223 Remington 62 Gr Bonded TB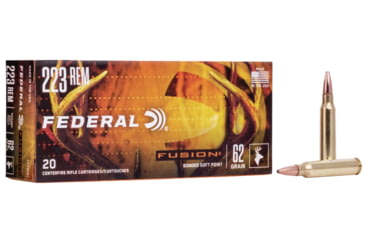 These rounds are impressively lightweight and travel quite fast, and you will have no problem shooting at targets with high precision. If you are looking for fast velocity, these rounds won't disappoint. Besides, if you are a hunting enthusiast looking for ammo to deliver exceptional quick kill shots, settle for this option. Notably, the ammo also boasts non-corrosive boxer primers that allow for reloadable cases.
Pros
Highly lightweight
Ideal for hunting needs
Powerful to penetrate deer skin
Ideal for shooting grounds
High-speed travels
Best For Whom
If you are a stickler for clean shots, this ammo is yours. It is best for hunters looking for ammo that takes down their targets without leaving a mess.
What are Recent Buyers Saying?
A significant number of new users are excited about the results that the rounds give. A user reported that the shooting groups were tighter in both short and long distances. Another noted that the ammo delivered kill shots more quickly than any other ammo he has ever used.
Bottom Line
The Federal Fusion Ammo.223 Remington 62 Gr bonded TB is arguably one of the best performing options available out there. It delivers superior precision and performance, making it a top choice for hunting deer and other big game.
1st Runners-up: American Eagle Ammo.223 Remington 55-GR FMJ-BT
The American Eagle brand provides reliable and consistent results, making it ideal for the enthusiast looking to improve their accuracy. If you are prioritizing tight shooting groups, this ammo has got you covered. It is also an ideal option to use for hunting and competitive shooting applications with your AR-15. 
The product is a low-priced option loaded with 55-grain FMJ bullets designed to reach a muzzle velocity of 3,240 fps. It is ideal for target shooting, training, and practice and boasts boxer primed, non-corrosive, reloadable brass cases. 
Pros
Extremely light in weight
Available in several counts
Ideal for more applications
Offers consistent tight shooting groups
No jamming issues and works well with an array of magazines
Best For Whom
 Definitely, this ammo is ideal for a range of purposes, including hunting to competitive shooting. Owing to its greater precision and accuracy, it is also the best ammo for people looking for accurate shooting.
What are Recent Buyers Saying?
These rounds have become such a huge hit with new users. Most users are awed with the exceptional accuracy at various distances. A user reported that although he extended tight shooting groups, the ammo delivered closer results at supercharged speeds.
Bottom Line
American Eagle ammo delivers severe damage on targets. They don't only offer high accuracy but deliver shots at insane speeds. If you are looking to achieve ultra-precise kill shots or bullseye shots, don't go past this option.
2nd Runners-up: Hornady Superformance Match Ammo .223 Remington 75GR HPBT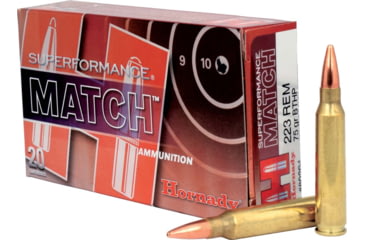 The Hornady Superformance boasts an innovative powder blend, a muzzle velocity of 2920 feet per second, increased range, flatter trajectory, and reduced wind drift. It also offers the best in class ballistic coefficient thanks to the .223 cartridge with a 75 Gr Boattail Hollow PON Match bullets enveloped with new AMP bullet jackets.
Pros
Boasts tail hollow-point bullets, best for hunting bigger game
High-quality bullets best for long-range shooting
Features a robust BC that reduces wind drift and provides increased range
Cons
Accuracy not so impressive
Best For Whom
Definitely, this ammo is ideal for general purpose. If you are working on an ultralow budget, this option may also be the best for you.
What are Recent Buyers Saying?
These ammunitions are the first choice for users looking for affordable options for general target shooting and training. A user reported that the ammo offers smooth, quick shooting with no jamming or reliability problems.
Bottom Line 
Although there are no recorded misfires or soiling incidences with this ammo, we find the accuracy a bit low. But it is still a reliable option that comes with pocket-friendly prices.
Best for Budget: Federal Lake City Ammo 5.56x45 Mm NATO 77-GR Open Tip Match
 If you are looking for ammo rounds that come all loaded and ready to go, this option is the best. They are also quite affordable and designed to be reloaded manually. Ideally, once you are through with the box, you won't have to buy another box. Its design closely resembles the renowned military MK262 SPR cartridge and features a heavy 77-grain open-tip bullet with a boat tail for a more aerodynamic profile. It also boasts a muzzle velocity of 27,762 feet per second with a muzzle energy of 1292ft. lbs.
Pros
Very affordable, suitable for a range of budgets
Ideal for several applications
Easy loading in a range of magazines
Offers tight shooting groups
Ideal for shooters who tend to reload their rounds
Cons
Cumbersome reloading
Pockets not deep enough to support reloading when reusing some rounds
Best For Whom
If you have the skill and know-how to handload AR 15 rounds manually, this ammo is best for you. It is ideal for several purposes, including hunting and training. Besides, if you are tight on budget, you will find these rounds quite affordable.
What are Recent Buyers Saying?
 Many new users were AR- 15 users who are at home reloading their rounds manually. Users report the rounds are entirely accurate and travel at impressive speeds. One user in particular says that she finds the rounds relatively easy to reload.
Bottom Line
Federal Lake City Ammo 5.56x45 Mm NATO 77-GR Open Tip Match is ideal for a budget shopper as it guarantees enormous savings. These rounds are also relatively easy to reload and suitable for multiple levels of reuse.
Best Versatile: Federal Lake City Ammo 5.56x45 Mm NATO 62-GR XM855 SS108 Penetrator
FEDERAL - LAKE CITY AMMO 5.56X45MM NATO 62GR XM855
brownells.com
Check price
Bulk-packed, new-manufactured 5.56 x 45mm NATO ammo has a 62-grain bullet with a green-painted steel "penetrator" tip over a lead core with a partial jacket. The 90-Round box and 420-Round ammo can...
These rounds are designed with a larger size than the .223 rounds. However, they are incredibly lightweight and travel at ultrafast speed to reach high distances. These rounds are arguably the best in the 5.56 NATO rounds categories. They are also ideal for many applications, including hunting, target practice, and tactical situations. Importantly, their reliability is also on another level and delivers enviable stopping power. The bullets are powerful and reach a muzzle velocity of 3100fps from a 24-inch barrel. Many gun experts agree it is one of the best ammo for self-defense.
Pros
Extremely lightweight and portable
Insanely high velocity
Easy and smooth magazine fit
Ideal for target shooting and hunting
Cons
Inconsistent shooting groups
Improperly sealed rounds
Best for whom
These rounds will fit a range of applications. It doesn't matter your intended use; it offers supernormal speeds, heavy power, and guaranteed performance. Undeniably, it is not easy finding other 5.56 rounds that duplicate its performance.
What are Recent Buyers Saying?
New users were over the moon with these rounds. They are quite impressed with the effortless loading in their favorite 5.56 NATO magazines. A user also was pretty happy with its velocity that travels very quickly to reach the intended location. The rounds also offer an outstandingly tight shooting group.
Bottom Line
These ammos offer the best performance and reliability and are ideal for several applications. If you are in the market for reliable ammo with guaranteed quick shooting with no jamming issues, pick the Federal Lake City Ammo 5.56x45 Mm NATO 62-GR XM855 SS108 Penetrator.
Key Takeaway
A lot of considerations should go into your choice of the best ammo for your black rifle. For one, decide whether the upgrade will be used for home defense, competition, hunting, recreational shooting, and many others. If hunting is your thing, go for ammo that is reliable but affordable. Ideally, you can benefit from exceptional military surplus ammo bargains. The list we have provided will definitely offer you a great starting point when shopping for suitable ammo for all your upgrades.
Post ID: pqeel0bQA
Category ID: A2kKxyW
The responses below are not provided, commissioned, reviewed, approved, or otherwise endorsed by any financial entity or advertiser. It is not the advertiser's responsibility to ensure all posts and/or questions are answered.