The .22 Long Rifle (or LR) has very little recoil that can guarantee more successive precision shots within a given time frame. Because rimfire cartridges have unique ballistic characteristics, you will need a scope that can safeguard these characteristics.
A rimfire riflescope can be very valuable. However, many of these scopes tend to be pricey. The good news is that you now can get a scope for less than $100 and still enjoy either hunting or practice shooting or both. Check out our best rimfire scope under $100 and choose the platform that will help you best in your shooting needs.
Best Cheap Rimfire Scope Under $100 Reviews of 2022
Simmons 3-9x32mm .22 Mag(R) Matte Black Riflescope
This budget rimfire scope has a good and solid build. You can instantly see the quality of the optics the moment you look through the eyepiece. Simmons added a unique coating to the lens to make it even more useful when hunting at dusk or dawn.
The parallax adjustment is also commendable. We like how Simmons set the minimum rating to 50 yards, instead of the standard 75 yards in other rimfire scopes. The turret adjustments are simple and provide very ample feedback. You won't believe how premium-feeling the turrets are considering that the scope will only cost you less than half the price of other brands. This explains why this Simmons creation is a top rated scope.
The only thing we do not like about this best budget .22 scope is the accompanying mounting rings. They look cheap and do not hold the scope stable enough. You will need to purchase good quality mounting rings if you want to take advantage of the other features of the scope.
Pros
Comes with good quality optics
Turrets that are very crisp and easy to adjust
Good coating of the lens
Parallax correction for improved sighting
Friendly on the pocket
Cons
The accompanying rings do not keep the rimfire scope in place
The cheap-looking mounting rings are not a deal-breaker for us. We can always put a good quality ring in its place. Because of its reliable performance and good quality design and construction, we consider the Simmons .22 Mag(R) to be the best .22 scope under $100.
BARSKA 3-9×32 Plinker-22 Riflescope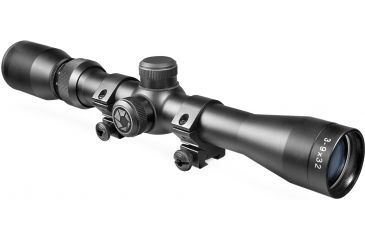 We cannot help but emphasize the design of the BARSKA Plinker. This is a scope that is ideal for target shooting. However, the company designed it in such a way that you can also use it for other purposes. The magnification range is wide and the objective lens size is large enough to accommodate varying shooting situations. The glass quality is almost like that of a high end scope It guarantees a good view of your target at the shooting range.
The BARSKA Plinker also has a very stylish design. The company integrated several aesthetic elements into the design of its scope. The adjustment knobs feel solid and they allow for more precise tuning of the optic.
We do lament the limited compatibility of the BARSKA Plinker mounting rings. There are not that many rifles that you can mount it in. This has a very easy solution, nonetheless. You can always purchase a different mounting ring that is compatible with your rifle.
Pros
Versatile design, although specific to plinking or target shooting
Accurate minute of angle adjustments
Remarkable light transmission
Rugged and reliable construction
Great price
Cons
Scope ring may not be compatible with other rifle receivers
While the BARSKA Plinker may have limited compatibility, its exceptional construction and reliable optical performance still make it a good buy.
Bushnell Rimfire Optics 3.5-10x36mm Scope
Since Bushnell is famous for its optical quality, the Rimfire Optics has no issues in this department. It performs well in various shooting situations. Go hunting and you can hit a game from long distance. If you are out to get varmints, then this best cheap .22 scope has your back, too. The large diameter of its objective lens can translate to brighter images even when the sun is already on the horizon.
The beauty of the Rimfire Optics is its Multi-X reticle. It is easy to use and looks sharper than those we see in more expensive brands. The objectives are also very easy to adjust. They feel crisp when zooming in or out of the magnification range. The fast-focusing eyepiece of this good quality rifle scope is also admirable.
Do not expect that everything is great about the Rimfire Optics. For one, its shot adjustments are very inconsistent. One time they work. Most times, they don't. At some point, it holds its zero, only to lose it again at other times.
Pros
Sharp reticle for better aiming
Reliable parallax adjustment mechanism
High range of magnification for greater versatility
Good quality optics
Good value for money
Cons
Inconsistent shot adjustments
While the Bushnell Rimfire Optics is far from perfect, it does offer people a good scope to start with their rimfire adventures. It is a cheap rimfire scope that has some of the finest qualities of premium Bushnell optics. This provides good overall value for your money.
TRUGLO 4x32mm Compact Rimfire
One of the things we admire about the TRUGLO Compact is its design. It is a fixed scope that is perfect for tactical purposes or for short range hunting. It has a large, extended lens hood that gives the scope a powerful look. You will be forgiven for thinking that it is an ACOG copycat.
The lens quality is also good. We tested the scope on several rifles and our favorite hunting shotgun. The view of the target is almost like expensive platforms. While this is a cheap .22 scope, its craftsmanship suggest that it is anything but cheap.
Speaking of craftsmanship, we like what TRUGLO did with the Compact Rimfire's body. It guarantees a glass that will never fog or form condensation. You will use the scope in whatever terrain you consider your hunting ground.
The only downside is that it does not have a parallax adjustment. This is quite understandable as the quality of its optical design already guarantees the minimization of the parallax effect. Still, having such a feature would have made the scope even better.
Pros
Awesome and powerful tactical look
Good mounting rings
Rugged scope body construction
Good quality of optics
Great for shotguns
Not being able to adjust for the parallax effect is not a big deal for us. Given the low price of this gadget and the quality of its workmanship, we think it is a good choice for anyone who wants a reliable scope when in the field.
TASCO Rimfire Series 3-9x 32mm .22 Riflescope
The brand designed the Rimfire Series to be specific to the .22 platform. However, our tests revealed that you can also mount the scope onto other rifle models, provided you have the correct mounting rings.
We like TASCO's coating of the lens as it reduces glare and reflection on the glass. This guarantees better image quality because of its enhanced light transmission. The construction of the Rimfire Series is also notable. It has a solid design and was completed with adequate protections against any external element.
It is also easy to mount and setting its zero is as effortless as a premium brand. It also surprised us that it can hold its zero, regardless of how intense our round of tests has been.
This cheap .22 rifle scope also has its flaws. Personally, I find the accompanying scope rings to be on the flimsy side. They look and feel cheap, which contradicts the premium-quality feel of the scope. This is easy to address, though.
Pros
Reflection-less lens coating for optimum clarity
Very easy to mount on rifle
Easy to zero and capable of keeping its zero
Good weatherproofing characteristics
Affordable
Cons
Low quality scope mounting rings
Having a good rimfire scope for under 100 bucks often means there is a tradeoff somewhere. In the case of the TASCO Rimfire Series, its Achilles heel is its scope rings. However, its magnification, lens quality, and specificity to a .22 rifle platform all make this scope one of the very nice scopes.
Sightmark Core SX 4×32 .22LR BDC Rimfire Riflescope
Sightmark Core SX 4x32 .22LR Rimfire Riflescope
amazon.com
Check price
22 lr-calibrated specifically for rimfire Riflescopes
4x fixed magnification
Capped resettable turrets
Single-piece 6061-T6 aluminum 30mm tube
Perfect for any .22LR rimfire Shooting application
It is possible that the Core SX is the best budget rimfire scope today. It may have a higher price tag than other under-$100 scopes we have tested. However, its construction, design, and performance suggest that it should belong to the premium rifle scope segment.
Weight is a critical factor when picking the right rimfire scope. Not only is the Core SX lightweight, it is also compact. It is unlike the scopes with very long silhouettes that can make carrying a bit fussier.
Adjusting for gravity and windage effects is also easy. The turrets feel crisp to turn. They give you that tactile and auditory feedback that other brands do not provide. And when you factor in the bullet drop compensation capabilities of the Core SX, you will know that you have a contender in your rifle.
Do take note that the Sightmark Core SX 4×32 is calibrated for the .22 Long Rifle. This can be an issue for those who want the scope for their rifles. However, if you know how to calibrate the scope to match the unique characteristics of your rifle, then it is still possible to fit this scope.
Pros
Very compact design for increased portability
Lightweight and rugged construction
Crisp resettable turrets for optimum shot adjustments
Good calibration settings for a
22 LR
Inexpensive
Cons
Not compatible with other rifle platforms
The specificity of the Sightmark Core SX should never be taken against this scope. Our tests confirmed that the Core SX is an excellent choice for those who want a good-quality, fixed rimfire scope without being prohibitive.
Hammers 3-9×40 10/22 .22 Plinker Riflescope
One attribute we like about the Hammers Plinker scope is its large objective lens. We did not expect to see this characteristic, given its affordable price. This leads to a brighter image. It makes for a reliable tool when hunting in low light scenarios.
While Hammers designed its scope to be used for plinking or target shooting, we found it more than capable as a hunting scope. Its magnification range and reliable focusing allows for more accurate aiming. We mounted the Hammers Plinker on our .22 LR and its dovetail mounting rings stabilized the platform.
While the image quality of the Hammers lens is good enough for its price, it does tend to suffer when you zoom in at the highest possible magnification. We can forgive this. What would be unforgivable is if the image quality is poor throughout the range of magnification.
Pros
Large objective lens for ample light transmission
Good performance for both plinking and hunting
Fast and reliable focusing
Good quality mounting rings
Great price
Cons
Reduced image quality at higher magnification
For obvious reasons, there will always be drawbacks to getting a cheap product. The good news about the Hammers 3-9×40 10/22 .22 Plinker Riflescope is that it offers more benefits than the actual drawbacks. It is one of the cheap .22 scopes that can provide you more than your money's worth.
Who Are Cheap .22 LR Rimfire Scopes Under $100 Best Suited For?
First-time users of a .22 LR Rimfire rifle often wonder what makes their device so different from a centerfire rifle. In general, a rimfire rifle does not have a very long range because of the unique characteristics of rimfire projectiles. These cartridges do not fire over long distances. They are also slower than centerfire cartridges. The low speed of the projectile makes it more vulnerable to windage and gravity effects. Having said that, it should now be obvious who the .22 LR rimfire scope is best suited for.
Hunters rely on such a scope for tracking and hitting a game. They often hunt at distances of between 100 and 200 yards. An excellent .22 LR rimfire scope can offer exceptional precision. That is why many hunters use a .22 Long Rifle in their outdoor activities. Fitting a scope can extend the targeting capabilities of their firearms.
People who are practicing their shooting skills can also use the .22 LR rimfire scope. The operation of such a device is very straightforward. This will allow the novice shooter to sharpen his skills in the shooting range before he goes on a hunting expedition.
And since we are talking about scopes under $100, these .22 LR rimfire scopes are great for those who do not want to spend a fortune on a device for their rifle.
Factors to Consider when Buying a Cheap .22 LR Rimfire Scopes Under $100
Determining the best .22LR scope under $100 can be frustrating for some people, especially novice rifle owners. Seasoned rifle owners will often say that there is no such thing as the "best". This is because everyone has his own understanding of what the best rimfire rifle scope should be. To help you decide on the best device to get, you need to keep the following factors in mind.
Lens Quality
Just because you have a rifle scope that costs less than $100 does not mean you can settle for a mediocre quality glass. This is where your knowledge of reputable rifle scope manufacturers can come in. Reputable companies can provide you with good quality rifle scope optics without jacking up their price tags.
If you are not sure which brand to purchase, you can go to your gun supplies store and compare the different rimfire scopes available. Look through the eyepiece and evaluate the clarity of the glass. This will help you narrow down your choices.
Parallax Adjustment
One of the key differences between a rimfire and a centerfire scope is the parallax adjustment. Makers of centerfire rifle scopes often set their parallax adjustment at 150 yards. Rimfire scope manufacturers, on the other hand, set their scopes at 75 yards.
Parallax is an optical illusion that often manifests as reticle movements. The best .22 LR rimfire scope should give you the ability to manage the optical illusion so you will have a clearer view of what you are aiming at.
Field of View
A rimfire scope is often used in hunting game. These animals move a lot. As such, you will need a scope that offers a wide field of view. This is the width of the image in the sight when viewed at 100 yards. The greater the field of view is, the better you will be in tracking moving targets. If you intend to use the scope for target shooting, then a scope with a narrow field of view will suffice. There is no need to view the surroundings of the target as it is stationary.
Keep in mind that the field of view narrows as you try to zoom in on the target. It is for this reason that rimfire rifle scopes do not have very high magnification.
Fixed or Variable Scope
Rimfire rifle scopes are best used for either hunting or practice target shooting. As such, you have a choice between a variable and a fixed scope. Hunters of specific game often use a fixed scope. It is simpler to operate than a variable type. It allows them for very quick acquisition of their target.
On the other hand, if you want a more versatile scope, then you should pick a rimfire optics that has variable magnification. You can hunt a greater number of games of various species. You can also use it in target shooting at varying distances.
Size of the Objective Lens
Think of the objective lens size as the pupils of your eyes. When it is dark outside, your pupils will widen to allow more light to enter. This allows you to "see" in the dark. The same can be said of the lens size of a scope. If it is large enough, then you will be able to see your target even if it is already dusk.
Scope Weight
Rimfire rifles are lighter than other types of firearms. Fitting a heavy scope will create an imbalance, making aiming less accurate. It is important to consider the weight of your rifle and decide on the best possible weight of scope to go with it without upsetting the weight balance.
Conclusion
The best rimfire scope under $100 not only is affordable but also allows for excellent parallax adjustment. The design and construction of the scope body should also not allow elements to enter and wreak havoc in the complex interior sighting mechanism.
The price of the scope should never have a significant impact on the quality of its optics. Inexpensive scopes will always have tradeoffs. It is, thus, important to check these drawbacks and to evaluate how they can impact your shooting adventures. If the advantages of the scope far outweigh any perceived negatives, then the platform will be a good choice for your rifle.
Post ID: o3pplR5A9
Category ID: lMb9k43
The responses below are not provided, commissioned, reviewed, approved, or otherwise endorsed by any financial entity or advertiser. It is not the advertiser's responsibility to ensure all posts and/or questions are answered.