What is the best FFP scope? On a saturated market, deciding on which one to buy can be pretty hard. It becomes harder if you're unable to compare your choices based on the scopes that are trusted by the thousands around the world.
A problem also occurs if you're unaware of the things to look for when weighing your options among the top first focal plane scopes.
To get started selecting the right FFP scope, we've prepared the following guide containing the top 10 picks each with pros and cons.
We're also writing a buying guide with the factors to consider when finding a good first focal plane scope.
Best FFP Scope Reviews of 2022
Vortex Optics Diamondback Tactical 4-16×44 FFP Riflescope
One of the things that also makes the Diamondback Tactical scope a great pick for the hunters and professional tactical operators who want a quality yet affordable optics system.
The DBK-10026 is with a first focal plane reticle, yet it is offered at a very reasonable price. It works effectively by giving you accurate and precise information about holdovers, ranging or any magnification correction you need to know. In addition, it is a 4x optical system, enhancing its performance and has solid one-piece aluminum tube for edge-to-edge clarity.
I'd also like to mention that it could deliver bright and crisp sight picture, enhancing our results. It also has glide erector system design. This model also has exposed turrets and side parallax knobs for giving us what we need for precision shooting.
However, visibility concerns were reported when used at high magnifications.
Pros
FFP reticle for accurate and reliable information
Aluminum tube housing
Sharp and clear resolution quality optics
Side adjustable parallax
Quick reticle focusing for fast focus eyepiece
Overall, it is one of the topnotch FFP scopes you will love for its quick focus eyepiece, side adjustable parallax, aluminum housing and clear images. It is a great choice for hunters, amateurs and professional shooters looking for an affordable but quality optics. It is also for you if you're looking for a dual use scope that can be suitable for tactical shooting and hunting.
Primary Arms 4-14×44 FFP Riflescope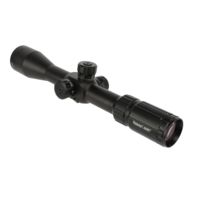 The FFP scope for 22LR is durable and rugged to work and perform on any condition. You can also rely on it no matter the weather and shooting conditions. It is your perfect choice for its cost-effectiveness that does not leave behind the ruggedness features we need for a long-lasting scope.
The optics system can also deliver bright and clear images that you can always count on for an excellent sight picture.
However, the product is not compatible for night vision, though.
Pros
Wide magnification range
Durable and rugged construction
Cost-effective for its quality
Bright and clear images
Finger adjustable turret
Cons
Not night vision compatible
Still, you will never go wrong with it because it has finger adjustable turret, deliver bright and clear image, has a durable and solid construction and cost-effective for its quality. Overall, it can be for you if you're looking for a rugged and high-performance scope that can work with and for you from dusk until dawn. Check out the Primary Arms 4-14×44 First Focal Plane if you find these things important when finding a new riflescope to add to your collection.
Bushnell AR Optics 1-4x24mm FFP Riflescope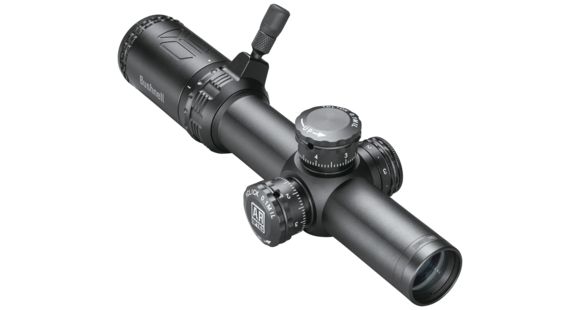 The FFP Illuminated BTR-1 riflescope is also with capped turrets offering pinpoint and precise adjustments. It will help in acquiring your target easily and quickly provided you made the correct adjustments.
To ensure that the optics can deliver you a clear sight picture, it is constructed with fully multicoated optics. It can offer you with precise images that will aid your eyes better when aiming at your shot no matter its distance.
This item also allows for a quick power change because it is designed with a throw down PCL lever, which is its unique feature not been in other brands.
I would also like to note that it could offer us with precise holdovers out to 500 yards, giving us better ease if using it for a longer distance shooting or hunting. Also, this item is o-ring sealed that can keep its interior dry. More so, the scope has a rugged design, adding to its durability.
On the cons, the product has a limited magnification range, though.
Pros
Multicoated optics for optimized lighting
Accurate holdovers for up to 500 yards
Illuminated BTR reticle
Pinpoint adjustments for capped turrets
Generous 3
6 eye relief
Cons
Limited magnification range
Still, you can depend on it for its durable construction and solid performance. It lets you acquire your target easier and faster. The FFP Illuminated reticle lets you shoot even in the dark. Regardless of the weather conditions, you can have peace of mind of acquiring your target with higher chances.
Vortex Optics Viper PST Gen II 5-25×50 FFP Riflescope
One of the things that make it a great choice is its capability of delivering bright and clear images even at longer ranges. The special scope is also with an illuminated dial that allows for an easier adjustment.
The intuitive and functional scope can also provide users with detailed hold points, while it does not compromise on clear viewing. This model also has 10 different intensity levels, each with off positions for every setting.
If you're looking for a versatile scope that you can use for tactical shooting and hunting, you can check out the Viper II. It is a functional scope that can aid you for a wider range of applications. It also has an EBR-2C MRAD Reticle that makes it easier to view and target your subject.
The FFP long-range scope has reticles near its windage/elevation turrets just in front of its magnifying and image-erecting lenses.
On the downside, it might not be for those looking for a cheap scope, though.
Pros
Idea for long-range
Quality optics system
Durable housing construction
Side focus adjustment for easier operation
Dual use for hunting or tactical operations
But for those looking to get the most of their money and use a scope that can last for years, they might want to take a second look at the Viper PST Gen II. It is for those who want to remain on top and take advantage of every situation with a rugged and high-performance scope for all lighting conditions.
Primary Arms 1-6×24 FFP Rifle Scope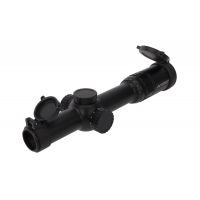 This Silver Series optics is a trusted scope for years because it delivers clear sight picture that makes it easier to acquire the target without any hassles. The Primary Arms scope has ensured of solid features like a fast focus eyepiece and FFP plane construction. How does it work? It works by allowing the reticle to be simple, small and fast at al low magnification setting.
Another great feature is that it has an ACSS Raptor 5.56 first focal plane reticle, which is fully calibrated, allowing it to be real at each magnification. I would also like to note that the reticle has an auto ranging out to 600 yards, which is higher than others in the same category do. It is also ideal for long-range shooting.
On the downside, there can be issues with blurry images from time to time.
Pros
Accurate magnification
Red reticle illumination
Includes CR2032 battery
Durable 6063 aluminum body
11 different settings
Max light transmission
Cons
Blurry images from time to time
Still, it is the best first focal plane scope when it comes to user ease. This scope is absolutely suitable for all beginners, who want to improve their skill with aid of an optics system combined rugged feartures and functions. You can also take advantage of its illuminated reticle and included battery in every purchase. Nevertheless, I can say that it is one of the top picks for its superior quality and performance.
Athlon Optics Argos BTR 6-24×50 FFP Riflescope
It is also unique because its reticle is etched on the glass, offering you with backing support. The FFP reticle also offers your scope a better recoil resistancy.
If you would like a scope that can deliver an optimum brightness along with real color across the light spectrum, you might want to this scope with Advanced Fully Multi-Coated lenses.
Its tube is also made with 6061T6 aircraft grade aluminum, offering it better stability and adding to its heavy-duty performance. This solid body is tough that it can deal with the varying hunting or field conditions it might face along the way. You will also notice it has a better thermal stability and waterproofing for its argon purging.
On a negative, its adjustments need some improvement, though, for better ease of use.
Pros
XPL coating protects lenses from dirt
Illuminated Reticle
Argon Purgedfor thermal stability
6061 T6 Aluminum
Cons
Adjustments need improvement
But overall, it is one of the top choices among scopes with the first focal plane because it has an illuminated reticle, XPL coating lenses, 6061 T6 Aluminum and multicoated lenses. Choosing it, you can have peace of mind you would be able to use a durable scope to perform on any types of weather. It can also be for you if you'd like a scope offering a better light transmission.
Monstrum Tactical 3-9×40 FFP Riflescope
This product features multiple coated optics and Ultra Wide Band Coating. They can make the scope more effective because they can improve the image clarity and offer better light transmission.
The 6 to 24x magnification scope is also a versatile product that can be used even in longer distance shots. I also noticed it can offer an excellent brightness, aiding the naked eyes to see better even when hunting at dawn or dusk.
The Monstrum Tactical is also with a side-focus parallax adjustment, allowing for long-range accuracy and precision, improving our target acquisition results. The 30-millimeter one-piece tube is also rugged to deal and keep up with any punishment you will throw at it.
On the cons, this product is a bit bulkier versus other picks on the market is.
Pros
100% multicoated optics
Rain guard and anti-fog technology
Adjustable power
Side focus parallax adjustment
3-inch sunshade
Still, you might want to consider it if you would like to make use of a good scope whether considering a high end or a budget FFP scope that has the rugged design and build along with ease of use functions and features. It can also be for you if you want a reliable scope with an anti-fog technology and rain guard for clarity no matter the weather.
Burris 4-20x50mm Veracity Riflescope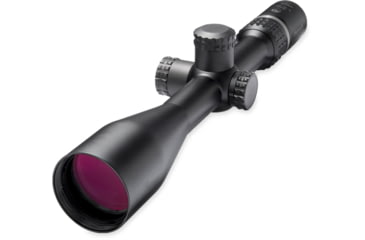 One of the remarkable characteristics of first focal plane rifle scopes is their rugged and compact design ideal for varmint and big game hunters. This Burris scope is one of the best for these applications because it has high-quality lens that can provide clear sight picture.
This top of the line scope is also designed with Ballistic Plex E1 reticle, which makes it a better choice even for newbie hunters. In addition, the scope can offer us with an accurate platform for determining target size along with precise distance measuring.
I also noticed it has a trajectory compensation, which has been effective out to 700 yards. It is also designed with multiple turn knobs, offering up to 15 MOA. This product is also offering maximum light collection for its 50mm objective lens.
However, the item is bulky for some users, though.
Pros
Ideal for varmint and big game hunters
Max light collection
Easy to adjust and turn knobs
Precise platform for its varmint reticle
Excellent trajectory compensation
But if you would compare it with other 1st focal plane scopes, you can safely say that it is one of the most reliable of all for its easy to turn knobs, max light collection, precise platform and trajectory compensation.
Bushnell Elite Tactical 6-24x50mm FFP Riflescope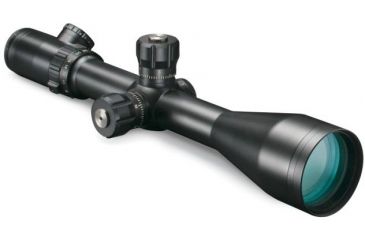 The product has fully multi-coated optics, giving it that waterproof and fog proof integrity. It also makes the scope ideal for use no matter the weather conditions. It can also work even on a foggy or rainy day. This product also has an ultra-wide band coating for added durability. The lenses it has can also deliver image clarity and better light transmission.
This item is also highly recommended scope for its anti-fog and rain guard technology, keeping its lens clear no matter the shooting or hunting condition.
The scope also offers an adjustable power, allowing you to set it based on how you need it. In addition, the tactical target scope for sale is with a larger objective lens offering sharp and vivid images. Such can also make sure you can use the scope for extended range magnification.
In addition, the powerful scope is also with argon purging for waterproof performance.
On the negative, there were some visibility issues, though.
Pros
FFP reticle for holdover, ranging and windage
Side focus parallax
Long range delivery
Any weather clear view
Superior accuracy and visibility
Generally, the FFP scope for 6.5 Creedmoor and other rifles is a great pick for tactical shooters and hunters who want to make use of a reliable and heavy-duty scope that can work no matter the weather conditions.
Monstrum Tactical G2 6-24×50 FFP Riflescope
The Monstrum Tactical 6-24×50-G2 has great features like an adjustable objective, enhancing its ease of operation and use. This model also has a variable magnification range, allowing users to change from one setting to another and make sure of using the correct magnification based on what the situation needs.
It can also deliver bright and crisp images because of its top quality optics. Using it, you can have a better sight picture no matter the distance. In this case, you might have a better chance of acquiring your target. So regardless that you're a new or seasoned hunter, you will get an aid with the optics system that can deliver the performance you need.
The FFP scope for AR 15 also has heavy-duty and durable scope rings, so it does not require buying these rings separately. It can also deliver you with holdover correction and faster range estimation for its rangefinder reticle.
However, there can be some adjustment difficulties, though.
Pros
Adjustable objective
Variable magnification ideal even for long range
Illuminated reticle
Accessories like CR2032 3V battery and carrying bag included
Can target 1000+ yards
Cons
Some adjustment difficulties
But in general, you'll appreciate the FFP scope for hunting or tactical shooting for it can be used for long-range shots beyond 1000 yards. It also includes a carrying bag and a battery, to name some. You can also use it even for low lighting because it has an illuminated reticle.
What is First Focal Plane (FFP)?
One of the first things to know when looking for a reliable scope is its type of focal plane. Today's focus is on the first focal plane, which is sought after by hunters and shooters around the world for its integrity in adding precision to their shots.
At the very least, the FFP reticle or first focal plane reticle can scale a target well at different magnifications. So even if you're using a farther magnification, you can look forward to a clear view.
The first focal plane remains the same size relative to its target.
For example, if you're aiming at 1000 yards, your reticle will be small. But if you're looking at a target, which is magnified, its reticle can be large like its second focal plane riflescope counterpart is.
Overall, the FFP sight can cover the same spot that you are aiming for.
There you have what to know about a first focal plane that is our featured FFP in our reviews today. We do hope that knowing these things will help you better decide on the scope to choose later.
First Focal Plane (FFP) vs. Second Focal Plane (SFP)
As you've probably known, the reticle of scope is on the first or second focal plane. But if you're unfamiliar of how they work or how they affect the sighting, you might feel overwhelmed with the wide range of scopes on the market now.
For this reason, we have created a brief comparison of the two types of reticle focal planes that you've to choose from when shopping around for a good scope.
Generally, the reticle size with the first focal plane will seem to change as the magnification of the scope is changed.
On the other hand, the reticle with the second focal plane will look to be of the similar size no matter the level of magnification. At the very least, it is the main idea you need to know when trying to understand what really their main difference is.
For many hunters, they're familiar with the second focal plane, which has been common among scopes through the years.
On the other hand, the first focal plane reticle has been the common pick among hunters who are using their scopes for long distance hunting. For this reason, the scope has been emerging in popularity among those who want to shoot at such distances.
Using a second focal plane, take note that the holdover spacing in the reticle can only be correct at a specific magnification that is the highest possible setting. For a scope with a lower setting, remember that the reticle's size will be relative to the target changes. Following, the spacing increments will also be altered.
Overall, these are the basic differences between an FFP and an SFP reticle that you need to know so that you can better understand how they work. So, depending on your purpose, choose a scope with the reticle that matches your shooting style and needs.
Factors to Consider when Buying a FFP Scope
Using one of the best first focal plane scopes is great because it improves your shooting ability and increases your chances of acquiring your target easier and faster. With it, you can have a more rewarding experience in hunting, target shooting, competition and long-range shooting because it improves your accuracy.
The problem comes in when trying to choose which one is suitable for you. As there are so many of them available around, you might find it hard to select the right one that can offer better accuracy and ease of use. It can also be hard to figure out what scope will perform based on your needs.
In the following, know what to look for when comparing your choices and buying a new or a replacement scope.
Lens coating
They're also one of the most important considerations when picking a scope because it has to do with the light transmission. When picking a riflescope, you should find one that can offer a clear and bright image, which will be affected by the light entering the lens as well as the light that the lenses are transmitting.
Magnification range
There is no doubt that magnification is one of the reasons we buy a scope in the first place. This characteristic refers to range up to which you want to multiply the vision of your unaided eye's vision.
Simply put, a scope that has two times magnification will give two times the power of your eye without it. Generally, the magnification also refers to the increment levels of power of the scope. It is also usually represented by the scope name's first numbers.
A 1-4x32mm scope just means it can deliver between one and 4 times of zoom. But on a fixed scope such as 4x32mm, it just means that four times is the magnification power it can deliver.
But in most cases, shopping around based on magnification will be preferential. For example, you might want to opt for the 3-9x if you usually target moving targets located less than 100 yards.
Objective lens
When shopping around for a good scope, you must also shop around for one with the right objective lens, which refers to the lens' diameter that is closest to the rifle's barrel. In addition, this lens is also the farthest away from the rifle's stock.
For one, you must remember that its size can indicate the light amount that your scope is going to transmit. It just means to say that you will get more light with a larger objective lens. It will also be able to produce a bright image, but then, it will be heavier than a smaller scope is.
Weight
One of the things to affect your satisfaction level with the scope to buy is its weight. You must think about your purpose or plan of using the scope. What is your plan regarding the shooting you would do with the scope?
For example, you might want to choose one that is heavier if you plan using it at longer shooting ranges. On the other hand, you might want to check out a lighter scope if using it for a shorter distance like stalking game in the mountains.
Turrets for elevation and windage adjustment
They are used in adjusting the bullet impact's position. The adjustments give you the ability to move the point of impact of the bullet to the right or left relative to your reticle. On the other hand, the elevation adjustments will be needed in moving the point of impact of the bullet up and down.
Without even saying, the adjustments can be made either in minute of angle units or milli radians. They are valuable for making long-distance shots for tactical shooters.
Consider these things when looking for a riflescope with the first focal plane so that you will have a better chance of buying the right scope for your needs like hunting or tactical shooting.
Conclusion
Finding the best FFP scope, you'll be able to get the most of your hunting or tactical shooting experience. It has the characteristics and qualities that you're looking for in scope.
You can rely on it for different applications and can aid your naked eye in targeting a game or shooting from a long distance.
To find the right one, you should be able to compare your choices well. Use the top 10 featured products we have reviewed and the buying guide we've highlighted earlier. Buy from one of the best first focal plane scopes today.
Post ID: 06kkKdlB6
Category ID: lMb9k43
The responses below are not provided, commissioned, reviewed, approved, or otherwise endorsed by any financial entity or advertiser. It is not the advertiser's responsibility to ensure all posts and/or questions are answered.