The scopes that people use for hunting wild pigs are a little different from those used for deer hunting. Such devices take into consideration the very unique behavioral characteristics of the feral animal. First-time hog hunters often end up feeling disappointed because of their poor choice of a rifle scope.
From the magnification to the overall light transmission performance, one has to understand the unique attributes of the best scope for hog hunting. To make life easier for you, we have compiled and tested 8 of the top scopes for hunting feral pigs. This will help you zero in on the device that is perfect for your rifle.
Best Scope for Hog Hunting Reviews of 2022
ATN X-Sight 4K Pro Smart Day/Night Rifle Scope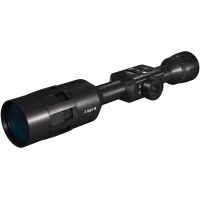 What I love the most about this top rated rifle scope is its video recording and image shooting capabilities. Personally, I would like to show off to my friends how I was able to acquire a target from a distance and then go for the kill. You can also use this feature to review your shots, allowing you to refine your target sighting and shooting skills.
As the best scope for pig hunting, the X-Sight Pro delivers a very crisp and clear image right before your eyes. The images are free from distortion and they pop with full color. Of course, the color of the image can decrease during nighttime hunts. The good news is that the built-in IR imaging technology in the X-Sight Pro allows you to have a better view of your target.
Accurate shots are also guaranteed with the X-Sight Pro mounted to your rifle. It has a mechanism that allows novice hunters to shoot like a pro.
The only downside is that the scope can be heavy.
Pros
High-performance digital image sensor for distortion-free, high-quality images
Allows for the recording and streaming of videos as well as the capturing of images
Night vision capabilities allow for better target acquisition in the dark
One shot-zero is perfect for absolute beginners
Comes with an integrated ballistic calculator for more accurate shots
It does not really matter if the ATN X-Sight K Pro Rifle Scope is heavy. We believe that this is the best rifle scope for hunting feral pigs on the market today. Its innovative features and robust construction make it a very valuable purchase.
Vortex Optics Crossfire II 3-12X56 AO Hog Hunter Riflescope
We tested the Crossfire II on our modified AR-15. It performed exceptionally well. The bright reticle makes target sighting very easy. The lens technology of the scope also makes it perform better in low light conditions. As far as we concern, this is one of the best hog hunting scopes for AR-15.
While we miss the video recording capabilities of the ATN X-Sight, aiming at a boar some 50 yards away with the Crossfire II is very uncomplicated. We were also able to use the scope for hunting deer some 200 yards away. Its wide lens power makes it a good tool for long range shooting, too. This makes it a good quality rifle scope for multiple applications.
The only negative thing about the Crossfire II is its mediocre performance when used in the rain or snow. While it is waterproof, the image quality tends to dip in these weather conditions.
Pros
Bright illuminated reticle for better target acquisition
Premium quality construction of the lens for exceptional low light performance
High variability of lens power for greater versatility
Lightweight and strong scope body construction
Fast-focusing eyepiece for quick target acquisition
Cons
Not ideal for hunting in certain weather conditions
Despite a noticeable reduction in image quality during rainy or snowy conditions, we still think that the Vortex Optics Crossfire II remains the best boar hunting rifle scope. Its wide range of scope power makes it a versatile hunting scope. It has a good price for its many fine qualities, too.
ATN ThOR-HD 640 Thermal Rifle Scope
What impressed us the most about the ThOR-HD is its thermal imaging technology. No target can ever escape your sight ever again. From feral pigs to other animals that prowl in the night, the technology integrated into this high end scope picks up the unique thermal signature of any target.
While we are fans of true optical scopes, we cannot deny the brilliance of ATN's digital imaging technology. The scope delivers very sharp and clear images during daytime hunting. And if you are not sure about the accuracy of your shots, you can always rely on the built-in ballistic calculator and rangefinder of the ThOR-HD.
Not only is the ThOR-HD a high-performance thermal scope. It is also one of the coolest you can ever mount into your hunting rifle. The ability to record video, stream your adventures, and take still shots are also big bonuses of the platform.
Given these innovations, it should not surprise you to learn that it costs more than three times that of the X-Sight 4K Pro. This limits the scope to only those who have enough money to spare.
Pros
High-performance image sensor for HD-quality images
Comes with built-in thermal imaging sensor for unparalleled night vision capabilities
With a built-in rangefinder and ballistic calculator for more accurate shots
Allows for streaming, video recording, and image capture for social sharing
Robust construction and very easy-to-use interface
We understand the prohibitive price tag of the ATN ThOR-HD 640. However, this doesn't discourage us from recommending this low light hog scope to those who want only the best for their nighttime hunting adventures.
Nikon P-Tactical 300BLK 2-7X32 Matte BDC Riflescope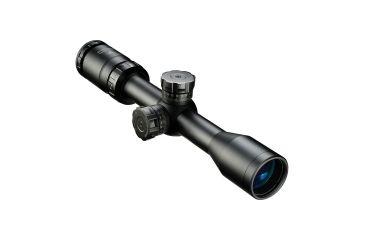 Our evaluation reveals that the P-Tactical 300BLK is the best .300 Blackout scope for hog hunting. It has good light transmission through its large, good quality glass. The addition of multiple coatings on the lens also improves both the clarity and brightness of the image.
We also like the zoom control of the 300BLK. It is smooth and allows for rapid adjustment of the power of the scope. Speaking of the power, the magnification range is just right for hunting feral pigs. The maximum power is also high enough for long range shots.
The turrets of the P-Tactical 300BLK are also crisp. Resetting them to zero is also easy. The turrets also allow for a more effortless adjustment of the shot. The reticle is bright, which makes for easier sighting of the target hog.
Our only wish is for Nikon to add a few more technologies into the 300BLK to make it more efficient in nighttime hunting activities. Nevertheless, for its price, this scope is good enough.
Pros
Good light transmission for low light shooting scenarios
Very smooth zoom control for easier and more precise magnification
Consistent and generous eye relief for shooter safety and comfort
Turrets reset to zero in an instant
All-weather construction for increased versatility and safety
Cons
No advanced low light imaging technology
While devoid of thermal or IR night vision capabilities, the Nikon P-Tactical 300BLK remains an excellent choice for novice and more practical hunters. The quality is unquestionable and the performance is excellent for its price.
Trijicon ACOG 3.5×35 Riflescope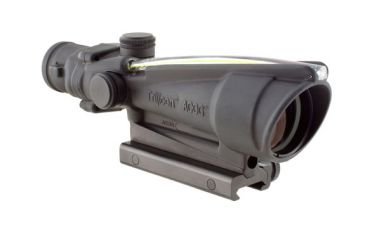 What we found admirable in the Trijicon product is its low light performance. Unlike other systems that use batteries, this stylish scope uses a combination of fiber optics and tritium to give you a bright and clear view of the wild hog. The dot in the reticle is also bright, guaranteeing more precise shots.
Since this scope is still an ACOG, you can bet that its use is not only for hunting wild pigs. It can also be an invaluable tool for CQB and other tactical engagements. There are several modes built into the system that gives the scope maximum versatility in terms of application.
The only issue that we saw about this ACOG is the tendency of its reticle to lose some of its clarity in very bright conditions. It can get blurred for a few brief moments before it settles into its 'ideal' brightness.
Pros
Good low light performance for hunting at dusk or dawn
Large and bright dot for more precise placement of shots
Versatile design for various applications
Nearly-indestructible construction for all-terrain, all-weather use
Excellent field of view for better sighting of the target
Cons
Reticle clarity diminishes in very bright conditions
The issue of reticle quality is more or less related to the shooter's eye condition. That is why we are confident in recommending this ACOG for hog hunting. It looks handsome on any rifle and can bring you that hog trophy anytime.
Leupold VX-R Hog 1.25-4x20mm Riflescope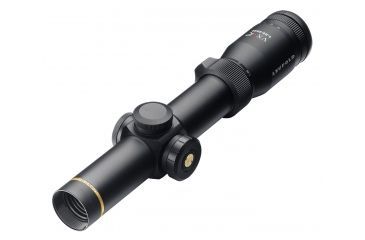 Leupold VX-R 1.25-4x20 Matte Rifle Scope Similar Products
opticsplanet.com
Check price
Leupold VX-R 1.25-4x20 Matte Riflescope increases your chances for a sure shot in various lighting situations. The VX-R riflescope series from Leupold delivers a rugged industrial design with FireD...
People who hunt animals at short range will love the low magnification power of the VX-R Hog. It gives you the chance to make fantastic shots at 25 to 50 yards. This makes the VX-R Hog one of the best choices for hog scopes.
We like Leupold's unquestionable optical quality. The objective lens may not be as large as other scopes. However, the company designed the lens in such a way that it can transmit more light into its sighting mechanism. The ingenious reticle also guarantees more accurate acquisition of your target wild pig.
And like all Leupold scopes, the VX-R Hog comes with a scope body that will never fail in any condition. It is light and compact that it will never weigh your rifle down or make your arms ache with prolonged aiming.
The low maximum power of the Leupold VX-R can be its undoing. If you are exclusively hunting feral hogs, then this is never an issue. The problem arises when you do decide to shoot other animals like deer.
Pros
Good quality optics for brighter and clearer images
Crisp turrets for more intuitive adjustment
Illuminated reticle for more accurate shots
Compact design and all-weather construction
Modest magnification range for different applications
Cons
Not ideal for shots greater than 200 yards
Despite the limited variability of the Leupold VX-R Hog, it is still a great rifle scope. The construction of the scope body remains faithful to the quality craftsmanship of the brand. Its performance is also spot-on for its intended purpose.
Bushnell TRS-25 Red Dot Sight
Bushnell is one brand that you can never question the quality of its products. We also saw this dedication to quality optics in the TRS-25. Inside the metal housing is Bushnell's take on what a reliable red dot sight should be. This is one optical device that can make hunting wild boars more thrilling.
One of the things I love about the TRS-25 is its very compact design. It can be very small for some folks. However, I find its size to be just right for adding a touch of 21st century innovation to your standard 20th century rifle.
The only issue that I have with these boar hunting scopes from Bushnell is their red dot's tendency to get blurry in very bright lighting conditions. If you intend to use this sight for hunting feral pigs during the day, you may have issues getting a clear red dot.
Pros
Good quality optics for better accuracy and precision
Shock-, fog-, and water- proof for all-weather use
Clear red dot reticle for precise target tracking
Very compact and lightweight scope body for better portability
Great value for your money
Cons
Limited dot brightness in very bright lighting conditions
Despite the brightness limitation of the Bushnell TRS-25's red dot, we can still say that it is a good choice for short-range hunters and shooters. It is a budget device that can make your rifle more accurate and looking more awesome, too.
EOTECH EXPS2 Holographic Weapon Sight
EOTECH EXPS2 Holographic Weapon Sight
amazon.com
Check price
EOTECH EXPS2-0 - Holographic Weapon Sight in black with 68 MOA ring & 1 MOA dot reticle
Side Button Operation - Compact design and side button operation consumes minimal rail space and is ideal for...
One great thing we learned about the EXPS2 is its MOA ring and reticle. This helps provide for more precise tracking of the wild pig as it moves behind the lush cover. Unlike red dot systems, this holographic sight is free from parallax errors. What you get is a very clear view of the pig in the distance, making it great for boar hunting.
We also like its compact and robust frame. We mounted it on different hunting rifles and the results were always the same. The sight gave these rifles a more awesome look.
There are no turrets to fumble with. Instead, EOTech added buttons that are a lot easier to manipulate. The EXPS2 comes with multiple brightness settings. You can always choose the level of brightness that will make your target clearer for the kill.
Unfortunately, the EXPS2 is a daytime operator. You will not be able to use this at night or even at dusk or dawn.
Pros
Advanced MOA reticle and ring for more precise shots
Very easy to use side buttons for more accurate adjustments
Multiple brightness adjustment settings for improved views of the target
Does not suffer from parallax errors
Small form factor that can make any rifle look more awesome
Cons
Not ideal for nighttime hunting
While the EOTech EXPS2 Holographic Weapon Sight is limited to daytime hunting, it remains a good choice for those who are looking for more technologically-advanced scopes for hog hunting.
What Makes a Great Hog Hunting Scope?
The quality of the scope's optics is one of the most important characteristics of a great hog hunting scope. Lens quality is directly proportional to its light transmission capabilities. It is important to understand that wild hogs prefer to go out of their hiding places as soon as there is no more sun in the sky.
An exceptional wild boar hunting scope performs very well in low-light conditions. And if it comes integrated with a thermal imaging mechanism, then this scope is best. Multiple coatings on the lens can also aid in more efficient light transmission. The best scope should perform very well in both daytime and nighttime hunting activities.
A good scope for hunting feral hogs should also have a magnification power of not more than 4x, unless you have other game to hunt. Hog hunting is often done within 100 yards of the animal. The majority of these animals can be hunted within 25 to 50 yards, with some getting 'downed' in as close as 10 yards.
A very simple reticle system differentiates a hog hunting scope from those used for other purposes. There is no need for complicated markings in the reticle because the target is quite close. Of course, you can still benefit from windage and elevation adjustments if you are hunting from a considerable distance of 150 to 200 yards.
What Magnification Do You Need?
Determining the correct magnification for a hog hunting scope requires an understanding of the nature of wild boar hunting. The majority of the "kills" occur from as close as 10 yards to as far as 150 yards. While there are cases when the shot was taken from 200 yards out, these are very rare. It is also quite rare to hunt wild hogs from beyond 100 yards.
Given this information, a scope with a fixed magnification is enough when hunting feral boar. You have to assess your visual acuity and your hunting skills, however. A skilled hunter with good eyesight may not need a scope to kill a boar at 20 yards. A novice hunter with poor eyesight may require a 4x scope to make the same kill.
In general, a good-quality scope for deer hunting should also be good enough for hunting wild boar. However, most deer hunting scopes come with a 3-9x scope. You can use the low magnification of the scope. Unfortunately, you may not be able to use the 9x power of the device. As such, a good magnification range for a hog hunting scope is 1x to 4x. This is versatile enough for most wild boar hunting scenarios.
Factors to Consider when Buying a Hog Hunting Scope
There are several factors that people need to consider when picking the best optics for hog hunting. These factors all relate to the nocturnal nature of feral hogs. If this is your first time hunting for wild pigs, then you need to understand the following qualities of a good hog hunting rifle scope.
All-around Performance
This is the single most important characteristic of a good hog hunting scope. It should be able to give you an excellent view of the animal in any lighting light condition. Feral hogs are most active at night. However, they can also be active during the day, especially in seasons other than summer. The summertime nocturnal or crepuscular nature of feral hog requires a scope that performs very well in low light conditions. The animal's other-season diurnal behavior will require a scope that is perfect for daytime hunting. It would be ideal to get a scope that performs well both day and night.
Quality of the Optics
Optical quality can have an impact on the performance of the scope in low light conditions. Scopes with a large objective lens are able to allow more light to enter the scope tube. This brightens the image in the rifle scope and allows you to see the boar from a distance. Special coatings on the lens can also improve overall light transmission. It is, therefore, recommended that you get scopes from manufacturers that are known for making high-quality optics. You can also compare different scopes side by side and pick one that offers the clearest image.
Reticle Type
There are some people who may think that the type of reticle is not important when hunting feral hogs. However, it can play a role in target re-acquisition. Feral hogs move very fast and they love to hide in thick bushes. If you have a reticle with many elevation and windage markings, you may not be able to see very fine details of the hog's surroundings. Remember that you will be hunting mostly in the dark. Feral hogs also have a dark color. This makes them very difficult to spot. Too many markings in the reticle can make sighting the hog difficult. A simple red dot or a Duplex crosshair is often enough for hog hunting.
Scope Power
You can pick a fixed rifle scope or one with variable power. If you know your target will never go beyond 50 yards and you have excellent eyesight, then a fixed scope would do fine. However, given the unpredictable nature of hunting, it would be more appropriate to pick a scope with variable power. This provides you with a good combination of precision and speed to go for the kill.
Night Vision Capabilities
Wild pigs prefer to go out when it is already dark. As such, you will need a device that will help you zero-in on the thermal or infrared signature of your prey. You can choose a handheld night vision device or choose a rifle scope that already comes with the technology. Avid hog hunters would always pick the latter for convenience.
Conclusion
Like any other rifle scope, choosing the best scope for hog hunting requires a clear understanding of the very nature of these animals. Feral hogs are most active in the dark. As such, your scope should perform very well in low light conditions. Therefore, night vision capabilities are the best.
However, you should also know that wild pigs tend to roam during the day in spring and autumn. A good rifle scope for feral hog hunting should be versatile enough for both day and night applications. We hope that our review of the top 8 rifle scopes for hunting feral pigs has helped you decide on which scope to mount onto your rifle.
Post ID: wY00pR9QG
Category ID: lMb9k43
The responses below are not provided, commissioned, reviewed, approved, or otherwise endorsed by any financial entity or advertiser. It is not the advertiser's responsibility to ensure all posts and/or questions are answered.