The Mini-14 ranch rifle is popular for its sturdiness, strength, precision, and reliability. However, it is also essential to pair it up with the best scope for Mini-14 if you want the mentioned qualities to emerge.
With the most suitable scope for this rifle, you can begin using it for its intended purpose, which a lot of ranch and farm owners agree as being the most reliable hunting gun for the control of vermin and small game prowling open ranges, farm, and ranches.
Another reason why the Mini-14 is well-loved is that it is affordable plus it boasts of modern design. With such capabilities, it no longer comes as a surprise to see it staying on top of the choices of hunters, sports shooters, and law enforcers who want to invest in an accurate and precise weapon not only for protection but also for their hunting and shooting hobbies.
If you are any of them then start researching about good scopes for your Mini-14 so you can begin maximizing and enjoying its potential and capabilities.
Best Scope for Mini 14 Reviews of 2022
Vortex Optics Crossfire II 2-7×32 SFP Scout Riflescope
Being an all-purpose reticle, I can vouch for the compatibility and adaptability of this riflescope in a wide range of hunting situations and shooting environments. It also works as the best short-range scope for Mini-14 as it can handle not only short-range hunting but also mid-range ones.
One impressive thing about this Vortex Optics riflescope is its single-piece tube made of hard-anodized and aircraft-grade aluminum material. This specific construction is also beneficial because it has an O-ring sealing, which allows the scope to deliver an excellent fog-proof and waterproof performance.
I am greatly satisfied with the 9.45-inch eye relief provided by this scope, too. Combine such a good eye relief with the scope's totally forgiving eye box and you have a guarantee that it can help you obtain a sight picture quickly. It also leads to the rapid acquisition of your target.
With its fast-focus eyepiece, I am also sure that you will enjoy a quick and hassle-free experience when focusing your reticle. Another reason why I fell in love with this riflescope is the presence of the fully multicoated and anti-reflective lens, which is capable of supplying clear and bright views.
It is also equipped with finger-adjustable capped reset turrets that you can conveniently reset to zero right after each sight-in.
However, some users find it slightly heavier and bigger than their preference.
Pros
Uses the V-plex reticle, which all-purpose, allowing it to deal with numerous hunting and shooting applications
Features capped turrets that are resettable to zero
Supplies clear and bright views through its multicoated and anti-reflective lens
Provides more than enough eye relief
Showcases an incredible waterproof and fog-proof performance
Cons
Heavier and bigger than what some users expected
Overall, I can confirm how good the Vortex Optics Crossfire II 2-7×32 SFP Scout Riflescope is as it has most of the things that a shooter needs for competition, target practice, or hunting, including high-quality construction, rigid structure, and clear optics.
UTG 3-12X44 30mm Compact Scope
What I noticed right away about this UTG compact scope is that it is constructed with the most advanced and innovative technology. It even takes pride in its plenty of innovative features designed in a way that the entire scope can provide a fun and exciting hunting experience to any users.
I like how flexible this scope is as it offers a number of shooting solutions, like predator hunting, big game hunting, and tactical hunting. One of the key features I noticed in this scope is its highly advanced IE reticle capable of supporting multi-color settings and personalized illumination.
You can even choose from the 36 colors provided in its spectrum, proving how it fits numerous environmental preferences and requirements. Such multi-color settings also make the scope more capable of accommodating all lighting and weather conditions. The presence of the zero locking and zero resetting target turrets is also advantageous to the scope.
With the help of this feature, it is possible for you to choose the adjustments that you want for your selected subject, making it accurate and precise to your aim. You can also enjoy using the aspect wheel adjustable turret because it allows limitless parallax adjustment beginning from 10 yards.
Furthermore, the multi-colored lens integrated into this scope comes with angle sunshades, helping minimize glare and showing clear and bright views of your target.
One notable downside can be found on the side recognition knob, though, as there are instances when it becomes tight, making it challenging to turn.
Pros
Compact, making it easier to use and manage
Flexible as it supports a number of shooting and hunting requirements
Provides limitless parallax adjustment starting from ten yards
Features multi-colored lens combined with angle sunshades for minimal glare
Can accommodate all lighting and weather conditions
Cons
Slight and occasional tightening of the side recognition knob
All the features and benefits considered, this compact and high-quality scope for Mini-14 Ranch rifle offered by UTG is indeed an efficient and affordable scope that can meet the demands of anyone who wishes to improve their hunting experience.
Nikon P-223 3-9×40 Mate BDC 600 Riflescope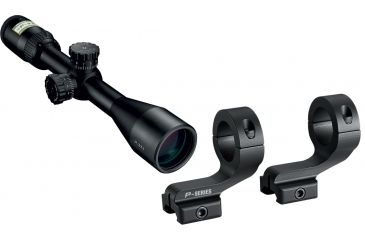 Nikon P-223 3-9x40 BDC 600 Rifle Scope Similar Products
opticsplanet.com
Check price
The Nikon P-223 3-9x40mm Rifle Scope 8497 is an effective variable zoom rifle scope for everything from range shooting to tree stand hunting. These powerful Fixed Power Rifle Scopes from Nikon Spor...
This is a great Mini-14 optics, too, because I discovered that its whole optical system boasts of a full multi-coating that promotes extreme clarity and brightness. The fact that it is fully multi-coated also has a great contribution to its ability to transmit light by a max of 98 percent.
I like the flexible and versatile magnification range provided by this unit as this makes it more appropriate for use on an extensive array of AR platforms. The flexibility of this scope also allows it to be appropriate for use on a wide range of hunting and shooting situations.
I am also very pleased with the consistent and generous eye relief provided by this scope. With such a good eye relief, I can assure users that they can protect their brows even if they are using the scope in extreme shooting angles and together with heavy recoiling cartridges.
This riflescope also makes use of the patented and unique BDC 600 reticle offered by the brand. Combine that with its tactical turrets featuring a zero reset and you will surely have a hassle-free experience making field adjustments.
The included parallax setting of one hundred yards is also beneficial as it gets rid of parallax, promoting a more precise and accurate shooting.
One disadvantage, though, is its tendency to look blurry when used in ambient light, specifically in an indoor setting, which uses artificial light.
Pros
Hassle-free and easy to adjust
Promotes extreme clarity and brightness, thanks to its multi-coated lens
Provides a flexible and versatile magnification range
Offers a generous eye relief
Can get rid of parallax to guarantee precise and accurate shots
Cons
Prone to get blurry when used in ambient light
Overall, I find this Nikon riflescope one great choice for the best scout scope for Mini-14 as it boasts of its rugged structure, great quality, and amazing functionality.
Bushnell AR Optics 3-9×40 Drop Zone-223 BDC Ballistic Reticle Riflescope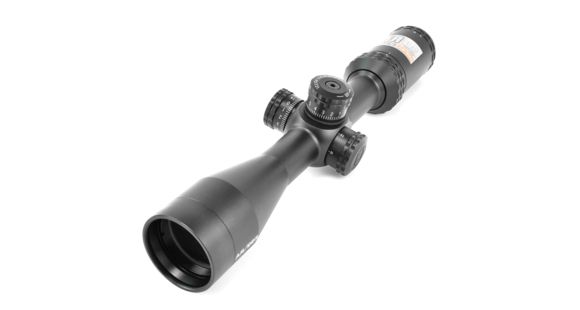 I am so pleased with the overall quality and capabilities of this scope, especially because it can improve precision even if you operate it during harsh weather and dismal lighting conditions. It makes use of the drop-zone BDC ballistic reticle, which can be easily zeroed in and takes pride in its accurate aiming points that can reach a max of 500 yards.
Such reticle also works together with caliber-specific reticles known to let you enjoy great precision as you deliver each round. This is possible even if your target is at a long distance. The indispensable target turrets integrated into this scope also work in facilitating high-precision adjustments.
I am also satisfied with the fully multi-coated optics promised by this riflescope as I find it truly capable of providing great clarity of vision and brightness even if you use it in dismal lighting. With this feature, it is possible for you to get a crisp, sharp, and clear view of your target.
Such capability is helpful each time you plan to use the scope for long-range hunting. Another advantage of this scope is that it can retain its accuracy even after a few mounting and dismounting sessions.
One downside, though, is its weight as it is quite heavy but still manageable.
Pros
Ideal for use in hunting expeditions and long-range shooting
Facilitates high-precision adjustments, thanks to the built-in target turrets
Guarantees clarity of vision and brightness even when used in dismal lighting conditions
Can maintain its accuracy even if it underwent mounting and dismounting sessions
Easy to zero in plus boasts of highly accurate aiming points
With just the basic features integrated into this riflescope from Bushnell, I can safely conclude that it has everything that most shooters and hunters want from a Mini-14 scope, including rugged dependability, excellent performance, and optical precision.
#5 Leupold VX-Freedom 3-9×40 Riflescope
If you prefer to invest in the best Leupold scope for Mini-14 then the brand's VX-Freedom 3-9×40 Riflescope is definitely going to satisfy you. One thing that this riflescope truly takes pride in is its overall construction, which is based on 6061-T6 aircraft-grade aluminum material.
Such kind of material underwent testing, which proves how it can deliver incredible performance for a lifetime even when used in situations with the harshest recoil and elements. Combine this solid material with the 100 percent fog-proof, shockproof, and waterproof capabilities of its body and you are sure to enjoy its stability for quite a long time.
I am pleased that Leupold integrated lenses into this riflescope that are fully multi-coated from one edge to another. With such multi-coated nature, I am quite sure that it can deliver an extremely incredible contrast. It can even supply users with clear and bright sight pictures even when used during low lighting conditions.
Another reason why I love this scope is that it has a small form factor, making it compact. With such compactness, maneuvering it is easy. It also has a few mounting options. In addition, it applied the twilight light management system into its structure, which is known for providing ten additional minutes of shooting light.
Such a system is also effective in minimizing glare, offering crisp and clear image quality. I am fond of the scratch-resistant lens integrated into this scope, too. The 3:1 zoom ratio erector added into this riflescope also helps it perform at its best regardless of the application and condition.
One issue I have with this riflescope, though, is that it tends to have some difficulties responding to turret adjustments at first, causing problems when sighting it in.
Pros
Can handle even the harshest recoil, environment, and elements
Utilizes the twilight light management system, providing extra shooting light and eliminating glare
Equipped with the 3:1 zoom ratio erector
The multi-coated lens provided for good contrast and bright sight pictures
Boasts of its small and compact form factor, promoting ease in maneuvering it
Cons
Initial challenges in making it respond to the adjustments in the turrets
You can rest assured that this problem is only at first, though, and eventually, it will begin to showcase its incredible performance regardless of the hunting or shooting scenario it is in.
CRUSHUNT 4×32 ACOG Hunting Riflescope
It is also manufactured to stand the test of time and to deal with all the harsh elements thrown at it. That said, expect it to be weatherproof, fog-proof, shockproof, and waterproof. All these protective features make this a durable and high-quality scope for Ruger Mini-14 that you can use in almost all environments regardless of their harshness.
I am also in love with the real fiber optics used by its reticle. Such an optical system is amazing with its ability to gather ambient light. It suits all 20-mm RIS weaver standard rails, too. This riflescope is also very convenient to use because it does not require the use of a battery.
I am also very delighted with the illuminated aiming dot included in this riflescope as it is useful in adjusting the brightness automatically, depending on the amount of light that is available. I also noticed that it is easy to zero in plus it boasts of great and durable build quality and nice and clear optics.
The fit and finish of this scope also look and feel great, adding to its overall appeal and strength. I also like the fact that it is lightweight while still having a sturdy shell plus you can easily sight it in.
However, one flaw I observed is its short eye relief.
Pros
Equipped with an illuminated aiming dot for the automatic adjustment of brightness
Easy to zero in and sight in
Great and durable built quality while still remaining lightweight
Uses real fiber optics that gather ambient light
Resistant to a number of harsh elements, making it weatherproof, fog-proof, shockproof and waterproof
Even with that flaw, many still patronize the CRUSHUNT 4×32 ACOG Hunting Riflescope because for its price, one can already enjoy plenty of amazing qualities and noteworthy features that can make your hunting experience all the more unforgettable.
TRUGLO TRU-Brite 1-6×24 Dual-color Illuminated Riflescope
It has a genuine 1x magnification, which I find useful in enjoying a fast sight picture while allowing you to take a shot with your two eyes being open. The 30-mm tube of this scope combined by its magnification range of 1-6x also makes it possible for it to supply not only bright and clear images but also a wide field of view.
It makes use of a Mil-dot reticle, which makes it possible for you to figure out the object's distance. This is also the best red dot scope for Ruger Mini-14 since the mil-dot reticle also supplies fast trajectory as well as wind-drift aiming references. Since the reticle is duplex, expect it to have two illuminated choices appearing in red and green.
It is also possible for you to use the glass-etched reticle without illumination if that is necessary. The single-piece aircraft-grade aluminum body or tube of this riflescope is also built with strength and durability in mind. It even boasts of its fog-resistant, shock-resistant, and water-resistant properties.
I am also one hundred percent satisfied with the overall quality of this scope. It provides clear and crisp optics. I also did not experience any issues sighting it in. It can hold zero well, too. In addition, adjusting the reticle is easy and precise.
One downside, though, is that the built-in mount is slightly heavy, although this also shows its stability.
Pros
Provides bright and clear images
Offers a really good and wide field of view
The body is fog-resistant, shock-resistant, and water-resistant
Capable of holding zero well while being easy to sight in
Equipped with a reticle, which is easy to adjust
Cons
Comes with a mount that some users find heavy
All in all, this scope from TRUGLO will never disappoint those who decided to buy and use it because it contains most of the things that they might need from a Ruger Mini-14 optics or riflescope, including stability, brightness, clarity, good field of view, and stable and functional reticle.
Monstrum Tactical 3-12×42 AO Riflescope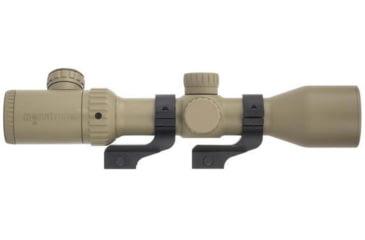 Monstrum 3-12x42 AO Riflescope Similar Products
opticsplanet.com
Check price
The Monstrum Tactical S31242-M-RGAO is a full-featured scope suitable for hunting, target shooting, or tactical use. The scope comes equipped with: Adjustable 3-12 times magnification, for targetin...
It boasts of its 3-12x magnification known for being adjustable, which you can use to target for over a 500-yard distance. I like the inclusion of markings in the mil-dot reticle used in this tactical AO riflescope because I noticed that it is helpful in estimating range or compensating for bullet drop.
The adjustable AO (adjustable objective lens) is also one huge strength of this riflescope as it promotes a sharp focus of your targeted image. It further improves the process of estimating range while also eliminating parallax that can only have a negative impact on your shoots.
With the aircraft-quality 6061 aluminum used in the scope's body, I can also vouch for its strength and portability. The material promotes just the right amount of lightness while delivering a durable performance. It also has a strong resistance to both fog and water, thanks to its nitrogen-charged tube.
I would also like to announce the ability of this scope to work without requiring you to lock turrets as a means of attaining your desired changes in windage and dial. With the five levels of adjustment that you can make for the brightness in both green and red, you can enjoy great visibility even when using it in dim environments and at night.
One noticeable issue, though, is the scope's lack of a rangefinder.
Pros
Covers all your hunting needs and requirements
Adjustable magnification included for targeting to more than 500-yard distance
Boasts of an adjustable objective lens, which promotes a sharp focus
Does not require locking of turrets for windage and dial changes
Boasts of five brightness adjustments
Cons
Does not come with a rangefinder
Overall, this tactical AO riflescope from Monstrum has a major contribution in improving your skills whether you use it for just target practice or for serious hunting.
Burris 4.5-14×42 Full-field II Ballistic Plex Riflescope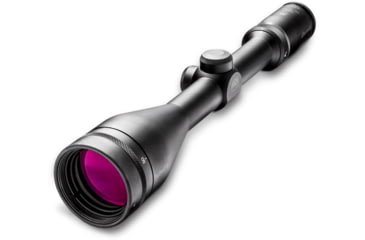 The lower 4.5x magnification is a huge help for those who wish to enjoy quick target acquisition as this promotes an incredible and wide field of view. The top end 14x magnification is also adequate in terms you prefer to use it for serious distances without losing your accuracy and visibility.
I am also pleased with the precision-ground and high-quality lenses integrated into this riflescope as I immediately discovered its effectiveness in gathering quality light. The high-grade optical glass used in it is also the reason behind its incredible clarity and brightness with long-lasting durability.
I also like the fact that adjusting this scope is quick and easy because of the non-slip grip of its simple yet integrated eyepiece. There is also a steel-on-steel click adjustment, which allows you to take advantage of repeatable settings that promote great accuracy both in the field and range.
With the parallax adjustment added into this scope, you also get the chance to enjoy a much better accuracy, especially when using it at a long distance. I am also happy to announce that this scope is highly versatile in the sense that you can match it with any bullet weight or caliber with ease.
The solid and durable outer tube is also built in a way that it can withstand vibrations and shocks even from calibers with the heaviest recoil.
One downside, though, is that the finish used in this riflescope is more prone to scratches compared to the others.
Pros
Ensures a wide field of view and quick target acquisition
Promotes better accuracy even when used at long distances
Compatible with any bullet weight or caliber
Comes with an outer tube, which can withstand vibrations and shocks
Gathers quality light, thanks to the built-in precision-ground and high-quality lenses
Cons
The finish used is prone to get scratched
With the amazing field of view, visibility, durability, and target acquisition of this ballistic plex riflescope from Burris, I am confident to say that it is a great companion for your Mini-14 or any other rifle for that matter.
What Makes a Great Mini 14 Scope?
The Mini-14 is a lightweight semi-automatic rifle designed for both civilian and military and law enforcement use. The Mini-14 Ranch Rifle is the model that is intended for civilian use. The Mini-14 is chambered for use with .223 ammunition and has an effective range of around 100 yards using the iron sights. This basically means that this rifle is not meant for long-range shooting,
However, if you want to give it a bit more range, you can equip it with a scope. With the proper optics and with enough practice, you can most likely hit targets 150 to 200 yards. Since even with a scope the Mini-14 cannot shoot accurately beyond 150 yards, it is not advisable to get a high-powered scope for it. It is best to get a short range or medium range scope for your M14.
In addition, you need to take into consideration what you will be using the rifle for. For instance, if you will be using it for its original intended purpose, which is to keep watch over a ranch, a short range scope is the best choice because you would not be shooting at anything that is not even remotely near your property anyway.
What Magnification Do You Need?
The Mini-14 is primarily a short-range rifle. Without a scope and just using the iron sights, this rifle can accurately shoot up to 100 yards. Even with a scope, the .223 ammunition is not heavy enough to have enough momentum to carry it that far. In addition, the Mini-14 only has a 14-inch barrel, which means that the ammunition also does not get a lot of spin to stabilize its flight.
This also means that it will be overkill to use scopes that have over 12x zoom capacity. In fact, 12x zoom is already pushing the boundaries of what the Mini 14 ranch rifle can do.  If you will be using the Mini 14 for keeping watch over livestock, meaning you will be using it to scare off any potential predators like wolves or coyotes, then you can just use it without any optics whatsoever. It is because the iron sights are enough for your intended purposes.
On the other hand, if you will be using it for hunting, you can use a scope that has a variable magnification. In this case, the 3-9x zoom will be of great help. Now, if you will be using the rifle mostly for plinking, you can get away with using a scope that has a magnification power of up to 12x zoom. With this scope, you can probably hit targets that are around 150 yards to 200 yards away, but not without compensating heavily for bullet drop and windage.
If you are looking for something that you can use for most purposes then get a good quality fixed 6x zoom scope. This type of scope will be more than enough for the usual uses of the Mini 14 and you can also use it for plinking within the effective range of the rifle. If you can only get one scope for your Mini 14 then this amount of magnification will be enough for all your needs.
Factors to Consider when Buying a Scope for Mini 14
Many purists will tell you that you do not need to put a scope on a Mini 14, mainly because the effective range of the rifle and its ammunition is just around 100 yards, maybe 120 yards on really ideal conditions. With that short range, if you have good eyesight, you can just make use of the iron sights.
However, by adding an appropriate scope to your Mini 14, you can actually explore its limits and capabilities. When shopping for the best optics for Mini-14, here are some of the things that you need to take into consideration so you can get the best bang for your buck:
Magnification Power
To find out what amount of magnification you need, it is important to figure out what you will be using the rifle for. This is the primary factor for buying scopes for rifles. Determine what you will be using the firearm for most of the time.
For instance, if you are thinking of using this rifle for keeping watch over your homestead from your porch, a low-powered scope will be enough for your purposes. If you will be using it for hunting, a scope for medium-range shooting, like something that goes up to 12x zoom is ideal. Anything over that is considered overkill already.
Mounting
The Mini-14 is a semi-automatic rifle, so you better be sure that the scope will be mounted on a solid base so that it will not lose its zero with every burst shot. There are different kinds of mounts for optics but the best for the Mini-14 is a solid one-piece scope mount as this one is more secure and allows you to swap out scopes easily without losing their zero.
Weatherproofing
If you will be using your rifle and scope for hunting, usually during the early morning or early evening, you need a scope that is weatherproof and fog-proof. If any amount of water gets into the housing of the scope, it will mess with the lenses by blurring them considerably. The lenses also need to be fog-proof because the fog will cause you to lose sight of your target, which is not what you want to happen if you have been stalking your prey for hours already.
Lens Coating
The scope's lens coating does not only prevent fog from forming on the surface of the lens but also ensures that there are no glare and reflection while still letting enough light get into the scope to provide you with a brighter sight picture. Eliminating glare will prevent excess light from blinding you and blurring your sight picture. The lens coating will also prevent light from reflecting off the lens of the scope. The reason this is important is because the reflected light will give your position away.
Eye Relief
The eye relief is the maximum distance between your eye and the scope that still allows you to get a clear sight picture. What most beginners at shooting firearms do not know is that you do not place your eye directly on the scope. Doing so is immensely ignorant, as your eye sockets will shatter when the recoil from the rifle sends the scope backwards and hits your eyes. However, in the case of the Mini-14, the recoil of this rifle is quite minimal so any amount of eye relief will do.
Reticle
The reticle, also known as the crosshair, is the image in the scope that helps you aim the rifle. There are different kinds of reticles to choose from, but for beginners, the Duplex or the German no.4 reticles are recommended as they are the easiest to understand. As for reticles to avoid, the ones with BDC (Bullet Drop Compensation) are not needed because the .223 ammunition does not really travel that far that bullet drop will be an issue.
These are actually just a couple of the things that you need to consider when you are shopping for a rifle scope for your Mini-14, but these are probably the most important details that you will need. If you need further help, you can consult with your local range master or any of the more experienced shooters in your local shooting range or gun club.
Conclusion
The older generation of shooters might consider scopes on a Mini-14 as unnecessary luxuries but they are really not. Although you can shoot the Mini-14 just fine using the iron sights (if you have good enough eyesight you can hit targets at the maximum effective range of the rifle), there is still nothing wrong about using the best scope for Mini-14.
With the right kind of scope, you can really bring out the full potential of any firearm, especially the Mini-14. The right optics can also help you in making more accurate shots at the maximum distance. In addition, your shot groupings will be a whole lot tighter.
Post ID: 7yWW73l0b
Category ID: lMb9k43
The responses below are not provided, commissioned, reviewed, approved, or otherwise endorsed by any financial entity or advertiser. It is not the advertiser's responsibility to ensure all posts and/or questions are answered.