Pairing your rifle with a good scope delivers top results. However, numerous options for scopes exist in the market, which makes it challenging to make a smart buying decision. If you are on the hunt to find a scope that will boost your confidence when using the M&P 15-22 rifle, then this article can help.
So that you can consider the best options, we have listed seven top-performing M&P 15-22 scopes. Following the review, take a look at the buyer's guide to further read about the selection process. First, take a look at the top-rated M&P 15-22 scopes. Then, learn how to choose the right one for you with our buying guide below.
The 7 Best Scopes for the M&P 15-22 in 2022
Bushnell Optics Drop Zone-22 BDC Rimfire Reticle Rifle Scope
Its price of the Bushnell Optics Drop Zone-22 BDC Rimfire Reticle meets the needs of target shooters looking for a budget-friendly scope. Even at a low price, the scope has positive features and benefits that work for AR-15 style rifles.
The scope performs well for accurate sharpshooting. Because of the built-in rim fires, it has a high level of accuracy for a wide shooting range. It also has several features designed to boost the user's accuracy. For instance, you can take advantage of its side parallax focus, which features target turrets for pinpoint precision and accuracy.
You can also zero it in at 50 yards and enjoy a high level of accuracy from 60 to 125 yards. Additionally, its multi-coated optical sight delivers clear and sharp visuals, regardless of the weather and light conditions.
Pros
Budget friendly
Sturdy aluminum alloy construction
Easy to adjust parallax, thanks to its side knob
Lightweight and promotes accurate and precise shooting
Delivers clear and sharp visuals
Nikon ProStaff Rimfire II 3-9×40 BDC150
Nikon PROSTAFF RIMFIRE II 3-9X40 BDC150
amazon.com
Check price
BDC 150 Reticle
Fully Multicoated Optical System
Spring Loaded Instant Zero-Reset Turrets
Spot On Ballistic Match Technology
Waterproof/Fogproof/Shockproof
The Nikon ProStaff Rimfire II 3-9×40 BDC150 creates perfect holds with the least amount of guesswork needed. This scope's caliber-friendly elevation, combined with its great-performing reticle and incredible optical quality, makes it an ideal scope for the M&P 15-22 and AR-15 rifles.
The spot-on holdover circles at the targeted distances are another great feature of this scope. This scope has a great balance of sturdiness and lightness, thanks to its aluminum polymer body. It is also completely fog-proof and waterproof. In addition, it has anti-reflective compounds, which gives you clear sight pictures.
This scope can also minimize the risk of committing errors when making adjustments on elevation and windage. You can make adjustments on the elevation and windage turrets with the aid of your fingers. You can also easily customize the setup based on the shoot and distance with the help of its spot-on tool.
Pros
Promotes surgical accuracy and precision when shooting targets
Sturdy yet lightweight
Can withstand wear and tear
Promotes ease of adjustment on the elevation and windage
Lightweight, allowing you to manage it with ease
Cons
Occasional fuzzy images when used for long-distance targets
BARSKA 3-9×32 Plinker-22 Rifle Scope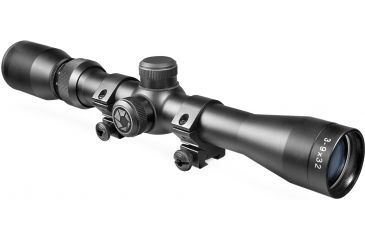 The Plinker's 3x to 9x magnification is a fantastic all-around magnification range for all scopes. This scope also has traits that make it sturdy, including fog-proof, shockproof, and water resistant properties. With all these features that enhance the scope's sturdiness, this optic can handle all styles of shooting.
In addition, it is one of the most versatile scopes available. It works for plinking, casual competitions, and hunting small game. It comes complete with all the things that you might need, including lens covers and mounting rings.
In addition, it promotes its quick-zero capability, meaning that you can easily and quickly zero it in. This scope has up to 95% accuracy for a max of a 100 yards. Another fascinating advantage of this scope is that it can lessen the risk of glare, thanks to its multi-coated lens.
Pros
Affordable without compromising quality
Can withstand tough conditions with its fog-proof, shockproof, and waterproof nature
Flexible and versatile
Quick to zero in and highly accurate
Features multi-coated lens that promotes a lower risk of glare
Vortex Optics SPR-1301 Spitfire 1x Prism Scope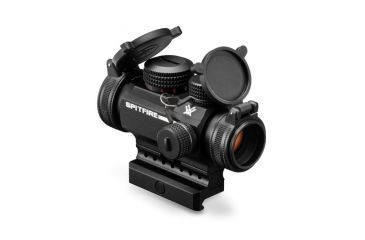 One incredible advantage of the Vortex Optics SPR-1301 Spitfire 1x Prism Scope is that the reticle is etched into the prism. This is beneficial because it ensures that you will get a great point of aim all the time, whether it is illuminated or not.
Additionally, its solid construction makes it possible for the Spitfire to withstand impact and recoil, regardless of how harsh it is. The lens image it uses is fully multi-coated and anti-reflective. These features make the scope capable of night vision.
The reticle also comes with five levels of intensity, making it possible for the scope to blend in any environment. The compact design of this scope is one of its most striking benefits. However, the eye relief is not as robust as other options.
Pros
Ideal for close to medium-range shooting
Promotes speed and quick target acquisition
Guarantees a sharp and clear focus, thanks to its built-in reticle
Sturdy and shockproof construction
Waterproof and fog-proof
Cons
The eye relief is not as robust as other options
Aimpoint Carbine Optic (ACO) Sight
AIMPOINT - CARBINE OPTIC (ACO)
brownells.com
Check price
The Aimpoint® Carbine Optic is designed specifically for use on AR-15 and M4 carbine style rifles, incorporating proven design features and premium Aimpoint quality at an entry level price point. T...
The Aimpoint Carbine Optic (ACO) Sight can operate with ease and minimal effort. Once mounted, you will be able to start using it right away. The fact that this M&P 15-22 scope uses high-grade aluminum enhances its durability. Another thing that makes it distinguishable is its semi-matte finish, which actually contributes to minimizing glare when you are using it.
It has lenses coated with multiple layers, which helps in limiting reflection. Another fascinating trait of this scope is that it offers a limitless eye relief. Additionally, the nine brightness settings built solidly into this scope are another great feature.
You can use this scope for a number of purposes, including competitive shooting, self defense, and hunting. Because of this, it is one of the most expensive scopes available in the market today.
Pros
Limitless eye relief
Offers nine brightness settings
Works for several purposes, like competitive shooting, self defense, and hunting
Promotes a high level of accuracy
Minimizes glare, thanks to its semi-matte finish
Nikon P-Rimfire BDC 150 Riflescope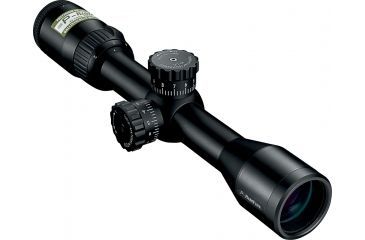 Product Info for Nikon P-Rimfire 2-7x32 Riflescope
opticsplanet.com
Check price
Focus in for a more accurate shot with the Nikon P-Rimfire 2-7x32 Riflescope w/ BDC 150 Reticle. These Riflescopes engineered by the specialists at Nikon Sport Optics simplify field adjustments wit...
If you are looking for a more high-end scope, then we suggest the Nikon P-RIMFIRE. Passionate shooters and hunters will most likely appreciate this scope because it complements the capabilities of the M&P 15-22. The overall design of this scope is built to last long, while also being easy to use, operate, and care for. It has plenty of incredible functionalities that you can't find in other standard scopes.
In fact, the scope features two of the best features: the ability to be fog-proof and waterproof. This ensures that you can use the scope even when it is raining. Another positive aspect of this scope is its fully multi-coated optical system. This feature maximizes the transmission of light all throughout. It also lets you enjoy your tactical style. However, this scope is not compatible with all rifles.
Pros
Maximizes light transmission, thanks to the fully multicoated optics
Easy to use and operate
Solid and tough and can withstand all types of weather
Promotes a relaxing and comfortable eye relief
Beautifully designed and high-end construction
Cons
Not suitable for all rifles
Sightmark Ultra Shot Pro Spec Sight NV QD
Another scope for the M&P 15-22 that exceeds standards is the SM14002 Ultra Shot Pro NV QD from Sightmark. This scope performs as a highly effective, square-windowed optic that is capable of providing users a wide field of view.
We like the mounting system of this scope because it is quick and easy to detach. With such a system, the scope is simple to pop on securely. This scope features a dependable night vision mode, which makes it is useful in low-light situations.
This scope's reticle pattern is one of its most striking qualities. With four reticle patterns, the scope gives users the opportunity to make adjustments on the red dot's visibility, depending on the present lighting conditions. The internal locking system also aids in holding zero well.
As for its overall construction, it can withstand shock, impact, and water. It works well as an optic designed for plinking at close quarters, as well as tactical hunting. Furthermore, it is easy to use and mount. Aside from all that, it boasts of its ability to eliminate parallax compensation through its double pane glass.
Pros
Provides a wide field of view
Comes with a mounting system, which is easy to mount and detach
Features a night vision mode that you can depend on
Holds zero efficiently, thanks to its internal locking mechanism
Easy to use
Cons
Can't block moisture penetration that well
What Makes a Great M&P 15-22 Scope?
Although the .22 LR has an effective range of 150 yards, it is in your best interest to get a rimfire scope for your M&P 15-22. The ammunition for the rifle is not meant for long-range shooting, but that does not mean that it will not benefit greatly from a scope.
A good scope for the M&P 15-22 is a .22 caliber rifle that is lightweight. The rifle itself is lightweight, so you would not want to make it top-heavy by installing a heavy optic. Because the .22 LR does not have much of a kick, eye relief is not really an issue when choosing scopes for your M&P 15-22. Choose the one where you can get a good sight picture from a distance you are comfortable with.
Ultimately, the best scope for the M&P 15-22 will depend on where you will be using the rifle. If you will be using it mostly for plinking, or target shooting, then you can choose any short to mid-range scope. If you will be using the rifle mostly for hunting small game animals, then get one with a slightly larger objective lens so it has better light transmission in low-light conditions.
It should also be waterproof & fog proof so you can use it in all weather conditions. You do not need to get a long-distance scope for the M&P 15-22 because it is not a sniper rifle. Although the .22 LR can still be fatal up to 350 to 400 yards, it is almost impossible to shoot it accurately due to the immense amount of bullet drop. That said, you need a scope that is actually intended for the M&P 15-22.
Factors to Consider when Buying a Scope for M&P 15-22
In your search for a dependable M&P 15-22 scope, consider these factors:
Magnification
This is one of the most important features of scope, as it is the range by which you can zoom in on your target. If you are looking for scopes for the M&P 15-22, remember that the weapon's effective range is around 150 yards. That said, a good scope would have the range of 2x to 9x zoom.
Getting one that has better range will only be a waste since the bullet drop compensation from beyond 200 yards will be so great that you will need to aim high above the center just so you can hit the target. A scope with a modest 2x to 9x zoom works best because you rarely need to compensate for anything.
Objective Lens
This is the part of the Smith and Wesson M&P 15-22 scope that lets light into it, so you can get a clearer sight picture. The bigger the objective lens, the more amount of light comes in. However, bigger lenses also add weight so you need to choose your options wisely.
For an M&P 15-22, the usual 32 mm objective lens will do fine. However, if you are thinking of hunting in low-light conditions, then something bigger might work better for you.
Weight
You need to take into consideration where and how you will usually be using your M&P 15-22. Will you be plinking at the range with a bipod or sandbag to help you keep your rifle steady? If so, getting a heavy scope will not be an issue.
On the other hand, if you will be using your M&P 15-22 to stalk your game, then choose a scope that will not add that much weight to the rifle.
Windage and Elevation Adjustment
Since you own an M&P 15-22, you do not have to worry too much about these settings as the .22 LR rounds are so light that you can shoot targets beyond its effective accurate range of 100-150 yards. This means calculating for windage and bullet drop is moot. However, you would still need the windage and elevation adjustment to zero in your scope.
Lens Coating
The lens coating prevents glare from ruining your sight picture. This is necessary if you will using a scope with a large objective lens. The coating allows light to transmit into the scope and prevents it from reflecting outward. There are generally four different kinds of lens coating available:
Coated: At least one of the lenses, usually the objective lens, is coated with a single layer of anti-reflective film.
Fully coated: All lenses are coated with at least one layer of anti-reflective film.
Multi-coated: At least one lens has multiple layers of anti-reflective film.
Fully multi-coated: All lenses are coated in multiple layers of film.
Reticle
More commonly known as the "crosshair," the reticle is the part of the rifle scope that actually helps you aim your rifle at the target. Looking into your scope and lining up the reticle is similar to lining up your rifle and taking aim using the iron sights. The only difference is that with a reticle, you can do so more accurately.
Choosing reticles is a matter of personal preference and there are literally dozens of different kinds you can choose from. If you want something that has more accuracy, a small reticle is the one for you. However, these reticles are hard to see, especially in low-light conditions.
Focal Plane
There are two types of focal planes in riflescopes – the first and second. In an M&P 15-22 optic with a second focal plane, the reticle can be found at the end of the erector tube, which is the end that is closer to the rifle's butt.
For a rifle scope with a first focal plane, the reticle is in front of the erector tube, which means that the reticle zooms in as well as the image. The great thing about this is that the tick marks in the reticle are always in proportion with the target, making it accurate at all zoom levels.
Tube Size
The only importance of knowing the tube size of your scope is so that you will know the size of the mounting rings you need to use. Tubes generally come in two sizes: 30 millimeters and 1 inch. There are really no benefits to choosing one over the other, so you can just choose whichever one you want.
Frequently Asked Questions
What is better for the M&P 15-22: a scope or red dot?
If you will be using your M&P 15-22 mostly for plinking targets beyond 100 yards, then you will need to use a scope to easily and accurately aim at your target. It is also assumed that you will be using a bipod or some other form of support for your rifle while you are at the range, so having a scope is the obvious choice.
How do you mount a scope on an M&P 15-22?
Some rifle scopes already come with mounting rings, but if you want a uni-body mounting bracket or if your scope does not come with a mounting system included, then you should find out the size of the scope's tube and buy the appropriately sized ring.
Once you have all of the necessary parts, you can start installing the scope onto your M&P 15-22. Start by clamping down your M&P 15-22 onto your workbench vise. Before you clamp on the rifle, put a layer or two of thick cloth to protect the rifle from scratches.
Once you are happy with the position, tighten the screws down to secure the mounting rings/base. Check again if the base is level with the rest of the rifle. Unscrew the tops of the mounting rings. If you positioned them correctly, the rings will cradle the scope at just the right position.
Once the tops of the rings are removed, position the scope in between the two rings. Make sure that the reticles are in the right orientation. If you are satisfied with the placement, place the tops of the mounting rings and screw them down tight. Again, check if the M&P 15 scope is level with the rifle.
How do you zero iron sights M&P 15-22?
The first step involved in zeroing sights is to make sure that your rifle is on a stable base. Place a target 25 yards down range, then fire off three rounds.
Based on where your three shots hit, adjust the front sight post up or down. You might need a specialized tool for this. After adjusting the front sight post, adjust the windage (left or right). Fire another three-round group and make the necessary adjustments until you find the sweet spot. Once you are done making the adjustment for 25 yards, set a target 50 yards down range and repeat the previous steps.
The Leupold Mark AR MOD 1 3-9x 40mm; the Leupold VX-1; and the Nikon ProStaff Rimfire II 3-9x40mm: Which is better?
Considering the fact that all three of these scopes are made specifically for rifles that fire small caliber bullets, like the .22 LR, choosing just one based on their features is difficult. There are almost identical in terms of features. In fact, all of them also have the same size optics and are weatherproof.
The Leupold VX-1 would have been the solid choice out of the three. But, the problem is that this model is no longer in production. The company created a new model that will replace the original VX-1 scopes on the market. Although that one is a viable replacement, it still does not rank the same as the original.
You can also pick the Nikon Rimfire II. Although its finish is not that tough, the Nikon Rimfire II is a bit above the Leupold Mark AR MOD.
Conclusion
If you want to get full use of the M&P 15-22, it is absolutely necessary to get a scope. You can use the iron sights for close-range shooting, and then switch to the scope for medium-range targets. Now that you know how to choose the right scope, you can go out and get one in confidence. You will find that your choice of scope will truly complement your rifle and create a better shooting experience.
Post ID: 06kkKdndj
Category ID: lMb9k43
The responses below are not provided, commissioned, reviewed, approved, or otherwise endorsed by any financial entity or advertiser. It is not the advertiser's responsibility to ensure all posts and/or questions are answered.