The technology in this industry is continuously advancing, and prism scopes are the latest product to rise in popularity. Prism scopes became popular because of their ease of use and unique performance. Now, rifle owners are looking for the best prism scopes. If you're looking for a high-quality prism scope, check out this review of the 10 top-performing models. First, take a look at the top-rated prism scopes. Then, learn how to choose the right one for you in our buying guide below.
The 10 Best Prism Scopes in 2022
Primary Arms 1x Prism Scope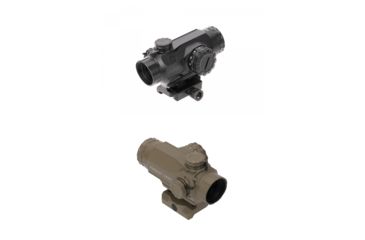 Many buyers rate the Primary Arms 1x Prism Scope as the best prism scope because it is unlike any other. This prism scope provides a generous eye relief of 3.7 inches. That, along with a 13-millimeter exit pupil, is what makes this prism scope exceptionally forgiving and easy to use.
When shooting using the red dot style, you will enjoy a high level of efficiency. Even in various circumstances and positions, it keeps your eyes open and ensures quick target acquisition. Additionally, this scope utilizes a roof-prism optical system. This feature results in clear, blur-free sight pictures, even for those with an astigmatism.
When used at long ranges, you can enjoy accurate shooting. It also creates a large field of view, making it possible to acquire your new targets faster. Furthermore, this scope's ACSS Cyclops reticle provides quick hits in various situations.
As another advantage, its etched reticle can work perfectly when you turn off the batteries. This is not usually the case for holographic or red dot optics. However, its illumination may be inadequate for daylight hunting or shooting.
Pros
Provides good eye relief
Offers clear and blur-free sight pictures
Ideal for those with astigmatism
Features a wide field of view
Promotes quick target acquisition and a high level of accuracy
Cons
Insufficient illumination for daylight hunting or shooting
Primary Arms 2.5X Compact Prism Scope
Especially for the AR, the Primary Arms 2.5X Compact Prism Scope is a high-quality prism scope. In fact, its versatility makes it compatible with a wide range of calibers, including the carbine-fired 9 millimeter, the .308, and the 6.8 SPC. Some even say that it also works as an appropriate prism scope for the .300 Blackout rifle.
This prism scope serves as an ideal option for those looking for a good 2.5x to 3x prism scope for close-quarter battle and mid-range shooting or hunting. It is compact, yet tough and sturdy. In fact, it uses 6061 aluminum material, along with an anodized finish in matte black.
Additionally, this prism scope is fog resistant, water resistant, and nitrogen purged. It features 12 brightness settings, powered by its CR2032 battery. Because of this, you can set it on your desired brightness, even if its reticle does not require illumination. You can also easily mount this prism scope.
In addition to its generous eye relief, you can easily set it to zero. Lastly, it comes with impressive glass quality that provides good color, light transmission, and clarity from one edge to another. However, the turrets' ½ MOA adjustments do not provide well-defined clicks.
Pros
Equipped with an ACSS reticle, which promotes rapid and intuitive ranging
Comes with 12 brightness settings
High-quality, clear glass
Compact, yet tough and sturdy
Easy to mount and forgiving eye relief
Cons
MOA adjustments lack well-defined clicks
UUQ Prism 4×32 Illuminated Rapid Range Reticle Scope
This UUQ Prism 4×32 Illuminated Rapid Range Reticle Scope takes pride in its multi-coated optics, along with the illuminated blue/green/red glass-etched reticle. Its fully coated prism lens is favorable because of its ability to offer the highest level of clarity through the incredible light transmission. The adjustable windage and elevation made possible by the ¼ MOA click value is also a great advantage of the scope.
Impressively, this scope is great for combat because of its fast target acquisition. The premium carbon fiber used in this rifle scope's construction allow for it to be lightweight, while also promoting ease of installation and adjustments. This prism scope features sturdy metal housing equipped with dual-layer lenses. Furthermore, it offers a robust platform of fog-resistant, rainproof, and shockproof properties.
This prism scope also works well when used in close-quarter battle situations. In addition, its fiber optic system takes pride in its green coating and five brightness settings. However, a downside to this prism scope is its less forgiving eye box. It is also slightly more critical in comparison to other red dot rifle scopes.
Pros
Takes pride in its fiber optic system popular for its efficiency and clarity
Made with a robust platform, which can resist fog, shock, and water or rain
Ideal for CQB situations
Generous eye relief provided
Lightweight while being easy to install and adjust
Monstrum Tactical S330P Marksman 3X Prism Scope
Monstrum S330P 3X Prism Scope
amazon.com
Check price
Compact yet heavy duty prism sight with 3x magnification and 30mm objective lens, Ideal for rapid mid range target acquisition out to 500 yards.
Features a glass prism optical system rather a refra...
The Monstrum Tactical S330P Marksman 3X Prism Scope utilizes a glass prism optical system instead of traditional one. This ensures that users can enjoy top optical quality. Additionally, the use of illuminated cross simple dot reticle allows you to find your target easier and quicker.
This scope also comes with an etched black reticle, which is known for being visible when there is no illumination. You can also light it green or red to promote better reticle visibility in low-light situations. The fully multi-layer coating used for the lens minimizes the chromatic aberrations, thereby delivering sharper and more focused images.
With its crystal clear optics, users can achieve quick target acquisition. The ultra-compact design of this prism scope for AK-47, AR rifles, and any other gun and rifle, promotes ease of use and handling. Mounting the prism scope is easy, and it can withstand frequent and heavy use.
In addition, the wide and comfortable eye relief of this prism scope lets you target effortlessly, even when your eyes are open. The multiple brightness settings are also beneficial because they allow you to set the brightness. However, this prism scope has bulky and heavy thumb screws.
Pros
Low cost, making it perfect for those who are on a budget
Can lessen chromatic aberrations to obtain sharper and more focused images
Comes with crystal clear optics
Compact while remaining heavy duty
Easy to mount and use
Cons
Comes with bulky and heavy thumb screws
Vortex Spitfire 3X Prism Scope
VORTEX OPTICS - SPITFIRE 3X PRISM SCOPE
brownells.com
Check price
Designed specifically for the AR platform, the Spitfires combine an impressive array of high-performance features into rugged, ultra-compact packages. When fast target acquisition in close- to medi...
The Vortex Spitfire 3X Prism Scope is one of the best prism scopes available. The 3x lens comes with a fully multi-coated coating that helps make targets 100 yards away seem closer. It also eliminates glare and has multiple coatings with anti-reflective properties.
All of these features work effectively in increasing the transmission of light. The distinctive and unique prism-like design of this scope is also a major advantage because you can use it with or without illumination. It also makes use of a DRT illuminated reticle, which is etched into the prism and consistently precise and sharp optics.
The adjustable brightness of the scope lets you choose from its five intensity levels. With that, you can pick one based on a specific hunting condition. This prism scope also takes pride in its compact and lightweight structure. The built-in adjustable mounting base further promotes ease in handling the scope.
This makes for an incredible choice if you are in search of the best eye relief in a prism scope. It comes with a generous eye relief of 2.8 inches, allowing you to use your scope, even with your eyes open. However, the lens cap is prone to wearing out and losing its retention too soon.
Pros
Ideal for hunting or shooting applications requiring speed
Can deliver consistently precise and sharp optics, thanks to its etched reticle
Comes with an adjustable mounting base, which promotes ease in handling the scope
Good eye relief
Adjustable brightness, making it possible to pick one depending on a certain hunting condition
Primary Arms 3X Compact Prism Scope (Gen II)
One major strength of the Primary Arms 3X Compact Prism Scope (Gen II) is the ACSS 5.56 CQB-M2 reticle, which has a combination of ranging wind leads, ballistic drop compensation, and moving target leads. Buyers can use this reticle up to 600 yards. The exterior horseshoe integrated into the glass-etched reticle is useful for close-quarters engagement.
What is even more admirable about this glass-etched reticle is that it doesn't require batteries or illumination to work. Despite that, it is equipped with 11 brightness settings that you can use for quick target acquisition in close quarters, or for improved visibility in the case of fading light.
The removable spacer integrated into this prism scope for 3-Gun and other rifles allow for compatibility with a wide range of rifle platforms. In addition, users are also impressed by the forgiving and bright eye box of this prism scope, brought on by its generous exit pupil.
This prism scope is tough, which is noticeable with its shockproof, waterproof, and fog-resistant structure. It also provides ¼ MOA turret clicks. However, it is slightly heavy.
Pros
Easy and quick to aim at a close distance
Compatible with a wide range of rifle platforms
Forgiving and bright eye box
Tough, shockproof, waterproof, and fog-resistant structure
Easy to zero in, thanks to its audible and tactile turret clicks
Monstrum Tactical P330-B Marksman 3X Prism Scope
Monstrum P330-B Marksman 3X Prism Scope (Black)
amazon.com
Check price
Next generation prism sight with 3x magnification and 30mm objective lens, for lightning fast target acquisition out to 300 yards
Features a glass prism optical system rather a refracting lens syst...
The Monstrum Tactical P330-B Marksman 3X Prism Scope utilizes a glass prism optic instead of the refracting lens system, which is often used in conventional and traditional scopes. This is because the glass prism optic promotes great optical quality, even if it only comes in a small and compact package.
The construction is noticeably solid with its nitrogen sealing, which prevents it from fogging up and ensuring that water does not penetrate. The use of the 6061 aircraft-grade aluminum material, as well as the turret caps with rubber O-ring sealing, is also a big help in locking the adjustments in place while ensuring that corrosion and dust do not get through.
In addition, it utilizes an optic lens coating designed to lessen glare, boost clarity, and prevent scratches from forming. The crystal clear optical system offers a convenient 3.5-inch eye relief. Its reticle has the ability to illuminate in green or red with the aid of its several brightness settings. It is also possible to view the reticle in black when you turn it off, in case you want it to cover the majority of lighting conditions. However, one weakness of this prism scope is its short battery life.
Pros
Hard-anodized aluminum body, showcasing its toughness
Capable of withstanding the harshest and strongest recoil
Uses an optic lens coating, which is helpful in boosting clarity and lessening glare
Prevents corrosion and dust from penetrating inside
Can cover the majority of lighting conditions
UTG Compact Prismatic 4×32 T4x Glass T-Dot Scope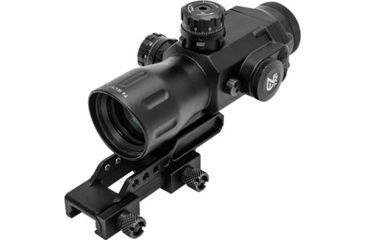 The UTG Compact Prismatic 4×32 T4x Glass T-Dot Scope leaves positive impression on many users because of it is nitrogen filled and fully sealed, which makes it durable. This assures users of long-lasting reliability.
The sophisticated and elegant prism-based design used in this scope results in a compact optic system, without compromising its quality. Another notable feature in this scope is its EZ-TAP IE (illumination enhancing) technology. Such a system features a dual-color green/red setting, as well as a 36-color setting. This makes it possible for you to shoot or hunt with ease, regardless of the time of day.
In addition, there is a single-click memory integrated into this scope, which is a big help if you want to be able to restore the last brightness or color that you used. The multi-emerald coated lenses maximize light transmission, prevent glare, and promote better clarity from edge to edge. However, the 2.3-inch eye relief may be insufficient.
Pros
Better clarity and light transmission guaranteed
Can prevent glare with the help of its multi-emerald coated lens
Features a single-click memory to restore your last setting
Built using a true strength platform, maximizing its durability
Compact size, promoting ease in maneuvering it
Primary Arms 5X Compact Prism Scope (Gen II)
The Primary Arms 5X Compact Prism Scope (Gen II) showcases an Ip67 waterproof rating. This proves it's capable of withstanding the harshness of the field that you expose it to. Its powerful prism design ensures that you will have a more convenient time using it.
It takes pride in its 5x magnification setting, as well as its horseshoe reticle with bright illumination. With this, be surprised with how fast it can acquire your target, especially at close range. It is also possible for you to use the ACSS reticle for this, which guarantees consistent hits on your target to a max of 800 yards.
This prism scope is flexible. The removable spacer integrated into it plays a huge role on how versatile and flexible it is. This specific feature tailors it to be compatible with various rifle platforms, including the AR-15 and the AK-47.
It also acts as a fantastic companion if you are in search of a scope, which you can use for various applications, including plinking, hunting, and competition. I also find its 7-millimeter exit pupil generous and capable of promoting a forgiving and brighter eye box.
Furthermore, it is equipped with a top rail, which you can remove if you want to reduce the weight and provide the scope with a slick look. On the downside, it has somewhat poor eye relief.
Pros
Solid aluminum construction
Highly versatile as you can use it in various rifle platforms and applications
Bright and forgiving eye box provided
Removable top rail to make the scope even lighter
Can be used for plinking, hunting, and competition
Steiner Optics 5×36 Prism Sight
Steiner M536 Prism Sight 5x36, Reticle 5.56, Black
amazon.com
Check price
ILLUMINATED BALLISTIC RETICLE with 10 brightness settings for day/night operation.
MULTI-COATED OBJECTIVE LENS and Bak4 prism construction for sharp, high-contrast image.
5X MAGNIFICATION for targe...
The Steiner Optics 5×36 Prism Sight works appropriately with patrol rifles and carbines. With its 5x magnification, you will be able to use it to target up to a 700-meter range. It is lightweight and easy to use when pointing at your target.
It assures users of clear and quick aiming point, regardless of the battlefield scenario or lighting condition it faces. The 36-millimeter objective lens diameter is also one of its major strengths. It gathers more light and provides brighter and clearer images. Another satisfying feature of this prism scope is its 10-setting illuminated reticle.
With this type of reticle, you can immediately transition from a close-quarter target into a medium-range target, whether it is day or night. Many also opt to use this scope because of its toughness and reliability, brought on by its shockproof and waterproof structure.
The multi-coated objective lens of this prism scope is also designed in a way that it can deliver a high-contrast and sharp image that you can depend on. The windage and elevation setting is completely adjustable. You can also take advantage of its Picatinny base in case you want to use it for CQB applications by mounting it on an auxiliary sight.
Pros
Performs well in both close-range and medium-range shooting or hunting scenarios
Built tough, thanks to its shockproof and waterproof properties
High-contrast and sharp images consistently delivered
Boasts of completely adjustable windage and elevation settings
Operational whether you decide to use it during the day or at night
Cons
The quality of its finish and fit are not as good as other prism scopes
#11 Vortex Spitfire 1X Prism Scope
The Vortex Optics Spitfire Prism Scope is one of the best 1x prism scopes. It works efficiently when used in shooting applications that are in close- to medium-ranges. In these scenarios, speed and quick target acquisition are essential, making these prismatic optics excel.
The prism-based design used in this prism scope for AR-15 and any other rifles provides a compact optic without compromising its quality. It utilizes the dual ring tactical (DRT) reticle, which guarantees consistent accuracy because it is directly etched into the prism.
You can also choose from its green/red illumination with five levels of intensity so you can find the one that perfectly matches a specific condition. The reticle also makes this prism scope for hunting and shooting appropriate for rapid and quick shooting at a close range or distance.
The fully multi-coated lens of this scope also features anti-reflective coatings. This combination makes the lens capable of providing bright views and pictures, even when used in low lighting conditions. The stability and durability of this prism sight option are also unmistakable.
It has shockproof and solid construction, allowing it to withstand impact and recoil, regardless of the intensity. Furthermore, it showcases its waterproof and fog-proof performance through the combination of its O-ring seals and nitrogen-purged structure.
Pros
Useful in shooting applications that are around close to medium ranges
Provides bright views and pictures no matter what the lighting condition is
Boasts of a shockproof, solid, waterproof, and fog-proof structure
Ideal for rapid and quick shooting at a close range
Can withstand impact and recoil
What Is a Prism Scope?
Prism scopes have a compact design, but they still provide a huge sight picture. This makes them ideal for modern tactical rifles like the AR-15. Unlike traditional scopes that use several lenses to focus the image, prism scopes for the AR-15 use a prism to erect and focus the image. This allows prismatic optics to have more compact designs.
Additionally, prism scopes us illuminated reticles, which make them similar to red dot sights. Unlike red-dot sights, some prism scopes can be magnified up to 5x zoom. To put it simply, prism scopes are like the hybrid offspring of traditional scopes and red dot sights.
Although some prism scopes have magnification, they are mostly for close-quarter combat. This means they won't be of much help with long-range shots. Prism scopes are not ideal for sniper rifles.
Prism Scope vs. Red Dot
With close-quarter battle, red dot sights are often the choice for gun enthusiasts. However, prism scopes are increasing in popularity. Many find that 3x prism scopes perform better than red dot scopes.
That being said, the red dot scope has a slight advantage because it is easy to use. Simply, you place the red dot over your target and pull the trigger. In fact, you do not need to close your non-dominant eye to use the red dot. This means faster target acquisition. On the other hand, prism scopes are not exactly slouches with regards to target acquisition. Although not as quick as red dot sights, prism scopes have a faster target acquisition than traditional rifle scopes.
Additionally, key utility features place prism scopes above red dot sights. First, many of them have magnification, unlike red dot sights. This means that prism scopes allow you to zoom in on your target for a clearer shot. Another advantage of prism scopes is the etched reticles. In this case, you can use prism scopes after the batteries run out or if there are issues with the fiber optic. With a red dot sight, it is possible for the red dot to disappear when the batteries die.
What Makes a Great Prism Scope?
As with traditional rifle scopes, the best types of prism scopes are those that fit your needs. Although their uses are interchangeable, it is best to get the scope that you are most comfortable using.
If you plan to use the scope for close-quarter battle, consider buying one that does not have any magnification. The illuminated reticle and large field of view of the prism scope make it easier to focus and engage your targets.
If you will be using it for short-range to medium-range shooting, or hunting, you should get a scope with up to 5x magnification. The great thing about using prism scopes for hunting is that it is faster to acquire and focus on your target, in comparison to using a traditional scope.
Another feature that makes a good prism scope is the etched reticle. Note that some of them have reticles that are etched into the lens. This adds a layer of insurance in case the scope runs out of batteries, or if the scope's fiber optic cable malfunctions. Compare that to a red dot sight that becomes worthless when the battery runs out. When that happens, you need to depend on your iron sights, which can be disorienting.
What Magnification Do You Need?
Most prism scopes do not have magnification, meaning they have 1x fixed zoom. However, there are quite a number of manufacturers that provide prism scopes with different fixed magnification values. These scopes are fit for different situations. To ensure that you will be buying a scope with the right magnification, consider where you will be using it the most.
Are you planning to use the rifle for CQB, such as home defense? Or do you want to use it for competitions that require quick reflexes and shooting? In both situations, note that scopes with 1x magnification are the best. These are perfect for such type of shooting because you do not have to make any adjustments. You can quickly lock onto your target, center the reticle, and pull the trigger.
This magnification is also perfect if you own a shotgun for home defense. The illuminated reticle of a prism scope makes it easy to aim at your targets. Even if you are in a dark environment, you can still see the reticle and your target clearly. Also, take note that even if intruders try their best to hide in the shadows, you can still see and apprehend them.
If you are thinking of using the rifle for range shooting, anything that is between 3x and 5x magnification is the perfect choice. This power of magnification is the right amount for hunting medium-to-large game animals. It provides the right amount of zoom needed to get close to your target, but not so close that you risk getting seen.
Prism scopes with 5x magnification are also great for plinking. This amount of zoom will allow you to shoot accurately up to 500 or 600 yards, depending on the caliber of your ammunition.
Factors to Consider When Buying a Prism Scope
Be sure to shop for a high-quality prism scope. There are no prism scopes with variable magnification. Consequently, if you buy a prism scope with the wrong magnification, it could be a waste of money. To help you on your quest for the right prism scope, here are some factors you need to take into consideration.
What will you be using it for?
Prism scopes are not meant for long-range shooting. This means that if you have a high-powered sniper rifle, putting a prism scope on it will not allow you to maximize the capabilities of your firearm.
On the other hand, if you have a tactical rifle, like an AR-15, and you are looking for quick target acquisition, a reflex sight will be your best choice. However, if you are looking for a mix of the two, you should get a prism scope.
Magnification
The difficult part about buying prism scopes is that there are no variable magnification options. This is why you need to first determine where you will be using the rifle. If you will be using it mostly for tactical shooting and close-range combat, you will want the 1x or 2x magnification.
If you will be using it for hunting or shooting at targets from 200 to 300 yards, you will need the 5x magnification so that you can get a clear shot of you target, even if it is far away.
Eye relief
Eye relief is one problem of prism scopes. They have minimal eye relief, which means that your eye needs to be a bit close to the scope. This is a problem when you are using a high-powered rifle because the eye relief of most prism scopes is not enough to protect you from the recoil.
If your rifle needs to have an eye relief of 5 inches or more, then prism scopes may not be the best choice, as the best eye relief for the prism scope is just around 3 to 4 inches. This is better used for semi-automatic rifles that do not have powerful ammunition.
Reticle
The reticle is where the prism scope shines. Unlike reflex scopes or red dot sights, prism scopes can accommodate a wide array of reticles. You can choose a scope with a basic duplex reticle, or a German No.4 reticle for most shooting purposes. You can also get one with a BDC for medium-range shooting.
Of course, you can also get a red dot reticle if you are planning to get a 1x magnification scope. Another thing that you might want to take into consideration is if the scope you are getting has an etched reticle. This will serve as insurance for when the scope suddenly runs out of batteries and loses its illuminated reticle. Having an etched reticle means you can still use the scope to aim properly.
Lens coating
Just like traditional rifle scopes, it is important that you get a prism scope that has multi-coated lenses. In fact, it is almost impossible to find scopes that have no anti-reflective coating. The more layers the lenses have, the better protected it is against reflected light and glare.
Weatherproofing
If you will be using this scope on a hunting rifle, it is best to buy one with waterproofing and fog-proofing properties. It is rare that you will be hunting in perfect weather conditions. Most game animals will not come out of their hiding holes if it is still bright outside. This is why most hunters stalk their prey in the early morning or early evening, when the weather is still chilly and a slight mist covers the land.
If your prism scope for hunting is not sufficiently weatherproof, moisture will get into it and make it unable to focus properly. It might even get so bad that you can get zero visibility from your scope. Check the weatherproofing and fog-proofing qualities of the scope you are planning to buy and make sure that it is the best prism scope for the money.
Conclusion
Although it is technically a reflex sight, a prism scope has more to offer. Aside from giving you a quick sight picture, it also gives you the choice to get a scope with up to 5x magnification capabilities. Reflex sights and red dot sights do not have that luxury.
In addition, most prism scopes have etched reticles. These are the same ones used in traditional rifle scopes. This allows them to still be usable when their batteries are drained. If you are in need of a scope that provides the speed of reflex sights, but with the additional benefits of magnification, then you need to check out the best prism scope.
Post ID: 23YYK24pj
Category ID: lMb9k43
The responses below are not provided, commissioned, reviewed, approved, or otherwise endorsed by any financial entity or advertiser. It is not the advertiser's responsibility to ensure all posts and/or questions are answered.