Technological advancements have improved the quality of life, even in the tactical and firearms community. One of the recent innovations is the rangefinder scope. With this device, you get to experience the benefits of having two devices in one nifty tool.
To get the most out of it, you need to select a model that suits your needs. Choosing the best rangefinder scope depends on construction, specifications, features, size, and style. This article gives you all you need to know about rangefinder scopes.
First, let's take a look at the top-rated rangefinder scopes. Then we'll talk about how to choose the right one for you in this buying guide below.
The 4 Best Rangefinder Scopes for 2022
Burris Eliminator III LaserScope 3-12x44mm
The Burris Eliminator III is a smaller, lighter, and sleeker version of the Eliminator III. It has a magnification level of 3x to 12x, allowing you to get a wide field of view. This enables you to quickly sight your target. With the Eliminator III's technology, you just need to point at the target and click the range button. The X96 reticle provides you with an estimated distance and holdover, making an illuminated dot out of your target.
Unlike other long range rifle scopes with a rangefinder, the Burris Eliminator III provides a drop of 1,200 yards on reflective targets, and 750 yards on non-reflective targets. This means the scope can provide accurate and fast shooting despite long ranges. For this reason, the Eliminator III is an excellent choice for both beginners and professionals.
Another important factor is that the Burris Eliminator III is durable. It's made out of high-quality materials, and the rangefinder is weatherproof. The only downside to this product is that it's heavy and bulky, weighing at 28.8 ounces. Some users might find it uncomfortable, but that doesn't weigh down the Eliminator III's performance.
Pros
Durable construction
Easy to use
X96 reticle
High laser range capabilities
Burris Eliminator III LaserScope 4-16x50mm
Burris Scopes 200116 Eliminator III Laser
amazon.com
Check price
Sport type: Hunting, Shooting
25 feet at 100 yards (low) to 9 feet at 100 yards (high) field of view
10.5 millimeters (low) to 3.5 millimeters (high) exit pupil
50-Inch at 100 yards maximum adjust
...
Burris Optics offers the best and most-trusted scopes on the market. The Eliminator III is no different. With this scope, beginners can enjoy the thrill of long-distance shooting. Overtime, with the scope's help, beginners will get better at shooting.
The Burris Eliminator III has a ranging capability of 1,200 yards for reflective targets, and 750 yards for non-reflective targets. It also features a 4x-16x magnification level with a 50-millimeter objective lens.
The Burris Eliminator III proves to be a durable and a high quality rifle scope. Made out of superior materials, this scope has no trouble withstanding shock and recoil. Above all, the Eliminator III weighs a 26 ounces by itself and has a length of 16 inches. However, considering its features and technology, the extra weight is worth it.
Pros
X96 reticle
Auto-point features
High range capabilities
Durable construction
ATN X-Sight II HD 5-20 Smart Day/Night Riflescope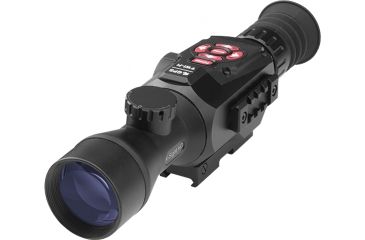 ATN is one of the pioneers of producing high-quality scopes with low-light and night-vision optics features. In fact, the X-Sight II offers a product of superiority and brilliance. The ATN X-Sight II scope is not your typical rifle scope with a laser rangefinder. This product is fully digital and provides a plethora of features that makes it easy to use.
This scope provides crystal-clear and HD images due to a combination of its Obsidian Core and Smart HD Optics. Aside from that, you can also record and save your shooting videos via the "Recoil Activated Video" setting. With its digital imaging technology, the scope has three view settings: green night view, black & white night view, and day view. These settings help you to see in low-light conditions.
Moreover, the ATN X-Sight II's digital rangefinder enables users to quickly view their target and shoot. The scope can even adjust the point of aim for every shot based on its data. However, the downside to the ATN X-Sight is its relatively short battery life.
Pros
Night vision
Laser rangefinder
High resolution
Low price
7 reticle styles
Cons
Relatively short battery life
Swarovski DS 5-25×52 4A-I Riflescope
Did you know that Swarovski also provides a line of optics? This product comes with a configurator app that allows you to add ballistic data. This ensures an accurate and personalized shooting experience. The DS scope has quality images due to its smart technology. The product also features a heads-up display with data that makes a great hunting experience.
For a scope with rangefinder built in, the Swarovski DS's rangefinder can measure out to 1,500 yards. You just need to press the top button, and you will have all the relevant data you need, including distance, shot energy, the aiming point for the target, and wind speed.
The Swarovski DS utilizes a LED reticle to make it easier to see. This reticle is in the second focal plane and compensates for bullet drop. However, this is model is bulky. The Swarovski DS weighs a whopping 38 ounces and features a bulky 40-millimeter central tube.
Pros
Configurator app
Heads-up display
1,500 yards rangefinder
LED reticle
Bluetooth capability
What is a Rangefinder Scope?
Rangefinder scopes provide the benefits of two useful devices: the laser rangefinder and the scope. With a laser rangefinder, you can accurately estimate your target's distance. You can roughly calculate and make the necessary adjustments.
On the other hand, a scope magnifies the target. Many hunters and target-shooters buy the ones with high resolutions and magnifications. It gives better sight and accuracy.
A rangefinder, however, combines both of these devices together in one tool. With this, you can enjoy the benefits afforded by both of these devices. In fact, rangefinder scopes are known to be more accurate and precise.
You will enjoy the convenience and simplicity of having these two features in one device. The rangefinder scope is also expected to be more advanced due to having the latest technology.
How Do Rangefinder Scopes Work?
A rangefinder scope has rangefinder reticle installed inside. Thanks to this, you can experience the benefits of having a good calculation of magnification and distance. The rangefinder reticle enables you to roughly estimate the size of your target. With this, you can then accurately guess how near or far away it is.
This type of reticle features a crosshair design in measuring aids that are marked on the optic. This style will help the eye make the rough estimates of your target or object. Many of these reticles operate on "deer chest" increments, which means that it's scaled to the size of an average deer. You'll guess the size of your target by looking how many marks or bars it occupies at the proper magnification. For example, if the target gets 2 1/3 bars, then you can safely say that it's about 200 yards away.
What Makes a Great Rangefinder Scope?
A great rangefinder scope is one that can suit your needs. If you're not sure what factors to keep in mind, then here are some tips.
First, you need to consider the construction of the scope. Nobody wants an item that breaks down in a few months. Make sure to check the quality and the materials used. If you can, check out if your scope can be repaired or replaced easily.
Secondly, check its installation process. Compared to other sights, a rangefinder is quite difficult to install. To avoid having a difficult time, look for one that keeps your device secure without complications.
Lastly, look at the features the product offers. If it's possible, check out the model yourself to verify all its claims. If you don't have the time, you can always read product reviews or ask around the community. Your local supplier will also be a big help.
What Magnification Do You Need?
Rangefinder scopes operate on a single magnification setting, depending on which the device's reticle. Military scopes often have a magnification level of 10x. However, civilian scopes offer different settings.
Most importantly, to get the most out of your device, it's recommended to set your magnification properly. Otherwise, you're not using your device to its fullest potential. Magnification levels tell you the size and distance of your image. In fact, the relationship between the scope's image and your target is proportional. If you increase the magnification, the image will appear farther. For instance, take note that the image appears on a 100-yard distance.
Having the right magnification will improve your rangefinder scope's accuracy because it increases the range in which you can use your device. Selecting the right level depends on the type of activity you are planning to engage in. For long-range shots or small targets, a high magnification is recommended. You can also use this if your rangefinder scope is mounted on a powerful rifle. On the other hand, lower magnification is suitable for short ranges and larger targets.
Keep in mind that the higher the magnification level, the narrower field of view. This may cause a distorted image. High magnification levels also make for a heavy and complicated rangefinder.
Factors to Consider when Buying a Rangefinder Scope
Rangefinder scopes have stunned the tactical and firearm community. You get the benefits of two components in one device. For instance, this can help users, whether beginner or professional. With the myriad of choices in the market, it might get a bit difficult to find the perfect one. These are all the factors you need to consider when it comes to purchasing a rangefinder scope.
Fabrication
To ensure its durability, check the type of materials.Stainless steel rangefinder scopes are recommended due to the strength and sturdiness of the material. Make sure that your lens has anti-reflective properties and that it's coated. It should be weatherproof and should be able to withstand strong recoils and shocks.
Specifications
Specifications mean the magnification and eye relief. These two factors determines the product's performance. For magnification, choose one that will best suit your needs. Let's get rid of the notion that high levels are the best. Most of the time, users buy rangefinder scopes that are too advanced and they end up not using it.In short, the scope should also have ample eye relief. With this, you can improve your accuracy and aim. Most importantly, you'll find it more comfortable and easier to use.
Battery
A bigger battery will have more storage and can work for a longer period. Therefore, check the battery's size when purchasing the scope.
Adjustability
This refers to the ability of your rangefinder scope to adjust to your environment to any range. It's important to find a scope that will remain accurate. Be sure to check the parallax adjustability the scope offers. The windage and elevation should be taken in consideration too.
Field of View
Field of view refers to the extent of your surroundings. This is affected by the magnification level. The higher the magnification is, the smaller the field of view is.
Installation
The installation process is also a necessary factor to keep in mind, since it can be difficult to mount. Get one that can secure your device and that isn't too complicated to use.
How to Use a Rangefinder Scope
Regardless of the amazing construction or specs your product has, it will never benefit you if you don't know proper techniques. One of the main benefits of a rangefinder scope is that it estimates distance. To enjoy this benefit, make sure that you are holding your rifle in a secure manner. Your dominant hand should firmly grip the rifle and the trigger. The butt of your rifle should rest on your shoulder.
To sum up, you need to set up the magnification levels of the device. Most rangefinder scopes work on a single magnification level only. Others come with variable settings. Once you finish setting up the magnification levels, your rangefinder scope is good to go. You can also change and alter the settings found in the device. Make sure you properly set your product. Otherwise, you would have to reset the entire system, which can be more costly.
While rangefinder scopes may automatically calculate the distance to the target, it's important to know how to do it manually. Remember: the formula is WERM, which means Width Equals Range multiplied by the Mil or, MOA, (Minute of Angle) measured.
Conclusion
Choosing the best rangefinder scope can be quite a difficult process due to the variety of options available. In short, the type of rangefinder scope you buy depends on how you are planning to use it. A rangefinder scope should also meet all your needs be durable and long lasting. Use this review to pick the best rangefinder scope for you.
Post ID: W3OOqKDMj
Category ID: lMb9k43
The responses below are not provided, commissioned, reviewed, approved, or otherwise endorsed by any financial entity or advertiser. It is not the advertiser's responsibility to ensure all posts and/or questions are answered.