If you're hunting in the wild and forest, you might find it hard to see in the dark especially in a bushy environment and unpredictable terrains. That is why you might need the best night vision scope for AR-15. It is what you need for the AR-15 for the best results in hunting and shooting in the field or in open environments with a poor lighting condition.
However, you might not be able to find satisfaction in your experience if you failed at choosing a good night vision scope. For help, you can refer to the following guide that outlines what you need to know when buying this product as well as the top-rated picks to compare.
Best AR-15 Night Vision Scope Reviews of 2022
ATN X-Sight 4K Pro Smart Day/Night Rifle Scope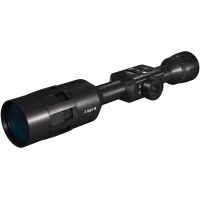 What shooters will probably adore about ATN X-Sight 4k Pro Smart Riflescope is the fusion of its traditional characteristics and modern innovation. For professional hunters who have known ATN equipment for so long, this is an advantage because the company was able to keep its signature features while venturing to a more advance technology.
From the old ATN riflescope with a dual core processor, this new ATN X-Sight 4k Pro Smart AR-15 night vision scope is powered by an Obsidian 4 Dual Core Processor. That means it allows the shooters to view pristine images with crisp colors.
For higher resolution, ATN also added an Ultra HD Sensor in the lens of this riflescope. Such technology brings 120fps so when the users look on the scope the images are not pixelated. A seamless view when shooting helps a lot to achieve bull's eye on target.
It doesn't matter also if hunting happens day or night because user can turn-on its night vision mode. What is more impressive is that the vision seen here during the darkest times are on HD quality.
In addition, ATN put a ballistic calculator in this riflescope so the shooter can identify easily which target to shoot. This feature is good especially for long-range field of view. Its batteries are also dependable as it can last for at least 18 hours.
Another special feature added to this item is the Dual Stream Video Recording. Hunters and shooters may record all their performances, save them in an SD card and play them back.
However, the scope is heavier and can be bulkier than other scopes are.
Pros
Allows user to see in the dark in an HD quality vision
With Dual Stream Video Recording and SD card saving
Includes a ballistic calculator to be certain of the target
Power-saving batteries
Obsidian 4 Dual Core Processor that results to clear images and vivid color
Cons
Heavier than the other riflescope
But overall, it has a great performance that is loved by most users. You might want to check it out yourself.
ATN X-Sight II HD 3-14 Smart Day/Night Rifle Scope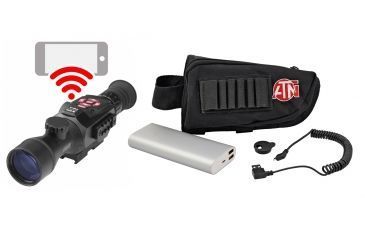 Wild animals may be cunning and can run really fast. But this ATN X-Sight II HD Smart night vision AR scope is ready to cope-up. It has a magnification range from 3 to 14 inches so the shooter can enlarge the images depend on what the situation requires.
Furthermore, beginners and professional shooters appreciate the most how convenient it is to use. First, at hand, it allows one to calculate accurately the point target so no other specie will be mistaken with the real target even with low light conditions.
Aside from its ballistic calculator, ATN incorporated a rangefinder to this piece and that is useful in determining the right range and impact for every aim point. By the way, it is noticeable that this riflescope has a wider field-of-view for up to 1000 yards or 240 feet. That means it is suitable either for short, medium and long distance range.
Further, even if the hunting session extends in the evening, this riflescope can cope with the darkness. It has a night vision mode that contains HD resolution so what you see in the daylight is just the same in low light.
It is worth mentioning also that this piece adapted advance technology, too. To document every success in hunting and even failures for improvement, the user may enable its video or photo recording. Afterwards, you may replay the videos through Wi-Fi streaming on your mobile phones or tablet.
Above all these amazing features what makes this piece rise among others is its IR illuminator. It adds illumination to the device especially at night. According to ATN, it lights up the view 3 times better.
On the downside, there is some visibility issues reported.
Pros
Higher HD resolution for video and photo recording
Contains night vision mode to clearly see in the darkest hours
With IR illuminator that light-up the images for up to 3 times better
Battery can last for up to 22 hours
Accurate target search through its ballistic calculator and rangefinder
Cons
Visibility issues reported
Overall, the night vision scope is one of the best choices for its solid performance and heavy-duty construction.
Sightmark Photon RT 4.5-9x42S Digital Night Vision Riflescope
One of its outstanding qualities is its CMOS sensor that is upgraded to a dimension of 768×576. This feature is an advantage for different hunting setting because it allows the user to visualize the field of view for up to 40% brighter.
Any shooters can notice that the cheap night vision scope for AR-15 is quite customized for night shooting or for setting with poor light source. Aside from its night vision mode, this is a type of riflescope that can zoom the images twice its original size. (Read more: cheap night vision rifle scope)
In addition, amidst of pitch-dark ambiance, don't be surprised that it can still work at its best. Thanks to its illuminator that provides extra light and can reach for up to 280 yards field-of-view. This illuminator also acts as an emergency light as the need arises.
Meanwhile, in terms of magnification capacity, the Sightmark Photon RT 4.5l-9x42S Riflescope will comfort your eyes because it has the ability to zoom images from 4.5 up to 9 times larger from its original size.
On the other hand, the high-quality day and night vision scope for AR-15 contains 6 reticle options unlike other ordinary riflescope. In that sense, the user has 6 options of eye view that he can changed into 4 colors depend on the visual shooting requirement.
Finally, the hunters will surely appreciate the photo and video recording of this piece. Using the Stream Vision App, captured videos and images can be easily transferred to micro USB for flashbacks.
On the cons, the battery life is shorter than others do have.
Pros
Easy capture, save and transfer of photos and videos
Level-up CMOS sensor that resulted to a 40% brighter eye view
LED IR illuminator for lighting support
6 reticle and 4 color options
Easy replacement of battery pack
Still, the sighting device is with the top features and functions that let you achieve a better sight picture. Check it out now.
Firefield NVRS 3×42 Gen 1 Night Vision Riflescope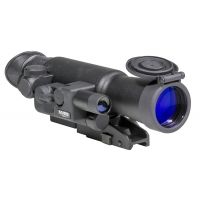 One of the greatest assets of this piece is its very resilient housing. Its entire frame is made of rigid titanium; hence, it is impact-resistant. Though made of such solid material, this riflescope is lightweight, so it won't be a hassle to carry even on slope or far-flung locations.
In addition, the night vision optics for AR-15 can survive rain or accidental drop on water because it got IPx4 rating or water resistant.
Another feature to buy for on this item is its superb optics. This is a ready-to-go riflescope from near to far distant shooting escapades. Further, its lens has the ability to zoom objects for up to 3 times from its original form.
Meanwhile, its objective lens has the size of 42mm. Expect that looking onto the sight is vivid and crisps. Bigger lens invite more lights inside the scope for good lighting and clearer view.
The said riflescope also has a flip-up lens. This is an added protection for the lens against breakage. Further, its optics is multi-coated so it is durable and gives higher resolution.
It is also incorporated with an adjustable red duplex reticle. This reticle is an advantage when the user want to change the brightness as the need arises.
What is more adorable about Firefield NVRS 3×42 Riflescope is that it has a built-in IR Illuminator. In that sense, it has a night vision that works even on the darkest times of the day or at the deepest part of the cave and forest.
However, mounting issues have been reported by some users.
Pros
Bigger objectives lens that receive more light for brighter images
Resilient due to its sturdy titanium frame
With Flip-up lens for more protection
Excellent IR illuminator
Still, the FireField scope is one of the best in the category for its quality lenses and topnotch construction.
ATN ThOR HD 384 Smart Thermal Riflescope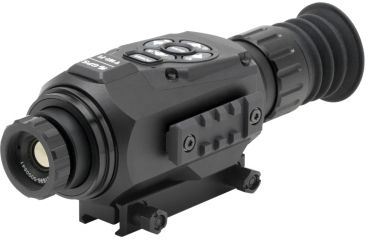 ATN Thor HD 384 AR-15 night vision optics is boasting its ability to detect potential warm target through its Thermal Smart HD Riflescope. As if this riflescope has its own senses, it literally vibe around the vicinity if there is a nearby prey. That makes this item perfect for night hunting.
Its sensor can detect heat from the object and start to form the images of this object clearly. It helps a lot especially on places with poor light.
In acquiring the exact distance and range of the aim point, ATN Thor HD 384 Riflescope could be one of the finest pieces in town. Hunters find this item comfortable to use because of what they call ballistic calculator and rangefinder.
With the presence of a ballistic calculator, you can instantly go to your position and the measurements that you need automatically show in the lens. It helps a lot in hitting the right target whenever you fire-up.
Meanwhile, the rangefinder makes shooting session simpler. Since it is already built-in the device, no need to carry a separate tool just to calculate the distance of the object. Further, this item has a power saving mode so its battery pack is long lasting.
Above all these, another asset of ATN Thor HD 384 Riflescope is its ability to document shooting events through its video and photo recording. Expect HD quality videos that you can even view through Wi-Fi streaming in your phone or computers.
However, it is a bit bulky for some users, though.
Pros
Thermal Sensor to easily detect target
Includes an excellent ballistic calculator for high target accuracy
Smart rangefinder for bull's-eye
HD quality on video and photo recording
Durable
Still, you might want to check out the scope for its superb features like thermal sensor and smart rangefinder.
Bushenll 4.5X40 Equinox Z Digital Night Vision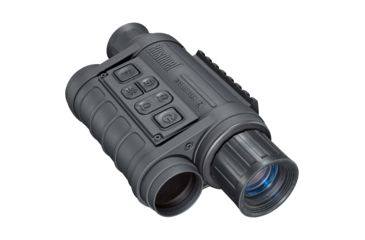 Bushnell 4.5x40 Equinox Z Digital Night Vision Monocular
opticsplanet.com
Check price
Product Info for Bushnell 4.5x40 Equinox Z Digital Night Vision Monocular
The Bushnell 4.5x40 Equinox Z Digital Night Vision Monocular provides outstanding optical clarity and a wide field of view ...
The Bushnell 4.5×40 Equinox Z Digital night vision scope for bushmaster AR-15 is best known for two things. First, it is famous for its spectacular quality of optics. Secondly, it will help you through even to your longest hours of hunting session because of its power saving battery.
This riflescope is a suitable pick if you are up to something that will sharply let you see objects during the night. Its night vision monocular display is a glass lens that generously receives light for brighter scenery of targets.
Said riflescope is one of the finest night vision AR-15 scopes is intently made with wider field-of-view also so it can reach objects even at far distance. Its objective lens measures 40mm for a breathable space that allows good lighting circulation. Meanwhile, users can also adjust the size of the target through this scope for up to 4.5inches from its original size.
Another impressive about the optics of Bushnell 4.5×40 Equinox Riflescope is its infrared illumination for added lighting. The brightness is even adjustable depend on the lighting requirement of any shooting session.
Memories in hunting matters like any other experiences so Bushnell 4.5×40 Equinox Riflescope see to it that the users will be happy to record their performances and replay them through their phones after. By the way, for easier life during the tournament, this item can be set up on a tripod.
On the cons, it might not be the best choice for long range shooting.
Pros
Wider field-of-view and bigger objective lens for crystal clear images
Contains infrared illumination and glass objectives for day and night hunting
Built-in long lasting battery pack
High resolution for video and photo recording
Lightweight
Cons
Might not be good for long distance shooting
Still, you might want to see it for yourself because it has great features like a high-resolution photo and video recording as well as integrated durable battery pack.
Pulsar Digisight N550
This riflescope aims to provide avid hunters with the best shooting experience in the field. Through its LED IR Illuminator, its lens got more lighting so the user sees things brightly.
Moreover, the Pulsar Digisight N550 Riflescope contains multiple reticle options to choose from depend on the most suitable colors in every hunting settings. Such quality of lens brings higher resolution for sure hits.
According to its specification, this item will be a good device for observing prey even at midnight or even in places with pitch darkness. Each movements of any wild animal are captured by this riflescope with its digital zoom and night vision.
What is more impressive is it can record one's performance even in the darkness using its image and video recording. Furthermore, this item became a favorite to many hunters because it is convenient to use.
Pulsar Digisight N550 Riflescope contains three series of buttons on the side so it is easy to operate. Aside from that, it has a remote control that can activate different features of the scope such as its illuminator, digital zoom and all others.
As customer buys this item, many freebies are included in the package such as a carrying case, and lens cloth. Hence, don't hesitate to try the Pulsar Digisight N550 Riflescope as gift for yourself or to someone you know who loves an infrared scope.
On the cons, it is quite bulkier than others in the category are.
Pros
Easy to use with its operating modes and remote control
Package includes freebies such as a carrying case, and lens cloth
High resolution video and photo recording even at night
Multiple reticle options
LED IR Illuminator for brighter images
Cons
Bulky compared to other riflescope
But overall, you can rely on the scope for its IR illuminator, multiple reticle options and high-resolution photo and video recording.
Buying Considerations: AR-15 Night Vision Scopes
One of the most important rifle accessories that the military and hunters need are night vision scope extensions. They depend on the night vision rifle scope for AR-15 optics innovation, especially in low light conditions.
This amazing technology changes the style and situation of civil defense and hunting. Whether you are a normal person who is looking for the thrill of shooting and hunting or you are a part of the military defense, you need a good night vision scope especially if you are using an AR-15.
There is numerous AR-15 night vision scopes in the market, and you may get overwhelmed with the choices. But keep in mind that not all night vision scope is suitable for you; there are things that you need to consider before buying one.
First thing that you need to check is the optical power. The magnification is very important, the magnification that you need depends on the assignment that you have and the given target.
For example, a 6x or 8x magnifications is linked with the speed and distance of your target, this is for you to be able to follow your desired target better.
There are magnification extensions that are higher, like 16x magnification. However, these night vision scopes will be heavier, bigger and they will be more difficult to use especially from positions that are unsupported. Not to mention, they will be more expensive than night vision scopes with 4 or 6x magnification settings.
Another thing that you need to consider is the weight and the length of the scope. These two factors can greatly influence the overall period that the AR-15 can be used.
An extension added with extra accessories, other components will measure the overall gun down, and it will eventually cause a strain on you if you use it for a long time.
Buyers always want to get a rifle scope that has the weight that they can carry around for hours. Plus a rifle scope that with an altered magnification.
Another consideration that you need to keep in mind when buying a night vision scope is the glass. No one wants to get a rifle scope with a cheap glass. Most rifle scopes in the market mask their glass as high-quality, yet when the riflescope is used; it does not have the quality that high-end scopes have.
You will know if the riflescope has cheap glass if is shabby and shows twisted or murky pictures. It shows a futile magnification, especially for those with 16x magnifications.
Riflescopes with high-quality glass have a clear image of your target, even those with low magnification. For those riflescopes with cheap glass, no matter how high the magnification is, it will still show a blurry image of your target.
High-quality lenses cost so much, so some brands mask their glass as high-end even though they are not in order to save on expenses. This is something that you need to keep an eye out, so you might want to read reviews.
And lastly, you need to keep in mind that night vision rifle scopes can be costly. The technology used in this product is innovative in order to get the quality that a hunter or a military needs for shooting and aiming.
Compared to daytime scopes, nighttime ones are made with advanced technology that can't be found in other scopes.
When looking for a rifle scope, make sure that you have enough budgets to get the best one in the market.
How to Setup Night Vision Scope for AR-15
Setting up your night vision scope is fairly easy. The first thing that you need to do is mount your riflescope. After mounting it to your AR-15, you need to check on the reticle, you can rotate the eyepiece in order to get the perfect angle.
There are riflescopes that turn the ocular housing on fine threads, and it secures it with a lock ring. There are European-style and helical eyepieces, and these types have no lock ring.
You can loosen the ocular housing's lock ring and slowly spin the eyepiece until the image that you get through the reticle is fuzzy. Then point your AR-15 towards the sky, but not towards a target. Make sure that you point it in an area with no target.
When you set up your riflescope, you want your eye relaxed. This is why it is best not to point it towards a target just yet because it will automatically focus on it.
After facing a neutral background or the sky, you can turn the eyepiece in until the image that you see in the reticle becomes clear and sharp. Then, slowly lower your AR-15, close your eyes, and carefully shoulder the rifle towards the sky one more time and open your eyes.
The image that you see through your reticle should be sharp and clear. If your riflescope has high magnification, you should see your target clearly at night, even in the middle of the woods. It should be able to spot your target for at least 150 yards.
Another thing that you need to do when setting up your riflescope is to protect your glass. Make sure that you keep your scope's glass protected and clean especially when travelling.
Most hunters want to hunt with lenses that are uncapped except when it is raining. But there are flip-up caps that can shield your lens while still giving you the access to your glass.
When you travel with your riflescope, make sure that it is packed in its hard case. Place your scope toward the handle so it is easier to carry and it won't jam it against the hard case. If you can, add a cushion in the hard case to keep your riflescope safe.
Conclusion
There you have what to know about the best night vision scope for AR-15 so that you can make an informed decision when comparing different items in the category. Some of them to check include the weight, optical power and quality lenses, to name a few. By thinking over your options by knowing how to pick one, you can have a more satisfying purchase.
To find the right riflescope for the AR-15, you can also get started in our featured products earlier. Each of them has their pros and cons as well as strong points that you can check. With the above information, we do hope you can buy the right NVS for AR15 today!
Post ID: ZgKKZ321p
Category ID: 4KjowdA
The responses below are not provided, commissioned, reviewed, approved, or otherwise endorsed by any financial entity or advertiser. It is not the advertiser's responsibility to ensure all posts and/or questions are answered.