A rangefinder is perfect for both archery and rifle hunters. They are very accurate and provide ethical shots. The laser-driven pocket-size devices give you all the precise information needed for successful aims in the field or on the links. 
Today, many hunting rangefinders are on the market, but not all are perfect for your needs. To find the right fit, you need to consider aspects such as magnification, objective lens diameter, maximum range, and general capability. 
Here, we provide you with a review of what we think will be the best hunting rangefinders in 2022. Coming up with a list of the best rangefinders is not easy. For this, we considered aspects such as the conversations with optics brand representatives, shop owners, and, more importantly, hunters.
Top 8 Best 2022 Hunting Rangefinders:
Vortex Impact 6x15 mm 1000 Rangefinder (Best Overall)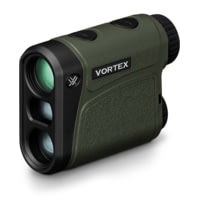 The Vortex Impact 1000 Rangefinder can provide accurate reads on distant targets up to 1,000 yards away, making it the top hunting rangefinder. It gives you all the information you need to make your hunting escapades worthwhile. Developed by the legendary Vortex Company, this lightweight rangefinder is a great utility item at a relatively affordable price. 
With its incredible Horizontal Component Distance (HCD) mode, the Vortex Impact Rangefinder can provide accurate skills even when perched on your tree stand or an inclined surface. Thanks to its O-ring seal, it is waterproof, making it perfect for hunting regardless of the weather.
This rangefinder's durability is another feature that contributes to its overall best ranking. It is built from strong materials, giving it maximum protection against harsh environmental conditions. With an in-built diopter, the Vortex Impact Rangefinder allows for easy compensation of the differences in your eyesight, giving you a comfortable hunting experience. 
When you purchase this rangefinder, its package will include a case, product manual, battery, lens cloth, rangefinder strap, and ballistic cheater card.
Here is a summary of this rangefinder's features:
It has both yards and meters ranging formats.
It has a tree range of 800 yards and a deer range of 500 yards.
Easy scanning feature
Intuitive displacement 
It has an easy-to-use guide.
HCD mode for angle compensated ranging 
Pros
Easy to use
Affordable
Offers high accuracy levels
Highly durable
Has fully multi-coated optics
Cons
It might not be suitable for long-range hunting
Bushnell Prime 1300 6x24 Laser Rangefinder (Best Midrange)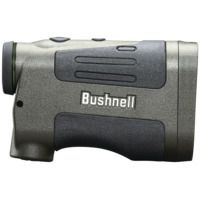 The Bushnell Prime Laser Rangefinder allows you to scout backs from a long distance. Designed by hunting experts from the reputable Bushnell Company, this rangefinder offers a brighter viewing experience than most of its competitors do.  To facilitate this, the rangefinder has an objective lens that is 40% bigger and an all-glass optical system. 
With its additional fully multi-colored optics, you don't have to worry about the clarity of your display. You have a constant supply of fully multi-coated optics. The rangefinder's EXO barrier lens coatings protect it from fog, debris, water, and oil; it is a full-weather-proof hunting rangefinder. 
Even when you are in your tree stand, the rangefinder has its Angle Range Compensation (ARC) system that calculates the precise distance from your target while compensating for all the variables. This rangefinder's design allows it to adapt to your hunting style by offering selectable reticles, quick reads, and impeccable scan mode. 
The rangefinder's package contents include a durable carrying case, instruction sheet, lanyard tether, quick start guide, and the rangefinder itself. 
Here is a summary of the Bushnell Prime 1300 Laser rangefinder's basic features:
Distance capabilities of up to 1300 yards
Speeds that reach up to 4 times per second for fast and reliable hunting
Brush and bullseye mode
EXO barrier 
Selectable reticle
ARC technology 
Scan mode 
Pros
Best mid-range rangefinder
Amazing optical display
Durable
Suitable for all-weather
Cons
It might not be ideal for beginners
Wosports Hunting Rangefinder (Best Value for the Money)
Piercing the impenetrable thickets of the jungle to get your anticipated hunt can be very tricky — but not when you have this Wosports hunting rangefinder. Compatible with advanced crossbows and compound bows, this rangefinder is one of the best for bow hunting. It also has a reputation for having the best speed-ranging capacity and laser hunting accuracy. 
This rangefinder is durable and perfect for bow hunting, with rubber armor protecting it from external environmental factors.  Its other features include:
A portable size
Lightweight 
Good battery capacity 
Increased storage capacity
Pros
It is all-weather proof
Ability to detect moving targets
Easy to handle because of its light weight
It is highly durable
Cons
Using it frequently causes the armor rubber to wear off
Bushnell Pro XE Rangefinder 
If you prefer quality over quantity, the Bushnell Pro XE Rangefinder is probably your best option yet. Bushnell is a company with a reputation for producing high-quality devices, and it did not disappoint with this one. With its 7x magnification feature, you can easily focus and keep up with your target. It gives you accurate yardage and clear views of your surroundings. 
With a cool rubber finishing on its polyester body, you are guaranteed a firm grip and easy operation when locating and identifying your targets. Its overall design also makes it very durable. 
Pros
Ability to adapt to different climatic features
Provides error-free measurements
Uses slope switch technology
It is a user-oriented rangefinder
Cons
It can be pricey, especially if it's not on sale
Leupold RX-650 Micro Laser Rangefinder 
Leupold RX-650 Micro Laser Rangefinder 120464
amazon.com
Check price
Absolute waterproof and fog proof integrity, each is ready for a lifetime in the field, in all conditions.
6x magnification gives you plenty of power, while maintaining a wide field of view to trac...
The Leupold RX-650 Micro Laser Rangefinder has absolute water-proof and fog-proof features, making it one of the most durable rangefinders on the market at the moment. With a magnification power of up to 6 times, you have enough resources to track your target while maintaining a wide field of view. 
When using this rangefinder, you do not have to worry about running out of battery unexpectedly — it uses a CR2 lithium camera battery and a convenient battery power indicator that warns you of low battery. Its image quality is commendable — it has a fully multicoated lens system that provides quality images. 
Pros
It has incredibly high-quality optics
It is relatively affordable
Perfect for bow hunting
It has weatherproof housing that makes it very durable
Its single-button operations make it easy to use
Cons
Its accuracy decreases with yardage
Nikon 16224 Arrow ID 3000 Bow Hunting Laser Rangefinder 
Nikon 16224 Arrow ID 3000 Bowhunting Laser Rangefinder
amazon.com
Check price
Nikon's advanced ID (Incline/Decline) Technology provides the horizontal distance to the target, even when ranging at various incline or decline shooting angles
Incredibly long, 20.3mm eye relief m...
When you hear the name Nikon, you know you are dealing with one of the best companies in the market. With its advanced ID technology, the Nikon 16224 Hunting Laser Rangefinder provides an accurate horizontal distance to the target, regardless of the inclination or angle.
Its incredibly long eye relief feature makes it easy to view and monitor your target. With huge displays, you can track targets up to 550 yards away. 
Pros
Thanks to this rangefinder's accurate target technology, keeping up with your target is easy
Suitable for hilly terrains because of its ID technology
Has eye relief for protecting your eyes while hunting
Cons
It doesn't come with a case
Simmons 801600 Volt 600 Laser Rangefinder 
For entry-level enthusiasts, the Simmons Laser Rangefinder is the best option. It is a high-precision functional laser rangefinder with the ability to provide quick and accurate readings of up to 625 yards. Being a one-button laser rangefinder, this product is easy to use. It also has a rubber armor housing that makes it very durable. 
Most users prefer this rangefinder because it is all-weather, has a long-lasting battery, is easy to attach to its neck strap, and is lightweight, making portability relatively easier. 
Pros
Has clear vision
Has improved ergonomics
It is lightweight, making it portable
Easy to use
Cons
Not suitable for low light archery or hunting 
Laser Works LW 1000PRO Professional-Class Laser Rangefinder 
If you are a professional, the Laser Works Professional-Class Laser Rangefinder is your best option. It has exceptionally high-performance capabilities, allowing you to monitor your targets from over 1,000 yards away for most targets and over 1,600 yards away for highly reflective targets. 
This rangefinder has superior functional features and excellent quality, and it is incredibly compact and simple to use. 
Pros
Suitable for professionals
It is water-and dust-proof
Its radiance power is lower, so it cannot harm you
it has continuous scanning features
Cons
It is not as durable as some of its competitors
The Key Takeaways About 2022's Top Hunting Rangefinders
Coming up with a list of the best hunting rangefinders for 2022 is not easy, considering that there are many of these products at the moment. However, after considering factors such as durability, range, and other additional features, we have managed to come up with a review of the top nine hunting rangefinders that we believe will be perfect for use in 2022. 
Post ID: M1bbOmd8b
Category ID: qEbxpYK
The responses below are not provided, commissioned, reviewed, approved, or otherwise endorsed by any financial entity or advertiser. It is not the advertiser's responsibility to ensure all posts and/or questions are answered.