Whether you're an experienced shooter or a beginner in the field, you need the best ACOG (Advanced Combat Optical Gunsight) clone to aid you in acquiring your targets. With this sighting tool, you can improve your range, speed, and accuracy. In this article, you will learn how to pick the right scope based on important factors. First, we'll take a look at 10 top-rated ACOG Clone scopes. Then, we'll talk about how to choose the right one for you in our buying guide below.
A Review of the 10 Best ACOG Clone Scope for 2022
CRUSHUNT 4×32 Red Chevron Glass Etched Reticle RifleScope
With its 4x magnification and an objective lens of 32 millimeters, the CRUSHUNT 4×32 Red Chevron Glass Etched Reticle scope creates a clear image of the target. Another great feature is that it has a bright daytime reticle with fiber optics. Its chevron reticles collect ambient light, and with its clear optics, it is useful for precise shooting under dim conditions.
This scope has a generous eye relief of 38 millimeters, which creates a clear, unobstructed image of the target. Its eye relief also allows the shooter to see everything comfortably without straining the eyes and damaging your eyebrow.
The durability of the CRUSHUNT scope is guaranteed. This riflescope is waterproof, weatherproof, shockproof and fog-proof. With its durable construction, this scope is efficient for long sessions on the field. On the downside, this CRUSHUNT scope includes fixed magnification, which makes it difficult to make frequent adjustments on the field.
Pros
4x magnification
Multi-coated lens
Chevron reticle and real-fiber optics
Generous eye relief
Waterproof, shockproof, and fog-proof
Cons
Fixed magnification makes it hard to make frequent adjustments on the field
CTOPTIC 5X35 Red Chevron Reticle Rifle Scope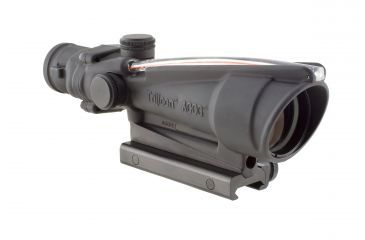 With its 5.27x magnification and objective lens of 35 millimeters, the CTOPTIC 5X35 Red Chevron Reticle is guaranteed to give you a better image and increase your precision at aiming targets. Its generous eye relief of 43 millimeters provides you an unobstructed view and reduces the risk of straining your eyes.
This scope is powered by fiber source. This feature provides a clearer and brighter view and helps provide illumination under low light. Another great feature of this scope is its multi-coated lens. This multi-coated lens has an anti-glare reflective coating. For durability, the CTOPTIC scope is constructed with aluminum alloy material and an anodized matte black finish. However, the downside of this scope is that some users complain of insufficient eye relief.
Pros
Durable construction
Powered by fiber source
Multi-coated and anti-reflective lens
Shockproof, weatherproof, and fog-proof
Adjustable windage and elevation
Cons
Some customers complain about insufficient eye relief
Sightmark SM26021 Wolverine Red Dot Sight
Sightmark Wolverine CSR Red Dot Sight , Black
amazon.com
Check price
Powered by a single AA battery
Very low power consumption
Digital switch brightness controls
Locking, quick detach mount
Scratch resistant, anti-reflective lens coating
The Sightmark Wolverine Sight is specifically designed for use of short-barreled rifles and shotguns. This close-range optic Sightmark Wolverine CSR Red Dot Sight features 4 MOA reticle and an objective lens of 23 millimeters. It has a digital switch for its brightness control, and its lens is anti-reflective and scratch resistant. These features provide you a clearer vision and image.
The Sightmark Red Dot Sight not only offers variable brightness, but it also offers night vision modes. These various modes give the shooter the ability to see with night vision sight and are ideal for use under dim conditions. This sight is compact and lightweight, which makes it easy to mount and use on the field. It also has extremely low power consumption, and it can be powered by a single AA battery.
Another great feature is its fog-proof and nitrogen-proof elements that allow shooters to shoot under most conditions, including temperatures ranging from -22 to 122⁰F. It also has an IP67 waterproof rating, and it can be submerged to water up to 3 feet. However, the Sightmark Red Dot Sight has fixed magnification, which means that making frequent adjustments on the field can be difficult.
Pros
Anti-reflective and scratch-resistant lens
IP67 waterproof rating
Wide range of operating temperature
Durable construction
Variable brightness and night vision mode
Cons
Fixed magnification makes frequent adjustments difficult
Vortex Optics Spitfire 3x Prism Scope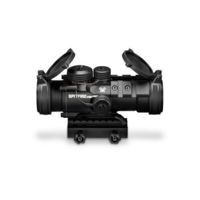 The sophisticated prism-based design of the Vortex Optics Spitfire Prism is what makes this scope one of the best options. The EBR-556B reticle is directly etched on the prism and gives shooters the ability to aim at targets faster and more consistently.
The lens of this Vortex scope is multi-coated with anti-reflective coating. This feature helps in providing brighter and clearer vision under any conditions—even in low light. Its red/green illuminated reticle has five intensity levels of illumination that you can easily adjust to get a clearer vision of the target.
The Vortex Optics Spitfire Prism Scope also sports a fast-focus eyepiece. This is easily adjustable and provides quick and sharply focused reticle to aid in the accuracy of the shooting. It is also easy to mount. It features a multi-height mount system that allows you to mount this scope at a 40-millimeter mounting height. Its dual Picatinny rails also enable the scope to be paired with an offset auxiliary reflex sight.
Pros
Fast target acquisition
Multi-coated lens
Fast-focus eyepiece
Multi-height mount system
Rugged durability
CVLIFE 4×32 Tactical Rifle Scope
With a field view of 100 yards and an objective lens of 32 millimeters, the CVLIFE Tactical scope is a must-have during hunting season. Its optical scope is applauded for its high performance. With its fiber-optic sight feature, you will get an accurate and fast acquisition.
This scope registers a crisp and clear image that helps in accurate shooting. The green-coated lenses are multi-layered and come with three illuminations: green, blue, and red. It also has three levels of brightness settings to allow the shooter to adjust the brightness accordingly.
With its high resolution and light transmission, the compact scope allows you to shoot your target quickly and precisely. It is lightweight, weighing around 16 ounces and measuring around 6 inches long. The package includes the compact scope, a cleaning cloth, a lithium battery, and three Allen keys. It is built to prevent recoiling and is also fog-resistant and shockproof.
Pros
Multi-layer lenses
Comes in three illuminations
Lightweight
Fiber optic sight feature
Fog-resistant and shockproof
Cons
Difficulty in adjusting the scope
OZARK ARMAMENT 4X Illuminated BDC Reticle Rifle Scope
You can own this amazing scope without breaking the bank. It is the best scope for beginners in the market. The scope has a top dial that can change the illumination of the three reticle colors. If you are upgrading from reflex sights or red dots, you may be accustomed to finding the dial on the side. This will require some adjustment.
The scope has a Picatinny mount, so it can be used on both rifles and shotguns. The illumination comes in three colors, so it is the best fit for those who like to have choices. Its magnification is four times more powerful than regular scopes, and you can view anything for a maximum of 600 yards.
This simple scope does not come with the whistles and bells that other shave, but it is clear, accurate, and budget friendly—which is all that you need in beginner's scope. Extra accessories can be added if you wish, as it has three forward mount points.
Pros
Picatinny mount
Budget friendly
Three reticle colors
4x magnification
Three forward mounts for accessories
Cons
Difficulty in adjusting to zero
Monstrum Tactical 3×30 Ultra-Compact Rifle Scope
The Monstrum Tactical 3×30 Ultra-Compact Rifle scope has a sleek and modern design. The is one of the best choices because it has capped reset turrets that are adjustable. In addition, this scope is made with aircraft grade aluminum, making it durable to withstand different situations.
It also comes with a scope with a built-in mount, allowing you to secure it quickly to any Weaver or Picatinny rail-equipped rifle. Whether you're shopping for the best ACOG clone under $200 or can spend a bit more money, this sighting tool can offer you with a clear sight picture in any conditions. It also features a dial-controlled illumination in green and red, along with different brightness intensities. On the downside, its elevation knob could loosen over time.
Pros
Illuminated reticle
Can hold zero
Integrated mount
Clear sight picture
Quality lenses
Cons
Elevation knob could loosen over time
Wipboten 4×32 True Fiber Red Illuminated Crosshair BDC Rifle Scope
A perfect ACOG clone can help improve your speed, accuracy, and range. One of the best options on the market today is the Wipboten 4×32 True Fiber Red Illuminated Crosshair BDC. This scope is best for those who are on a limited budget but still want to get all the features of a good scope. With this scope, you do not have to compromise quality for a budget-friendly scope.
This scope is affordable and easy to use, and it has everything that you need for fast target acquisition. The sight is zeroed to achieve the 5.56 or .223 ammunition. The scope has a durable construction, and it is resistant to fog, shock and water. These features make it the best scope for sporting rifles.
The scope is powered by a fiber source, which means it gives more reticle illumination and brightens the environment. Fiber optics collect light, so its reticles are perfect for hunting during the daytime. The scope is made from aluminum alloy, making it lightweight and easy to carry and mount. It has an adjustable elevation and windage, a multi-coated lens, and four times the magnification of a regular scope.
Pros
Parallax free
Multi-coated lenses
4x magnification
Waterproof
Shockproof
Cons
No arrows on the adjustment turrets
Terminus Optics 4×32 Chevron Reticle Red Fiber Rifle Scope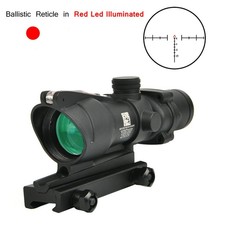 The Terminus Optics 4×32 Chevron Reticle Red Fiber Rifle Scope is a good option for all shooters. The diameter of the objective lenses is 1.26 inches, and it has 1.5 inches of eye relief. It also has an exit pupil of 0.24 inches. The overall field view of the scope is 6 degrees.
If you want to have the field view at 100 yards, the scope can be adjusted to 33 feet with a 5.7 display resolution. The scope's body is made of aluminum, making it fog-proof, waterproof, weatherproof, and shockproof.
The scope has a TA51 mount, which is made for Picatinny rail systems of about 20 millimeters. The mount can be removed, and the Toc1 of the scope is interchangeable with other adapters. You can choose a measurement sight for the perfect and accurate distance of the scope's view. The scope's optic length has a 150-millimeter magnification with four times the optical coating.
The front lens of the scope is multi-coated and parallax free. You do not need any batteries to make it work, and it does not have an on and off switch. This scope is solar-powered, meaning the sunlight is needed to power the illumination of the scope. If the light is limited, the reticle illumination is limited, too.
Pros
Interchangeable Toc1
Fog-proof
Waterproof
Shockproof
4x magnification
Bushnell Tactical Elite 1×32 Red/Green T-Dot Riflescope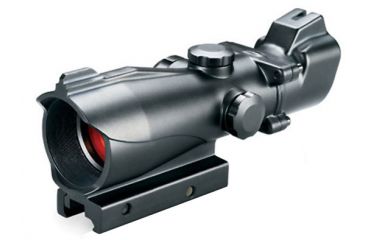 Overall, this scope is a good buy and is perfect for dedicated shooters in the field. It provides better accuracy in shooting, and with rugged durability, it is a great product at a decent price.The Bushnell Tactical Elite is equipped with an illuminated red/green T-dot reticle to help with faster target acquisition. Accuracy in target shooting is also guaranteed, even in dim conditions.
Providing shooters with better accuracy, the Bushnell Tactical Elite riflescope features a Zoom Dot option. This feature allows you to tune down the size of your aiming point to one MOA up to 10 MOA for close quarters. This gives shooters more effective and precise target shooting.
Further, the Amber-Bright lens coating of the Bushnell Tactical Elite enables the shooter to distinguish a target more precisely. Another great feature of the Bushnell Tactical Elite is the tactical turrets that allow rapid adjustment while focusing on a target. It also has an unlimited eye relief and features a blacked-out finish for effective concealment. The downside of the Bushnell Tactical Elite riflescope is that its lens cap fits loosely and falls off easily.
Pros
Illuminated red/green T-dot
Zoom dot option
Amber-bright lens coating
Unlimited eye relief
100% waterproof, fog-proof, and shockproof construction
Cons
Lens caps fits loosely and falls off easily
What are ACOG Clones?
The Advanced Combat Optical Gunsight are alternatives to the original ACOG scopes, which were introduced in action back in the 1980s. These high-end scopes are used for applications such as tactical and combat. They are super clear and reliable in any weather conditions. These scopes also have a powerful magnification and illumination, too.
ACOG scopes are expensive, so gun enthusiasts are finding ways to get the feel of the real deal with a clone. These clones are what hunters and gun enthusiasts buy and use instead, and that's thanks to the many companies have developed such clones.
These clones are known to have powerful magnification and great performance. They can also perform greatly, even with heavy recoil. However, they're not as expensive as the real thing.
Right now, there are many models and materials used by companies to develop and manufacture these clones. For this reason, you must compare your options well to prevent purchasing cheap, unreliable alternatives.
ACOG Scope vs. ACOG Clone
Some of the best gun sights in the world are ACOG scopes, which are introduced and developed by TRIJICON. They're typical for the AR-15 and other similar rifles. They're powerful and clear and can provide reliable performance for tactical and combat operations.
These high-end scopes are functional, sexy, and sleek, so their designs are well loved by users worldwide. ACOG scopes are gold for many that can afford such scopes with a high price tag. They are hard to beat in terms of quality, so many people pay for them even if they are expensive.
For this reason, many people are looking for alternative ACOG scopes, especially those that would rather not spend money on a real ACOG scope. These imitations are on the market in order to fill the growing demand for ACOG scopes.
These ACOG-like products can perform well, but only if you have chosen the correct one for you. So if you spend effort and time in comparing your choices of high-quality clones, you can get more out of your money.
For this reason, you should compare your options on what to find on the market to prevent getting a low-quality clone that will make you feel frustrated in the end. With careful research, you can get the feel, look, and performance of an ACOG at the fraction of the price. Finally, you will be able to buy a clone that has the right objective lens size, field of view, magnification, and light transmission.
Factors to Consider when Buying the ACOG Clone
The market is flooded by ACOG clones right now, so it can be confusing for those who are buying this scope for the first time. Check out the following guide to find the right ACOG replica.
Material
One of the most important things to consider when finding an ACOG clone scope is its materials. Whether you're getting a real one or a replica, you should find a rugged and compact one. Remember, you're mounting it on a weapon. If you don't consider the material, you might end up in a scope made of cheap and flimsy materials.
You should find one that can deal with the abuse and changing weather conditions. However, the scope should still be lightweight. Therefore, it is better to choose one that is made of magnesium alloy or aluminum alloy.
Magnification
You should go shopping around for a scope that has suitable magnification based on your needs or where you plan to use the scope for with your firearm. Most ACOG scopes have a fixed magnification of 1X, but there are models that can reach up to 5X.
You should also consider different factors in the magnification when shopping around for a riflescope. If you're using the firearm for close distances, you might want to check out a 1X model that can give you a wide view of the field. On the other hand, you might want to get one that has a higher magnification if you're using the scope for medium- to long-range distances.
Battery life and brightness
Remember, clones aren't going to use TRITIUM for brightness level adjustment, but they run using lithium batteries. Check the battery life when trying to compare different scopes.
This feature is important because most of the ACOG scopes have an illuminated reticle that has adjustable brightness settings. If the scope does not offer a range of brightness settings, you might want to take a look at another.
Suitability
Take note of the rail compatibility of the scope. There are different rail styles used on handguns, shotguns, and rifles. Many of the ACOG scopess come with mounting bases. You may want to spend some extra money if the scope doesn't have a base. In this case, you should ensure that the alternative you're buying allows mounting to the railing type on your firearm or weapon.
Price
Another important factor when trying to compare different ACOG scopes is the price. The clone is more affordable than the real product, so take note of this when buying an alternative. You should not spend as much money on the alternative, as you would on a real TRIJICON.
Special Features
Clones also come with special features like the real TRIJICON ACOG. You can depend on it for capabilities that you would normally expect from a real ACOG. Some of the things that the clone must feature include multi-coated lenses, weather resistance, and compatibility with night vision devices, bullet drop compensator, CQB capable, and reticle setting options. Check on these special features to ensure that you will get more out of what you will be spending.
These are features to consider when buying an ACOG clone in order to make a satisfying, worthwhile purchase. Take note of these factors when weighing your options for a heavy-duty, high-performing ACOG scope.
Conclusion
When coosing among the top picks for the best ACOG Clone, you should consider your needs and in what situations you will be using your rifle or weapon. Also, think of the magnification, battery life, special features, and materials.
To get started, you can also refer to our buying guide with the top picks in the category. Check out their features and compare their pros and cons. With such information, you can make a better decision in buying the right scope that can accommodate your needs, deal with tough situations, and perform well in the field.
Post ID: kWggEkzZV
Category ID: lMb9k43
The responses below are not provided, commissioned, reviewed, approved, or otherwise endorsed by any financial entity or advertiser. It is not the advertiser's responsibility to ensure all posts and/or questions are answered.