Installing a gun safe in your truck bed is a great way to keep your firearms safe when hunting, moving to a new home, or traveling across the state. Most truck bed safes include strong 13-16 gauge steel, high-quality lock options, and a padded interior that minimizes scratch risks. Finding the best gun safe for your truck bed will give you the extra protection that your firearms need to stay safe.
Types of Gun Safes for Truck Beds
Rifle Safes: Rifle safes typically hold one or more rifles and lay along the bottom of your truck bed and anchor to the sides. They may open at the top or use a drawer for easier access.
Pistol Safes: These smaller safes often hold one or more pistols and ammo. Some include a magnet that holds them to the truck's inside or brackets to attach to the side.
Combination Safes: Lower-priced safes often use a combination lock to protect your items. These locks also include a physical key you can use if you forget the combination.
Electronic Safes: Electronic safes may use a PIN pad or fingerprint scanner to open the lock. Some may use both and typically have a backup physical key for easier access.
Top Gun Safe Brands 2022
The best gun-safe manufacturers typically produce larger models designed more for home use. As a result, the best manufacturers for truck bed gun safes may differ depending on various factors. Let's take a look at some of the best options for your needs as a buyer.
Hornady: Overall Best
When reading through our list, you will find many Hornady safes mentioned. They typically produce the highest-quality safes with the strongest security protection and best materials. In addition, we usually find that their customer service is also excellent compared to other manufacturers on the market. Their only con is their higher price.
SnapSafe: Best Mid Range
SnapSafe is a strong competitor to Hornady, which provides suitable mid-range safes with reasonable prices and features. They rarely produce a bad safe and almost always provide high-quality customer service. Their locks are also strong and typically resist most break-in attempts. The only con of this company is that their safes tend to be rather middle-of-the-road with few bells and whistles.
XDeer: Best Value
XDeer typically produces inexpensive, high-value gun safes using a fingerprint-based lock system. Their safes are also usually a bit more compact than others and a bit less heavy. They don't feel flimsy and use the same tough steel standard on other models. Unfortunately, they mainly produce pistol safes, leaving rifle owners with fewer options.
The Best Gun Safes for Truck Beds
Best Overall: SnapSafe Trunk Safe II
This gun safe should fit easily into either your truck bed or snugly inside the trunk of a car. Its 81-pound weight gives it real bulk, while its overall size is big enough for at least one or two guns. The robust steel exterior is made of 13-gauge materials with a six-gauge door paired with an electronic keypad to keep your firearms protected and out of sight.
Pros
Adaptable to many truck types
It fits snugly inside car trunks as well
The electronic keypad is intuitive to use
Cons
The heavy weight may be too much for some users
Best Mid Range: Hornady Rapid Safe AR Gun Locker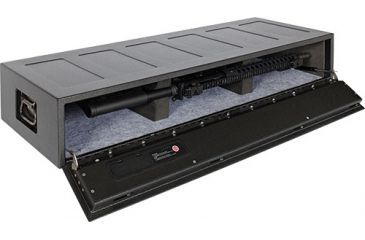 Hornady RAPiD Safe AR Gunlocker Up to 31% Off — 2 models
opticsplanet.com
Check price
Hornady Rapid Safe AR Gunlocker is convenient, tamper-proof security! This gunlocker provides the same convenience and tamper-proof security as our other rifle Rapid Safes, but in a fully enclosed ...
Hornady's gun safes are typically adaptable to many vehicle types, and this option is no different. With a lower price than our overall favorite, this safe still provides many benefits. For example, it has a stronger 16-gauge steel and a touch-free RFID safe that lets you pair your lock with a simple decal or key fob to minimize break-in risks.
Pros
Very high-quality steel
1,500-pound rated cable
A lighter weight makes for easier moving
Cons
The RFID lock may malfunction
Best Value: V-Line Quick Access Keyless Long Gun Safe
If you want to spend a little less money but still want a fantastic safe, this may be the best for you. Depending on your needs, this safe can be adapted for home and truck use. The combination lock is relatively easy to set and should keep your guns safe. Amazingly, this safe weighs just 10 pounds, meaning it's relatively easy to haul.
Pros
The compact and efficient size
The surprisingly light weight
An anti-theft alarm that alerts you to robbery attempts
Cons
It is not water resistant and should be covered in your truck
AEGIS Under Bed Gun Safe
While designed to slide comfortably under a bed, this safe can also snugly fit into most truck beds and provide high protection. The electronic keypad will take only the proper combination and can be reset if you forget your passcode. The slide-out drawer moves smoothly and gives you quick and easy access to your guns when needed.
Pros
It can be used with rifles and pistols
The drawer feels very easy to use
The alloy steel is exceptionally strong
Cons
The heavy weight makes it hard to move
Hornady Rapid Safe AR Gun Locker with RFID Touch
This Hornady safe provides a fast-access gun locker that fits nicely into a truck bed or in your bedroom. The compact size includes tamper-proof steel with hardened locking nuts that protect your gun from theft. In addition, Hornady uses a child-resistant design that ensures curious children don't pick a lock or pry open the safe while you're away.
Pros
The lighter weight makes it easier to move
The child-safe protection makes it very protected
Includes mounting holes for your wall or truck
Cons
The door swings heavier than necessary
Under Bed Safe, Rapid Gun Storage Safe
The best thing about this safe is its adaptability. You can store it in your vehicle's trunk, truck bed, or home with minimal difficulty. The large slide-out drawers include padding for various items, including your guns, ammo, and more. In addition, the digital PIN code and backup key ensure that you always have access to your guns when you need them most.
Pros
The adaptable overall design
The multiple drawers for storing items
A tamper-resistant design
Cons
Lacks deeper security protection
XDeer Gun Safe, Biometric Gun Safe for Pistols
If you typically only carry pistols and don't need a massive gun safe, this option is a good choice for you. It can safely hold a single firearm and ammo in a padded, easy-to-move safe. You can bolt it underneath your dash or to your truck bed to keep it safely out of the way. This safe can also be used for home firearm storage if you need it.
Pros
A fingerprint pad ensures you can't be hacked
PIN code option if you need it
Compact size and adaptable design
Cons
Cannot hold larger guns if needed
almbox Gun Safe for Pistols
Here's another excellent pistol safe that may fit comfortably in your truck bed. It includes a keypad lock that lets you program a PIN to keep your gun and ammo safe. However, you can also buy a fingerprint model that integrates a scanner for extra security protection. The nine-inch interior should be large enough for multiple gun types and other items.
Pros
It can be used to store other essential items
The door opens automatically after unlocking
You can choose your password length for accessible accessories
Cons
The lighter weight may feel a bit flimsy to some users
Hornady Handgun Vault Safe with Keypad Entry
As we said in a previous section, Hornady is the best truck bed gun safe manufacturer. This model is their budget option and is designed for handgun protection. It includes backup keys, a 4-6 digit code, and an interior light that makes checking on your guns that much easier. It is an excellent choice for those who want to keep their handguns safe on the road.
Pros
The automatic light creates easy visibility
The upgraded option can hold up to two guns
The foam-lined interior prevents damage to your guns
Cons
It doesn't come with the batteries necessarily to use it
XDeer S006 Biometric Gun Safes for Pistols
Do you own multiple pistols that you want to keep safe whenever you travel? This safe is probably the best bet for your needs. It is a very affordable safe that can store up to four pistols and attach to your truck bed, fit under your seat, or in a vehicle's trunk. Locks include a fingerprint, PIN code, and key options that provide maximum protection.
Pros
The multiple lock types ensure you don't get locked out
Fantastic value for the price you pay
The 899-pound cable that protects your safe from break-ins
Cons
Limited weather protection
Finding an Option for Your Needs
The best gun safe for your truck bed will vary based on your truck size, the type of guns you carry, the protection you want, and the safe type that feels the easiest to use. Make sure you read through this list carefully and choose an option that works for you. Doing so can ensure you get the best results and minimize your risk of grave disappointment.
Post ID: ZgKKEzWPp
Category ID: qEbxpYK
The responses below are not provided, commissioned, reviewed, approved, or otherwise endorsed by any financial entity or advertiser. It is not the advertiser's responsibility to ensure all posts and/or questions are answered.