The .223 Rem is a controversial deer cartridge, but many big game hunters swear by it. Learn what it takes to humanely hunt deer with the .223.
Is The .223 Remintong Good for Deer Hunting?
The .223 Remington is a great varmint cartridge because of the mild recoil it generates and the power sufficient to knock down a coyote or a rabbit with one decisive shot. But is the .223 good for deer hunting? When discussing different rounds, it's always about whether it will take down deer and other similar-sized game.
The answer to that question is complicated. While several other .22 caliber centerfire rounds like .22-250 Remington, .224 Valkyrie, or .220 Swift receive less critique on their viability as deer hunting cartridges, the .223 Rem remains one of the most controversial big game rounds. Why?
You know the law of life - the more popular and notable you are, the more people talk about you. This is the case with the .223 Remington. The amount of hot discussions around the cartridge is partially related to the fact that it's simply one of the most widely available and affordable hunting cartridges on the market, and people want to know whether they can hunt the most desired game in the US - deer.
On the other hand, indeed, there's a lot to account for when hunting deer with the .223. Yes, you CAN hunt with the .223, but… Let's take a closer look at the loads and other aspects. In this article, Gritr Sports reviews the .223 Remington as a deer hunting round to prepare you for your upcoming trip or discourage you from this idea if the stars don't align. Let's get started.
Where to shoot a Deer With a .223?
Before we touch on objective aspects like bullet loads and types, we should seriously talk about skills. Shot placement is absolutely vital when considering big game hunting, regardless of how powerful your cartridge of choice is. If you miss vitals and hit guts, the animal can still run away and die a needless, painful death.
Striking vital organs with one decisive shot is the definition of an ethical, clean killing. And your prime responsibility. If you can't deliver your bullet where it belongs, you shouldn't consider the .223 for deer hunting in the first place. An ethical shot is a shot placed right behind the shoulder. With such a shot placement, you can easily damage the aorta or even hit the heart. In most cases, when shot in this area from a .223 rifle, a deer will drop right at the spot and die quickly. This is what you need as an ethical deer hunter.
Also, check your local regulations because some states prohibit hunting deer with .223 Rem.
What's the Most Convenient .223 Hunting Ammo?
FMJ vs. Hollow-Points
Let's imagine we deliver our shot right behind the shoulder. Does this immediately mean victory? Of course, no. You need the right bullet, remember?
Some novice hunters trying to get things clear about bullets, calibers, and rifles wonder whether they can use the FMJ .223 ammo or 5.56 NATO ball ammo for the AR-15 for hunting. The answer is no, they aren't recommended for hunting.
Full metal jacket projectiles create considerably less expansion on impact, and you bear the risk of a bullet going right through an animal's body and not causing sufficient tissue damage. An FMJ bullet of a small diameter such as our .223 Rem can't produce a large wound channel, but expansion can aid in that.
Hollow-point bullets (or any other bullets designed to expand on impact) mushroom as they hit the target, causing more damage to the tissue. They also deliver more kinetic energy to the body because they get stuck in the flesh.
.223 Deer Hunting Loads Review
The .223 ammo marketed for deer hunting ranges from 55 to 70, sometimes 77 grains. Lighter varmint bullets are inferior in transferable energy and accuracy. That's why they are not recommended for harvesting deer. But you can't simply choose the heaviest .223 bullets available because you need to match it with your rifle, precisely, the barrel twist rate.
The rule of thumb here is as follows - heavier bullets require a faster twist rate and vice versa. A faster twist paired with lighter bullets will cause overstabilization, while a slow twist won't stabilize a heavy bullet and cause it to yaw. The rate of twist in most rifles ranges from 1:7 to 1:9. The faster 1:7-inch twist nicely matches with heavier .223 bullet loads weighing 68-80 grains, while the slower 1:9-inch twist will do a better job with those 55-75 loads.
The problem emerges when you have a slow twist rate between 1:11 and 1:13. Following the rule, you would need to use light bullets, but you can't hunt deer with them because they are more prone to wind drift and lack energy. The compromise solution may be 55- or 62-grain bullets, but it's better to check this setup at the range first.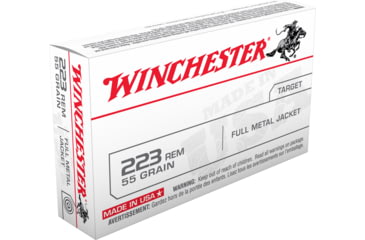 Distance and Energy Needed to Take a Deer Down
The energy of 1,000 ft-lbs is considered a minimum to take down such a big game animal as deer. So when choosing rounds, you need to pay attention to how much energy the bullet retains as it moves downrange. Let's consider several loads.
The 55-grain polymer-tipped rounds from Winchester's Varmint X series leave the muzzle with an energy of 1,282 ft-lbs and drop to 995 ft-lbs at 100 yards. The exact same case is with the Hornady V-Max and Remington Premier Accu-Tip-V ammo.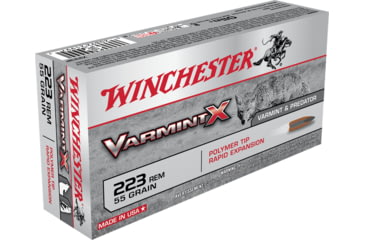 The 62-grain bonded soft point Federal Fusion rounds start with 1,239 ft-lbs and retain 1,000 ft-lbs of energy at 100 yards.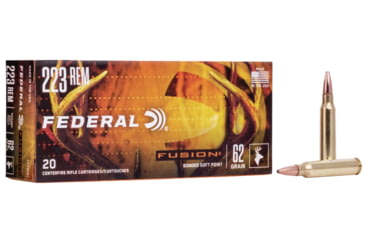 The 70-grain polymer-tipped Nosler round exits the muzzle with an energy of 1352 ft-lbs, then reaches 100 yards with 1,127 ft-lbs and drops below 1,000 ft-lbs around 150 yards.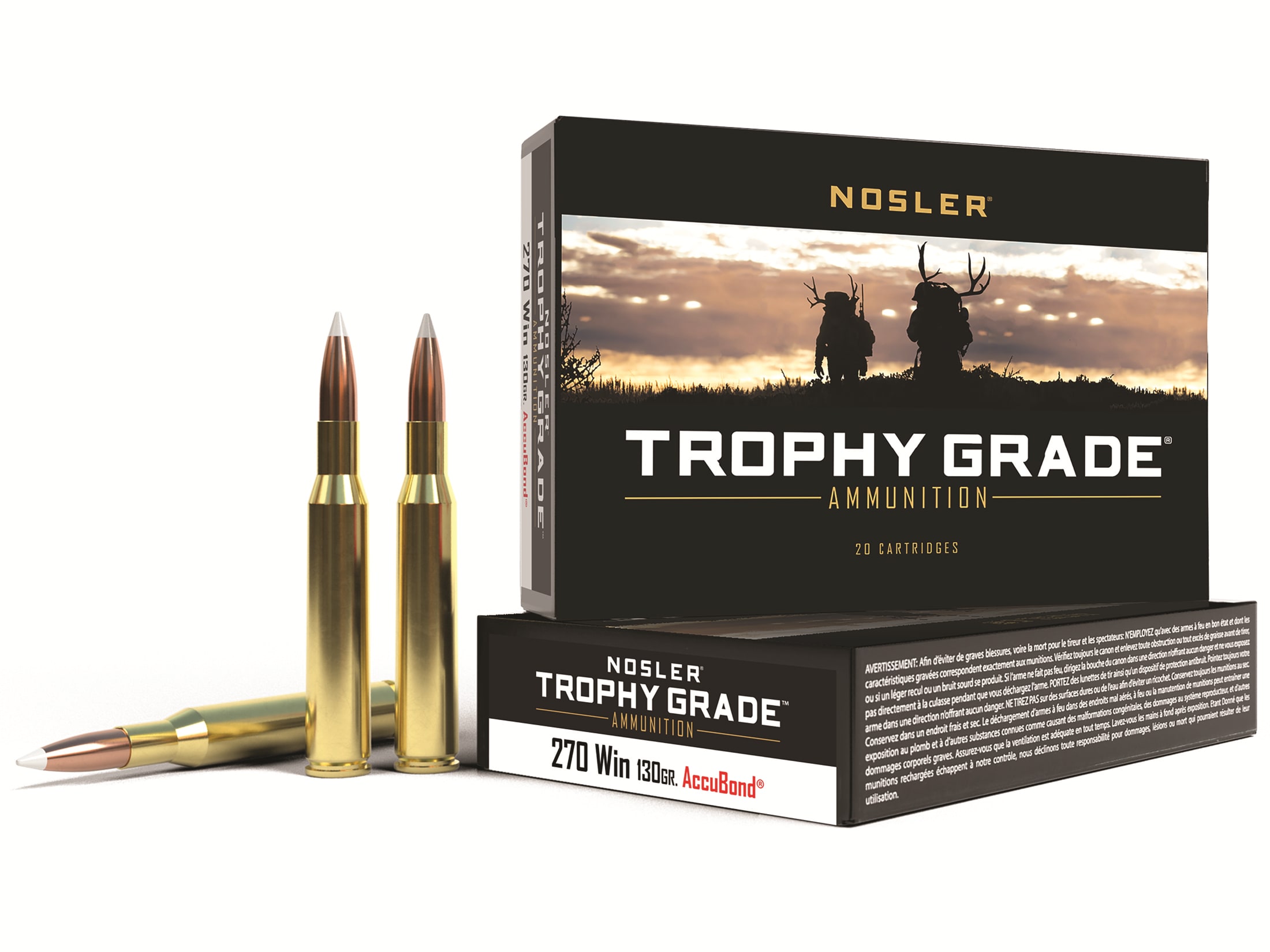 So you see, depending on the bullet weight, your range is limited to 100 yards (150 yards with a 70-grain bullet).
You may also like:
• The Best Scopes for Deer Hunting in 2022
What are The Best .223 Rifles for Deer Hunting?
Bolt-action rifles are considered traditional firearms for .223 deer hunting. These rifles indeed have several advantages, and the main one is, of course, inherent accuracy. They are also more dependable because of fewer moving parts and a more closed system that works fine even when it gets dirty.
.223 lever-action rifles, like those from Henry Repeating Arms, are also great for deer hunting. The main advantage here is that you don't need to use your dominant hand to cycle the rifle.
HENRY REPEATING ARMS - LONG RANGER TATICAL 223 5+1
brownells.com
Check price
For an all-purpose rifle, practical accuracy, mobility, and ammunition availability should be prioritized over outright firepower. We've chosen to chamber the Long Ranger Express in the ubiquitous ...
The fun club of hunters choosing the AR-15 as their .223 semi-auto hunting rifle is growing. Compared to bolt guns, semi-auto rifles have a faster rate of fire that you can use in case of an improperly placed shot. The gas system also helps mitigate recoil.
Conclusion
So, let's sum up what we've learned. First of all, check the local regulations of your state for the legality of using the .223 for deer hunting. If your state allows it, critically evaluate your skills. If you're unsure whether you can kill a deer cleanly, train and maybe get back to it later.
If your skills are sufficient to harvest deer humanely, try it with the right bullets. Depending on the rifle twist rate, choose .223 ammo with 55-70gr expanding bullets. Also, remember that you're limited to the maximum distance of 100-150 yards.
5.56 NATO AR-15 FMJ rounds are not suitable for hunting. If you have an AR-15, use the .223 Remington ammunition. However, don't use the 5.56 ammo with a .223 rifle for training because these rifles aren't designed to withstand higher pressures of the 5.56 NATO cartridge.
Post ID: y711xl9rV
Category ID: A2kKxyW
The responses below are not provided, commissioned, reviewed, approved, or otherwise endorsed by any financial entity or advertiser. It is not the advertiser's responsibility to ensure all posts and/or questions are answered.