Choosing between airsoft brands can seem like a giant task. In 2022, numerous brands have created incredible airsoft products that stand out for quality and are just fun to shoot. Here's what you need to know:
Pricing Vs Budget
Bigger, well-known brands will bring quality equipment and mark it at a higher price, while newer brands may trade a high price for affordability. Not only does this help them grow as a brand, but it gains attraction when they're getting started. Some brands will offer a few of their higher quality products at a lower price, for those of us trying to manage a budget.
Surpassing Basic Quality
Watch out for brands that surpass the bare minimum quality like utilizing add-ons like scopes to steer their rise in the market. These brands all have a unique attribution, like a high-quality scope, that makes them noticeable when shopping. 
Uses and Objective 
Airsoft guns aren't only great for collecting, practicing your aim, or playing a game with friends. Many companies are producing more products that double for general, everyday usage. One example is a brand that's making a rifle that can be used for pest control. If you are looking for rifles only, robar has a thorough review on the top ones in 2022 
Review: 7 Best Airsoft Brands on the Market
In no specific order, each of these brands has shown solid promise throughout 2022. As you dig through our favorites, keep in mind that your preferences may not match ours and there are noticeable differences when it comes to shopping with each brand. Depending on your intent behind purchasing, you'll find that there's something special about each company and the products they offer.
Our Pick: Tokyo Marui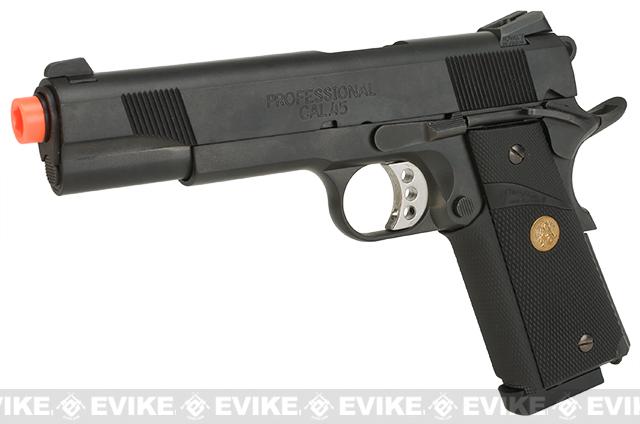 We chose to highlight the Tokyo Marui 1911 MEU Airsoft Gun for its easy to load compatibility. Not only is this airsoft pistol made to be incredibly durable, but its accuracy allows you to hit a target up to 50 feet away. 
What Buyers Are Saying
Many critics have compared this gun to the WE pistol, stating the weight balance takes a little time to adjust to. However, time and time again the ratings are through the roof when it comes to having great recoil, comfortable handling, and accuracy.
What Makes it Noticeable
Due to its durability and being such a well-made pistol, it's easy to note why the 1911 MEU Airsoft Gun is so eye-catching. There's no concern about its reliability, and we don't feel that there will be any hang-ups when using it. 
Best Uses
You're getting your bang for your buck with this pistol. It's a powerhouse and designed perfectly for target practice. One thing to note is that you'll see consistency in being able to accurately dominate your targets.
Possible Improvements
There aren't many flaws with this gun, and realistically this is more of a maintenance precaution than anything. Including an additional slide with the pistol could help maintain the high quality for high usage practice.
Final Thoughts
The Tokyo Marui 1911 MEU Airsoft Gun truly goes above and beyond. It's perfect to add to a collection or to use to improve your accuracy. You won't find another brand making a gun this high in quality for this price for a while. 
Our Pick: Ics
The ICS M4 Ris Airsoft Rifle AEG Sport is perfect for all ages. It's an airsoft rifle that friends and family can enjoy easily. Whether you're a beginner or you need something easy to take on the go, ICS won us over with this one. 
What Buyers Are Saying
Some buyers report jamming when using the rifle, but people rave about how easy it is to carry. The gun is perfect for children wanting to learn and users say it's perfect for indoor and close quarters airsoft play.
What Makes it Noticeable
ICS has crafted a low-velocity high-quality rifle that's easy for close-range target practice. The gun itself is made to be efficient without needing a scope.
Best Uses
The gun should primarily be used for novice shooters learning how to aim and manipulate an airsoft gun. It's great for shooting at small targets and leaves plenty of growing room for the average beginner.
Possible Improvements
A replaceable scope is included with this rifle, so customization is a breeze. This could also help improve accuracy for those learning.
Final Thoughts
If you're looking for an airsoft option as a beginner or to share with teens and children, the ICS M4 Ris rifle is a top of the line choice. It's fun to use and easy to teach with.
Our Pick: Classic Army
The Classic Army Airsoft GI M132 Microgun is every airsoft owner's dream. This gun is accurate, easy to operate, and can fire multiple rounds at once.
What Buyers Are Saying
One reviewer noted that the barrel has a slight wobble to it but later resolved the issue by turning the air pressure up. Others recommend it for how it perfects shooting in a stream rather than a line. Overall users are stating that adjustments are a little tricky when first learning to operate the gun, but once you get that down it's a gun they would buy again and again.
What Makes it Noticeable
The main thing that grabs our attention with this beast is how endless the firepower is. It's made from polymer, making it more durable than your average airsoft gun.
Best Uses
You'll primarily want to leave this gun for playing. It's not something that would work well on the field and is best suited for firing a stream of pellets at a target.
Possible Improvements
The only thing lacking about the Airsoft GI M132 is its stability. If you're wanting to hit target after target, including a tripod to help stabilize would be the cherry on top.
Final Thoughts
To maximize fun and live out your wildest airsoft fantasies, this gun is a magnificent choice. It brings with it the promise that you'll never be bored.
Our Pick: Guay & Guay
G&G's Airsoft Combat Machine M4 is a powerful battery powered airsoft rifle that brings direct accuracy to an entirely new level.
What Buyers Are Saying
Buyers like that they don't have any feeding issues as well as the rifle's consistent accuracy. One airsoft owner stated that it's perfect for both beginner level airsoft and intermediate shooters.
What Makes it Noticeable
This rifle stands out due to its solid construction. It mixes a moderate velocity with higher than expected power, making it a fairly good airsoft gun. 
Best Uses
Most suitable for intermediate target practice, the rifle is great for children and teens with a little experience. It's a great gun to use once you've gotten the basics of airsoft down.
Possible Improvements
Replacing the railing with a mount for scopes would allow you to optimize your shots.
Final Thoughts
Compared to other rifles, the G&G Airsoft Combat Machine M4 delivers accurate, desirable shots with a high consistency rate. The gun is one of the best for a batter powered rifle.
Our Pick: Krytac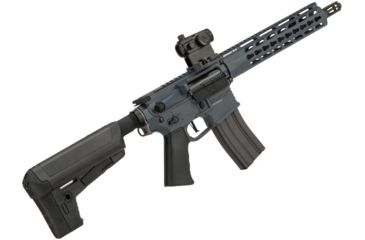 Offering semi-auto firepower, the Krytac Trident SPR Mk.2 Electric Airsoft Rifle brings near-perfect accuracy to mid-range shots. 
What Buyers Are Saying
There are mixed reviews on this gun. While everyone agrees that its accuracy and firing ability is impressive, one reviewer said that the fuse in the stock is a little big and can make changing out batteries a slight hassle.
What Makes it Noticeable
The rifle is made so that you can mount any scope or optic of your choice. Designed for compatibility, you can take full advantage of adjusting the accuracy.
Best Uses
Many users prefer the Trident for target practice, but also utilize it as an extra pest control option. It has just enough power to prevent killing an animal but will easily scare pesky rodents off.
Possible Improvements
Including an intact battery could take this rifle to the next level. If included, this would allow you to easily recharge your battery, and it could improve the longevity of disappointment that follows batteries not living up to their expectations.
Final Thoughts
If you're looking for a gun that ensures you're having a good time, the Krytac Trident is your match. It provides you with plenty of opportunities to practice your target shooting, helps take care of pests, and the semi-auto firepower keeps you having fun.
Our Pick: Cyma
The 410 Fps Cyma Full Metal Gearbox AK47 brings you an almost perfect replica of a real AK47 in airsoft format. 
What Buyers Are Saying
Buyers note that it's unbeatable for the price. This rifle is of higher quality than what you'd normally get in this price range, and the accuracy is almost unbelievable.
What Makes it Noticeable
The 410 brings you adjustable stock, allowing you to switch shooters with ease and let everyone in on the fun. 
Best Uses
While the rifle can be used for target practice, its best use is deterring small critters. It has just the right amount of power to knock them down and scare them away long term.
Possible Improvements
There aren't many complaints about this masterpiece. It's front heavy and the twin charging handles can make it a little difficult to fit in a hardshell case, but the only real disadvantage is that the screws holding the control plate allow it to slip out of place sometimes.
Final Thoughts
As fun as this rifle is, it does a great job keeping pests away. It can be great for intermediate to advanced shooters, and won't limit you on the consistent accuracy when you fire shot after shot.
Our Pick: Lancer Tactical
Say hello to the Lancer Tactical Interceptor SPR. This lightweight gem brings you super powerful shots to knock down moving or stationary targets.
What Buyers Are Saying
Multiple buyers have stated that they love the grip of this rifle. The gun is made from polymer but doesn't feel like it's going to break or fall apart, compared to similar models from other brands.
What Makes it Noticeable
Designed almost like a paintball rifle, it can fire off large rounds at a high velocity. The gun itself is extremely durable and makes a great recreational rifle.
Best Uses
Since the gun is similar to a paintball rifle, it is commonly used for play and target practice. It makes friendly competition all the more fun. 
Possible Improvements
The Lancer Tactical operates off of gas canisters, so if you don't ensure they're sealed or secured, this can lead to misfiring.
What Makes These Brands Stand Out?
The ultimate goal for any airsoft brand is to catch the attention of the buyer, and if you're in the market for new equipment then you're already aware of that. However, each brand markets its products differently. Some may rely on social media and run specials where you can buy one get one, while others may add accessories or utilize customer testimonials to gain attraction. Each brand brings something unique to the market that makes them stand out.
Final Thoughts
If you're looking for a rifle that allows you to play, this is a perfect choice. It's suitable for all ages and makes a great combat partner.
Depending on your airsoft needs, finding the perfect gun can feel difficult. If you are in need of scope, don't forget to check out our article on the best scopes for air rifles. As you search through the best airsoft brands, be on the lookout for some of these incredible options that may just meet your needs and preferences.
Post ID: qmXXpebP5
Category ID: ZM9vZ0p
The responses below are not provided, commissioned, reviewed, approved, or otherwise endorsed by any financial entity or advertiser. It is not the advertiser's responsibility to ensure all posts and/or questions are answered.