You may have heard the terms "centerfire" and "rimfire" used when people talk about guns. You've seen it in magazines and brochures, too. But do you know exactly how they are different? Since they refer to the same cartridge, something must separate them, right? That's why this article intends to help you, whether you are interested in centerfire or rimfire ammunition. 
For starters, they are both equally legitimate purchases, depending on your needs. Here's what you need to know about rimfire vs. centerfire ammunition and where to buy it cheaply online.
What's Rimfire Ammunition
Rimfire ammunition is suitable for small-game hunting, target shooting, and plinking. However, it is not as powerful as centerfire ammunition, and it has a more limited selection of loads.
In contrast to centerfire ammunition, rimfire cartridges are not reloadable. The cartridge case is prone to damage by thin brass and cannot be reused. Reloadable cases must be made from more robust materials such as steel or aluminum, making them more expensive. One cartridge typically costs about twice as much as the equivalent number of shots from a centerfire cartridge.
Most rimfire ammunition uses relatively small primers that produce less noise and recoil than centerfire primers. For this reason, rimfires are sometimes used by hunters or other shooters who wish to be stealthy. They are also often used by shooters wanting to practice or train without the noise and recoil of centerfire ammunition. The most popular rimfire chambering is the .22 Long Rifle (sometimes called "the .22 LR"). 
What's Centerfire Ammunition
Centerfire Ammunition is common in rifles, shotguns, and handguns. The primer is in the center casing, and most centerfire ammunition is reloadable. In a centerfire cartridge, the firing pin crushes the primer against the back wall of the breach to ignite the propelling charge. 
Since a centerfire cartridge has a primer in its center, you can quickly reload by replacing just that component. Centerfire cartridges are typically much more expensive than rimfire ones because they are reloadable, and their cases are made from thicker brass than rimfires.
In general, centerfire ammunition is more potent than rimfire ammunition. Also, centerfire ammunition uses self-contained primers that are not replaceable individually. The individual components used to produce centerfire ammunition include the primer, cartridge case, propellant, projectile, and gunpowder. Most types of centerfire ammunition are made from brass casings, which means users can reuse them several times.
Where to Buy Cheap Ammunition Online 
For years, the only way to buy cheap centerfire and rimfire was to stock up at big-box warehouses like Walmart or Costco. But recently, an attractive new marketplace has emerged online: user-to-user sales sites such as Opticsplanet, Amazon, or Brownells that let buyers and sellers reach each other directly.
Rimfire vs. Centerfire - Top 8 Calibers 
So, what are some of the best calibers for both Rimfire and Centerpiece? Let's take a look at 8 cool options!
Let's go straight to our review!
Winchester 333 .22 Long Rifle  Rimfire Ammunition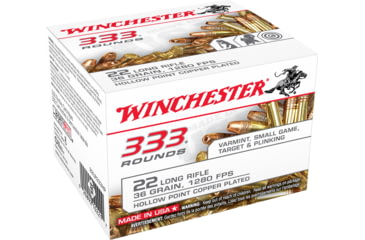 Winchester  .22 Long Rimfire Ammunition is a single-load, bulk pack of rimfire ammunition featuring a 36-grain copper-plated hollow point bullet. The ammunition is perfect for short-range target shooting and small game hunting.
Further, this .22 LR ammo is copper-plated for increased performance and terminal ballistics, allowing maximum impact expansion. The hollow point construction of this ammunition provides the shooter with reliable feeding and extraction.  Additionally, it reduces barrel fouling and improves accuracy potential. This ammo also has an extra-hard lead-alloy jacket that resists deformation during firing. However, it shatters on impact for high stopping power.
It is safe to use in any .22 LR firearms, including semi-auto handguns, rifles, and lever-action guns. Finally, this ammo features 333 rounds in a single box. That makes it ideal for quick plinking sessions or small game hunting situations requiring large amounts of cheap ammunition.
CCI Ammunition Stinger .22 Long Rifle  Rimfire Ammo - 100 Rounds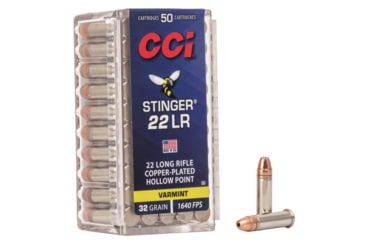 CCI Stinger .22 ammo is excellent for plinking, priced for bulk purchase. It's high-velocity ammo that reaches 1,640 fps from the muzzle. The Stinger perfectly suits small game hunting and pest control in various environments. Also, the 32-grain copper-plated hollow point features an air-bonded lead core and a copper jacket. Every round comes in a special edition 22plinkster box that makes an excellent storage container.
This rimfire ammo is loaded within industry-standard pressures, so you can fire it in any .22 firearm without experiencing overpressure or malfunctioning. Their combination of affordability and accuracy make them ideal for recreational shooting and small game hunting.
Aguila - Super Extra Short 22 Short Rimfire Ammo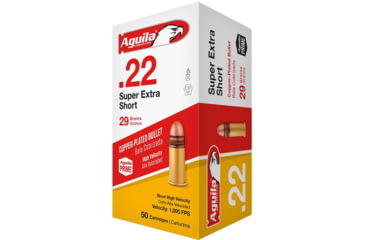 Rimfire ammo is known to be cheap. But many people don't understand that some high-end rimfire ammo can cost as much as, or even more than, other centerfire rounds. However, Aguila rimfire is inexpensive, high quality, and no one can argue with that.
This Aguila Rimfire ammo round is loaded with 22 short bullets intended to fire in bolt action rifles. The .22 short has become a staple for many shooters, and this ammo will provide you with the best value for your money and an affordable alternative to the pricier types of .22 rounds. In addition, it's for use in bolt-action rifles, so there's no need to worry about it damaging any other kind of firearm!
Federal Premium Centerfire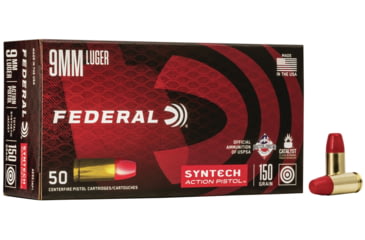 The bullet features a hollow cavity that traps the energy from the explosion of the primer. Further, it expands to nearly double its original diameter, creating five wound channels in the target. The jacketed hollow point design promotes maximum weight retention and deep penetration for large caliber defense rounds. So this ammunition is new production, non-corrosive, reloadable, and features brass cases, and Boxer primers.
The primer used in this load is boxer type, and the brass casing is nickel-plated.
This ammunition is excellent for self-defense situations where you need rapid expansion and penetration at close range. Also, this ammo would not suit hunting as it does not expand reliably on game animals at long range.
The Ammo Inc. 45 Centrefire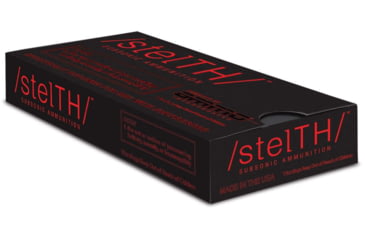 The Ammo Inc. 45 comes from the finest components, including annealed brass, shot-peened, and processed for consistency in diameter and wall thickness. The primers are carefully selected for reliable ignition with many powder types. The powder is carefully blended to provide consistency and high velocity for tight groups. Bullets are match grade, and they're accurate with a flat trajectory.
You will not find a higher quality, better performing round for the price. Balancing velocity, accuracy, and recoil, our development team carefully analyzes every load to achieve superior performance.
Liberty Ammunition Civil Defense 38 Special Centerfire Ammunition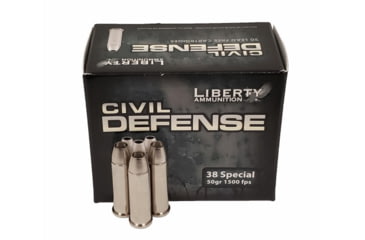 The Liberty Ammunition Civil Defense  38 Special Ammunition is excellent for target shooting or personal protection.
Liberty Ammunition has been a trusted supplier in the shooting industry for many years. Their ammo is high quality, non-corrosive and reloadable. If you are looking for range ammunition associated with target shooting, then Liberty Ammunition is perfect for you!
Federal Premium .270 Winchester Centerfire  Ammo - 20 Rounds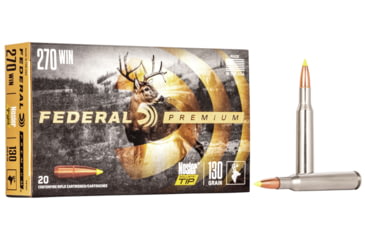 Ammo is suitable for chasing around the woods, as it will not damage any part of the animal or leave any unnecessary or unwanted residue. Hunters use it for big games like elk, deer, bear, wild boar, and antelope. It will give you a clean and quick kill on any small or large animal. 
The Federal Premium .270  Rifle Ammo - 20 Rounds will help you eliminate your target without any problems at all. These rounds are trusted by hunters worldwide and can be used in various rifles, from bolt action to semi-automatics. These rounds also come in boxes of 20 and are available at great prices so that you can stock up on them for future hunting trips.
Wolf Ammo .223 Remington Centerfire Ammunition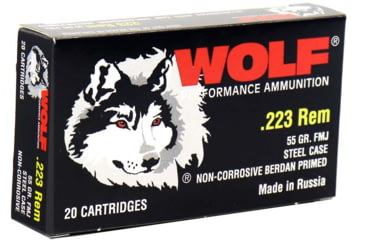 Wolf Ammo .223 Remington features a 55-grain full-metal jacketed bullet and steel casing.
The .223 Remington cartridge is the civilian equivalent of the military's 5.56 round. However, a rifle chambered for 5.56 will fire .223 but not the other way around because the military round is slightly bigger. Still, a 55-grain .223 caliber bullet will deliver a muzzle velocity of more than 3,000 feet per second.
Rimfire vs. Centerfire which is the Best?
The rimfire vs. centerfire argument has been going on for decades. But we don't believe there is a clear winner in this debate.
Honestly, going with a rimfire or centerfire handgun depends on your preferences and needs. We want to walk you through three top choices and give you our thoughts on them.
The short answer is that centerfire has a greater mass and higher velocity than rimfire, giving it the potential to be a more accurate round. In addition, a centerfire weapon can pack more punch than its rimfire counterpart, making it suitable for self-defense.  For example, The Federal Premium .270  Rifle Ammo - 20 Rounds would be a wise decision for any shooter. It has a sharp target, comes in a pack of 20, and can take down big animals like deers. 
However, rimfire is not the clear loser here. It's also cheaper than centerfire, so if you're training someone on how to shoot, rimfires are perfect for this purpose. You can also use it for many different firearms since it doesn't require a unique firing mechanism. The most common caliber with such specifications is the Winchester  .22 Long Rimfire and the Aguila - super extra short 22 short rimfire ammo.
Post ID: 84BB9RODb
Category ID: A2kKxyW
The responses below are not provided, commissioned, reviewed, approved, or otherwise endorsed by any financial entity or advertiser. It is not the advertiser's responsibility to ensure all posts and/or questions are answered.