The name Burris Optics is often mentioned in the same breath as NightForce and Leupold brands. If you know anything about rifle scopes, you will recognize them as among the top brands in the industry. Burris Optics is an American company that makes excellent products designed for both beginner shooters and seasoned hunters.
Burris Optics manufactures most of its scopes in the US. They also make some models in Japan, China, and the Philippines. There is no doubt that the scopes they make in the US are of excellent quality. However, if you have to buy those made outside the US, be sure to go for Japanese-made models. They are often of better quality than the Chinese or Philippine-made ones.
Regardless of the country of manufacture, scopes made by Burris have clear, high-quality lenses providing exceptional light transmission. They are very competitively priced, often selling for much cheaper than other brands such as Leupold, Bushnell, and Nikon.
Despite the price difference compared to other major brands' scopes, Burris' products do not compromise on features. Whether you are looking for a budget-friendly novice or a high-end scope, you will find something that meets your needs under the Burris brand.
We have picked five top-of-the-shelf rifle scopes from Burris to review. Read on to discover why they are popular and compare specs and features to find the perfect scope for you.
Top 5 Burris Scopes Reviews
Burris Fullfield II Ballistic Plex 3-9x, 40mm Rifle Scope
Burris Fullfield II 3x-9x-40mm Nickel Ballistic Plex
amazon.com
Check price
Popular and premium traditional hunting riflescope at an affordable price
High-grade optical glass provides excellent brightness and clarity with lasting durability
Quality, precision-ground lenses...
Fullfield II riflescope is an iconic product that has outsold the competition in the US market for decades. It is highly recognizable for its matte black finish, but it is in high demand for its Ballistic Plex reticle.
There is a good reason you will find hunters all over the country using this scope. Weighing just over 12 ounces, it is an excellent choice for standing, long-distance, and driven hunts. Its reticle is ideal for hunting because it is neither too thin nor too thick; it is perfectly sized for medium-range hunting.
The scope features an easily adjustable focus ring and a stiff magnification scope. The glass is great in any lighting conditions. These are some of the reasons minimalist shooters love this rifle scope.
Burris Fullfield comes with manual windage and elevation adjustments. These allow you to make the smallest or largest customization on the scope as desired, without limitation. The lens on the scope is crystal clear, making it easy to sight through even at the local range.
Pros
The minimalistic design and aesthetic matt-black finish
Multi-coated crystal-clear lenses
Clear, bright glass
Very affordably priced
Highly durable scope with easily adjustable stiff knobs
Cons
The scope does not come with covers
Burris Optics XTR II Riflescope 8-40x, 50mm
If you are a beginner to hunting or shooting in general, the XTR II is the ideal entry-level scope for you. It features an SCR MOA reticle and a 34mm tube. Compared to other riflescopes at this price point, the XTR II has outrightly the clearest glass.
Aside from the clear glass, the scope's robust design and construction makes the XTR II a favorite scope amongst hobbyist hunters. The scope has red dots that are very useful when aiming in the dark, and the movements of the turrets smooth with nice subtle clicks.
The XTR is a steal for someone looking to save a buck on a good scope for such a pocket-friendly price. The value is not in the scope alone, but in the glass-cover which provides excellent sunshade.
Two admirable features of this scope that you cannot find even in some high-end and pricier riflescopes are the zero stops and the illumination knob on the left. The parallax adjustment is also on the left, next to the illumination knob. The zoom controls are on the rear of the scope, and the long-range reticle focus is located just beneath the cap.
Pros
Adjustment knobs are easily accessible and easy to adjust
F-Class rated illuminated MOA reticle makes accurate long-distance shooting easy
Very clear and bright multi-coated lenses
Aesthetically designed and solidly built with a 34mm long tube
Cons
The scope is noticeably heavy
Burris Veracity Riflescope, 4-20x 50mm
The Burris Veracity scope, like other models in this line of riflescopes, is designed and made for the big game hunters. This line of scopes has Burris's Hi-Lume premium multi-coating on every lens surface. It also features front focal plane optics that enable trajectory compensation on any magnification level.
Making knob adjustments on the Burris Veracity scope is effortless. It comes with Burris's MAD Knobs, a low-profile zero-stop knob that is fully customizable and easily adjustable. When you order this scope, you also get two different reticles in the package: Ballistic Plex E1 MV and Ballistic Plex E1. Should you go for the 5-25 model, you also get the SCR special competition reticle.
Like other scopes from Burris, the Veracity scope is robustly designed and built. Its selling point is the 5-time zoom feature with 50mm objections that complement the 30mm main tube and the 15 MOA internal adjustments.
The frontal focal plane design is a first on hunting scopes from Burris, but it has proven to provide excellent eye relief for hunters. You will locate most sights on the second scope plane, eliminating the need to adjust the reticle every time. The scopes are made from high-quality glass that offers clear and bright sights, even in low light conditions.
Pros
The reticles on the Veracity are on the front focal plane
Does not fog internally even in the rain or extremely cold temperatures
High-quality glass lenses with Hi-Lume® multi-coating on every surface
The scope can hold zero in any condition
Cons
The adjustment dial does not feel crisp enough
Burris Droptine Riflescope with Ballistic Plex
Ask anyone who has the Droptine scope from Burris, and they will say their most favorite features are clear optics and the positive click adjustments. This beautiful .22lr scope is robust and solidly built to provide utmost clarity with a ballistic plex reticle and a matte finish. It has an integrated eyepiece design that offers a no-slip grip and a rugged feel.
Calibrated for .22 rifles, the Droptine line of scopes have positive steel adjustment knobs to ensure reproducible accuracy. Burris sculpted this scope from a single piece of solid tube to make it more durable. The result is a strong enough scope to withstand shocks and vibrations, even from high-caliber recoils. 
Despite being feature-laden, the Droptine scope is one of the most cost-effective lines of riflescopes from Burris. It is waterproof, and the tube is filled with nitrogen gas to prevent internal fogging even when used in extreme cold or the rain.
Like most high-end scopes from Burris, the Droptine model also features Hi-Lume® multi-coating on the lenses indexed to aid aiming even in low light. The glass the lenses are made from is high-quality and built to reduce glare while providing shade from the sun.
Pros
Rugged, simple, and easy-to-use design
High-quality optics makes the lenses clear and very bright
Uses Hi-Lume multi-coating aids to deliver outstanding performance in low-light conditions
Affordable and ideal for bench shooting
Cons
The matte finish feels a little too rough
Burris Scopes 200370 Predator Quest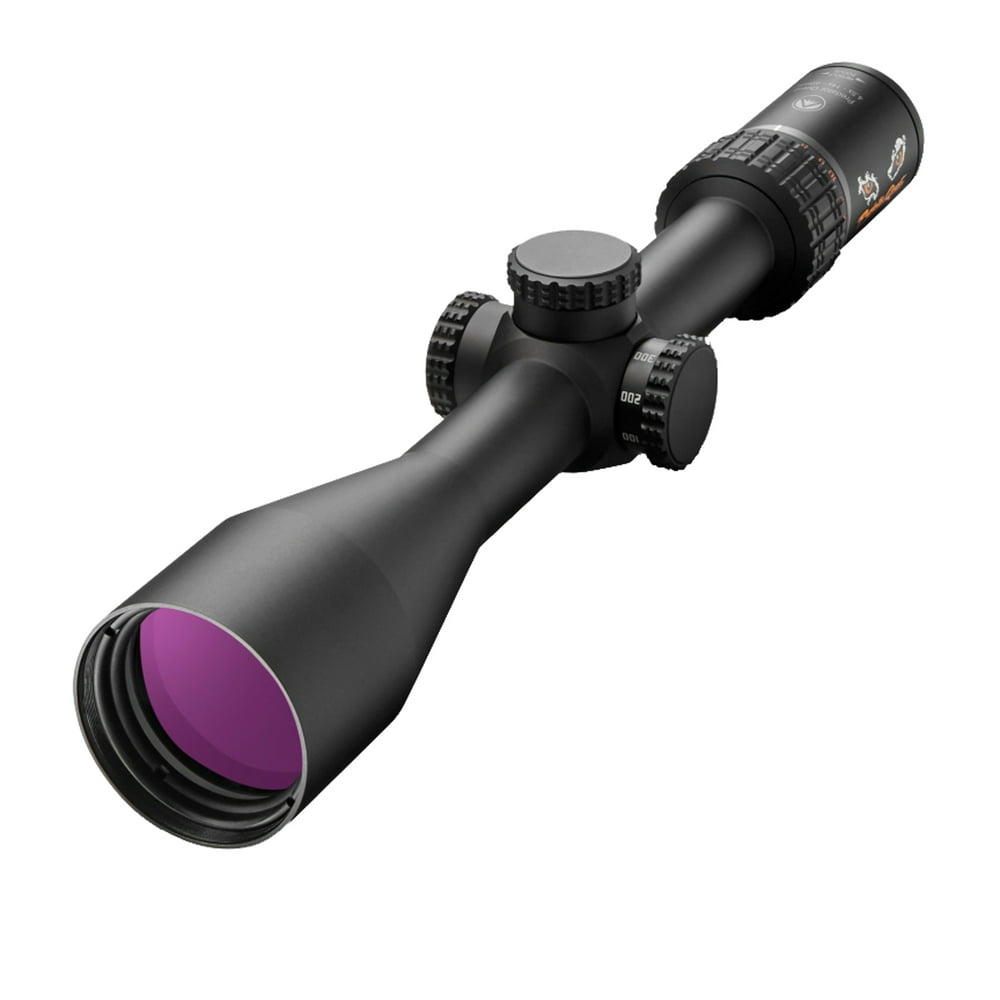 Burris collaborated with Les Johnson to design and make the Predator Quest line of riflescopes. If you don't know them, Les Johnson is the famous coyote caller who runs an outdoor adventures channel on YouTube. The collaboration led to the development of a clear scope specifically made from varmint and predator hunting.
The 3-9x magnification Predator Quest comes with a removable anti-reflection device. The 4.1-14x version comes with an optional RealTree Max-1 camo finish, which gives it a rugged and military look. Additionally, the dials are solidly built, positive, and covered. This line of scopes was designed for hunters who want to go full stealth mode.
If you are a hog hunter, you can still go for the Predator Quest as your scope of choice. The E-1 reticle it comes with is ideal for sighting and aiming at moving targets. The BDC-style reticle features windage holdover points and would work well for hunting fast-moving small targets such as coyotes.
The tube of the Burris Predator Quest scope is filled with nitrogen and does not fog even in cold temperatures. It is robustly built to be waterproof, fog-proof, shockproof, and highly durable.
Pros
The nitrogen-purged tube does not fog
Features the ballistic plex E-1 reticle
Highly durable fog-proof and shockproof design
Multi-coated lenses provide excellent clarity even in low lighting
Cons
Quite heavy, weighing 1,5 pounds
Why Burris Scopes?
Burris understands that a shooter cannot afford to make even the smallest mistakes - more so when it comes to aiming. Consequently, their scopes are built to be accurate, very clear, and bright, and reliable. This is Burris' way of guaranteeing that your shot hits the target every time. The company has over 40 years' experience in engineering optical products for field use.
Burris makes a wide range of riflescopes for all uses - from bench shooting and hobbyist hunting to big game hunting tactical combat. They have scopes finely tuned for:
Predator hunting
Varmint hunting
Small game hunting
Big game hunting
African plains game hunting
Turkey hunting
Handguns
Tactical
The tactical line of scopes is made to provide absolute accuracy and unfailing reliability. Because they are designed for personal defense and enforcement, they have no chance of failing. The tactical line of scopes is ideal for you if you are a long-range sports shooting competitor.
About Burris Optics
Don Burris founded Burris Scopes in 1972 after spending over a decade working at the Redfield Hunting Scope Company. His skills and experience in the design and manufacture of scopes impacted the industry in remarkable ways. The company continued to grow and adopted newer technologies to produce better and more competitive products after Don passed on.
The scopes the company makes are used by law enforcement and hunters across the country. Other products, such as the variable power handgun are also very competitive in the market.
Burris Scopes is now a part of the Baretta family of scopes, an Italian-owned company that manufactures and supplies scopes worldwide. Despite being one of the most competitively priced brands in the market, Burris produces scopes for the US market at their Colorado facility.
Verdict
It may not seem like it, but the riflescopes market is saturated and very competitive. Some brands trade-off the quality of their products to cut costs and keep their prices low. Not Burris. The company somehow manages to keep its scopes competitively priced without compromising quality.
A first-time scopes buyer can easily be spoilt of choice when shopping for a riflescope. There are scopes of better quality and others that are cheaper than those made by Burris.
However, comparing the scopes point-by-point reveals that Burris models often offer great value for their pricing. The secret to their success lies in the company's commitment to delivering quality, tested products that are both durable and reliable.
Post ID: lq66kBbd7
Category ID: lMb9k43
The responses below are not provided, commissioned, reviewed, approved, or otherwise endorsed by any financial entity or advertiser. It is not the advertiser's responsibility to ensure all posts and/or questions are answered.