A cheap night vision scope should also be of good quality. Otherwise, you will feel frustrated with a cheap but poor sighting device for nighttime use. For this reason, you must take time to find a quality scope that is also cost effective.
You need to research and compare your options well. To help you, we've gathered the top seven night vision scopes that can improve your shooting skills and knowledge. If you're ready, here are our suggestions so that you can start looking for the right rifle scope for your needs.
Best Affordable Night Vision Scope Reviews of 2022
ATN X-Sight II HD 3-14 Smart Day/Night Rifle Scope
The ATN X Sight II HD is a durable rifle scope with a sturdy case and a beautiful design. It also equipped with innovative optics that give you the option to use the scope at any time of day.
The rifle scope is equipped with Recoil Activated Video, which gives you the option to record adventures. You will not have to miss any victories. With this rifle scope, you can capture all of your activities and share them with your friends and loved ones.
What makes this rifle scope unique is the day and night mode. It can be used anywhere and can register the best image possible, no matter the lighting conditions.
This rifle scope has a built-in rangefinder that will increase your skills and make hooting and hunting adventures easier. Say good bye to additional equipment. The built-in rangefinder can do everything for you, including compute for the correct distance in order to get a perfect shot.
The ATN X Sight II HD has a ballistic calculator, so you don't have to use charts and reticles. Instead, you can input the data of the environment and the specific calculations will be done automatically. It can offer you the best results in capturing your target better.
Additionally, this rifle scope also has a recorder that can capture your adventure in 1080p HD. With an SD card, you can capture and record your victory without any USB cables needed.
On the downside, the settings freeze up. You will need to reset the rifle scope or take the battery out and put it back in.
Pros
HD Recorder
Ballistic calculator
Built-in rangefinder
Smart HD Optics
Recoil Activated Video
The ATN X Sight II HD is the perfect rifle scope for those who love to shoot and hunt during the day and night.
Sightmark Wraith HD 4-32×50 Digital Rifle Scope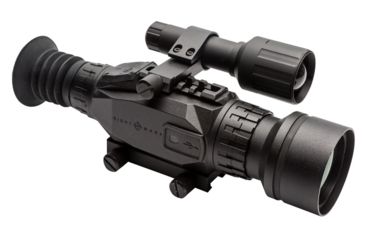 SightMark Wraith HD 4-32x50 Digital Riflescope
opticsplanet.com
Check price
Introduce your firearm to the next generation of optical power by equipping this SightMark Digital Riflescope. While the 1920x1080 HD sensor provides complete color clarity during the day, these Ni...
With this rifle scope, you can hit the left arrow if you need to switch it to night mode. It also has classic black and white or emerald viewing options.
The Sightmark Wraith Digital Rifle Scope is a new, versatile, and revolutionary cheap night vision rifle scope. This rifle scope is perfect for daytime and nighttime use. The Wraith, which is high resolution, is made for all hunting applications including predator, hog, and deer.
The rifle scope is available for customization, and it also has nine color choices and 10 reticle options that can fit your needs. It has a battery life that can run for five hours with four AA batteries, as well as a Micro USB port that can help expand the options for the power of the rifle scope.
The additional features of the rifle scope include a color model that is fit for daytime shooting, which includes classic green or black and white. It also comes with an 850nm IR Illuminator that can be removed. Additionally, it can also detect a range of 200 yards.
The rifle scope has a weaver rail that allows you to add accessories that you may need in the future. It's equipped a micro USB that allows video and photo export and outboards more power supply.
With a simple button mapping, this rifle scope can be operated easily. It has a user interface that is easy to follow, so you can make sure that everything that is dialed in is just right.
On the downside, the screen gets grainy when the rifle scope is turned on and off multiple times.
Pros
Digital and easy to use
Removable illuminator
High-resolution wraith
Day and night mode
Easy operating system
The Sightmark Rifle Scope is perfect for hunting day and night. It can be used any time of day, and it can detect a range of 200 yards, which makes it ideal for hunting.
Firefield NVRS 3×42 Gen 1 Night Vision Rifle Scope
Firefield NVRS 3x42 Gen 1 Night Vision Riflescope
amazon.com
Check price
High quality image and resolution
Lightweight and durable titanium body with water resistant IPX4 Rating
Quick detach weaver mount
Built-in high powered IR illuminator
Ergonomic design and quick po...
The rifle scope has a mounting system that has an easy-to-remove weaver, making it convenient to change its optics and use iron sights while maintaining the return-to-zero reliability.
The rifle scope features a 42mm lens that is meant to give you a higher and better light-gathering feature and magnification that is three times enhanced. This rifle scope offers a very clear sight, even for far targets.
The Firefield Rifle Scope is lightweight with a rock-solid, titanium construction. Additionally, it has a lens that flips up to cover the shield from intense impact and changing weather conditions. It has multi-coated and enhanced optics, as well as a reticle with incremental adjustment for its brightness. This allows you to adapt quickly to your surroundings.
This good, cheap night vision scope makes it easy to change optics and to switch to iron sights. You can also go hunting or target shooting at night. This rifle scope's night vision feature lets you use it an environment that is pitch black.
On the downside, the batteries of this rifle scope get hot when the rifle scope is overused. It is best to remove the batteries when you are not using the rifle scope to avoid overheating.
Pros
A clear picture of medium and long-range targets
Easy-to-change optics
Return-to-zero reliability
Night vision feature
Lightweight
Cons
The battery gets hot when overused
The Firefield Rifle Scope with night vision is perfect for those who love to hunt at night. It's also a great choice for those who are still getting used to hunting and shooting.
Sightmark Photon RT 4.5-9x42S Digital Night Vision Rifle Scope
Based on its specification, its most distinguished feature is its ability to see well in the dark. Through this equipment, the hunter may also have bright vision of the surroundings at night. It has CMOS sensor that is enhanced to 768×576, so the images are crisp for up to 40%.
In addition, Sightmark Photon Rifle Scope has a LED IR Illuminator. This benefits the user in covered shooting areas with poor source of light, as it can supply light for up to 280 yards. It can also serve as an emergency light when hunters are hunting late at night.
Aside from that, a hunter may also document the live shooting event using the video and sound recording feature. The captured videos can be transferred using a special application called Stream Vision App.
Optics is one of the qualities that expert shooters meticulously look for in a rifle scope. To begin with, this rifle scope has a magnification capacity of 4.5 up to 9. That means the user can comfortably aim larger because the lens can be zoomed up to 9 times.
Further, the light has a six reticle options compared to other premium quality rifle scopes. Therefore, the user can have six options of eye view with four colors, depending on the visual requirement of the situation. Lastly, this item is made to be heavy duty and durable. It is impact and water resistant.
As a con, it may have high battery power consumption.
Pros
Captures performance through its video and sound recording
Night vision capability
With built-in LED IR Illuminator for brighter vision
Fast replacement of battery pack
Water resistant
Cons
High battery power consumption
This item is one of the best around for its top-notch qualities like water resistance and fast replacement of battery pack.
Night Owl Optics NightShot Digital Night Vision Rifle Scope
Like an actual owl, the Night Owl Rifle Scope can be cheapest night vision scope that can see sharply at night. It has an infrared illuminator for light assistance. This way, hunters may enjoy their hobbies after daylight or in dark forests and caves. This night vision can cover 100 to 200 yards.
Its night vision is incorporated with higher resolution of 640×480 display. Hunters can also zoom in the picture for up to three times. The eyes of the user can see pristine images from the scope to be certain on the target spot.
Further, the adjustment of this rifle scope's windage and elevation is easy. For exact calculation, a single click of its windage is equivalent to ¼ at 50 yards wide. When it comes to mounting this piece, it is compatible to weaver and picatinny.
Hunters will also be happy to know that this item is made handy. It is constructed with polymer, so it is lightweight. There are no more worries about your back or shoulder pain carrying it, even if you go hiking on mountains to hunt wild animals.
Another thing that is loveable about this item is its ability to preserve battery life. Its battery can last for up to 4.5 to 17.5 hours that is still depending on the frequency of using the rifle scope.
Finally, this piece is built for various hunting pressures. It is made of thermoplastic, and it is also weatherproof.
This item is only compatible with a 30-caliber bullet.
Pros
Wider shooting range capacity
With infrared illuminator for night vision
Thrift battery power consumption
Lightweight
Weatherproof
Cons
Compatible to 30-caliber bullet only
Overall, it is a good choice for its wide shooting range capacity, lightweight build, and weatherproof quality.
Bushenll 4.5X40 Equinox Z Digital Night Vision
This piece is one of the amazing creations of Bushnell. Its greatest asset comes with a night vision that is named as Equinox Z digital Night Vision. Said feature is unique among Bushnell lines.
What is more special about its night vision optics is that it has an adjustable IR illumination, so users can change it depending on their visual needs. IR illumination provides bright lighting for hitting the target quickly. This illumination can widely cover up to a field of view of 750 feet.
Additionally, the Equinox Z Digital Night Vision maintains daytime color, even in the darkest hours of the day. You can also adjust the zoom from 1 to 4.5 times. On the other hand, its objective lens is 40mm.
Further, this rifle scope can be mounted on a tripod, so when you get tired of handling it through your bare hands, simply place it at the top of tripod and hit the target in the most stable way.
Hunting performances are quite memorable to many shooters; that is why Bushnell thought of a way to capture these significant moments. This rifle scope has video and image recording features so that you can reminisce on your hunting sessions.
The battery life of this rifle scope is also dependable. It lasts long a long time, unlike other brands. Likewise, its life span is longer so there is no need for frequent replacements. It is long lasting because the construction is sturdy and resilient to different shooting pressures.
This rifle scope is a bit bulky.
Pros
With adjustable IR illumination
Maintains daytime color at night
Contains video and image recording for flashback replay
Extended battery life
Higher zoom resolution and objective lens
Overall, it is one of the most affordable and decent pick for its top features, such as its higher zoom resolution and image and video recording.
Sightmark Photon 6.5x50S Digital Night Vision Rifle Scope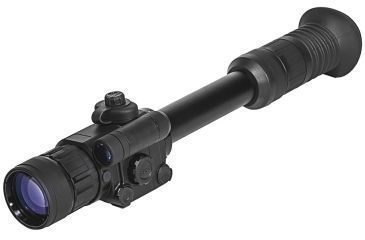 Sightmark Photon 6.5x50S Digital NV Riflescope
opticsplanet.com
Check price
Product Info for Sightmark Photon 6.5x50S Digital NV Riflescope
Supplying sharp and exact visibility, even in some of the most dimly lit locations, the Sightmark Photon 6.5x50S Digital NV Riflescop...
In terms of accuracy, the Sightmark digital rifle scope offers six reticle options. You can choose from mil-dot, dot-duplex, duplex, xbow-2 and German #4. This is a useful feature since you can adjust your aim in accordance with the situation.
This digital riflescope is also equipped with a built-in IR illuminator. This allows you to increase your viewing range and see in even the darkest of nights.
The Sightmark digital rifle scope is also lightweight and easy to carry. In fact, it's 30% lighter compared to other digital rifle scopes in the market. Because of this, it is quite easy to carry around and mount on most rifles.
The Sightmark digital rifle scope is also quite durable, and you can tell that it is made out of high-quality materials. Its optics are coated and come with a cap. Additionally, the body is well constructed. In fact, it's both water and shock-proof.
This scope also comes with a video function, allowing you to record your hunts and review them in the future. Plus, it has a long eye relief of 60 mm. When you purchase the Sightmark rifle scope, it comes with a carrying case, a manual, video cables, and a cleaning cloth.
The only downside to this rifle scope is that it consumes a lot of battery power, especially when you use the IR illumination.
Pros
CORE technology system
Durable construction
Six reticle options
Lightweight
IR illuminator
Cons
Consumes a lot of battery power
Overall, it is highly recommended for cheap night vision scopes. It offers six reticle options, is made with the CORE technology system, is lightweight, and has a durable construction.
Who Are Cheap Night Vision Scope Best Suited For?
Night vision scopes are a must-have for every hunter, especially if you want to shoot at night. The human eye is limited in terms of seeing at night. Hence, we might need illumination devices such as lamps and flashlights.
However, if you are a hunter, you know that these items scare away prey, as well as alert predators of your presence. With a night vision scope, you have an advantage. Night vision scopes generally make hunting at night easier and more efficient.
Night visions scopes have come a long way and are constantly being improved by manufacturers to boost their performance. There are various types and models available, differing only in the technology they use.
Traditional night vision scopes work by amplifying the ambient light to allow the human eye to see more detail. Photons or light particles enter the scope and are converted into electrons. These electrons then generate an electric current that conjures the image in the lens.
Modern night vision scopes use IR lights that give a brighter and clearer image. The scope then detects this light and uses it to conjure an image in the lens. Aside from that, IR models are more flexible and can be used during the day.
Buying Considerations: Budget Night Vision Scope
Find out more about how to choose the best night vision scope 2022 with our reviews and ratings.
Night vision scopes come in so many shapes, models, and sizes that it can be difficult to look for one, especially for a beginner. Many hunters make the mistake of buying expensive ones. However, price doesn't guarantee a good performance. There is a variety of affordable night vision scopes available in the market. To help you out, here are some factors that you should consider.
Clarity
One of the most important factors to consider is the clarity the scope offers. Like all scopes, this is measured by lines per millimeter (LP/MM). The higher this number, the clearer and crisper the image will be. Compared to other optics, night vision scopes don't provide much clarity. However, most scopes in the market can already spot prey 200 yards away.
Range
Night vision scopes have limited magnification levels. As such, the scope's range is important because it influences the clarity of the image. As a rule of thumb, look for scopes with long optics that can produce more light. Most scopes in the market generally have a range of 100 yards or so. Other scopes have even longer ranges.
Battery Life
Night vision scopes run on batteries. The battery type and size your use will affect the lifespan of the scope and its performance. Look for scopes that run on high-grade AA batteries. These are generally rechargeable and durable. Lithium-ion batteries are also a good choice. Additionally, carry spares with you when you are hunting. That way, you can use your scope for a long time.
Glass optics
When choosing a scope, look for one with high-quality optics. Optics are responsible in collecting light, which affects the quality of the image. Aside from the quality, ensure that your optics have coatings. This is to protect your optics from shock and other damages.
Technology
There are numerous scopes available in the market, and each offer different technologies. Popular choices include digital scopes, traditional scopes and IR scopes. Aside from that, you can also choose scopes based on their generation classes. First and second-generation scopes are the most common in the market. These classes offer a reliable performance and are used by most beginners. On the other hand, third and fourth-generation scopes are more high-tech and advanced. However, they are also quite rare and expensive.
Reticle
Night vision scopes also come with reticles to increase accuracy in aiming. The type of reticle depends on your preference and the type of scope you have. BDC reticles are known to be the most accurate. However, they are somewhat hard to find and can be quite expensive. The most common reticles are the red dot reticles and the simple duplex reticles. These are also good choices, especially for beginners.
Durable construction
Another important factor to consider is the durability of your scope. Hunting can be quite rough, especially at night. Thus, it is important to find a scope that is made out of high-quality materials. It is also best to check if your scope is suited to all weather conditions and is also shock and waterproof.
Weight
For best hunting results, it is advisable to purchase a lightweight scope. That way, you can easily move around when you need to. Lightweight scopes are also more preferable because they are more durable and are easier to maneuver. Take note. The more extra features your scope has, the heavier it will be. More features also mean a more fragile scope.
Dual usage
Most modern scopes now have dual usages, meaning you can use it day and night. While they are more cost efficient, these scopes are generally bulky and heavy. Moreover, it is quite difficult to maneuver the manual scopes. Before purchasing this type of scope, always look at its weight. Automatic dual scopes are typically better than manual scopes.
Finish
Hunting in the wild, especially at night, calls for camouflage. When it comes to scope, a matte finish is a good choice because it allows you to blend in easily and doesn't attract too much attention. On the other hand, a shinier scope would potentially scare away your prey and alert predators near your area.
Conclusion
Referring to this buying guide, you can find a night vision scope that will give you a rewarding hunting or shooting experience.
With a good, affordable sighting device, you can see a clear sight picture, make better adjustments, and look forward to long-term use. To find one, you should compare your options by looking into the finish, weight, dual usage, reticle, glass optics, range, battery life, and durable construction.
Get started with the selection process by reading the reviews in this article. Then, pick a reliable, quality, and affordable night vision scope that will enhance your hunting experience.
Post ID: y711W9ymw
Category ID: lMb9k43
The responses below are not provided, commissioned, reviewed, approved, or otherwise endorsed by any financial entity or advertiser. It is not the advertiser's responsibility to ensure all posts and/or questions are answered.