The .244 Valkyrie challenges the performance of all rifle cartridges. Before its conception, long-range hunting was dominated by big caliber bolt rifles like the .308 Winchester and 6.5 Creedmoor. While the 6.5 Creedmoor has a better reputation, the .224 Valkyrie can fit within an AR-15 magazine perfectly. With the .224 Valkyrie and the ideal upper receiver, you can achieve something that all shooters strive for: perfect accuracy.
Manufactured by Federal Premium Ammunition, the .224 Valkyrie is a rimless bottlenecked intermediate cartridge. Even though the .224 Valkyrie is compatible with modern sporting rifles, it uses the same bullet diameter as 5.56 and the 6.8 SPC. This means that the .244 Valkyrie grants more powerful muzzle speed in semiautomatic rifles.
The .244 Valkyrie is more powerful when its accompanied by an upper receiver. Finding the right upper receiver can be tricky, especially when you need to find one that will perfectly match your rifle. In this article, we reviewed the top five best .244 Valkyrie upper receivers.
Why the .224 Valkyrie Filled an Emptiness No One Anticipated
The science behind .224 Valkyrie cartridge has converted those of us who were once disbelievers. It's not witchcraft. It's a well-thought proficiency at Federal Premiums. This cartridge was made due to a gap in the MSR 15 platform. Even though there are already calibers like the 223, 556, and the 22 Nosler, many of these cartridges tail off between 600 and 700 yards. When a bullet doesn't remain at supersonic downrange, you start losing accuracy. This is why Federal Premiums created the .224 Valkyrie. 

Similar to the 6.5 Grendel and the 6.8 SPC II, the .224 Valkyrie guarantees supersonic speed at 1,300 yards, making it the world's first MSR 15 cartridge that can achieve this velocity. It is able to reach supersonic velocity range due to its cartridge weight of 90 grains, its 20-round quantity, and its muzzle velocity of 2,700 ft/s. 
Why Are Upper Receivers Important?
The upper receiver controls the accuracy far more than the lower receiver. It's where all the magic happens. We're not saying that the lower receiver isn't as valuable, however. The lower receiver is what gives the upper receiver its power. But, even though a good barrel and lower receiver play important roles, the upper receiver engages in all the major pivotal movements that ensure a perfect shot.

What exactly does an upper receiver include? How can you choose one that fits your needs? Let's discuss.
The Parts and Elements of Upper Receivers
Just like lower receivers, upper receivers on AR-15 style firearms have some parts and components that are required for a functioning gun. All of these parts are simple, but each one is equally important. However, all receivers aren't manufactured the same. Some only include minimal parts, meaning you may have to purchase other pieces separately.
These are the seven major parts of a functioning upper receiver. Each part has its own place, purpose, and function. A quality upper receiver will come with all of these parts, especially the barrel and bolt carrier group manufactured with high-quality materials. This is why it's so important for shooters to know the indispensable elements that make a dependable firearm. 
The Barrel Increases Precision
One of the most important parts of the upper receiver is the barrel. A high-quality barrel will give you the best possible precision. Keep in mind that the barrel twist ratio will affect your bullets and accuracy. The barrel life is another important factor. When it comes to the .224 Valkyrie, this caliber is recognized for having great long-range performance. If you opt for long-range accuracy and hunting, it's better to use a rifle with a barrel length of 20 inches or longer.
The Gas System Improves Function
The gas system settles the gas block and the gas tube. For AR-style platforms, the gas system improves the rifle function. There are four lengths of gas systems that you can choose from: carbine, pistol, mid, and rifle-length. Every gas system has barrels designed specifically to work with the particular design you own. For instance, a rifle length gas system that works best with barrels are at least 16 inches long.
The Bolt Carrier Group Helps You Reload
The bolt carrier group (BCG) includes many different parts. Within a BCG, there is a firing pin, a cam pin, a gas key, and an extractor. The BCG helps to fire and reload your rifle. This important element ensures that every round is fired and ejected. The bolt carrier is also known as the bolt carrier housing. It includes the rest of the pieces within it to secure the entire bolt carrier assortment. The bolt carrier is connected with the buffer and the spring, and it consumes the power for a fired charge to bolt backward. This facilitates the used projectile casing to be extracted.
If the Upper Receiver Gets Stuck, Use the Forward Assist
A forward assist is typically added to many upper receivers to help a bolt function if it gets jammed or stuck for whatever reason. This is rare, however, and the forward assist is mostly ornamental these days.
Charging Handles Increase Bolt Function
The charging handle will connect to your BCG and help it function properly. It is used to pull the BCG back to chamber. It can also be used to troubleshoot a problem or malfunction. When it's used, it improves the bolt function accurately.
Ejection Port Covers Provide Rifle Maintenance
A port cover is used to keep your rifle clean and working as it should. As the name implies, it covers the ejection port, preventing dirt, debris, and dust from getting into your gun and causing problems. This piece keeps your rifle neat and accurate. 
The Rail System and Handguard Keep You Safe
When shooting a gun, the barrel tends to get very hot. A rail system or handguard will keep you from accidentally touching the barrel when it gets hot. It also provides a comfortable grip on the rifle. The purpose of these components is to guarantee that you don't inadvertently grab the barrel or other pieces of the gun. In short, it protects you from getting burned. 
The Best .224 Valkyrie Upper Receivers
Now, let's talk about the best .224 Valkyrie uppers money can buy. Each one of these choices is a little different, and each has its own pros and cons. In each review, you will find a brief description of what's included and what it can be best used for.
Whether you're looking for a .224 Valkyrie upper to replace an upper you already own or you're building a new rifle from scratch, one of these uppers is the ideal choice for you. So let's get started!
22" 224 Valkyrie Complete Upper with 15" MHR
For those who are looking for a complete upper receiver with minimal work involved, the Radical Firearms 22" complete upper assembly is the perfect choice for you. As the name hints, it features a 22-inch barrel that has a twist rate of 1:7. This will give you plenty of accuracy, no matter what distance you are shooting from. The long barrel on this upper receiver will provide plenty of sharpness and speed to effectively hunt or shoot targets. This upper receiver also has a carbine-length gas system with a low profile gas block that is smooth and works perfectly.

This Radical Firearms upper is a perfect example of what a complete upper receiver should include. It comes equipped with a muzzle brake, which will decrease recoil and muzzle jump. This is uncommon for many uppers, so this attention to detail is really what makes this upper receiver stand out. Other important parts it includes are a shell deflector, forward assist, and an M-Lok rail. This rail will not only protect your grip, but it will allow you to mount any accessories you want.
For anyone wanting a complete package instead of having to buy separate parts, the Radical Firearms 22" complete upper receiver is a perfect choice. It has a great price tag, solid construction, and is accurate.
Aero Precision M4E1 Threaded Assembled Upper Receiver
The Aero Precision M4E1 Threaded Assembled Upper Receiver is a good choice for those looking for a quality upper receiver that won't break the bank. This upper receiver has a barrel that is long enough to use for whatever you need, whether it is target shooting, hunting, or self-defense. No matter what you intend to use it for, it'll provide you with plenty of accuracy and speed.
Additionally, this upper receiver comes furnished with your choice of rail attached: M-Lok or KeyMod. These rails can be used to attach any accessories you want. When it comes to affordable upper receivers, this one is impressive. The attention to detail is hard to find in other upper receivers at this price range.
Radical Firearms Rf Complete Upper Cfu22-224val 15mhr .224 Valkyrie 22"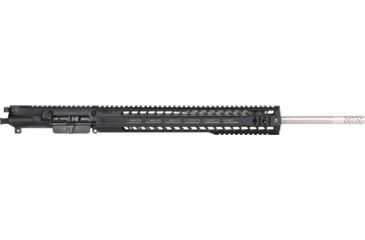 If you are looking for something that has a longer barrel with a 1:7 twist ratio, you may want to look into this upper receiver. Designed to be able to handle situations like hunting or target practice, this upper receiver provides reliable accuracy.
Like many other Radical Firearms uppers, it includes a muzzle break. This will help reduce recoil and muzzle jump, enabling more control and accuracy from your rifle. You will also have an M-Lok rail that you can use to add any accessories that you may need. Whether you need a replacement upper receiver or are building a new rifle entirely, this upper receiver is what you need. It is dependable, tough, and exceptional.
Cmmg, Inc Cmmg Upper Receiver Mk4 Dtr .224 Valkyrie 24" M-lok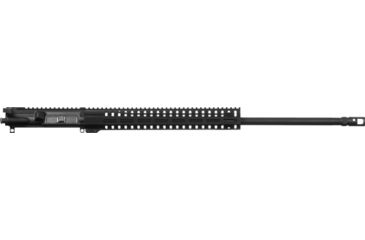 This is one of the best upper receivers on our list. The Inc Cmmg upper receiver is a product from Radical Firearms. This one in particular has a 22-inch stainless steel barrel that will give you a twist rate of 1:7. And, like the others from Radical Firearms, it also includes a muzzle break already installed.
When it comes to accuracy, this one will give you the precision you need. IN addition to the muzzle brake, this upper also includes a complete bolt carrier group, shell deflector, forward assist, and a low profile gas block that balances perfectly sleek design and function. This Inc Cmmg MK4 DTR has everything you could ask for. Most importantly, it will save you a lot of money, too.
Glfa Ar-15 Complete Upper .224 Valkyrie 24" M-lok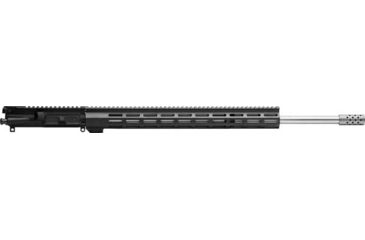 This upper receiver has a 20-inch barrel and a 15-inch M-Lok rail that can be used to add more accessories. The long barrel ensures the best possible accuracy and precision. It can be used for hunting, target shooting, self-defense, or competitive shooting.
This upper receiver will work best with a rifle-length gas system, so it should be paired with a rifle. This helps reduce felt recoil and muzzle jump, too. PSA is known for producing high-quality AR options at an economical price, and this upper receiver is no exception.
With a 1:6.5 twist rate, this upper will provide you with loads of accuracy as well. If you want a .224 Valkyrie upper receiver that's affordable and made out of quality materials, then the PSA's 20″ Rifle-Length 1/6.5″ Stainless Steel 15″ upper is the one for you.
What to Know Before Purchasing A .224 Valkyrie Upper Receiver
Before you buy a .224 Valkyrie upper, it is important to know what's the qualities of a good upper receiver. We recommend reaching out to peers who own a .224 V upper receiver for further suggestions and advice. To help you get started, this is a simple checklist that you can use to determine the quality of an upper receiver.
Consider These Important Factors
One of the first things to consider is items that are included with the upper receiver. Most uppers include parts like the barrel, BCG, and other elements we discussed above. However, not all manufacturers equip their upper receivers this way. Some uppers will have fewer parts, and you may have to purchase them separately. If you're not willing to search and buy different elements, then consider purchasing an upper receiver with everything included, like the Radical Firearms 22" Complete Upper Assembly. 
Prepare to Install the Upper Receiver
Once you buy an upper, you will need to install it on your gun. Depending on the manufacturer, this can be easy or difficult. Some upper receivers will have the words "drop-in," which means that it will be simple to install by yourself. You will not have to rely on a gunsmith to install your upper unless you wish to have them do it for you.
Look for the Correct Barrel Twist Ratio
Every barrel will have a barrel twist. For the .224 Valkyrie, the barrel twist ration is important to consider because it affects your firearm's overall accuracy. For the .224 Valkyrie, the most common twist ratio you will find is 1:7, but you can also use ratios like 1:6.5 or 1:8. These barrel twist ratios can cause great success, depending on the type of bullet you intend to shoot.
FAQs
How accurate is the .224 Valkyrie?
The MSR 15 has never offered a solid 1,000-yard performance until now. With heavier bullets and remarkably high ballistic coefficients, the .224 Valkyrie cartridge allows as much as 127.88 inches less drop and 68.76 inches less wind drift at 1,000 yards. The .224 Valkyrie doesn't lose accuracy and doesn't drop as quickly as other calibers. Because of this, the .224 Valkyrie is fatal for varmints and medium-sized game. In short, this cartridge is a 1,300-yard supersonic darling.
Are all upper receivers the same?
Overall, all forged upper receivers are basically the same. The dissimilarities rely on their unique features. For instance, BCM alleges that their upper receivers are tighter at the front. If we talk only about aluminum-forged upper receivers, then there's a distinctive class of these two. The standard one is manufactured with 7075 forged aluminum, while the smooth side one is a 6000 series aluminum that is projected. That's why it's thicker.
Can any AR-15 upper receiver fit with any AR-15 lower?
Some people believe that a gun will lose accuracy if the AR-15 upper receiver doesn't match the same lower receiver. This notion is false. The lower receiver grants enough security to rely on, but the upper receiver is where the magic transpires. If you fuse a high-quality lower receiver with a cheap upper receiver, then the accuracy will decrease. On the other hand, it makes no difference in accuracy if you two different brands of receivers together.
How many types of .224 Valkyrie are there?
Federal Premium has presented the cartridge in four assortments, customized to all types of shooting. 
For long-range and game, the Gold Medal Sierra Matchking .224 Valkyrie is recommended. For varmint and predatory hunting, the Nosler Ballistic Tip Varmint .224 Valkyrie is great. Medium-game hunting involves animals that weigh from 50 to 350 pounds, and the common ranges spread from less than 50 to more than 300 yards.  The medium, thin-skinned game animals are popular for hunters. And by far, the most popular of these are deer. The Fusion MSR 224 Valkyrie is perfect if you're planning to hunt these animals. If your thing is target shooting, then the American Eagle TMJ 224 Valkyrie is the one for you. 
The .224 Valkyrie vs. the 5.56: which one is better?
Both are great calibers for the AR-15. The 5.56×45mm NATO is another rimless bottlenecked intermediate clip produced in the '70s by FN Herstal. The .224 Valkyrie is capable of everything that an AR-15 in a 5.56 or .223 does. Everything that a 5.56 or .223 does, the .224 Valkyrie does too. On the other hand, there are many things that a 5.56 isn't able to do that a .224 Valkyrie can do. The .224 Valkyrie shoots a heavier bullet much faster than you can shoot out of a 5.56. However, you can fire the lighter-weight bullets just as efficiently in a 5.56. 
The .224 Valkyrie vs. the 6.5 Grendel: which one should I buy?
There have been a lot of reviews on the 6.5 Grendel and the .224, and it's quite understandable that many builders are wondering which one of these two they should get. We believe the .224 Valkyrie wins this discussion because it offers more than the 6.5 Grendel. 
With the .224 Valkyrie, you get unbeatable accuracy. It outshoots the Grendel in nearly all areas.
Conclusion
Purchasing the .224 Valkyrie cartridge is, by far, one of the smartest decisions you can make as a shooter. Even though recoil is low, the .224Valkyrie provides impeccable accuracy. If you own a .244 Valkyrie, buying an upper receiver is a must. Buying the ideal .224 Valkyrie upper receiver may seem like an impossible mission, but if you consider the right factors and price, you will find one that will increase your accuracy and overall shooting experience. To get started with your search, check out one of these five top upper receivers for the .244 Valkyrie.
Post ID: GYeeEzm71
Category ID: qEbxpYK
The responses below are not provided, commissioned, reviewed, approved, or otherwise endorsed by any financial entity or advertiser. It is not the advertiser's responsibility to ensure all posts and/or questions are answered.