You might already know a 9mm revolver is one of the most reliable guns in the marketplace. Once you decide to purchase one, it can become a challenge to make a decision based on so many brands and features.
Perhaps you're looking to buy a quality revolver in the coming year. While 9mm is your best choice, but what brands should go on your shortlist? Take a look at the five best this year, what features you should look for, and what makes them such a popular, quality choice.
Common 9mm Revolver Uses
Everyone is going to have a different reason for buying a 9mm revolver. Their uses go beyond just having it around for security purposes. These three uses are the most common:
Everyday Carry, or as a Concealed Carry Weapon
Just keeping a 9mm revolver handy in your pocket gives you protection in dangerous situations. Many people buy them just for this nowadays, especially if living in high-crime neighborhoods.
Others simply keep the gun at home as a security backup in the event of a house robbery or invasion. Thanks to the power of 9mm revolvers, it's no wonder so many people buy them to protect themselves first.
Target Practice
Either casual or competitive target shooting is another common use for these guns. Thanks to most 9mm revolvers being reliable and accurate, they work great for target shooting.
Best of all is they shoot rounds at a fast clip, which is what you need if doing target shooting competitively. Conversely, you may want to do target practice with a 9mm to help your aim when using it for security purposes.
Hunting Use
Many people use these revolvers for hunting small game. However, a  9mm is only powerful enough to hunt big game at a dangerously close range.
Is a 9mm Revolver Accurate?
These are some of the most accurate revolvers, with the capability of shooting 25-50 yards, depending on the brand and features available.
What Kind of Features and Characteristics Should You Consider?
Three particular areas should be considered first before you buy a 9mm revolver. Keep in mind, although there are cheaper models, you are always better off paying for quality.
The three things you should look out for include:
Price of the Revolver
What you pay determines the quality you get in a 9mm revolver, just like with most everything else. Prices all vary from very cheap to very expensive. Finding something in a middle range is good for at least a minimum of quality.
Always remember investing in a new revolver is possibly a once in a lifetime moment. It could also save your life, purchasing with a higher price tag worth it.
The Revolver's Materials
Most materials used in 9mm revolvers include steel, polymer, and aluminum. A revolver made of steel is guaranteed to hold up to any kind of abuse, even though most 9mm guns are not made with one kind of material.
A polymer is usually used on the grip for an easier way to handle the gun. Don't think just because one of these revolvers has a cheaper-looking handle that it'll be lesser than anything else.
The Reliability Factor
How reliable are 9mm revolvers? They're very reliable as long as you maintain them, including cleaning. If you don't maintain them, they could jam at the worst possible time. 
Now it's time to consider the best brands utilizing the best of these features. Here's five of the best from this year:
Ruger LCR 9mm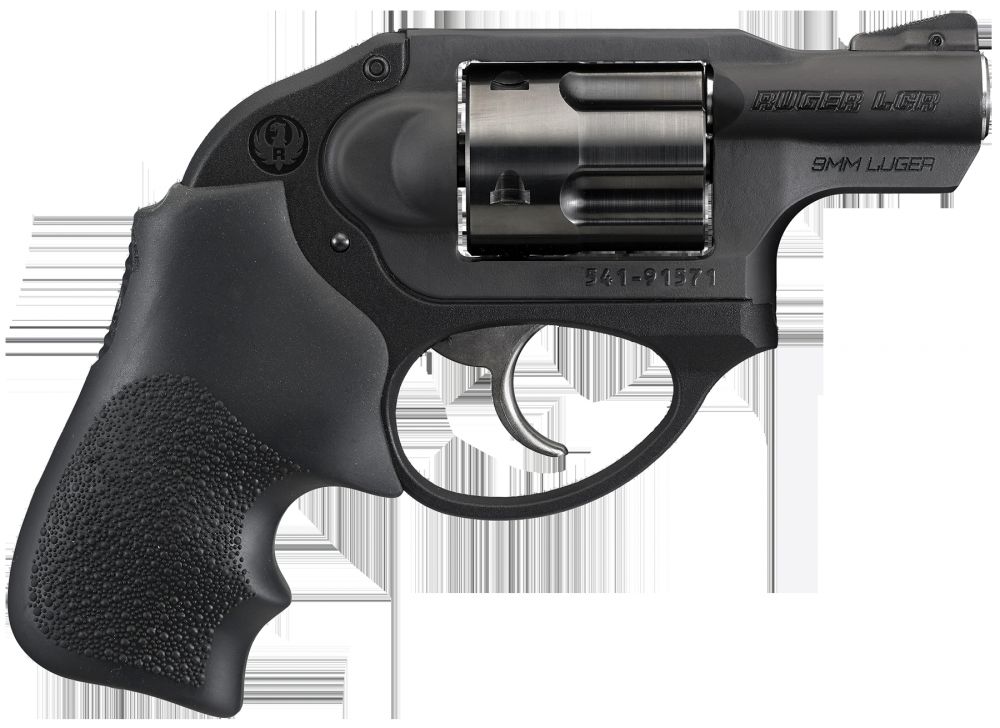 Ruger LCR 9MM 1.875 BLK/SS
budsgunshop.com
Check price
Action: DAO - Caliber: 9mm - Capacity: 5rd - Barrel: 1.875 - Frame: Polymer/Stainless Steel Matte Black - Cylinder: Stainless Steel Ionbond Diamondblack - Grip: Hogue Tamer Monogrip - Sights: U-Not...
You can never go wrong with a Ruger, and most lists have them at the #1 spot. Their LCR is renowned because it's built with quality materials while still being lightweight. And, it sells at a decent price.
This Ruger is also quite small, making it perhaps a challenge for those with larger hands. Regardless, everything else about it is superior to nearly anything else out there.
Thanks to being made of 400-series stainless steel, this gun holds up under the harshest conditions. It also has a polymer fire control housing to keep the weight of the gun light. An ingenious design on this is a mechanism preventing the spur from snagging on clothing when taking the gun out in a hurry.
A double-action trigger is also a customer favorite. Quick firing is easy to do on this when necessary.
Pros
Lightweight design
Affordable price
Made of stainless steel
Cons
Might not fit well with larger-handed users
Smith & Wesson 637 .38 Special
No doubt you've heard of the classic Smith & Wesson revolver brand. They're right up there with Ruger. They go back as far as the 1850s.
Their 637 .38 is a very popular 9mm revolver that continues to stay in most Top Five lists. It is one of the fastest loading revolvers available on the market today.
Most revolver experts will tell you this is also excellent for self-defense thanks to a short barrel. Shots are super accurate and the materials are robust, making it a true favorite for those wanting a revolver for self-protection.
Customers usually cite how lightweight the gun is without packing a punch. One customer review did note the grip is a little small, if easy to adjust to.
Pros
Fast loading
Has a short barrel
Very accurate and robust
Charter Arms Pitbull
CHARTER ARMS - LAVENDAR LADY 2IN 38 SPECIAL TWO TONE 5RD
brownells.com
Check price
Founded in 1964, Charter Arms manufactures a full line of revolvers made by professional, skilled American craftsmen in Shelton, CT, in the heart of New England's "Gun Valley" - the cradle of the A...
This 9mm Luger is also very popular because of its lower price and easy offloading ability. The latter feature is thanks to a dual coil spring in its assembly. Best of all, Charter Arms' Pitbull revolver is compliant for all restrictive states. Those who buy in California don't have to worry about special licenses as a result.
The finish on this is made of stainless steel, and the grip is made of durable black neoprene. Barrel length is also fairly short, making for good shooting accuracy.
Many customers appreciate the 5-round shooting cylinder on this, perfect for when you need to take fast shots. Ejection of spent cartridges is also super easy so you can reload in a hurry when you need to.  One downside is it doesn't shoot well beyond 40 yards.
Pros
Dual coil spring
Made of quality stainless steel
A 5-round cylinder
Easy ability to eject spent cartridges
Cons
Can't shoot beyond 40 yards, even if most top-tier revolvers are the same
Chiappa Rhino 60 SAR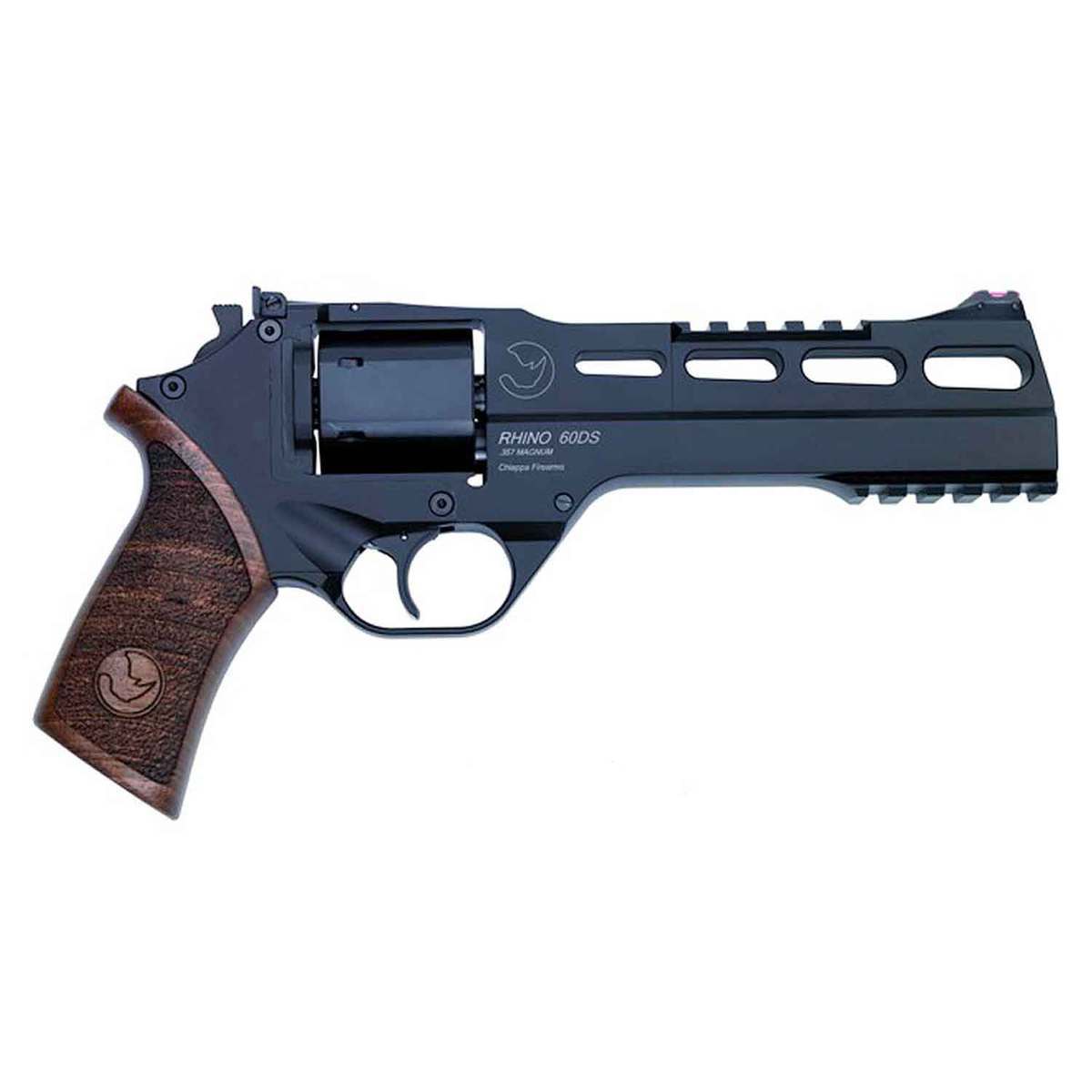 This is a truly unique 9mm revolver thanks to its standout aesthetic. It looks very different from the revolvers you see above.
What makes it stand out is its use of a modern design that offers real innovation. The barrel is certainly longer than most at 6 inches. However, the barrel aligns with the revolver's bottom chamber for easier control.
Thanks to the above design, it reduces recoil and muzzle flip for more accurate shooting. Plus, it shoots up to six rounds, besting some brands listed earlier.
Being lightweight certainly helps. All the best revolvers are no longer as heavy as they used to be, giving added points to the Chiappa. An aluminum alloy frame is why this one is just as light. Some reviewers think it could do better on trigger pull when in double-action mode.
Pros
Unique design that brings more control and shooting accuracy
A longer barrel
The innovative design reduces recoil
Cons
Reportedly doesn't shoot as fast when switched to double action
Taurus 905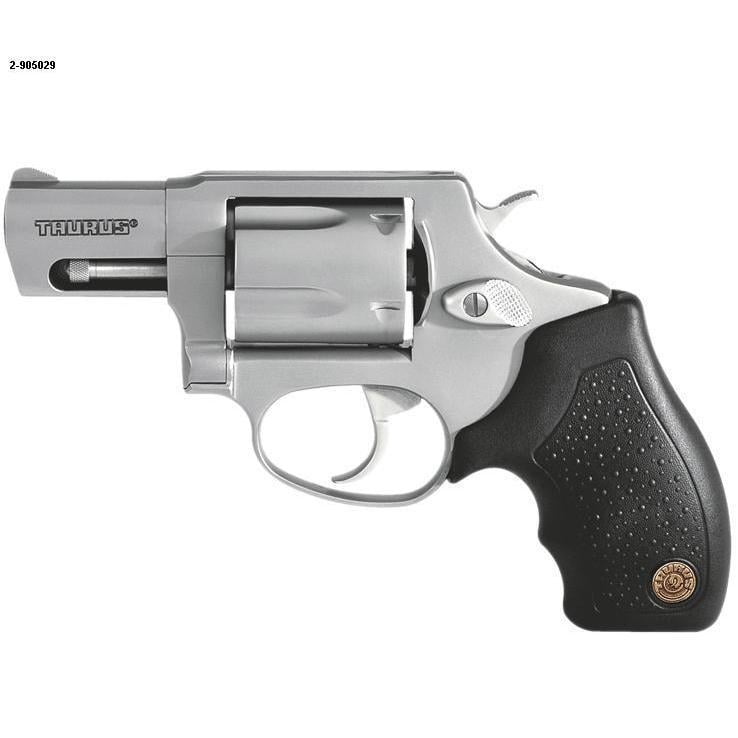 Taurus 905 Series Revolver
sportsmans.com
Check price
Overview
Taurus 905 Series Revolver -For years, law enforcement professionals have asked Taurus to produce a small, lightweight revolver chambered for the popular 9 mm and .45 ACP. This allows the ...
A standard 9mm revolver on the market for a decade, many still place the Taurus 905 in their Top Five due to its sturdy design and occasional new features.
Its only downside is it's noted for being on the low side with round capacity. Still, recent design improvements make it lighter and narrower than many competing guns.
An engineering innovation they added recently: Stellar Clips for loading clips easier. Many reviewers appreciate this design's convenience when so many other revolver brands overlook similar details.
Pros
A reliable revolver brand for over a decade
Innovative engineering, including faster clip loading ability
Cons
Has a lower round capacity, if common with many similar revolver brands
Why Should You Invest in a 9mm Revolver?
The reasons for buying one of these revolvers will again differ, depending on personal use. No matter what you need, the benefits of owning one are well-noted:
Ability to shoot quickly, besting the power and accuracy of guns like .38 specials.
Small, which makes it easier to use as a concealed weapon.
Fast-loading cylinders due to lower capacity, making them great for quick reloading.
Ammunition for 9mm can be purchased online at relatively cheap prices.
Your Final 9mm Revolver Buying Decision
The above models should give you a good idea of the best 9mm revolvers. Most on the market offer great durability and accuracy in their shooting power. Once you find the right 9mm revolver, you'll be able to use it for a lifetime, something that makes the investment all the more significant.
Post ID: nYP7PEq0e
Category ID: ZM9vZ0p
The responses below are not provided, commissioned, reviewed, approved, or otherwise endorsed by any financial entity or advertiser. It is not the advertiser's responsibility to ensure all posts and/or questions are answered.