There is no doubt the AR-15 sporting rifle boasts of top-notch features that are highly customizable. Ruger AR 556 offers an excellent, firm, and affordable base to create a dream rifle that allows easy addition of accessories and swapping components. However, choosing the ideal accessories to achieve your dream rifle can be a challenge. Read this review and buyer's guide for everything you need to have for functional upgrades in 2022.
The Top Ruger AR 556 Accessories to acquire
The Must-Have Accessories for Your Ruger AR-556 in 2022
Every component of an AR-556 allows for improvements. Ideally, you can switch out every control, including the charging handle to mag release. Besides, there are an array of options when looking for add-ons to attach and improve your unit's performance. Depending on budget and preferences, most shooters prioritize front grips, lasers, lights, and optics, among other essential components during routine upgrades. Experts recommend the following must-have upgrade accessories:
Stocks
If you are looking to improve durability and enhance build quality, replace your stocks as often as practically possible. A key determiner for exceptional shooting moves is an ability to whip your firearm up into an ideal shooting position in a split-second moment. Therefore, you will need the perfect length of pull and cheek weld that comes with ideal stocks. When buying stocks, consider the shapes of buttplates and the softness of the buttpad.
Our Top Pick: Emod Stock Assy Collapsible Commercial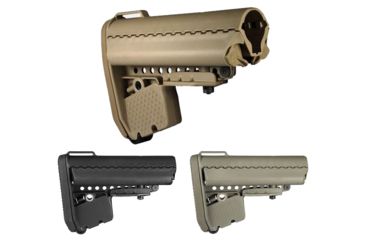 The Emod Stock is synonymous with success ever since its products first hit the shelves in 2001. This stock specifically boasts of many exceptional features that guarantee an excellent shooting experience. For one, its clubfoot style is designed to provide a dogleg shape angle for easy targeting. It also features a unique toe that is wider and longer than other options, including regular M4 stock. 
A unique feature is its waterproof battery compartment that can hold up to 4 CR123 batteries. Other noteworthy features include a five-position adjustable length of pull with a range of 11.5 inches to 15 inches, a proprietary lock plate, buffer kit, a carbine spring, a proprietary lock nut, and a strike plate.
Pros
Boasts of several waterproof compartments
American-made product
Offers lifetime warranty
Comes with mil-spec quick-detach slings located on both sides
 Key features
Comes with quick-detach sling mounts located on both sides
Boasts waterproof compartments to store accessories like batteries
Allows for the length of pull adjustments from 11.5 inches to 15 inches
Summary
Emod Stocks come with a great design, an array of colors, and a matte finish. We also loved the extra compartments, the Q.D. mounts, and the adjustable length of pull.
Handguards  
Handguards help achieve the desired character of your A.R. They also perform other duties, including the diffusion of heat and protection of gas block. The ideal unit should offer reliability and comfort. 
Our Top pick: AR-15 Diamond Pattern Free-Floating Handguards
AR-15 Diamond Pattern Free-Floating Handguards are arguably the best if you are in the market for a stylish and functional handguard. The unit, from highly trusted and reliable manufacturers, offers the ultimate modern sporting rifle experience. It features four full-length rails that provide a lot of versatility for mounting third-party components. It also boasts sleek diamond-shaped vents that guarantee top-notch ergonomics. The vent is also designed to get rid of the heat more effectively than other brands out there. Best of all, this unit comes with a military-grade hard coat of anodized aluminum for reliable performance. With this unit, you get an array of options, including three lengths of seven, nine, and 12 inches. Installing it is easy as it ships with all the necessary mounting hardware, including jam nut, barrel nut, and anti-rotation screws.
Pros
Guaranteed quality, Made in USA product
Highly durable and made from high-grade 6061 T6 aluminum and
Mil-spec hard coat anodization
Mean looking aesthetics with strong and wide diamond vents
Boasts a lifetime warranty
Cons
Not so easy installation process
Key features
Boasts 4 T-Marked full-length Picatinny rails
Equipped with diamond-shaped vents that guarantee ergonomic grip and adequate ventilation
Made from highly durable anodized aircraft-grade aluminum
Summary
This is a highly reliable handguard that combines several features to guarantee exceptional functionality and great looks. You will definitely love the diamond venting design and guaranteed smooth transitioning from receiver rail to handguard rail when need be.
Scope Mounts
Acquiring ideal scope mounts needs a sufficient budget. The right scope mount ensures your optic holds zero even when subjected to severe punishment. If you don't normally keep back-up sights, the type of scope mount that you choose should guarantee top-level protection.
Our Top Pick: Monstrum Tactical High-Performance Cantilever Dual Ring Scope Mount
Ever since its inception in 2008, Monstrum has gradually built a solid reputation for itself. This unit boasts of a single-piece construction that ensures perfect alignment to avoid the need for lapping rings. It also features a cantilevered design that provides a greater range of eye relief options, extensive field of view, and easy targeting. Another top-notch feature of this mount is its lightweight design. Ideally, it is made of tough 6061 aluminum alloy that weighs only nine ounces for better portability.
Pros
Highly secured thanks to six bolts that firmly hold each ring to scope for greater security
Easily attaches to 3 inches of Picatinny rail with tow thumbnails
Unique Design that increases eye relief and reduces target acquisition time
Covered by 100 percent, risk-free lifetime warranty 
Key features
Features highly-secured scope in the rings firmly held by six bolts each
It comes with a unique cantilevered design that provides extra 3 inches of eye relief.
Highly portable thanks to the lightweight design that occupies less space of Picatinny rail
Summary
Considering its price, this scope mount offers better value. Epic features that caught our attention include the six-bolt design, lightweight design, and exceptional cantilever.
Scope
A scope is a critical piece of accessory that impacts your performance. If you are looking to challenge yourself in 2022 and hit long distant targets, say located 200 yards away, an ideal scope will make all the difference. The market features several brands and types, and it can get confusing getting a perfect scope.
Our Top Pick: Bushnell AR Optics 3-9x/40mm
Like all the other models from Bushnell, this unit boasts reliable construction and dependable performance. It features a higher magnification range, a great field of view, and a BDC ballistic reticle with aim points set to fit 5.56 NATO rounds. Best of all, its lenses are fully multicoated and O-ring sealed for better functionality. Besides, its aluminum tube is nitrogen anodized to deal with any fogging problem. This product also boasts a lifetime warranty that guarantees that you are getting value for every dime you spend. 
Pros
Boasts a lifetime warranty
Comes with a BDC ballistic reticle with aim points that are calibrated to fit 5,56 NATO round
An outstanding 3-9x magnification range to extend the distance of your targets
Cons
Not suitable for most low-scope rings
Not portable due to heavy weight
Key features
Comes with a lifetime warranty that covers manufacture and material defects 
Features a BDC ballistic reticle designed uniquely for the 5.56 NATO round
It comes with a 3-9x magnification range suitable for an AR-556.
Summary
Noteworthy features of this unit include the BDC reticle and exceptional magnification range. It also comes with a lifetime warranty to take care of any future issues.
Magazines
When buying a magazine for your rifle, prioritize durability and reliability. Typically, the market features several options with varied capacities, but the 30 round magazine is the most prevalent. Great options include the more light and robust polymer made and aluminum magazines.
Our Top Pick: Magpul Pmag 30 5.56x45mm Magazine 30 Round Capacity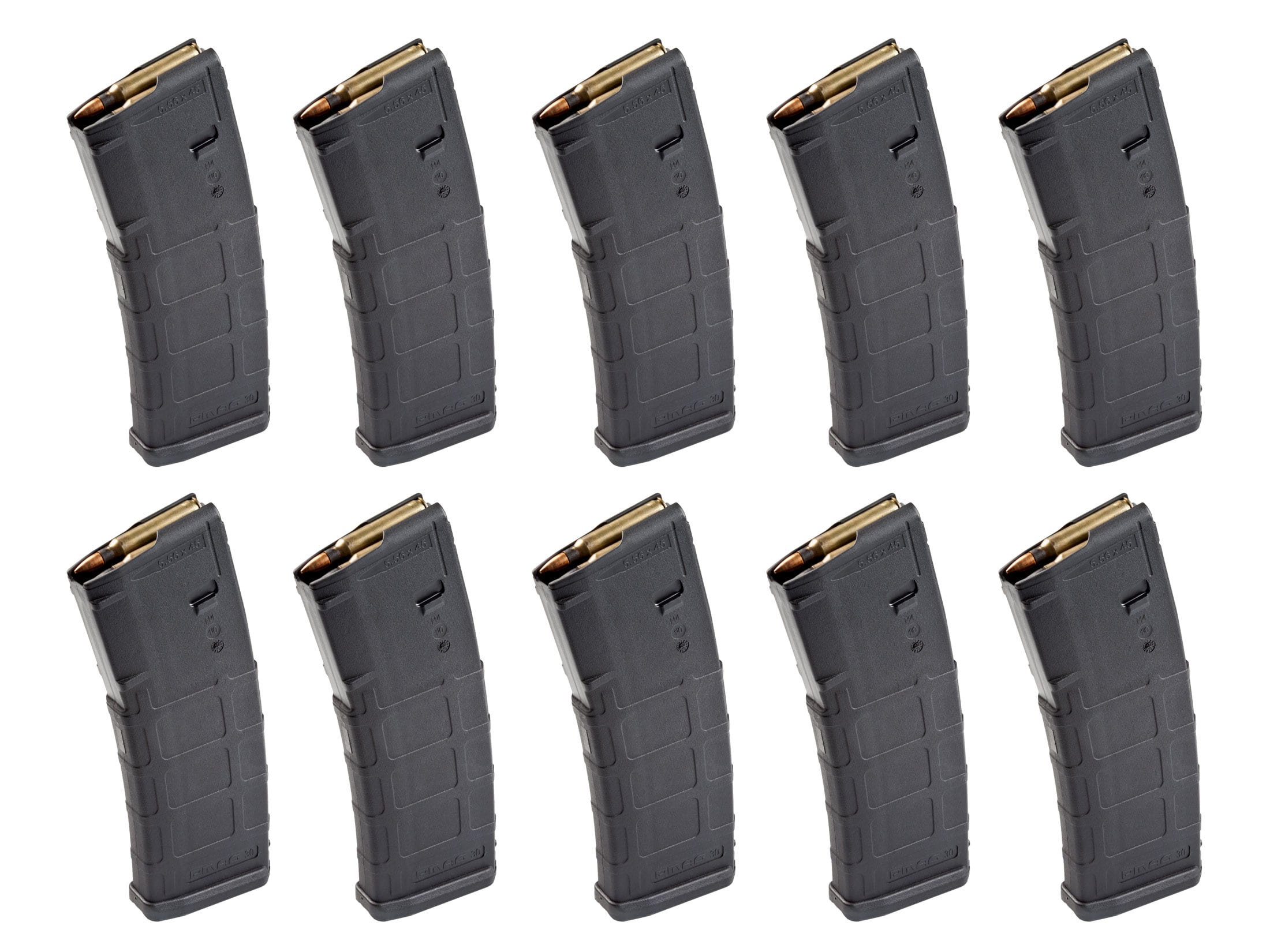 Magpul has steadily risen to monopolize the A.R.-style rifle accessories segment with its highly reliable, top-performing products. The 30 round Gen 2 PMAG is an inexpensive option and a classic and bombproof unit. The mag is crush resistant and built to withstand high-tech impact. It features an internal geometry with a constant curve for smooth feeding. It also boasts anti-tilt and self-lubricating design properties for optimal reliability.
Pros
Easy assembling and disassembling with no tools required
Features an anti-tilt and self-lubricating floorplate
Top choice for military and other law enforcers
Impressive proven performance in real-world deployment
Cons
Lacks additional features of Gen-3
Key features
Features a uniquely curved beavertail that guarantees exceptional comfort and protects your hand
Easy installation with room to add storage compartment
Offers ergonomic grip thanks to the crackle texturing and a wrap-around rubber overmolding
Summary
You will never go wrong with this choice. Due to its high reliability, it is a top choice for military and law enforcers across the globe. Outstanding features in this unit that you won't find anywhere else include the anti-tilt, self-lubricating follower, and simple disassembly. It also comes at pocket-friendly prices.
Grips
If you are looking for better ergonomics, replace your grips as often as possible. However, grips are more about fit and personality. Essential factors to consider include your hand size and the ideal grip angle that is comfortable for your hands and fingers. There are many options available, including rubberized, hard finish, and smooth texturing.
Our top pick: MAGPUL AR-15 MOE+Grip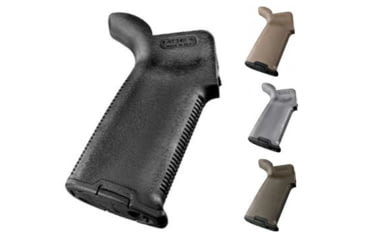 Magpul MOE-Plus AR15 Gun Grip Up to 27% Off — 4 models
opticsplanet.com
Check price
Magpul MOE Plus AR15 Gun Grip features reinforced body construction and texturing for an ergonomic, secure grip and improved weapon handling. The hard polymer bottom edges of these AR15 Pistol Grip...
Magpul prides itself in manufacture of top-notch, high-quality accessories with little or no history of defects and complaints. As expected, this unit features superior construction owing to the high-tech, impact-proof polymer materials. The wrap around rubber overmolding guarantees better grip and comfort. It also boasts a crackle texture located on the sides and deep grooves on the front strap and back strap. These grips are also available in an array of colors and are relatively easy to install.
Pros
Easy to install
Comes with storage compartments
Durable and robust, owing to polymer construction
Exceptional crackle texturing for better handling
Curved beavertail that provides adequate comfort and protection of the thumb
Cons
Loose beavertail fit
The storage door doesn't open easily
 Key features
Easy to assemble and disassemble with no tools required
Exceptional handling thanks to textured grip surface and flared floorplate
High durability and reliability with proven real-life tactical deployments
Summary
Magpul is the best option if safety is a concern. The exceptional features of this grip include comfortable geometry on the beavertail.
Bipods
If longer range accuracy is on your mind, bipods will be the best item to purchase. When shooting in rough terrain with unreliable smoothness and unpredictability, a bipod's ability to rotate and tilt offers much relief. 
Our Top Pick: CVLIFE 6-9 Inches Tactical Rifle Bipod
CYLIFE is a household name within the shooting community. Although it is a low-profile company, it produces very reliable and pocket-friendly accessories. Its bipods boast exceptional built quality owing to the hardened steel and aircraft-grade 7075 anodized aluminum. Its silent but robust springs allow you to deploy the bipod legs without having to worry about any noise to alert your target. It also boasts a six to nine-inch leg length range with five length settings that enable you to make convenient adjustments to fit your height.
Pros
Comes with a Picatinny rail adapter
Highly adjustable legs
Strong and silent springs for easy folding
Aircraft-grade rugged construction
Cons
Unimpressive overall build quality
Low durability of rubber feet
Key features
Features a Picatinny rail adapter which you mount on your handguard
Boasts five length settings that provide higher ranges of up to 9 inches
Allows for easy folding up of legs thanks to the strong and silent springs
Summary
CYCLIFFE comes with everything that a bipod should have for optimal performance. Outstanding features that set this unit apart include the Picatinny mount adapter and the Q.D. Swivel mount.
Speed Loader
Manual loading of the mag is not only a cumbersome undertaking but also a tiresome one. 
Modern-day rifles such as the Ruger AR 556 need a reliable speed loader. When buying one, consider the durability of the material and, where possible, go for reputable manufacture.
Our Top Pick: E.T.S. speed loader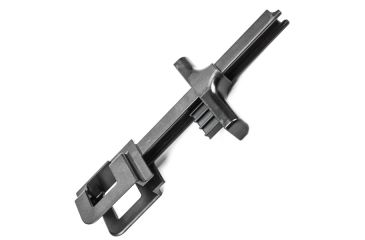 The E.T.S. speed loader is a highly reliable accessory that helps save you time and mag thumb pain. This loader easily and quickly scoop rounds from an ammo tray during a high-speed performance and feed them smoothly to your mags. It boasts a robust construction owing to the polymer materials that guarantee no damage to feed lips. Because it is small and highly portable, you won't have any storage problems with this unit. Ideally, it fits entirely into a range bag or in a glove compartment. Best of all, the loader is covered by a lifetime warranty guaranteeing high-quality standards.
Pros
Made in the USA, top quality guarantee
Comes with a lifetime warranty
User friendly
Highly portable with a rugged design
Ideal for standard 20round ammo trays
Compatible with an array of rifle magazines and any AR magazine
Cons
Needs regular lubrication
Key features
Compatible with an array of rifle magazine and any R mag
Uniquely designed to keep feed lips safe and prevent magazine damage.
Boasts a lifetime warranty and satisfaction guarantee
Summary 
 You will definitely enjoy the benefits that E.T.S. speed loader offers. Top-notch features include feed lip safe design, universal compatibility, and lifetime warranty. It is also a U.S.A.-made product with guaranteed quality and high performance.
Key Takeaway
The Ruger AR-55 arguably offers limitless opportunities for customization. Once you have deployed your rifle and mastered performance, find out the critical upgrades depending on your physique and preferences. The list we have provided will definitely offer you a great starting point when shopping for ideal accessories for all your upgrades.
Post ID: emllBQ9x7
Category ID: 4KjowdA
The responses below are not provided, commissioned, reviewed, approved, or otherwise endorsed by any financial entity or advertiser. It is not the advertiser's responsibility to ensure all posts and/or questions are answered.