Gun owners who prefer to shoot over long distances need a very specialized scope. Such a device will help ensure precision shots by compensating for the different factors that can affect a bullet's trajectory. This is where a 1000-yard rifle scope comes in. These have a number of adjustments that allow for shot compensation, guaranteeing precise shots every time. However, choosing the best scope for 1000 yards can be daunting.
There are a lot of factors that one needs to consider. We have listed here the top 12 long range scopes we have tested for you to check out and try on your rifle. Check them out.
Best Rifle Scope for 1000 Yards Reviews of 2022
Vortex Optics Viper HS-T 6-24×50 SFP Riflescope
We like the HS-T 6-24×50's optical quality. The images have excellent color fidelity and resolution. We used the scope for birdwatching and were able to see the very fine details of the birds from 1000 yards out. It also has a wide range of magnification power. This makes the Viper a good choice when it comes to target shooting, hunting, or tactical shooting.
We also tested the turrets of the Viper. We love the fact that the parallax adjustment knob is on the side. The windage and elevation adjustments are all repeatable, too. This will make for faster compensation of shots. You will have no issues shooting targets at distances up to 1000 yards and beyond. All of the adjustment knobs provide a distinct click. You can also return it to zero in an instant after a temporary adjustment in the elevation.
The Viper does have a drawback. We find it intriguing that Vortex Optics opted for a second focal plane.
Pros
Premium quality optics for excellent view of the target
Repeatable turret adjustments
Holds zero very well
Wide magnification range for versatility
Rugged, one-piece tube construction for enhanced performance
Cons
Some people may have issues with the scope being an SFP
Seasoned gun owners will agree that the Viper is one of the best scopes for 1000 yards or less. Its premium quality optics, rugged construction, and repeatable scope dynamics are great for both hunters and competitive shooters.
Vortex Optics Razor HD Gen II 4.5-27×56 FFP Riflescope
We love the fact that Vortex Optics utilized a first focal plane on the Razor HD Gen II. We can see the MOA reticle very clearly through the scope as we zoomed in on the target. It gave us a better estimate of the size of the target and the ability to dial the right adjustments.
The glass in the Razor is spot-on. It is low dispersing and provides exceptional clarity and color fidelity. This illuminated scope comes multiple brightness settings to help you find the best possible brightness level for your eyes.
The construction of the Razor HD Gen II is also as strong and solid as any high-end long range scope. You can bring the scope into almost any environment and in any weather.
Our only lament about the Razor HD Gen II is its price tag. This is not a cheap 1000-yard scope. You have to be dead serious in your shooting activities and have a pocket deep enough to own one of these devices.
Pros
Premium quality glass for superb image quality
Multiple illumination settings for optimum image clarity
Comes with a mechanism for preventing accidental adjustments
Versatile magnification range for multiple applications
Exceptional scope protection features for extreme ruggedness
True, the Vortex Optics Razor HD Gen II is beyond the reach of your average hunter or shooter. However, it does underscore the excellent quality of the scope. From its glass to its scope body and the performance of its objectives. You can never ask for more.
Mueller 8-32x44mm Target Riflescope
Mueller Target Rifle Scope, Black, 8-32 x 44mm
amazon.com
Check price
Eye relief of 4
Tube size of 30 millimeters. Fast-focus eyepiece
Magnification of 8-32x;"Mildot Reticle" (accurate milling based on 10x)
44 millimeter objective. Windage/elevation adjustment range:...
The Mueller will only cost you a couple or so hundred dollars. This is great news for those who are not yet serious about shooting over great distances. It is also a good platform for practicing your shots using a scope adjusted for 1000 yards.
We also found the eye relief of the Mueller to be more generous than other products. You still get a good view of your target without getting the telltale sign of a vicious kick from the scope.
The magnification range of the Mueller is also commendable. It is not as variable as the Trijicon AccuPower; however, it does provide enough versatility for different applications. The scope also holds zero quite well. This is surprising, considering this is a budget scope.
The only issue we have with the Mueller is its inconsistent optical quality. The images are crystal clear in low magnification. However, as you crank up the magnification of this rifle scope, the image loses its clarity and color saturation.
Pros
Generous eye relief for greater safety for the shooter
Wide range of objective power for improved versatility
Clear image at low magnification
Inexpensive with enough features for a good scope
Holds zero fairly well
Cons
Loses image clarity in high magnifications
Mueller provides very nice scopes for people on the budget. While the brand can try to improve on the consistency of its optics, rifle owners can still rely on the scope's modest performance. After all, you cannot get a better rifle scope than this considering its price.
Nightforce Optics 5.5-22×56 NXS Riflescope
You can never question the optical quality of a NightForce. And this is even truer in the 5.5-x56 NXS. The glass allows you to make more accurate readings of the environment where your target is located. From the strength of the wind to the other factors that can affect the trajectory of your shot, the NightForce has you covered.
What we find amazing in this scope for 1000 yards is its MOA measurements. Most scopes will only allow you to adjust for several MOAs. The NXS comes with a hundred, making fine-tuning your shots a lot easier. It also guarantees greater accuracy.
The zero stop turrets and adjustment knobs also make it easy to ensure shot accuracy. And with a wide magnification range, this is a scope that you can take to a benchrest competition one day and in your favorite hunting grounds the next.
Do not expect the 5.5-22×56 NXS to be the best budget 1000-yard scope, though. This can be a real bummer for those who only want the best, but do not have enough financial resources.
Pros
Unquestionable quality of optics for clearer, brighter, and more vivid images
Good combination of speed and accuracy across all conditions
Lightweight, all-weather construction for greater versatility
MOA measurements up to 100 for optimum fine tuning
Crisp and responsive adjustment knobs
We understand why the NightForce 5.5-22×56 NXS Riflescope is very expensive. With an unquestionable quality and an ever-dependable sighting dynamics, we will be more surprised if the scope came with a low price tag.
Nikon Black FX1000
Nikon black FX 1000 6-24X50 M Illuminated Reticle FX-MOA
amazon.com
Check price
Glass etched ranging reticle: located in the first focal plane, the reticle can be used to estimate range, target size, elevation holdover and wind drift at designated magnification
Side mounted Il...
A great thing about the Black X1000 is how crisp the focus of the reticle can be. The image will not 'dance' before your eye. One quick turn of the adjustment knobs and you are already shooting. The scope performs best when adjusted for 1000 yards, where it feels right at home.
We know you will also love the generous eye relief of the scope. You will never miss any detail of your target regardless of the shooting position you are in. Of course, it also helps that you will not complain about having 'scope eye'.
The parallax, windage, and elevation adjustments are all what you can expect from Nikon. You do not need to reposition yourself just to make the necessary adjustments. There is also no worrying about losing your zero or not being able to ensure consistency in your shots.
Despite the sleek design of the X1000, we do find its weight to be on the heavy side. And if you are going to mount this on a heavyweight rifle, then aiming and shooting can be tricky.
Pros
Premium quality optics for HD-quality images
Multiple levels of illumination for superb image clarity
Robust build for greater versatility
Large range of magnification for more uses
Repeatable, high-speed turret dynamics
There are very few minor downsides to the X1000. This makes it a very good choice for those who want to hit targets at 1000 yards or more with accuracy and speed.
Athlon Optics Ares BTR 4.5-27×50 FFP Riflescope
Athlon Optics wowed us with the HD quality of its images. Like all precision scopes, the Ares BTR comes with enough optics technologies that allow it to provide realistic images through the ocular. The light transmission is also superb and is almost the same as more expensive brands.
The Ares BTR is also a stylish scope. We love how the turrets stick out from their node. This allows for easier adjustment of the knobs, including elevation, parallax, and windage. They provide a distinct click, too.
What we find surprising in the Ares is the smoothness of its zoom properties. There are some scopes for 1000-yard shooting that have 'jerky' zoom characteristics. The Ares makes it so much fun to aim at targets at various distances.
The only downside to the Ares BTR is that Athlon Optics does not provide protective caps or shields for the lens. While its construction is robust, it would also help if you get to protect the exterior surface of the glass.
Pros
Good optical quality for improved image clarity
Smooth transitions when zooming in and out
Very precise zero stop and responsive adjustment knobs
Ample eye relief for shooter safety
Robust construction and good build quality
Cons
Does not come with lens dust shields
The Athlon Optics Ares BTR may not come with a protective lens shield. However, it offers a scope that performs well in shooting out to 1000 yards and more.
Leupold VX-6 7-42x56mm Riflescope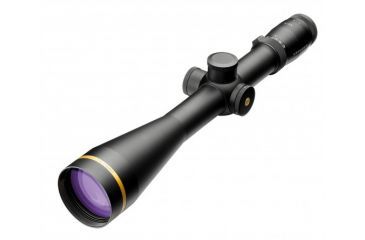 Leupold VX-6 7-42x56mm Side Focus CDS Scope
opticsplanet.com
Check price
The Leupold VX-6 7-42x56mm Side Focus CDS Scope is sure to deliver dead-on precision at extreme distances. These Riflescopes from the product specialists at Leupold are made of 6061-T6 aircraft qua...
Like most Leupold scopes, the VX-6 comes with an ingenious light management technology. Shooting in low light conditions is a jiffy. This is perfect for hunting crepuscular creatures from distances of 500 to 1000 yards and more. The wide range of the magnification power also makes the VX-6 a good choice for hitting targets at less than 500 yards.
Aiding the light management system is a large objective lens. We found this to be exceptional in providing zoom characteristics that you do not often see in scopes in this price range. It is both bright and clear for an improved view of the target.
Leupold also added a customizable dial to the target scope. This will allow you to dial in the settings that are specific to your rifle and ammunition without calculating ballistic dynamics and holdovers. You will get to fire your shot a lot sooner than other systems.
What we found in the VX-6 is the crispness of the adjustment knobs. This can be an issue for those who require crisper with each turn of the turret.
Pros
Wide magnification range for optimum versatility
Large objective lens for clearer and brighter images
Unique light transmission management system for improved views
Powerful zoom ratio for more applications
Tough and reliable scope body construction
Cons
Soft turret adjustment knobs
Given the quality of its optics and the repeatability of its turret dynamics, we believe that the Leupold VX-6 is one of the best long-range scopes money can ever buy.
Bushnell Tactical 4.5-30×50 Riflescope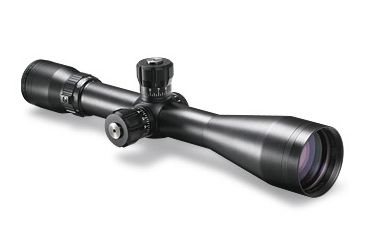 This good quality rifle scope comes with optics that deliver crystal clear images. You can hit a box from a thousand yards out without ever straining to look through the scope. It retains the HD quality of the image, regardless of the distance of the target. Whether it is close or far, you will have a good view of what you are trying to shoot at.
What we love about this scope is its turrets, which look "handsome", making the scope one of the coolest you can get. There are grooves on each turret that makes turning them very pleasant. There is also an audible click that provides you with a characteristic feedback you want from such a device.
The sun shade is also larger than most we have seen. This reduces the amount of glare that can hit the front of the glass. It helps acquire your target in a more efficient manner.
Perhaps, our only lament is that this Bushnell scope comes with a second focal plane. This should help explain why it is priced this low.
Pros
Good optical quality for maximum
Repeatable turret characteristics and good zero retention
Large sun shade for protection against glare
Ample eye relief for shooter safety
Solid scope body construction
Cons
A second focal plane scope
The Bushnell Tactical 4.5-30×50 Riflescope may not be great for those who require a Mil dot reticle that stays proportional to the target with magnification. However, we still think that it is the best tactical scope for 1000 yards because of its lower minimum magnification power.
Steiner T5Xi 5-25x56mm Riflescope
What amazed us about the T5Xi is its one-piece scope body. Seasoned shooters will always look at the construction of the scope body as it supports the notion that each shot will land in a precise manner. You also get to ensure the reliability of the system.
As one of the high quality scopes for long range competitive shooting, the T5Xi comes with a very unique reticle. Steiner designed it in such a way that you will have no problems acquiring and hitting your targets down the field. The advanced rotation indicator also makes adjusting the reticle easy.
While the T5Xi is perfect for long range shooting, it can also be a good tool for hunting at 500 yards. There is adequate eye relief, too.
What surprised us about the T5Xi is the quality of its glass. We have had Leupolds, NightForces, and Nikons fitted to our rifles and they do not cost as much as the T5Xi. Their optical quality is a lot better than what we have seen in this high end Steiner rifle scope.
Pros
Oversized, one-piece scope tube for better precision
Unique reticle design specifically for competitive shooting
Good quality glass for better images
Comes with rotation indicator for improved turret adjustment
Large magnification range for versatility
Cons
Very pricey for the quality of its glass
With a few thousand-dollar price tag, you would expect the Steiner T5Xi to blast the competition. This does not mean it is not a great rifle scope. If you are after a great-looking scope that is geared more for competitive shooting, then the T5Xi is for you.
Burris Optics XTR II 5-25x50mm Riflescope
We tested the XTR II by shooting it at either 900 or 1000 yards. We also tested it beyond 1000 yards and within the 500 to 800 range. The precision of target acquisition is spot on. We never missed a target from these distances.
The reticle comes with an illumination system that makes the scope so easy to use. Well, let's say the real strength of the XTR II is its optical quality. It provides a very clear image of the target, whether it is at 500 yards or 1000-plus yards away from you. This makes the XTR II a good choice for tactical and competitive shooting. This Burris creation can also be the best hunting scope for 1000 yards.
The turrets are quick and crisp. They will never travel out of their position. Burris was kind enough to put a lock mechanism to minimize, if not eliminate, the need for constant zeroing of the scope. At least, you can always shoot your targets with speed and precision, regardless of the target's distance.
The downside to this 1000-yard rifle scope is its heft. This could be a real problem if your rifle is already heavy enough.
Pros
Bright reticle for better aiming
Wide magnification power range for greater versatility
Easy to adjust, zero-stop turrets
Premium-quality optics for clear images across magnification
Rugged, all-weather scope body construction
The Burris XTR II is an exceptional riflescope that is perfect for different applications. While it is heavy, it only underscores the quality of its construction and the performance that it delivers.
Zeiss Conquest V4 6-24x50mm Riflescope
The biggest plus of the Conquest V4 is its mechanical performance. Many rifle scopes on the market have optical systems aiding in the performance of the device. Zeiss deemed it better to go the mechanical route. If you have a fascination for mechanical Swiss watches, then the Conquest V4 is its rifle scope equivalent.
The turret adjustments are also of exceptional quality. Zeiss uses a mechanical ballistic stop to make zeroing as effortless as possible. We also tested the Conquest V4 for its tracking abilities. We mounted the V4 on a .223 Remington and performed a three-shot group at 50 yards. The Conquest V4 tracked perfectly.
This scope for making 1000-yard shots is also lightweight, which surprised us. A mechanical scope, we believe, would be heavier than those that are purely optical.
While the Conquest V4 is not as expensive as the Steiner T5Xi, it can still be outside the reach of the average hunter or tactical shooter.
Pros
Unique mechanical parts for better functionality
Great flexibility in reticle adjustments for different hunting situations
Easy to set ballistic stop for consistent shot accuracy
Retains zero with exceptional tracking
Unquestionable optical quality for clearer and brighter images
We can always justify the price tag of the Zeiss Conquest V4. With remarkable tracking abilities, exceptional repeatability of turret adjustments, and a world-renowned optical quality, you will definitely get more than what its price tag suggests. The platform offers you the best rifle scope magnification for 1000 yards.
TrijiconAccuPower 5-50x56mm Extreme Long Range Riflescope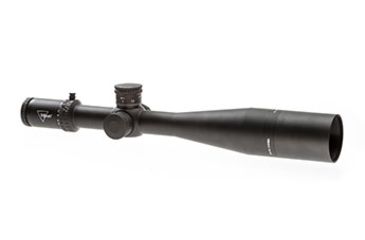 Trijicon AccuPower 5-50x56 Extreme Long Range Riflescope
opticsplanet.com
Check price
The all-new AccuPower 5-50x56 redefines extreme long-range performance. The powerful 10x zoom gives long-range hunters, precision rifle shooters and benchrest shooters the flexibility to acquire, i...
What makes the AccuPower ELRR is its magnification power. Whereas most of the long range scopes we see today are in the range of 20x to 30x, Trijicon bumps its scope power for 1000 yards to 50 times. And since it is from Trijicon, you will never lose the clarity of the image when you set the scope to its maximum power.
The resulting magnification range of the ELRR also amazed us. You can be engaged in target practice one day and then enjoying the hunt in the next. The scope affords a multitude of applications that you seldom see in other brands.
This scope is not only great for 800-1000 yards but also around 1500 yarrds which is tested. There was only a half-an inch of error in the center of the paper.
Being a second focal plane scope makes the AccuPower 5-50x56mm rifle scope less to our liking. This also makes it very pricey when compared to other platforms that have the same focal plane.
Pros
Powerful magnification for extreme long range shooting
Wide variability of magnification for greater versatility
Stellar light transmission and crystal clear glass
Very rugged construction of the scope body for all-terrain, all-weather use
Wide range of MOA adjustments for better fine-tuning of shot placement
Cons
Pricey for a second focal plane scope
The TrijiconAccuPower 5-50x56mm Riflescope may be a second focal plane device. However, the way Trijicon designed its reticle system guarantees better shot placement than some first focal plane devices. This is the perfect scope for 800-1000 yards and beyond.
What Is a Scope for 1000 Yards and Who This Is For
As its name implies, a scope for 1000 yards is an optical device mounted on rifles for shooting over long distances. In this case, shooters are aiming to hit a target from at least 1000 yards. These are very powerful scopes that have high quality optics, high magnification factors, and a robust build. They also have very advanced reticles and turrets. These allow shooters to make appropriate adjustments in their shots to compensate for the effects of wind, elevation, bullet trajectory, and parallax, among others.
Some of the people who use such scopes are those who participate in benchrest shooting competition as well as other similar competitive shooting activities. They have to hit a stationary target over great distances.
There are also hunters who use such scopes, especially those with a highly variable magnification. Tracking a game from 1000 yards or so allows them to be as far away from the animal. This allows them to hunt without spooking their prey.
Of course, those in the military and law enforcement units also require such scopes. Snipers and other specialists need the long range tracking capabilities of a scope for 1000 yards. It gives them the chance to immobilize or neutralize a target from afar.
Why Do You Need Scopes for 1000 Yards
Scopes for 1000 yards allow better viewing of any given target. A thousand yards may not seem like much. However, if you are trying to hit an object that is a foot across, then it would be difficult to hit it. You might even have difficulty hitting a car from that distance.
There is also the issue of the bullet's trajectory. As bullets move in the air, they lose momentum. This loss of momentum makes the bullet more vulnerable to the effects of gravity. You may think that you have already zeroed your target at 1000 yards, only to have the land hitting several yards in front of the target.
You also have to factor the effects of the wind. There may be no wind where you are standing. This does not mean that there can also be no wind along the path of the bullet and in the immediate surroundings of the target. A strong gust is all it takes to deflect your shot to the side of your target.
Scopes for 1000 yards allow you to make precision shots. These gadgets provide very clear views of the target. You can see wind strength indicators and make more accurate judgments about windage. You can then make the necessary adjustments.
What Makes a Great Scope for 1000 Yards?
A great long-range scope should have high-quality lenses. The quality of the scope's optics should allow for a clear view of the target, regardless of the magnification. The scope's ability to allow optimal light transmission is a function of lens coating and size of the objective. Fully-multicoated lenses and large-diameter objectives will create a brighter and clearer image of your target.
Shooting at targets from 1,000 or so yards requires a scope with lightweight and durable scope body. It goes without saying that the scope body should be nitrogen- or argon- purged to prevent fogging and negatively affect the quality of the image. This guarantees the quality of the image you see through the ocular. A great scope for 1000 yards should also have snappy adjustment turrets. These knobs should give you both tactile and auditory feedback when trying to compensate for wind deflection, parallax, and elevation.
Two other characteristics of a great long range scope are the ability to hold zero and the repeatability of its turret adjustments. The zoom range should also be wide enough to allow for greater versatility; unless, you are only going to shoot long range. The adjustments in both the turret and the reticle should also match.
What Magnification Do You Need?
Having a clear idea of the sole purpose of the scope will help you determine the magnification that you will want for your scope. For example, if you are going to use the device only for long range benchrest shooting, then you should choose a magnification that will allow you to place the shot at the desired distance. Average shooters will do well with a 16x to 25x magnification. Professional sharpshooters can hit the same target using only a 10x powered scope.
Hunters will require a different kind of scope. You may have a target some 1000 yards out. Then you see another potential target some 25 yards in front of you. If you have a scope with a very high low power magnification, hitting the target at 25 yards can be tricky. Hence, it would be ideal to get a scope with a very wide range of magnification power. For instance, a 3-25x scope will be better suited for a hunter than a 10-25x scope.
You will also have to consider the status of your eyesight. Keep in mind that you will still use your eyes to view the target. Some people may be able to see a target using an 8x scope. Others may need double the magnification.
Factors to Consider when Buying a Scope for 1000 Yards
Shooting over great distances requires scopes that are more than what you use for hunting. As such, only the best optic or 800-1000 yards will suffice in such instances. And if you are aiming to set a new world record, then you have got to consider the following factors when picking the rifle scope to use.
Lens Quality
We all know how important lens quality is when it comes to seeing objects in the distance. This is more so when you talk about long range shooting. You will want the lens of the scope to provide you with a crystal clear view of what you want to shoot at. The clarity of the image should never diminish with magnification. A very clear image at high power will give you a much better understanding of how the wind will affect your shot.
The question now is how do you pick a good quality lens? One way to do it is by evaluating their light transmission. Unfortunately, you will have to perform a side-by-side comparison of different scopes to determine which one offers the best light transmission. An alternative will be to stick to scope manufacturers that have an unequaled reputation for making high quality lenses. Examples of these are U. S. Optics, Zeiss, and NightForce. Trijicon, Leupold, Nikon, and Swarovski are also good choices.
Magnification
Your choice of the power of the objective lens depends, in part, with your eyesight. Some people only need about 10x power to shoot with great accuracy at 1,000 yards. There are also those who require a magnification of at least 20x to make an accurate shot. Consider also your use of the scope. If it is only for long range shooting competitions or bench shooting, then a scope with a minimum power of 16x is a must. If you are a versatile shooter, then go for something with greater variability. A 3-25x scope should be great.
Reticle Type
A conventional German crosshair or a Duplex type reticle may work for short- to medium- range shooting activities. However, if you are aiming to hit a target from a distance of 1,000 yards and up, you will need some form of assistance in your shot placement. The reticle of a good long range scope should always have markings or dots spread both in a horizontal and vertical manner. This will help in adjusting the reticle with respect to wind direction and target elevation.
First Focal Plane vs. Second Focal Plane
First-time rifle scope owners often get confused about scopes with a first or second focal plane. It is best to think about it in terms of the size of the lines (and markings) of the reticle. A scope with an FFP will have its reticle size 'increase' in proportion to the size of the image. As such, if you are going to zoom in on the target, you will also see a noticeable increase in the size of the reticle and its markings. For long distance shooting, this will give you a better estimate of your target's characteristics.
On the other hand, a scope with an SFP will have the reticle lines and markings remaining constant. When you zoom in on the target, you will see a very large image of your subject. However, the crosshair retains its 'size'. An advantage of the SFP scope is that the reticle will not 'hide' some parts of your target in a significant manner. The downside is that you will not be able to make accurate estimates of the target's characteristics.
MOA vs. MIL
Two of the most common markings in the reticle of a long range scope are the MOA and the Mil.
Most Americans prefer the Minute of Angle or MOA reticle. It is a lot easier to make mental computations. One MOA is equivalent to 1.047 inches at 100 yards. A Mil measurement is almost similar to MOA. The only difference is that 1 Mil is equivalent to 3.5999 inches or 3.6 inches at 100 yards.
Choosing between MOA and Mil is a matter of personal opinion. However, most professional long range marksman choose Mil scopes because of better accuracy over long distances. Whatever you choose, make sure that both the reticle markings and the markings on the turret are of the same type. There are scopes that have Mils in the reticle and MOA on the turret, and vice versa. In such cases, you will have to convert Mil to MOA or MOA to Mil.
Fixed vs. Variable Scopes for 1000 Yards
Fixed scopes are more consistent, more reliable, and simpler. They also allow for better light transmission. The disadvantage, of course, is that you will not be able to use your scope in situations other than what its magnification allows. Variable scopes provide versatility. You can be shooting a target some 2 miles away one time and aiming at a target some 300 yards away at other times. As such, if you are not going to shoot long range exclusively, it would be wiser to get a variable scope.
Adjustments
Bullet drop increases with distance. The farther the target is, the greater is the adjustment needed for elevation. The same is true with wind deflection. As such, along range scope should have enough elevation and windage adjustments to make the shot. Parallax is another factor that increases with distance. It would be best to have the parallax adjustment on a side knob instead of having it on the objective. This will make its adjustment easier.
(Source: [1])
Conclusion
The right scope for 1000 yards is one that has exceptional optical clarity. It also needs to have adequate adjustment mechanisms that will allow shooters to aim in a more precise manner.
The construction should also be spot on. And while you can choose between an FFP and an SFP, it would be best to pick a scope with a first focal plane for more accurate ranging and estimation. It would also matter if you get a scope that has a very variable magnification range. At the end of the day, however, your choice should reflect your personal style of shooting. Buy the best scope for 1000 yards today!
Post ID: wY00pR8Y4
Category ID: lMb9k43
The responses below are not provided, commissioned, reviewed, approved, or otherwise endorsed by any financial entity or advertiser. It is not the advertiser's responsibility to ensure all posts and/or questions are answered.