If you're the type that spends most of your weekends hunting bear, deer or another game, you might also be looking for the right rifle scope for the Springfield .30-06. This is one of the favorites among hunters and shooters that want to make their adventure and day more rewarding.
More so, one of those things they like about the cartridge is its versatility for use in a wide range of rifles, such as the Remington, Browning and Mossberg, among others.
So, if you're looking for a high-quality scope for Savage .30-06, keep reading. We have prepared a guide to help you find the perfect scope for the .30-06 caliber.
Best Scope for .30-06 Reviews of 2022
Vortex Optics Diamondback HP 4-16×42 BDC Rifle Scope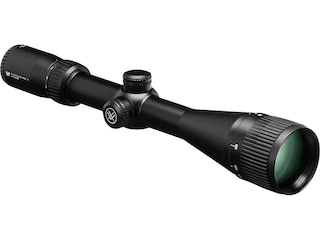 This scope offers a low dispersion glass along and multiple coated lenses, which can help in producing a clearer and sharper picture that has an increased light transmission. You will also like that it has four times of zoom range, which helps in extending the scope's magnification versatility.
More so, I would like to mention that you can also access the side focus from a shooting position, offering you with a great image focus that has a parallax removal. And for quick and easy reticle focusing, it also comes with a fast focus eyepiece.
More so, I liked that it comes with capped reset turrets, allowing us to reset it to zero once done sighting in. The rifle scope includes strong O-ring seals along with nitrogen purging that ensure a waterproof and fog-proof performance. In addition, this scope can withstand heavy-duty use because it has a shockproof properties. The Diamondback HP 4-16X42 works wells for serious shooters and hunters because of its high level of reliability and performance.
This rifle scope is a bit bulky, which can make it challenging to use.
Pros
Easily accessible side focus for easy reticle focusing
Fog-proof and waterproof performance
4x optical zooms for easy targeting
Can work in low lighting conditions
Fully multi-coated lenses
Overall, this product is one of my favorites when it comes to scopes for .30-06. Its excellent performance, quality, and sturdy build and suitability for short and long-range shooting makes it a top choice.
Nikon ProStaff 3-9x40mm Black Matte Rifle Scope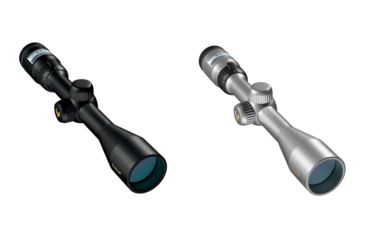 One of the best features of this rifle scope is its magnification range from 3x-9x and its objective lens of 40 mm. This high-rated scope always stays on target, even in low lighting and harsh conditions.
Another thing I noticed about this top pick is that it comes with a multi-coated lens, allowing for optimal light transmission. This features is good for dispersing light for brightness and clarity of the target.
This rifle scope has spring-loaded and instant zero-reset turrets, along with spot-on optimized reticles. These features make it one of the top-quality optics to help you aim more precisely. The zero-reset turret also paves the way for better ease of use.
For the money, the Buckmaster 3-9x40mm scope is a versatile scope that can work well with any kind of .30-06 rifle. You can also use it for your 0.308 or .22 LR. In the price range, this scope is one of those unmatched when it comes to quality and performance.
The scope is a bit bulky, so you need a high mount for it.
Pros
Ideal for use on many types of rifles
Wide magnification range
Bright and clear glass
Easy to use and solid build
Fully multi-coated lens
Cons
Needs a high mount to supports its bulkiness
Despite its bulky structure, the Nikon PROSTAFF is still a top-rated scope for its quality and performance for hunting and tactical shooting. It is truly one of the best scopes meant for the .30-06 rifle.
Leupold VX-2 4-12x40mm Rifle Scope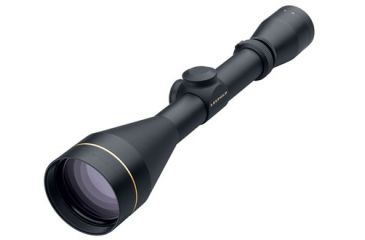 Leupold VX-2 4-12x40mm Rifle Scope Similar Products
opticsplanet.com
Check price
Leupold VX-2 4-12x40mm Rifle Scope 114396 is a powerful rifle scope designed to excel at hunting. These Leupold rifle scopes have enough magnification for those longer range shots but not so much a...
You can rely on this rifle scope for shooting at both short or long-distance ranges. It has a consistent and generous eye relief that can promote protection and safety from injuries of the eyebrow and eyes, especially from high recoil calibers.
The Rugeramerican .30-06 is also packed with solid and durable features that include being fog-proof and waterproof. Even when using it in extreme weather conditions, its compact build allows it to withstand harsh situations. It is necessary to choose a durable and reliable scope that can serve us for years and give us the best value.
When comparing variable or fixed-power scopes the for .30-06, you should also take a look at the adjustments that the scope offers because this can affect ease of use and accessibility. You can depend on the scope that can give you easy adjustments so that you will not a difficult time using it in the middle of shooting or hunting.
It may take beginners a while to adjust to this rifle scope.
Pros
Fogproof and waterproof for longer lasting use
Easy to adjust settings
Quick parallax field adjustment
Clarity and brightness for all weather conditions
Precision for target shooting or hunting
Cons
Can take some time to get used to
Overall, this is one the best choices when it comes to performance in all weather conditions. It offers contrast, brightness, and clarity that let you hunt in many conditions. Additionally, for windage and elevation, we can rely on its ¼ MOA precision finger-click adjustments.
Simmons 8-Point 3-9x50mm Rifle Scope
One of the things I also like about this scope is that the 3-9x50mm scope is also able to provide us with high-contrast and bright images, allowing us to acquire our targets easily and quickly. You can feel comfortable when using this scope even at low lighting conditions because of its optics coating. The optics can also optimize brightness and clarity.
In addition, I also like the ease of use it offers for its windage and elevation that can be done easily with the 1/4-moa sure grip audible-click adjustments. You will like that the scope can stay at zero, using the TrueZero system that keeps it locked tightly even when used in extreme conditions.
In addition, it has a QTA eyepiece for a quick target acquisition. It is also offered at a low price despite the robust and durable features it has for tactical or hunting calibers.
More so, it has this powerful 31.4-ft view field at 100 yards, 3X, making it one of the most powerful scopes to rely on for long-range targets. You will also appreciate that it has 3.75-inches of eye relief that can protect your brows and eyes from injuries from heavy recoils.
This model has a limited magnification.
Pros
Easy target acquisition with QTA eyepiece
Fully coated optics for brightness and clarity
Fog-proof and waterproof performance
TrueZero adjustment system for a locked zero
Generous 3
75-inch eye relief
Cons
Limited magnification range
Overall, this is one of the best scopes for a .30-06 Springfield that you can always count on for your outdoor and hunting adventures. It has solid and durable features that can give you long years of service.
Burris Fullfield II 4.5-14x42mm Ballistic Plex Rifle Scope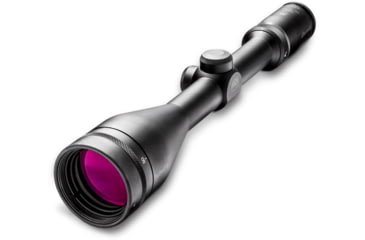 This product is innovative in terms of versatility and performance. Using the scope, you can have a rewarding time. Whether you're an amateur or professional, this scopes gives you the versatility to use it for different rifles.
Another thing I appreciate about the Burris scope is its simplicity and effectiveness in shooting a wide range of targets, even at a longer distance. This is because it has a magnification range between 4.5-14X. More so, you can rely on the Ballistic Plex reticle that adds effectiveness and trajectory , which is ideal for hunting.
It also offers us with a long-range accuracy while maintaining ease of use that beginners will appreciate. Additionally, you match any bullet weight or caliber. The scope is one of the best when it comes to accuracy at the range for its parallax adjustment. The Burris Fullfield II is affordable, yet it won't disappoint when it comes to a quick target acquisition, which is what we really want our scope to do for us.
This model is quite bulky.
Pros
Effective and simple design for ease of use
Can be ideal for any bullet weight or caliber
Excellent for hunting and tactical shooting
Great even for long-range shooting
Improved accuracy for its parallax adjustment
Overall, I liked that the hunting scope is affordable, yet does not compromise on the quality of a good long-range scope. It also has wide magnification of 14x, which is phenomenal for some distances that we use for hunting.
Vortex Viper PST 6-24x50mm FFP EBR-1 MOA Reticle Rifle Scope
This rifle scope is ideal for shooters who always aim at middle- to long-range shooting and don't want to miss a shot each time. If you want to make a shot with minimal effort, you should not overlook this rifle scope from Vortex.
This scope is made of top-quality and durable materials, along with multi-coated optics, which work to optimize the light to achieve optimal brightness and clarity for great sight picture. I also appreciate that it comes with quality controls for giving a clear sight all the time, no matter the lighting conditions. This scope also comes with a wide range of adjustment controls that provide a great sighting solution.
Additionally, the zoom range makes it easier to aim at and acquire the target. This range can eliminate the complexity when we have to estimate the range and holdover with the EBR reticle, an illuminate type working well even for a low-light condition.
However, this scope is more expensive than other picks on the market are.
Pros
High end tactical scope
Top performing for mid and long ranges
6-24X magnification range
This is one of the most favorable rifle scopes for its generous zoom range, ease of use, tactical features, and advanced precision. You will appreciate this scope if you're looking for a top-notch and dependable scope for an affordable price.
Leupold FX-3 6x42mm Wide Duplex Reticle Rifle Scope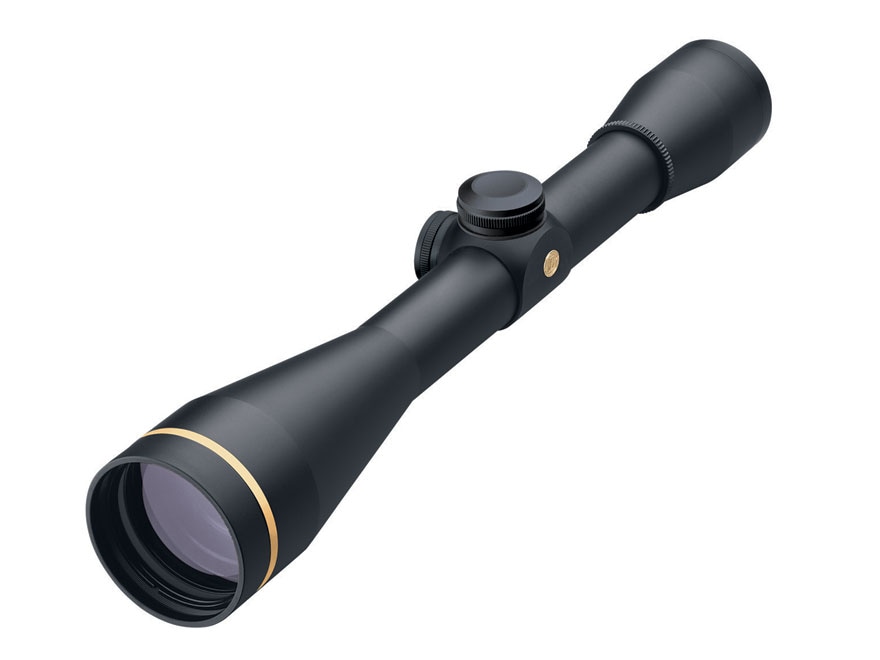 Leupold FX-3 Rifle Scope 6x 42mm
midwayusa.com
Check price
The Leupold FX-3 Rifle Scope offers a combination of higher power magnification and exceptional optical quality for those who prefer a fixed power scope. FX-3 Rifle Scopes feature an upgraded lens ...
One of the things I like about the scope is it ¼ MOA precision finger-click adjustments for its windage and elevation, which offer great dependability and repeatability.
This model is also one of the most durable and ensures a lifetime of use because it is built for heavy-duty use. Even for its solid make, the scope is lightweight and can be matched and used for many legacy rings. More so, I appreciate that it can offer us with optimum fog-proof and waterproof performance.
When looking for a scope, we must also check that we're getting one that can reduce or eliminate any thermal shock. This scope has that feature because it is made with a proprietary krypton and argon gas blend, which also works to reduce the diffusion of the gases inside it.
This scope is a bit pricier than other optical systems for the .30-06 rifle.
Pros
Durable for its fogproof and waterproof integrity
Lightweight but compact for ease of use
Increased contrast with brightness due to its blackened lens edges
Dependability and repeatability for its ¼ MOA precision finger adjustments
This scope is unbeatable when it comes to performance and quality. You can also check it out if you're looking for a scope that is lightweight yet compact, and versatile enough to fit various types of legacy rings.
What Makes a Great 30-06 Scope?
There are many models, makes, and brands for a great scope for the .30-06; however, not all of them are suitable for you. For this reason, it will pay off to know what the right scope for .30-06 so that you will be able to consider and weigh your options better.
For one, a good scope, such as a Leupold scope for .30-06, is one that is O-ring sealed and nitrogen-purged to ensure of a waterproof and fog-proof performance. These features also increase the scope's durability. You want a heavy-duty scope that can work in extreme conditions. In addition, a good scope has a wide magnification range that ensures a clear image, even if it is located far away.
You can also look forward to a reliable performance if it has an excellent objective lens and MOA finger-click adjustments. Just like when shopping for accessories for your calibers or a .300 Win Mag, for instance, you can tell that a scope is good if it is powerful enough to deal with the harsh outdoor conditions. For example, the best ones are able to work in low lighting or during a foggy day. A good scope is also easy to adjust, even from a shooting position. In this case, you should be able to modify the settings when you're hunting.
What Magnification Do You Need?
The magnification you need will depend on the distance or yards at which you are positioned. If you are shooting at a long distance, such as 1000 yards, you will need a higher magnification. To give you a better picture, you will need a scope with between one and four times magnification power, especially if you are shooting from a close range of up to only 200 yards. Nevertheless, you are using one of the most powerful calibers on the market.
On the other hand, you will need magnification between nine and higher, if shooting at least 400 yards. For a medium range of between 200 and 400 yards, you can rely on the Springfield, which is one of the all-time favorites for a hunting caliber. For the medium range, you will need between four and nine power.
Now, you have an idea on the scope magnification you need when using a powerful caliber for your next hunting trip. But as a suggestion, you might want to go for a scope with a wide power range, so it can be suitable for both short and long-range shooting.
Factors to Consider When Buying a Scope for .30-06
To get started, check out the following for some tips and factors to consider when buying a new scope for your .30-06.
View field
Take note that the .30-06 cartridges are designed for long ranges, so you have to look into the field of view when trying to compare your options and deciding which one to get.
As it will vary based on the magnification, you might want to go for one offering an adjustable power range up to 9X. A low magnification can make certain you will get a large view field, which is essential for long-distance shooting.
Do not go for a fixed-magnification scoop, or else your shots will be limited. On the other hand, a scope with a high power magnification is also going to lower the view field of your scope. For help, it will be possible to get a scope with a wide view field and high magnification with a large objective lens.
Or else, you will need a scope with at least 50mm diameter if you're choosing a scope at least 9X power range. You need this objective lens size to match with the high magnification.
Objective Lens
A high-quality scope for Savage .30-06 should be one that can accommodate and handle long-range shots well. For this reason, you have to choose the right scope that will work best for your .30-06.
So without even saying, you should also get a scope with an objective lens that has the ability to collect or gather as much light because most hunters for long-range shots are hunting at dawn and dusk. As a tip, you might want to go for a .30-06 scope that has an objective lens of at least 40mm/50mm.
Or else, going lower will not give you the best hunting time because you will be limited in terms of spotting your targets from a far distance. However, you also have to take note that anything more than 50 mm can be too much to carry.
Scope rings
You should consider the rings when finding a scope for your rifle. Some of the scopes available already come with rings, but some of them do not. For this reason, it will be best that you compare your options on this one if you don't want to hassle yourself in finding suitable rings for the rifle.
If you're buying a scope that has no rings included, you must be sure that you're buying properly sized ones. Or else, you cannot sight the scope. For this reason, you must do your homework and be informed on how to find the correct rings for your .30-06 scope.
Durability
Another factor to think about when choosing a scope for the money is its durability. It must be durable and heavy duty for a lifetime of use. For example, it should handle harsh and extreme outdoor conditions. A tip is to find a scope that is made of aluminum alloy or aircraft grade aluminum. It is a proven durable material that can give you the most value for your money.
This material is durable to deal with the changing weather conditions. And speaking of being heavy-duty, you can also have peace of mind if you go for one that is O-ring sealed and nitrogen-purged to ensure that it can deliver a waterproof and fog-proof performance.
Price
Another thing to consider when selecting a scope for the .30-06 is the price. You don't have to buy the most expensive one if you don't really need the features it has. The same thing goes with the most affordable one. You should not go for the cheapest one if it doesn't have the features and functions you need.
For this reason, you should strike a balance between quality and price, whether you're looking for the best scope for .30-06 under $200 or $500. At the end of the day, you should know that the most expensive scopes aren't always the best one.
Thus, you should factor in price as only one of the basis in choosing the right scope, and then consider the other things that we have highlighted above when trying to compare your options on the right scope for your caliber.
Adjustment knobs
Another thing to consider when searching for the right scope is the adjustment knobs' quality. It has to do with the ease of adjustment and effective focus you can get when you're in the field or range. So, the adjustment knobs must be considered when finding the right scope.
Eye relief
Don't forget to check and compare this one when buying a scope for your .30-06. It is the distance between your eye and the ocular bell.
At a minimum, you will want to have a minimum of 3 inches to ensure your eyebrow will be safe especially from heavy recoils and light weapons. More than 3 inches for the eye relief can be better, but perhaps one with at least 4 inches if your rifle has more recoil.
Frequently Asked Questions
What type of scope should you have on a .30-06?
The .30-06 is powerful to shoot at short or long ranges. It can be used for distances 150 yards and higher. Now when it comes to going the distance with it, you might want to maximize your shooting with it so you want to know what scope type will work well for the .30-06.
In the field, there are cases when we have to beat 200 yards, and that is possible if you have a powerful scope to aid in shooting for up to 1,000 yards. But no matter whether you want to shoot at long range or not, you will still benefit from having a scope.
In terms of the magnification, it will depend on the distance you're using. Nevertheless, you can use the help of a scope to see well so that you can have a brighter and clearer sight picture of your target. While it might be tempting to think that magnification alone has to do with it, it still has to match the distance you're using.
For example, it is common sense that you need a higher magnification when shooting a longer distance because with it can help you see a target that is far away better. Or else, it will be impossible to see clearly without a scope that has more magnification. But for a close range-shooting of at most 200 yards, you can find .30-06 scopes that can have between one and four in magnification power. Remember these things when looking for the right scope for your .30-06 so that you can find the best one for your .30-06 round.
How to mount a scope on Rem .30-06
If you have hunting rifles and you want to mount a scope on them yourself, you can do that just like mounting one on a REM .30-06. However, if you want to do that, you need to remember some things.
First, you have to find a good place to do it, a place that has adequate lighting. You also need a gun vise of some sort. You also need to take out any filler screws to find on top of the receiver using a screwdriver.
The next thing to do is to degrease the holes, but not those on the integral bases or receivers. It refers to the mount parts. Following, you can reapply oil to your receiver's top as well as on the rings or bottoms' bases.
Just like in finding the perfect scope for Tikka T3 .30-06, you should also mount the scope correctly. And in order to do that, you also need to check the instructions based on your specific mounting system. A few of them are using Torx screws that need an oil coat on the screw threads.
On the other hand, there are also some bases that have different length screws, which you have to check visually. You also need to ensure that your screws are located in the right places.
More so, you can check that the screw threads are protruding up to the same amount from the bases' underside.
Otherwise, even the best value scope for .30-06 will be torn by handling or recoil by putting too short screws and in the wrong places.
On the other hand, too long screws can result to bolt binding or in having a loose base.
You need to install the bases with oil or Loctite based on the instructions of the manufacturer. If Loctite isn't available, you can make use of a nail polish. You then have to tighten securely.
How to sight in a .30-06 rifle scope?
You can sight in a .30-06 scope with bullet drop compensator or any other reticle 180-grain to be at three inches high and at 100 yards, putting it at the point of sight at 225 yards and four inches low at 250 yards. However, there are also some sources suggesting general sighting in at 2 inches high at 100 yards, which is almost the same as zero at distance of 200 yards.
On the other hand, it might be great to sight in at 26 yards for the .30-06 150-grain, which would put the bullet on precise target at 245 yards and then up to 3 inches high in between.
But for elk hunting or any other types of hunting, you can target right on for your first 285 yards. However, the bullet shouldn't be above 3 inches high or low that is close enough.
The reason is that for deer hunting or big game hunting, you are mostly aiming for a very vital zone of six-inch diameter. Provided you hit that zone, you're done with your hunting job.
As a suggestion, you can put a piece of tape on the stock to tell you where your bullet is going to hit at a specific or varying distances. However, the very first step in order to hit your target is to remember bore sighting it. You can do it easily, or get your gunsmith to do it for you. On the other hand, you might want to get a laser bore-sighting tool, too.
You can cut notches in the cardboard's end in order to hold the rifle steady, and then remove the bolt. You can then look down your barrel at a target. Then, you can cut wood pieces under your box in order to raise and lower it.
Next, you can adjust the scope to the same target, and then you can become confident to hit the paper at 25 yards on the first shot before moving out to 100 yards.
Remember these tips when trying to sight in your rifle scope so that you can be on the right track and aim at your target precisely.
What size scope rings for a scope on .30-06
To begin with, the scope size you need for your rifle will be based on its model, size, make and other components. The scope's tube is what you can find between the lenses.
It is commonly an inch in diameter even if some European scopes are also becoming popular in America. They, too, have 30mm diameter. But without even saying, you must know the scope tube's diameter in order to figure out the correct rings for it.
On the market, you can compare and find the right rings for your hunting rifle and scope. You just have to get the correct one that will work best for your scope.
Conclusion
By finding the correct scope, you'll have a more rewarding day at the field or in the shooting range. After all, the ideal scope for your .30-06 is one that offers ease of use, high contrast and clear images, and power when shooting at long distances. To find the best scope for .30-06, start comparing your choices using our top seven picks, and use the buying guide to get an idea of the most important factors to consider.
Post ID: YgQQrw0Z1
Category ID: lMb9k43
The responses below are not provided, commissioned, reviewed, approved, or otherwise endorsed by any financial entity or advertiser. It is not the advertiser's responsibility to ensure all posts and/or questions are answered.