In 1873, the U.S. Army introduced the .45-70 as a replacement for the .50-70-450 round. Its original designation as .45-70-450 referred to the 450-grain bullet and 70-grain powder charge. Soon, it was called the .45-70. It's popularity has increased throughout the year, but what is the best scope for .45-70 caliber rifle?
We've researched, reviewed, and picked the best seven scopes to use for your weapon. In this buying guide, we also discuss the features to look for when choosing the best scope for you. First, take a look at the top-rated .45-70 scopes. Then, learn how to choose the right one for you by using our buying guide below.
The 7 Best .45-70 Scopes for 2022
Vortex Optics Crossfire II 2-7×32 Scout Rifle Scope
This Vortex Crossfire scope for the .45-70 Marlin has an all-purpose shooting and hunting reticle that is made for numerous hunting and shooting applications. It is equipped with a long eye relief, multi-coated lenses, a fast-focus eyepiece for precision, and an MOA turret that can be reset.
What I like most about this scope is that it is bright, clear, and tough. It has a hard-anodized aircraft-grade aluminum tube. Additionally, it is nitrogen purged, which blocks fog from the user's view. The O-ring is sealed to make it fog-proof and waterproof. The SFP reticles of this rifle scope are located near the eyepiece of the scope, just behind the magnifying lenses and image. Visually, this kind of reticle does not change in size when you adjust the magnification. One of the benefits of an SFP reticle is that it helps maintain the appearance of your scope.
If you have a scout rifle, the Vortex Crossfire II power scope is for you. The reticle is V-Plex and is made for easy hunting. Additionally, the eye relief measures around 9.45 inches, and it has an eye box that helps you quickly get a sight picture and lock your target. The fast-focus feature of the eyepiece helps you focus the reticle quickly and easily. The reset turrets are capped and are adjustable with your finger. It has MOA clicks that are easy to reset to zero after you've sighted your target.
Pros
Fog-proof
SFP reticle
Waterproof
Durable construction
Focuses reticle easily and quickly
UTG 3-9X32 1″ BugBuster Scope
UTG 3-9X32 1" BugBuster Scope, AO, RGB Mil-dot, QD Rings
amazon.com
Check price
BEWARE OF COUNTERFEIT PRODUCTS SHIPPED DIRECTLY FROM CHINA
1 Inch Tube with Emerald Coating for Maximum Light Transmission, Premium Zero Lockable & Resettable Turrets with 1/4 MOA Per Click Adjustm...
This scope comes with a great lock system that is much better than the lock systems of other rifle scopes in the market. It allows you to lock your settings and aim at your target perfectly. Even if you accidentally fall down, this scope will remain resistant, and the aim setting will not change.
The UTG Bug Buster rifle scope is 100% nitrogen filled and completely sealed. It is fog-proof, shockproof, waterproof, and weatherproof, so you can rely on it any time it is mounted on your air gun or firearm.
Its dual green and red illumination and eye relief make this rifle scope a great product for all hunters and shooters, whatever the weather conditions or environment may be. The UTG Bug Buster rifle scope also comes with a 2-inch sunshade, a high-quality lens caps that flip open, and fast-detachable rings.
The True Strength Platform of the scope is a high-quality construction platform. It also includes Smart Spherical Structure, which works by controlling the interaction between the inner and outer tubes. This scope's design provides reliability and guarantees responsive and precise elevation adjustment.
Pros
Fog-proof and shockproof
Waterproof for durability
Quality lenses
Dual green and red illumination
100% nitrogen filled
Cons
Difficulty in setting it to zero
Nikon ProStaff 2-7×32 Black Matte Rifle Scope
The rifle scope integrates the multi-coated system of Nikon. It is equipped with a spring-loaded, zero-reset turret, as well as spot-on reticles. Regardless of your weapon, be it a rimfire, shotgun or rifle, the optics are high in quality, reliability, precision, and durability.
This .45-70 BDC scope is the best choice for hunters and shooters who want to have a clear and crisp field view, accompanied by a traditional crosshair. This is why the Nikon Black Matte Rifle Scope is one of the best. It allows you to utilize all of its spots on ballistic technology, while maintaining one aiming point on its reticle.
The positive-click adjustments on the reticle can get you to zero fast, and you can maintain the setting even if the recoil is heavy. The lenses are multi-coated and boost light transmission for high-contrast and bright views. It is also sealed and nitrogen filled.
The Nikon replacement policy assures that the product perform well, is high quality, and meets users' standards. However, the elevation knob can be difficult to move. Once you've used the rifle scope a couple of times, the knob will loosen and become easier to adjust.
Pros
Fog-proof, shockproof, and waterproof
Replacement policy
Sealed and nitrogen filled
Clear sight picture
Rugged for different situations
Cons
Elevation knob can be difficult to move
Vortex Optics Strike Eagle 1-6×24 SFP Rifle Scope
This scope is known for its versatility and speed. You can adjust the sighting tool up to six power adjustments, depending on your needs. You can also rely on it for a clear sight picture that helps you aim better for a rewarding hunting experience.
In addition, this product comes with multi-coated lenses. Using it, you can achieve crisp picture, even in low lighting conditions. Because of this, it can accommodate to all of your hunting needs. The 11 illumination settings give you more versatility. In addition, it has an extra battery that you can conveniently store in the windage cap.
Furthermore, the scope has a fast-focus dial located on the eyepiece, which ensures that the reticle is always sharp. You can also depend on its fog-proof, shockproof, and waterproof performance. However, there are some reports of visibility issues on the Strike Eagle 1-6×24 SFP Rifle Scope. Nevertheless, it is dependable and one of the top choices among gun enthusiasts and hunters all over the world.
Pros
Multi-coated lenses
11 illumination settings
Durable and lightweight packaging
Shockproof and waterproof
Repeatable performance
Cons
Visibility issues during a bad weather
Primary Arms Classic Series 1-4×24 SFP Rifle Scope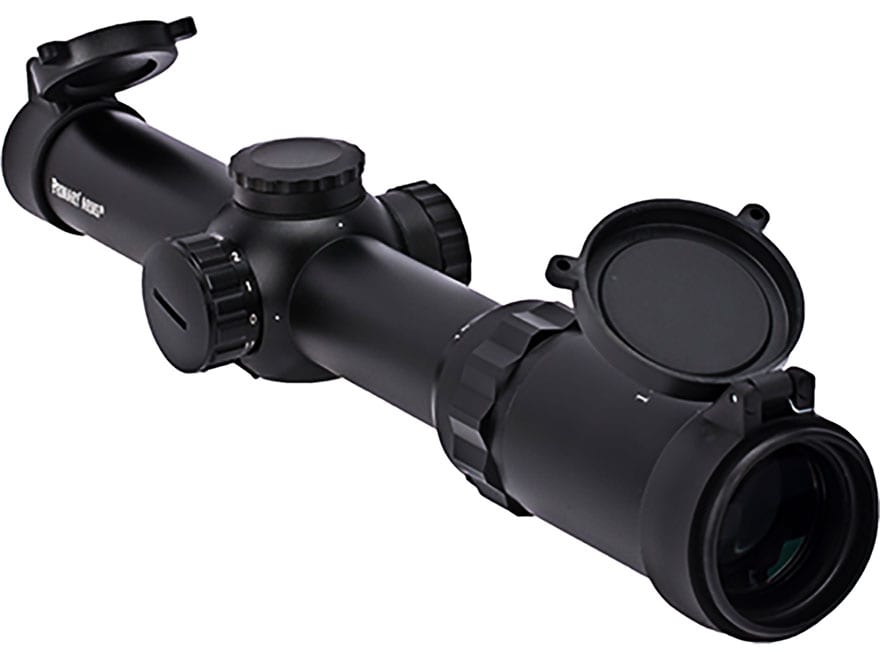 The Primary Arms scope is part of the classic series. It is user friendly, especially among new hunters who want to use an easily adjustable sighting tool. This model comes with 12 brightness settings for daylight and low-light situations.
In addition, it offers a generous eye relief, reaching from 3.5 inches to 4.9 inches, increasing the safety of the user. The eye relief can be based on the chosen magnification of the user. This product is also built to last, so you can look forward to years of use.
This model is nitrogen purged and has multi-coated lenses, offering optimal light transmission. For a lower price, it provides high-quality, classic optics. This model is designed with an adjustable ocular that can ensure the reticle is sharp. It is also effective to use no matter the weather. Plus, this product comes with a manual that you can use to help get you started. However, the red dot may be less useful in sunlight.
Pros
Illuminated Duplex Dot Reticle
Great for plinking or hunting
Generous eye relief
12 brightness levels
Fog-resistant lenses
Cons
Red dot may be less useful in sunlight
#6 Leupold VX-1 3-9x40mm Compact Riflescope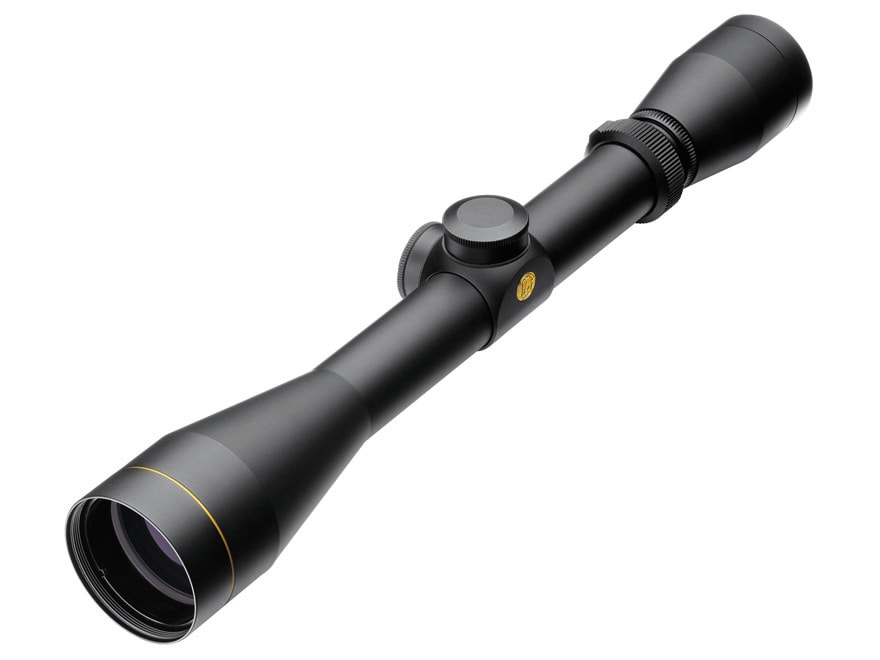 Leupold VX-1 Rifle Scope 3-9x 40mm
midwayusa.com
Check price
The redesigned Leupold VX-1 series is better than ever. Leupold has fine tuned the VX-1 by adding all the details that make a Leupold top in class. The new industrial body includes a streamlined ey...
The Leupold VX-1 3-9x40mm has a sleek, solid design. It is matte black, which makes it look modern and classic at the same time. This scope can also deliver a clear sight picture, due to the gas blend it is made with. This means it can resist thermal shock.
You can rely on the 1/4 MOA adjustments used for windage and elevation. In addition, you can look forward to a lifetime performance that is made of heavy-duty materials. It is one of the best scopes for .45-70 rifle, which is also made with a multi-coated four-lens system.
With this lens system, it can offer you a clear view of the field from edge to edge. No matter the condition, this product will bring you an outstanding contrast, especially in low lighting conditions. On the downside, the Leupold scope can be tricky to use for first timers, though.
Pros
Versatile to work under any situation
Nitrogen purged
Clear sight picture
Light and durable construction
Fog-proof and waterproof
O-ring sealing
Cons
Can be tricky to use for first-time users
BARSKA 3-9×40 Huntmaster 30/30 Rifle Scope
BARSKA 3-9x40 Huntmaster 30/30 Riflescope
amazon.com
Check price
Waterproof, fogproof and shockproof
Parallax free at 100 yards
Fully coated
Includes scope caps
Huntmaster line of riflescopes is made to provide target shooters and hunters with firing precision a...
This high-quality scope is designed to help hunters and shooters improve their shooting skills and accuracy. Choosing it, you can get a quality scope at an affordable price. In addition, it has the firing precision that you need for a reliable in-field performance.
It is worth noting that this item has a wide range of magnification settings, allowing you to choose one based on your needs. It also has a 1-inch tube diameter that adds to its durability and efficiency. This item also comes with complete accessories, such as a lens cloth, scope caps, and mounting rings.
This item is a general-purpose scope that can help you achieve shooting accuracy for plinking, target shooting, or hunting. It is able to adapt to different situations and is affordable. On the downside, however, the mounting rings included are not very durable.
Pros
Shockproof, fog-proof, and waterproof
Parallax free at 100 yards
Sleek, silver finish
Fully coated optics
Includes accessories
Cons
Durable mounting rings not included
Is a Scope Necessary for .45-70 Rifles?
While the .45-70 rifles can be powerful in taking down big game, its power can be enhanced by using a good .45-70 that provides a clear sight picture. Using a powerful scope for the .45-70 improves your shooting skills and vision of the target. Without it, the object may be too blurry, especially at far distances. This will lower your chances of aiming and hitting your target. Without a scope, your naked eye will not be enough to support your shooting. You need a high-quality .45-70 scope that will help you achieve the results you want.
What Makes a Great .45-70 Scope?
There are certain things that make a great scope for the .45-70 Scope. A good scope will make your experience easier and more rewarding in the field. You will be amazed that high-quality scopes have shockproof abilities, making it adaptable to last longer, even with heavy recoil. Good scope have multiple fully coated lenses that improve the scope's performance. Some scopes have adjustable magnification settings, allowing you to change it based on what you need.
What Magnification Do You Need?
You must consider its magnification level so that you can increase your chances of achieving great results. You might not need a super powerful magnification for the .45-70 rifle because it is known for its windage accuracy. You must choose a scope with a lower power magnification, ideally something like 7X. Generally, you want to opt for a lower magnification for any rifle that fires featured cartridge like the Marlin. Such weapons are known for their precision, even at a long range. Due to that, you should go for a scope that can simply deliver a good view to take a shot.
Factors to Consider When Buying a Scope for .45-70 Rifle
Choosing .45-70 scopes can be easy with a buying guide highlighting the things you need to consider. Essentially you need a sighting device that has good construction and keeps up with the surroundings and conditions in the field, bush, and truck. For help, check out the following guide
Brightness and clarity
Look for a scope that will help you achieve the best results in the field. Clarity is very important for a hunter or shooter, especially during dusk or dawn when the lighting is poor. You should check for a scope that can offer brightness so that you can have a clear vision, even in low lighting conditions.
Magnification
Choose a low-powered scope for a rifle that uses .45-70 cartridge. Such a rifle will have accuracy at far distances, so you will not need a wide magnification range. You will need a versatile scope that can offer you advantages at different distances.
Eye relief
Check that the eye relief can be adjusted based on the magnification setting chosen. What is the eye relief? It simply refers to the space between the sighting tool and your eye. It works by adding personal safety and accuracy, and it helps prevent a black eye from heavy recoil.
Mounts​
To improve the results to get from the scope, you also need a good mount, which aids in keeping a steady rifle while shooting. Thus, you might want to find models with bases made from steel or anodized aluminum. In addition, the base's rings are also important. These rings will keep the sighting device stable and firm no matter what.
Special characteristics
You also need to consider the characteristics of the scope. For example, it needs some protection against damage, scratches. and glare. Too much glare will affect your shooting performance.
That is why you need to find a device that has reduced glare, so that you will be able to shoot properly. Also, these special qualities can extend your scope's lifespan.
In addition, you might want to opt for a simple reticle that can assist you in taking your shot. You will also prevent getting a messed up sight picture with a complicated reticle.
Conclusion
The .45-70 is a great weapon that can take big game. It has evolved through the years, and now it can be loaded by a smokeless powder to high-pressure rounds that can be fired using stout rifles, including a Marlin. These iconic .45-70 rifles are now single shots or built lever actions. They can also take stronger loads. For this reason, you need an equally reliable and strong scope for it.
Post ID: QQzz56DMd
Category ID: lMb9k43
The responses below are not provided, commissioned, reviewed, approved, or otherwise endorsed by any financial entity or advertiser. It is not the advertiser's responsibility to ensure all posts and/or questions are answered.