Nobody can question the versatility of the AR-15. It can be a reliable home defense firearm, a dependable hunting buddy, or an accurate target shooter. One of the AR-15's most iconic components is the carry handle. More than a means of carrying the weapon, the carry handle also replaces conventional iron sights.
Unfortunately, many modern AR-15 rifles already come with flat tops. The modern design allows for the easy mounting of different kinds of optics. This is not to say you cannot mount a scope on the AR's carry handle. We have eight of the world's best AR-15 carry handle scopes for you to check out.
Best Scope for AR-15 with Carry Handle Reviews of 2022
Trijicon ACOG 4X32 Carry Handle Scope
The 4x magnification of the ACOG is perfect for shooting a wide range of targets. While it is not as efficient as the 1x magnification of a Holo sight in terms of close quarters combat, the ACOG more than compensates for it in terms of precision. It does this by using the highest possible optic you can find.
This stylish scope has a couple of adjustment knobs to ensure greater aiming precision. Its bright reticle can serve as a ranging device. It allows shooters to make more accurate estimates of distances to targets of up to 875 yards. The scope also allows for bullet drop compensation. The reticle itself sources its power from a combination of advanced fiber optics and radioactive tritium. The ACOG's reticle is visible both day and night.
Being a specialist device translates to a very rugged construction. Bring it to the desert or the jungle, and the ACOG will never falter. It has an almost-indestructible build that remains unparalleled.
As expected, the Trijicon ACOG 4×32 is expensive. This is not the right carry handle scope for average-earning people.
Pros
Very clear and highly accurate optics
Good magnification of targets
Clear and easy to use reticle
Features adjustment knobs for improved accuracy
Solid and stable mount
The many features of the ACOG 4×32 more than justifies its hefty price. It is an AR-15 carry handle scope that one can rely on for shot accuracy and versatility. And since this is a military-grade device, expect it to be battle-tested.
Trijicon ACOG 3.5X35 Carry Handle Scope
The 3.5×35 has all the different qualities of other ACOGs in Trijicon's line. The scope body is as tough as the military special action forces that use the device in numerous missions. No particle can ever harm the sensitive components of the ACOG as the scope's sealing is one-of-a-kind.
We like the ACOG's turrets. They are not as pronounced as those in traditional scopes. However, the dials provide a kind of feedback that is pleasant to the ears and the fingers. As the preferred scope for the carry handle of AR-15s, the ACOG 3.5×35 can provide very accurate shot adjustments for up to 875 yards. This is very remarkable, considering there are standard scopes that cannot even guarantee accurate shots at half the distance.
Not only does the ACOG 3.5×35 deliver remarkable performance. It is also one of the coolest scopes to mount on the AR-15.
The ACOG 3.5×35 should have the same performance as the other ACOG models. Unfortunately, the unit that we tested came with sub-par reticle. It was very bright during daytime, making the markings less visible. The reticle was also less visible than the ACOG 4×32.
Pros
High-performance and durable optics
Reliable adjustment dials
Long-lasting reticle illumination
Robust scope body
Very easy to mount
Cons
Lower reticle performance compared to other ACOGs
Regardless, we agree with many AR-15 owners that the ACOG 3.5×35 is the best carry handle scope. It delivers precision aiming in a scope body that is combat-proven across many engagements.
Barska 4×20 Electro Sight Carry Handle Scope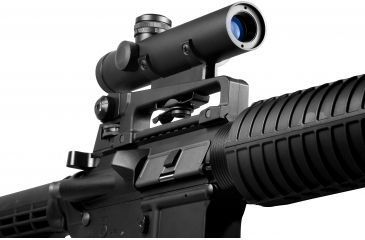 The Electro Sight carry handle scope has a single, solid scope body construction. We find the design to be especially useful for people who prefer more traditional scope designs. Barska even included turrets in the tube. Such inclusions allow for the more efficient compensation of shots. It also includes a bullet drop compensator to help reduce the guesswork of placing more accurate shots.
The 20-mm lens offers enough clarity to make shooting targets easy. Barska also kept its reticle as simple as possible. It is one of the most reliable weapon sights you can have that ensures both speed and accuracy.
We like the ruggedness of the scope body. It feels very solid, without compromising on its weight. Its small and compact design also sits well on the carry handle of any AR rifle variant. Barska was thoughtful enough to provide mounting hardware with the package.
Unfortunately, we find the build quality of the attachment bracket to be far from exceptional. It feels like some cheap plastic that will give in after only several rounds.
Pros
Bright and clear optics
Easy to use Mil-dot reticle
Comes with elevation and windage dials
Very simple design and rugged construction
Enough ocular relief
Cons
Quality of mounting hardware
It is quite easy to address the issue of a mediocre quality mounting hardware. What is important is that the Barska 4×20 Electro Sight is one of the best AR-15 carry handle scopes on the market. The scope is good for people who prefer a traditional scope over more advanced devices.
Trijicon ACOG 2X20 Carry Handle Scope
Trijicon has been making high-quality AR-15 scopes designed for carrying handles for many years. You can expect the brand's excellent craftsmanship to be evident in the 2×20. First, there is the optics that is second to none in terms of clarity and near-indestructibility.
Second, you have a reticle design that is as simple and functional as any other. It has an element that guides shooters to the target quickly. We were surprised at how clear the reticle of the 2×20 is. It never lost its clarity whether the sun was shining above our heads or it was nearing dusk. The scope is also very easy to sight in. No wonder special forces operators love the ACOG 2×20.
Third, the ACOG 2×20's eye relief is very generous. The eye box is also very forgiving. These attributes make the scope such a dependable tool in situations that call for reflexive aiming and shooting.
Fourth, the scope easily mounts, too. It sits squarely on the carry handle. It does not wobble or make you worried about the scope losing its mounting.
Price will always be an ACOG issue. You better start saving if you want to have this scope for your AR-15 carry handle.
Pros
Outstanding, combat-proven optics
Clear reticle across lighting conditions
Bulletproof, all-terrain, all-weather construction
More than enough ocular relief
Ease and stability of mounting
The ACOG 2×20 has all the qualities of a dependable tactical scope you can ever ask for. It has a powerful look, a formidable performance, and a battle-ready construction that will never fail you in your activities.
Trijicon ACOG 1.5X24 Carry Handle Scope
This ACOG has all the remarkable qualities of any other ACOG in Trijicon's arsenal. Militaries all over the world use the sight for engaging targets at close range. The lens is as clear as any premium quality rifle scope you can find. And when you add Trijicon's illuminated reticle, you will get a platform that will never disappoint you in the battlefield or in the target shooting area.
Like all ACOGs on the market, the 1.5×24 will never let you worry about losing its reticle illumination. We also love the duplex reticle. It is very simple and very easy to use, even for absolute newbies. The dot in the center helps promote quicker acquisition of targets. The eye box is also long and the field of view is ample enough to allow for viewing targets with both eyes open.
We like the integrated mount of the ACOG 1.5×24. It sits securely on the carry handle of our rifle. This is a great M16 carry handle scope that will never compromise the balance of the rifle and its overall shooting performance.
The ACOG 1.5×24 will always be beyond the reach of ordinary people, unfortunately.
Pros
Combat-proven optical performance
Good for close quarters engagements
Very responsive dials
Long lasting illumination
Sturdy mount
The ACOG 1.5×24 is a great Colt carry handle scope for tactical purposes. Its battlefield performance is the true measure of the scope's excellent workmanship. It is also what drives the 1.5×24's price tag.
TAC Vector Optics 4×22 Carry Handle Compact Riflescope
Do not expect the Tactical Streak to perform as well as an ACOG or even a Holo. However, it can provide you with enough aiming accuracy to make this a worthy scope for your AR-15 rifle.
The glass is clear enough to allow for reliable light transmissibility. The reticle is a modified duplex with a small circle enveloping the fine crosshairs in the center. We like the design as it replaces a conventional dot. The scope's reticle also ensures a better view of the object beyond the ocular.
The Tactical Streak also comes with a monotube construction. We love the simple design of the scope body. There are no sections that flare out. The mounting base of the scope is also solid enough to secure the scope in the carry handle. We appreciate TAC Vector Optics for including turrets in the 4×22.
Unfortunately, the dials do not elicit an audible click when you turn the knobs. You will have to look at the dial markings to check whether you are already in the correct setting. This can be frustrating if you are shooting at different targets over varying distances.
Pros
Clear optics for its price
Clear and easy to use reticle
Easy to mount
Solid monotube construction
Low price
Cons
No audible feedback from the turrets
The TAC Vector Optics Tactical Streak 4×22 remains a good option for a Colt AR-15 scope. It has modest performance and a reliable construction that is right for the price.
Vortex Optics Sparc Carry Handle Scope
VORTEX OPTICS - SPARC AR RED DOT SIGHT
brownells.com
Check price
IT TAKES A SPARC TO START A FIRE
Ready to handle any environment, the SPARC® AR features bomb-proof-like construction with a compact and lightweight form-factor. The 2 MOA dot is as easy as point a...
Like all products from Vortex Optics, the Sparc comes with many remarkable qualities. The lens has all the fine characteristics of a VO: clear, bright, and crisp. It is also shock- and fog- proof. The antireflective technology that Vortex Optics put into the Sparc contributes to the scope's overall performance.
When you add the unlimited eye relief of the Sparc, you get an optical device that is so much more enjoyable to use. There are adjustment buttons that replace the conventional turrets of telescopic sights. These buttons are also a lot easier to use than their knobby counterparts.
This super compact carry handle scope will also never weigh you down. The scope can sit comfortably on your open palm. And when you mount it onto the AR, your rifle will look as dashing and formidable as ever.
One downside to this nifty scope is the quality of its dot. Some people who have used the scope remark that the dot tends to get blurry in very bright settings.
Pros
Comes with ample light settings
Clear optics with antireflective technology
Rear-facing user controls
Parallax-error-free design
Dependable all-weather construction
Cons
Lower quality of the dot than other VO models
Notwithstanding its dot clarity, we are one with many people in saying that the Vortex Optics Sparc is the best scope for AR-15 carry handle. Its small size will fit nicely on the rifle. Its accuracy and precision are like a Holo sight sans its hefty price.
EOTech 512.A65 HOLOgraphic Carry Handle Scope
EOTECH 512 Holographic Sight
amazon.com
Check price
EOTECH 512.A65 - Holographic Sight in Black with 68 MOA ring & 1 MOA dot reticle
Mount - Compatible with both 1" Weaver and MIL-STD 1913 Rails
Adjustable Brightness - The 512 has 20 brightness sett...
The 1x magnification of the scope makes the 512.A65 a great choice for close quarters engagements. The design of the scope allows you to shoot targets with ease, whether they are 5 yards away or located some 200 yards in front of you.
The holographic red reticle is also very clear. EOTech also included twenty adjustment settings to help you choose the brightness levels of the sight. Such a feature allows shooters to make more precise aims as they will have a better appreciation of the target beyond the holographic dot. We like the automatic shutoff feature of the scope to help conserve battery power.
The scope is also well-built. The gooseneck-style mount is easy to adjust, while also ensuring a perfect fit on the carry handle of the AR.
The 512.A65 is an entry-level scope. As such, it does not have night vision capabilities. If you want one that has the capability to aim with precision at night, then you will need EOTech's 552 or 558 models.
Pros
Best choice for CQB engagements
Comes with adjustable light settings
Features programmable auto shutoff mechanism
Fully adjustable mount for a perfect fit
Very rugged construction
Cons
No night vision capability
Not having night vision capabilities is not a big deal for us. What is crucial is the device's performance. When it comes to accuracy and speed, very few other scopes can match that of the HOLOgraphic device. It is not surprising that the 512.A65 is a top rateddevice for the AR-15 platform.
What Makes a Great AR-15 Carry Handle Scope?
A great carry handle scope for the M16A4 or any other variant of the AR-15 should always be easily mountable. You want the scope to sit perfectly on the carry handle and with maximum stability. There is no use mounting a scope that wobbles on its mount with every pull of the trigger.
A great rifle scope to mount on the carry handle of an AR should also have excellent optical quality. Regardless of the type of device that you put in your rifle; the glass should have remarkable light transmissibility. The brightness and clarity of the scope ensure more precise shots because you will have a better view of whatever you are aiming at.
A good carry handle scope for your AR-15 is one that has a reliable sighting mechanism. The AR platform is popular for its precision and reliability. You will want a scope that has a very advanced sighting technology that is built for speed and accuracy.
The scope's build quality should also be uncompromising. Telescopic sights should have dependable weatherproofing and protection against shocks and fogging. The lens should also be as durable and strong as any other type of scope. And if it can fit on most carry handles, then the scope is a good choice.
What Magnification Do You Need?
Determining the magnification of the scope to mount on your AR-15 A2 carry handle or any other AR variant is a matter of understanding the range at which you will be using the scope on.
Long range shooting will require a magnification of at least 20x. This will allow you to shoot targets some 1000 yards away. However, such a scope is not ideal to mount into a carry handle as such a device will often be bigger and heavier. They also tend to sit higher on the carry handle. This can make shot compensation a lot trickier, if not very challenging. You can still pick a scope with a very low profile, however. Just make sure that you will still be able to hit targets with precision.
Shooting close range targets will not require a scope with high magnification. A fixed scope with 4X magnification should already give you the versatility you need. You can shoot from as close as 10 yards to as far as 150 or 200 yards, depending on your visual acuity. If it is speed that you require, then a scope with a low magnification is ideal. These scopes can make target acquisition faster and more precise.
Factors to Consider when Buying the Scope for AR-15 with Carry Handle
Fitting a scope into the carrying handle of a classic Colt AR-15 can be tricky. There are various factors one must consider when picking the best scope for AR-15 with carry handle. The following are some of the most critical aspects that can help determine the best option for a carry handle scope.
Mounting
As explained in the beginning, most of the ARs we have today come with a flat top upper receiver. This is perfect for mounting different types and sizes of scopes. An AR-15's carrying handle can pose some serious mounting concerns. That is why it is important to consider the ease of mounting of the scope that you want to buy. At the very least, the scope should come with a carry handle mount and other relevant hardware necessary for securing the scope into the rifle's carry handle. The mount should also be stable and durable. You do not want it wobbling in its mount. It should also be adjustable to accommodate different needs.
Sighting Mechanism
Your choice of the types of sights for your scope is a matter of personal preference and the purpose of your rifle. If you are aiming for absolute precision, then a conventional crosshairs type of sighting mechanism is ideal. However, if it is both precision and speed that you require, then a scope with a reflex sight will be more ideal. You should also consider the kind of shooting activity you will engage in. Red dots are perfect for shooting quick-moving targets. And if you want a more convincing sighting mechanism, then you should pick a holographic sight.
Size and Weight
It is still possible to mount a conventional telescopic sight into the carry handle of an AR-15/M16. However, one must pick a scope with a very low profile. While the carry handle of the AR is strong and solid, you still do not want to compromise it by fitting a large and hefty scope. Mounting a lightweight and very durable device is ideal.
Lens Quality
All scopes are defined by their lens technology and quality. Brands that produce high quality lenses also tend to manufacture reliable scopes. The scope on carrying handle should always have good light transmissibility. You should get a good picture of your target within a given range and across different light conditions. The durability of the glass is also an important consideration.
Cost
Always consider your budget when picking a scope to fit onto the carry handle of your AR. There are many scopes that offer reliable performance without costing you a fortune. Be wise in your selection as choosing an inexpensive unit can end up more costly in the long run than buying a high endscope now.
Additional Features
Telescopic sights should allow you to make accurate adjustments for your shots. Whether it is to compensate for the effects of gravity or the bullet's trajectory, the scope should have features to allow for compensation. It is also wise to check the overall build quality of the scope to put on any AR-15 variant.
Conclusion
Our list of the best AR-15 carry handle scopes best AR-15 carry handle scopes should make picking the right one for your rifle easy. If not, our comprehensive guide on the different factors to consider when purchasing such a scope should help.
Ideally, you will want a scope that is lightweight and compact to sit on top of the carry rifle. It is also wise to get a scope that has excellent optics and good weatherproofing. Price should not always be a concern. However, for budget-conscious folks, there will always be scopes that can offer reliable performance at a good price.
Post ID: nYPPygkdK
Category ID: lMb9k43
The responses below are not provided, commissioned, reviewed, approved, or otherwise endorsed by any financial entity or advertiser. It is not the advertiser's responsibility to ensure all posts and/or questions are answered.