If you are currently in the market for the best long eye relief scope, you have to understand what eye relief specifically means. The eye relief is the distance that you can put between your eye and the scope, preventing you from worrying about the recoil of the gun pushing the scope into your eye socket.
If you have a high-powered rifle, then this is a requirement. There are so many different kinds of scopes currently available that have substantial eye relief, but only a couple can truly be considered as the best. If you are on the search for a new scope for your high-powered rifle, here are some of the best choices that are on the market today.
Best Long Eye Relief Scope Reviews of 2022
Vortex Optics Crossfire II 2-7×32 Scout SFP Rifle Scope
Aside from having 9.45 inches of eye relief, another thing I like about this scope is its fast-focus eyepiece that allows the reticle to re-focus quickly for medium-range shots. The scope is also fully multi-coated, providing maximum light transmission without letting that much light from reflecting back.
The generous eye relief means that if you are using high-powered ammunition, you can aim with confidence knowing that the scope will not be able to hit you when the rifle recoils.
It is also made of a single piece of aircraft-grade sheet aluminum that is purged using nitrogen and sealed using multiple, O-rings to ensure that it will be completely waterproof and dust-proof. This means you can take this scope anywhere and in any weather condition. You can use this scope on rifles with high-powered ammunition or on lower-powered firearms. It is essentially the jack of all trades of scopes.
The focus starts to get fuzzy at maximum magnification, but you can compensate it by adjusting the eye relief.
Pros
The affordable price tag
Strength guaranteed, thanks to the entire tube made from one piece of aircraft-grade aluminum
Excellent accuracy
Great weatherproofing and fog-proofing ability
Top-notch customer service
Cons
The focus gets a bit hazy on maximum magnification
Despite the downside, which is more like a minor inconvenience, the scope itself is of good quality and is versatile, making it worthwhile to buy.
Vortex Optics Crossfire II 4-16X50 AO BDC (MOA) Rifle Scope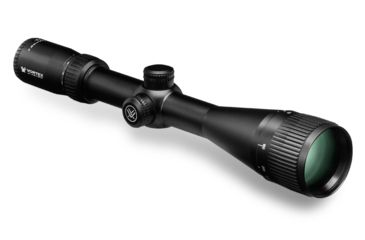 The Crossfire II 30mm has a pretty good eye relief, with many reviews singing its praises. You will also not be straining your eyes trying to find your target, even with both eyes open. You will be hard-pressed to find something that could come close to what the Crossfire II Second Focal Plane has to offer.
Aside from being a good eye relief rifle scope, I also noticed a lot of other notable benefits from it. One of these is that the adjustable objective lens allows you to tweak the scope until you get the sharpest and brightest image possible. I also like the fact that the Crossfire II is more affordable compared to other scopes, making it a great entry-level scope for those who are new to rifles.
However, just because it is affordable, that does not mean that this is a cheap scope. This is actually a good all-around scope. Whether you are using high-powered ammunition, or are mostly using your rifle for plinking at the shooting range, the Crossfire II Second Focal Plane is a solid choice.
The only downside is that it does not have that good light transmitting capabilities. Even when fully opened, the brightness control does little to improve the image.
Note, however, that the light transmission problem is really not that big of an issue. You can still see, but you could get something a bit better.
Pros
Impressive eye relief, keeping you safe and allowing you to aim properly
The affordable price tag for a scope that has a lot of benefits
Ultra-fast target acquisition
Works as a multi-purpose scope
Magnification power is top-notch
Cons
Light transmission is not that good
The light transmission problem is really not that big of an issue. You can still see, but you could get something a bit better.
Hammers 2-7×32 Long Eye Relief Pistol Scout Scope
I think this is more than enough considering that 6-inch eye relief is already considered as "long." Because of the long eye relief, this Hammers scope works perfectly in case you want to mount it on scout rifles where the scope needs to be mounted forward so that spent cartridges could eject from the action.
It also works well for handguns especially the high-powered ones and on rifles that use high-recoil ammunition. The scope also uses a 4-plex fine reticle that allows you to aim accurately, even at high magnifications.
The weatherproofing ability is not that good. In addition, the shock-proofing features are not as desirable when you compare it to other scopes offered at higher prices.
Pros
Generous eye relief, making it work for scout rifles, handguns, or for high-powered rifles
Provides a good sight picture even at a max distance of 17 inches
Guarantees great light transmission
Affordable while still having plenty of amazing qualities
Can hold its zero quite well
Cons
Not that long-lasting and durable construction
Even though there is a chance that the components within the scope will get rattled loose and cause issues later after using it for a couple of hundred rounds of high-powered ammunition, I can still say that it is one of the most popular long eye relief scopes currently available.
Burris 2-7x32mm Scout Rifle Scope
Burris Ballistic Plex Hunting Riflescope, 2.75X-20mm
amazon.com
Check price
Designed for shooters who need a working rifle or fighting carbine and use the multi-purpose scout rifle; Finger-adjustable, low-profile turrets create a sleek profile
Forward mounting design allow...
Aside from the long eye relief, which is a whopping 11 to 21 inches, there are other things that I think are worthy of note about the Burris 200261. One of them is its fast target acquisition, which you can also do with both eyes open. I also love the steel-on-steel adjustment system that makes very satisfying and audible clicks.
The clicks are not so loud that they can alert the prey of your presence. They are just loud enough to actually remind you that there are adjustments being made. For some, it could be having a sensory way of knowing that you are actually making adjustments.
In addition, the scope is completely weatherproof and waterproof. This means you can use it in any weather condition without worrying about the water obscuring your aim. The scope is also shock-resistant to a degree. It can take quite a beating, but you should not go beyond the usual waist-high drop or it will hit against trees and rocks.
The only minor downside to this scope is that the BDC reticle can be quite hard to see. For the price of the scope, this minor inconvenience is something that you can easily ignore.
Pros
Affordable while still providing lots of benefits
Highly versatile as it is a compatible riflescope for Ruger Gunsite Scout and other similar rifles
Completely waterproof, weatherproof, and dust-proof
The quite fast target acquisition that also lets you focus on your target even with both eyes open
Provides satisfying and audible clicks
Cons
The reticle can be quite hard to see, especially since the scope does not have illumination
Despite the small issue regarding the reticle, the Burris 200261 is still a solid scout rifle scope. You can set it on a low or high-powered rifle, and it will always perform as expected.
UTG 2-7X44 30mm Long Eye Relief Scoutscope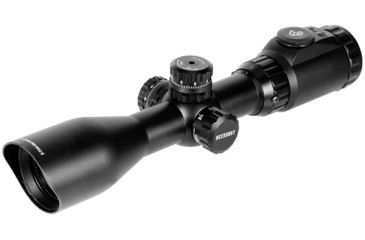 This rifle scope has an eye relief of 11 inches. Other than the long eye relief, there are many other benefits that make the UTG 2-7X44 30mm a worthwhile investment.
For instance, I am impressed with the emerald lens coatings that allow the maximum amount of light into the tube without letting much of it to be reflected outwards. Because this is a high eye relief scope, it is more suitable for use in bolt-action rifles where the scope cannot be mounted above the action, and for AR-15 platforms. You can install the scope forward and beyond the action, and you will still get a clear sight picture nonetheless. The shock-proofing features in this scope are also top-notch.
The only thing that I did not like about the scope is that it is a bit too heavy. Mounting it on a light, small-caliber bolt-action rifle makes it look clunky, too. This is more suitable for AR platforms.
Pros
Immense eye relief, making it a suitable scope for bolt-action hunting rifles
Awesome weatherproofing and waterproofing features
Robust and shockproof construction
The emerald lens coating is first-rate as far as light transmission is concerned
Boasts of its illuminated reticle
Cons
The scope itself is a bit too heavy for some lighter rifles
Despite the very minor inconvenience, the UTG 2-7X44 30mm is still one of the best scopes with long eye relief presently available in the market.
FX-II Scout IER 2.5x28mm Scope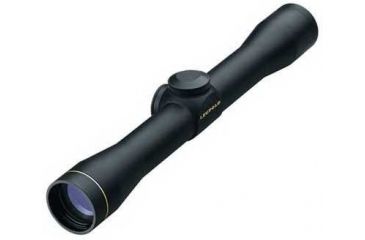 The FX-II Scout IER 2.5x28mm scope has a massive eye relief of 9.5 inches, which means that you are out of harm's way even if you use high-powered ammunition. I personally liked the way it works as I was able to use it on a bolt-action rifle. When you install it beyond the action, it can still provide a crisp image.
The Diamond coating of the external lenses is perfect for allowing the highest amount of light into the tube and helping illuminate the sight picture. The coating also helped prevent scratches from getting on it. Although Leupold already has their patented nitrogen purging technology, the company tried something different on this scope.
Note that there is a bit of an issue with Leupold's customer service. It is quite annoying that you have to pay for shipping when you want to return any item of theirs to get a refund.
Pros
Long eye relief, making it ideal for bolt-action rifles
Tough lens coating that also allows quite a lot of light to get into the scope
Great waterproof capability
Promotes nice and fast target acquisition
Lightweight and easy to carry, which makes it a nice companion for most bolt-action rifles
Cons
There have been many horror stories being told about the quality of the customer service team
The downside is not that much of a problem when you consider that this scope has a sturdy built and contains most of the must-have features of a long eye relief scope.
Nikon Force XR 2.5-8×28 EER Matte Handgun Scope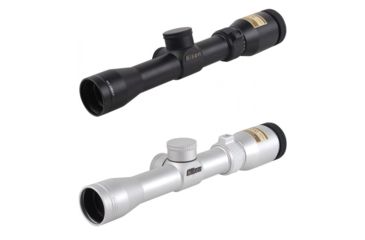 Nikon Force XR 2.5-8X28mm Pistolscope Similar Products
opticsplanet.com
Check price
The Nikon Force XR 2.5-8x28mm Pistol Scope comes equipped with Nikon's BDC reticle to allow you to figure a precise holdover, for an accurate shot. Waterproof, Fogproof and Shockproof, the Nikon Fo...
The extended eye relief measures out to around 9 to 11 inches, which makes it ideal for handgun use, especially if you are using something that has a lot of kick, like a Magnum. You need to hold those kinds of handguns fairly far away from your face as they will recoil heavily.
Aside from being an extended eye relief rifle scope, another benefit of the Nikon Force XR is that it has excellent waterproofing, dust-proofing, and shock-proofing features. It also allows it to keep its zero even after it is shaken violently by the recoil of the handgun. Another benefit I noticed is that it has a nice and bright sight picture. The objective lens does a great job gathering ambient light and feeding it into the tube.
One downside of the Nikon Force XR, though, is that at higher magnifications, the sight picture gets so small that you cannot use it anymore.
Pros
Extended eye relief, which promotes ease in aiming properly without worrying about recoil
Commendable shock-proofing capabilities
Provides bright and clear sight picture even when used in dark environments
Holds its zero quite well even after dozens of shots
Guarantees smooth adjustments
Cons
The sight picture might get exponentially smaller as you approach maximum magnification
Overall, the Nikon Force XR is still a quality scope that you will love using on your high-powered handguns, despite the minor inconvenience dealt by the shrinking sight picture.
Bushnell Trophy 2-7x36mm Multi-X Reticle Scout Rifle Scope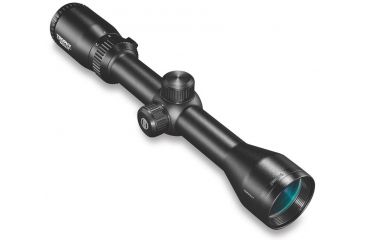 I find this ideal for bolt-action rifles where you cannot place scopes near the action as they would prevent the spent cartridges from expending. Aside from the impressive eye relief, the Bushnell Trophy riflescope also has high-quality lens multi-coating. The lens coating guarantees at least 90% light transmission, regardless of the weather condition.
In addition, what is really impressive about this scope is that even though it is affordable, Bushnell opted to cover it with their lifetime, no questions asked. This means that if anything breaks in the scope, or if you are not satisfied with it, regardless of how long you have had it, Bushnell will honor its guarantee.
With all the great benefits that this scope has to offer, finding faults can be considered as nitpicking. However, the focal lens is not as big as I hoped it would be.
Pros
Clear and crisp sight picture even at high magnification
Huge eye relief that is perfect for scout rifles
Top-notch multi-coating on the lenses
Great light transmission is great, promoting bright and clear sight image
Provides a somewhat unbeatable Bushnell lifetime guarantee
Cons
The focal lens could have had a bigger opening
The very minor quirk that we found with the Bushnell Trophy rifle scope can be quite subjective, so other people might not even find any issue with it.
What Is a Long Eye Relief Scope?
For a scope to be considered as having a long eye relief, its eye relief should be at least 6 inches. This is the farthest distance that you can place your eye away from the scope and still see a clear sight picture.
Having a long eye relief is a requirement if you have a rifle that has particularly strong recoil, such as one that uses large-caliber ammunition. A long eye relief will allow you to aim properly without worrying about the scope hitting you square in the face when the gun kicks back from the recoil.
A scope that has a long eye relief may or may not have a large focal lens, but it always needs to have excellent light transmission. Therefore, the sight picture is always clear even when your eye is far from the ocular lens. That is one of the biggest details that you need to take into consideration when you are shopping for a scope.
Long Eye Relief Scope vs. Regular
When shopping for a scope, one question that might have crossed your mind is which scope is better – one with a long eye relief or one with regular eye relief. The answer will depend on the kind of rifle you will be putting it on.
If you have a rifle that uses low-recoil ammunition, like a .270 Winchester or a .30-06 Springfield, you can do with just a regular scope. These scopes have eye reliefs of 4 inches or less because the ammunition has such low recoil that your shoulders can absorb most of the shock.
However, if your rifle uses .40-65 Winchester, .416 Ruger, .444 Marlin, or any other high-powered ammunition, then a long eye relief rifle scope is what you need. If you use a regular scope on a high-powered rifle, you will not be able to take aim properly without hurting yourself.
The force of the ammunition leaving the barrel of the rifle will be so strong that it will cause the whole thing to kick back. This might cause you to break your eye socket in several different places. For high-powered rifles, you need a rifle scope that allows you to aim properly while still keeping your face a safe distance away from the eyepiece of the scope.
Factors to Consider When Buying a Long Eye Relief Scope
Are you now seriously looking for long eye relief scopes for your new high-powered rifle but you don't exactly know what you need to look for? Don't worry. Here is a quick and simple guide that will teach you about the basic features of a scope that fit your particular needs.
Objective Lens Size
The objective lens is the one that is in front of the scope. This is the larger one of the two external lenses. This lens is responsible for letting as much light into the scope as possible. The more light gets in, the clearer and crisper the image projected out the back of the scope will be. In long eye relief scopes, it is not necessarily required that the objective lens be the biggest that you can find. You just need to get the one that provides you with a clear sight picture even when your eye is half a foot away from the scope.
Lens Coating
The lens coating is the film that covers each lens. The protective film allows the lenses to absorb as much light as possible without reflecting too much light back. Almost all scopes nowadays are fully multi-coated. This means that both the objective and the focal lens have multiple layers of anti-reflective film. However, you might still see coated and fully coated scopes.
Reticle
The reticle is the image that you see when you peek into a rifle scope. This is also known as the crosshair. There are many different designs and uses of reticles, so you need to choose carefully. If you are not thinking of using your rifle for long-distance shooting, a scope with a simple duplex or German No.4 reticle (the basic crosshair design) is the best since you will not be taking bullet-drop into consideration anyway.
Eye relief
This is the most important feature. The eye relief is the maximum distance that you can keep your eye behind the focal lens of the scope while still getting a clear sight picture. If you are using a high-powered rifle, you need a scope that has an equally long eye relief so that you can use it safely. High-powered rifles have a tendency to kick back or recoil when the powerful ammunition leaves the barrel. However, there are times when the end of the scope was forcibly thrust into the shooter's eye socket, causing several facial fractures and others. Therefore, when searching for a scope, make sure that the eye relief is at least 6 inches, preferably more to ensure your safety.
Conclusion
The eye relief is the more important feature when you are using a high-powered rifle. You should never use a regular eye relief scope when your rifle uses high-recoil ammunition. Always choose the best long eye relief scope – one that has at least 6 inches of eye relief. Even if you are not using a high-powered rifle, you will have a scope ready for it.
Post ID: 1AKKxP09z
Category ID: lMb9k43
The responses below are not provided, commissioned, reviewed, approved, or otherwise endorsed by any financial entity or advertiser. It is not the advertiser's responsibility to ensure all posts and/or questions are answered.