When it comes to improved vision and sight picture for target acquisition, even the most seasoned hunters can take advantage of the best night vision scope for under $1000. Especially when hunting in the night and in poor lighting conditions, it can significantly improve your overall results.
However, it is uneasy to pick among the plenty of selection on the market. For this reason, you must spend effort and time to make an informed decision. In the following, we're going to help you pick the right scope that has the valuable features necessary for a rewarding hunting experience. If you're ready, let us begin and help you find you night vision scope today.
Reviews of Best Night Vision Scope Under $1000
ATN X-Sight 4K Pro Smart Day/Night Rifle Scope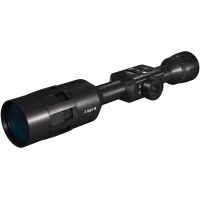 This ATN X-Sight 4k is designed to make your hunting experience trouble free and well documented by using advance technology. This rifle scope features an ultra HD 4k sensor with obsidian 4-dual core processor that will give you higher resolution and faster optics. The higher the resolution, the clearer your target will be.
The dual stream video recording will allow you to record your hunting experience not only in your phone but also save it in a SD card as well. What's more? It also has a Recoil Activated Video (RAV) where the system automatically records your experience before and after your hunting expedition so you will have something to look back to.
What makes this unit great is that it also features a ballistic calculator where the system will automatically calculate all the data needed to make sure that you have a clear shot of your target. This X-Sight 4K also has an enhanced HD night vision mode to let do the hunting at night.
On the downside, this rifle scope has some software issues where rebooting is necessary to refresh the system.
Pros
Ultra HD sensor with 4-dual core processor
Dual stream video recording for mobile recording and SD card saving
Recoil Activated Video (RAV) to record your hunting experience automatically
Ballistic calculator for fast data calculation
 Enhanced HD night vision mode
Cons
There are software issues
However, if you get past the software issues, you will see that this unit has great potential. This advanced technology will make your hunting experience exceptional and easy.
ATN X-Sight II HD 3-14 Smart Day/Night Rifle Scope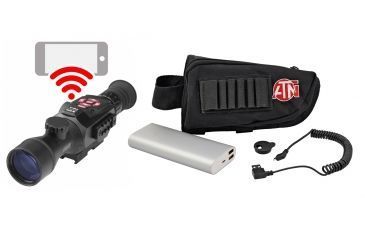 The scope has high definition. The HD technology will give you a clear view of your surroundings and of your targets. It has the best hunting optic that fits any circumstances.
What's more? The design is state of the art. It is something that you would be proud off to show off to your friends and family. Likewise, this rifle scope also has very useful features. The ballistic calculator automatically performs the quick calculation of all the environmental data to hit the target even at first attempt. The smart range finder, however, determines the distance and adjusts the point of impact.
Another good thing about this product is the ability to record your hunting experiences through its 1080p HD video recording. It saves high quality photos and videos in a SD card so you can share your experiences to your family and friends. The night visions also work great. The scope includes a small flashlight, too.
The only concern I have about this product is that it consumes too much power. The batteries only last for around two to three hours if you are streaming videos.
Pros
Can be use day and night in HD resolution
Ballistics calculator for quick calculations for better shooting
Smart range finder to determine distance and adjust the point of impact
1080p HD video recording, recoil activated video, and Wi-Fi streaming
Still photography
With that aside, this rifle scope works great and serves it purpose very well. This unit is highly recommended.
Firefield NVRS 3×42 Gen 1 Night Vision Rifle Scope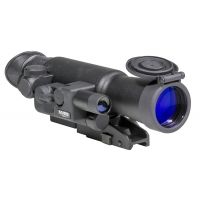 This rifle scope is made of lightweight titanium. It is also rock solid and durable for long-time use. In fact, the lens has a flip-up covers as protection against the harsh weather. That makes it weatherproof.
Furthermore, this unit also has features that you might find very useful. The lens resolution is of high quality. The 3x powerful magnification and 42mm lens will provide you a clear view of your targets, even under total darkness.
It also has a high-powered infrared illuminator that will act as your flashlight during your night hunt. What is good about the IR illuminator is that it can give you a brighter view of your targets without them noticing your approach.
Another plus factor for this rifle scope is that it has a quick power and quick detached weaver mount. It is also very easy to operate. With the Firefield NVRS, you wouldn't have to worry about any confusing system to go through before taking a good shot.
On the downside, there are darkened spots that can be seen in the tube, but it is minimal.
Pros
High-quality resolution
Durable titanium body and water resistant
Lightweight and quick detached weaver mount
High-powered infrared illuminator
Easy to operate with quick power
Cons
Darkened or black spots seen in the tube
You can still have a clear view of your target even if you have it in the background. This rifle scope is really a good one. It is worth your every penny and is very useful.
ATN X-Sight II HD 5-20 Smart Day/Night Rifle Scope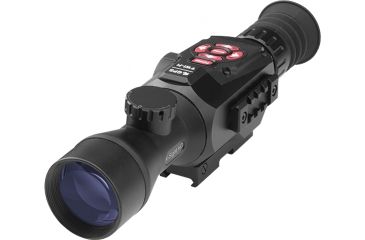 This rifle scope has HD resolution for hunting day and night. This HD technology will give you a crystal-clear view of your surroundings and of your target, too.
From 100 yard, it has a zero range. From 1000 yards to 240 feet, the view is still quite good. It only means that this scope is functional for middle to long range.
Another useful feature of this product is the ballistic calculator and the smart range finder. You can leave the calculation of range details, wind drift, velocity, and time up to the ballistic calculator. It quickly calculates these details through a ballistics trajectory chart for better shooting projection.
The smart range finder is good to measure the distance of your target from you; this feature will also automatically adjust the point of impact from 5-20 magnification.
Additionally, the ATN X-Sight II also have the capability to save your hunting experiences and brag your shooting prowess to your family and friends. It has 1080 HD resolution for a clear view of your surroundings for image capturing and video recording.
On the downside, this scope weighs too heavy to mount small rifles.
Pros
Day and night vision in HD resolution for crystal clear view
Functionality covers 1000 yards to 240 feet and zero range from 100 yard
Ballistic calculator for better shooting projection
Smart range finder for distance measurement
1080p HD image and video recording, RAV and Wi-Fi streaming
Cons
Too heavy to mount small rifle
Nevertheless, this rifle scope is still good and highly functional. Having it is worth your every penny. You might want to check it out if you're looking for a versatile rifle scope.
Night Owl Optics NightShot Digital Night Vision Rifle Scope
You can save more if you buy this NVRS rifle scope. It is less expensive compared to other night vision rifle scopes available on the market.
This scope is not only less expensive, but it is also highly functional. It has a good range from 100 to 200 yards under the moonlight. The lens has high-resolution display of 640×480 that gives you a clear view of your environments.
It also has a powerful 3x the magnification with 52mm (2.05 inches) focal length. The field of view is 5.6 degrees, the aperture is 40mm (1.57 inches) and the focusing distance is 3M to infinity (10 ft. above)
The windage of this scope is adjustable and elevation is adjustable. One click is equal to ¼ inches from 50 yards. The mounting system is compatible with weaver or picatinny rail.
Another thing you must know about this product is that it is compatible with any rifle below .30-caliber bullets, be it magnum or non-magnum. You can also use it to any rifle with .30-caliber non-magnum bullet. It also has a built-in IR illuminator that will give you some light without your mark detecting you.
On the downside, the battery compartment of this scope is rather difficult to maneuver.
Pros
Less expensive night vision rifle scope
The range can cover from 100 to 200 yards with good a shot
640×480 HD resolution for a clear view of your environments
Compatible with any rifle below
30 caliber bullets or
30-caliber non-magnum bullet
Built-in IR illuminator and weatherproof
Cons
Difficult access to the battery
However, with that aside, this scope works really well and does give you a good deal for your money.
Bushenll 4.5X40 Equinox Z Digital Night Vision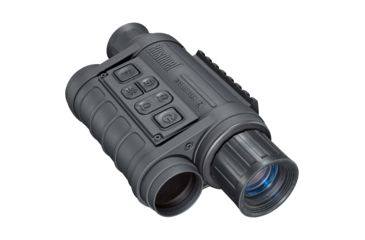 Bushnell 4.5x40 Equinox Z Digital Night Vision Monocular
opticsplanet.com
Check price
Product Info for Bushnell 4.5x40 Equinox Z Digital Night Vision Monocular
The Bushnell 4.5x40 Equinox Z Digital Night Vision Monocular provides outstanding optical clarity and a wide field of view ...
If you are looking for a unit that will not cost you too much, but that is still capable of helping you do a better job stalking of your prey, this Equinox Z is a good option for you.
This monocular night vision can give you a wide field of view and excellent optical clarity of your surroundings. Through this, you can observe the environment during the night of your hunting. The better you acclimate yourself to the whereabouts of your prey, the higher percentage you will have them caught in less a time.
The zooming is from 1x-3x. The IR illumination viewing is up to 750 feet with adjustable infrared brightness. Another feature of this digital night vision is the image and video capturing. Additionally, this scope's sturdy build and durability is well proven. It will last for years if you take good care of it.
What is good about the Equinox Z is that the image quality is great for both day and night use. The unit also comes with a carrying case and is compatible with tripod mounting.
On the downside, this Equinox Z consumes too much battery in an hour.
Pros
IR illumination up to 750 feet with infrared brightness adjustable
Inexpensive but still effective night vision rifle scope
Good for stalking and observing the environment
Excellent image clarity
Comes with a carrying case and tripod mounting compatible
Cons
Consume too much battery power
This digital night vision is cost effective and functional. The image clarity is excellent. It is a definite good deal if you have this scope.
Sightmark Photon XT 6.5x50L Digital Night Vision Rifle Scope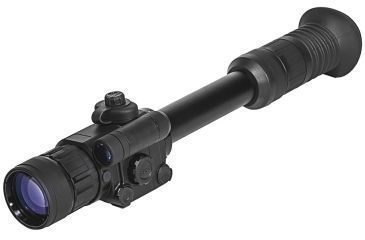 It is furnished with a built-in illuminator for a better viewing in total darkness. This IR illuminator will act as flashlight to illuminate your targets in night vision without them having an inclination about your purpose.
This digital NVRS also have additional features that you will surely find very useful. It has six reticle patterns that the impact of the bullet will change in just one click when the adjustment scale changes.
It is also compatible with any standard rifle scope mount. The operating time, on the other hand, is extended up to five hours. It also has the option to connect to an external power supply upon your preference. The optical magnification is 4.6x 6.5 with adjustable image brightness. This NVRS is also resistant to light exposure. What is good about this NVRS is that it can also be used on day surveillance. The lens cap has a light filter that produce a daytime image clarity.
On the downside, this rifle scope seems to have some power issues since it hardly stays on after a shot.
Pros
Built-in infrared illuminator for low light or complete darkness use
Six reticle patterns that changes the impact of the bullet
Eyepiece adjustment ring for reticle sharp image
Easy to set up and operate
Operating hour extended to five hours with external power supply
Cons
Power issues that turns off after every shot
The Sightmark Photon XT is a good scope to have. It works well and is very capable of performing.
Buying Considerations: Night Vision Scope Under $1000
Rifle scopes with night vision are incredibly versatile. They help many hunters conquer darkness and hidden landscapes with low lighting. That is why most weapons with night vision are usually expensive. Fortunately, there are also stores that endorse night vision rifle scope for under $1000 without compromising its quality.
All hunters need to be mindful about the weapon that they are aiming to purchase. Many considerations should be taken so that you do not have to settle for less. Usually the most suitable piece for a shooter is the one that possess a balance between what the user likes and what the user needs.
Cost
Hunting is a quite expensive hobby. You can now find excellent rifle scopes with a price tag below $1000. Some of the top rifle scopes can be found for 379$, $425, $549, and $870. Usually, rifle scopes with special features are pricey. However, the price does not always speak about the quality of the product. Some rifle scopes are cheaper, but they are also competitive when it comes to performance and resilience.
Optics Quality
To make a night vision rifle scope sharp, a smart user has to scrutinize some important parts of the device. Some of these parts are the size of magnification, objective lens, and other special technology for additional lighting, such as illuminators and HD quality of images.
For clean and vivid eyesight, the trick is to get a piece that contains bigger size of objective lens. Likewise, upsize magnification helps the naked eye to enlarge the size of an object from its original size. However, a rifle scope with a larger objective lens tends to be heavier, too.
Special features
Aside from having a night vision, you might want to consider a rifle scope with advanced technology. Some of the coolest technology that is in a rifle scope includes a thermal sensor, which automatically identifies the target via heat. It is better to venture to night vision rifle scope that contains a ballistic calculator and rangefinder. This greatly improves the accuracy on hitting the aim point. To document every failure and success in the arena, grab night vision rifle scope that contains video and photo recording so you can stream after the shooting session.
Resilience
Night vision rifle scopes, which cost less than $1000, may also be dependable to meet your hunting needs for a long period. Go for weapons that have smooth finish and that are made of sturdy materials, such as titanium. It is also important that the rifle scope is water and impact resistant.
Conclusion
Reading a buying guide on how to choose the best night vision scope under $1000 will help you make a better decision and have a satisfying purchase. With the right scope, you will have a more rewarding shooting or hunting experience even in a low lighting condition environment. That is why if you want to choose the right scope for your hunting needs, it pays off to study and weigh your options well. Finding the best scope for day or night use, you can also improve your shooting skills in no time because it can deliver a clear sight picture that significantly improves your chances of acquiring your target.
Post ID: zRzze284K
Category ID: lMb9k43
The responses below are not provided, commissioned, reviewed, approved, or otherwise endorsed by any financial entity or advertiser. It is not the advertiser's responsibility to ensure all posts and/or questions are answered.