If you're a beginner or hunter, you may not want to break the bank on an expensive rifle scope. Thankfully, good rifle scope does not have to cost you a fortune. In today's market, there are plenty of options to choose from that provide amazing features and perform well, all at an affordable price.
That being said, it is important to choose your rifle scope wisely. You do not want to end up with a scope that you will only use several times. The best rifle scopes under $100 should have some of the good qualities that premium scopes offer, too. Here are 12 rifle scopes that are the best options for budget-conscious people.
Best Cheap Scope Under $100 Reviews of 2022
UTG 3-9X32 1″ BugBuster Scope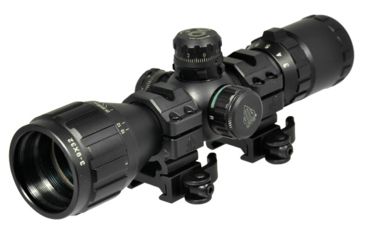 UTG's features its scope design excellence all over the BugBuster. From the quality of its optics to the use of an RGB Mil-dot reticle, you would think that the BugBuster costs more than $100.
Peering through the eye piece is like looking through expensive glass. The glass retains its clarity whether it is at its lowest 3x magnification or at the highest power of 9x. It gives you the feeling that what you have on your rifle is a premium-quality optic.
On this scope, the responsive turrets are a pleasure to reset and lock. They lock into place and provide nice feedback. The weatherproofing is also an excellent feature. This is one device that will never fail you, even in harsh weather.
The BugBuster can be inconsistent in holding zero. Most of the time, it will retain zero. However, there are occasions when the scope loses its zero after only a few rounds.
Pros
Very clear and bright glass
Crisp, resettable, and lockable turrets
Reliable range estimation reticle
Awesome look
Good weatherproofing of scope body
Cons
Very inconsistent in holding zero
The UTG BugBuster deserves to be called one of the best rifle scopes under $100. It has many of the good qualities of an expensive unit.
Simmons 3-9x32mm .22 Mag(R) Matte Black Rifle Scope
The Simmons .22 Mag is perfect for gun enthusiasts. The images that the device delivers are clear enough for an accurate shot. The magnification is noteworthy, as there is very minimal distortion in the image quality across the range. Whether you are shooting a target from 50 yards or 200 yards, you will still get a good view.
Given its price, the solid scope body of the .22 Mag is also remarkable. In our test, there was never an instance of condensation formed in the glass. Advantageously, the seals are both air and water tight. It also surprised us that Simmons included a parallax compensation mechanism in the scope that is already preset to 50 yards.
The only negative attribute of the Simmons .22 Mag is the inconsistency of its turrets. It feels spongy or less snappy than other platforms. Sometimes, it locks well into place. Other times, it behaves erratically.
Pros
Crisp and clear lenses
Bright and good quality images
Accurate magnification with very little image distortion
Reliable parallax adjustment
Good, solid, and, weatherproof construction
Cons
Spongy and sometimes unreliable turret adjustments
We consider the Simmons .22 Mag as one of the best cheap scope products today. The quality of the images that it provides is more than enough to make your hunting or plinking experience more enjoyable.
Simmons 8-Point 3-9x50mm Rifle Scope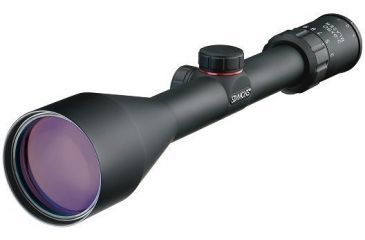 The 8-Point's main draw is its large lens diameter. Such a feature gives you a more efficient transmission of light, which allows you to see your target a lot better. The coating of the lens also guarantees brighter and clearer images, as you do not have to worry about glares and reflections.
In the 8-Point, we liked the inclusion of a true zero adjustment. This scope makes retaining your zero easy. Additionally, adjusting for gravity and windage is not a problem with this scope. The turrets may be small, but they do provide repeatable characteristics that we seldom see in inexpensive rifle optics.
In addition, we love the fact that the exit pupil of the 8-Point is also large. You will get a good view of your target, even if you set the magnification to 9x. The quick-focus eyepiece also guarantees faster acquisition of targets, and the scope's construction is also commendable.
While Simmons says that the 8-Point is recoil-proof, we found this to be less than accurate. When mounted on the .460 Weatherby, we broke the scope after only a few rounds.
Pros
Large objective lens diameter
Good lens coating
Reliable turret adjustments
Holds zero very well
Excellent weatherproofing
Cons
Cannot stand powerful rifle recoil
We ran our tests on the Simmons 8-Point by mounting it on a rifle with a heavy recoil. The average hunter or shooter will not be using such a rifle. Having said that, we can say that the 8-Point passed our test. It is a great scope for people who only have a $100 to spare.
Bushnell Optics 3-9×40 Drop Zone BDC Reticle Rifle Scope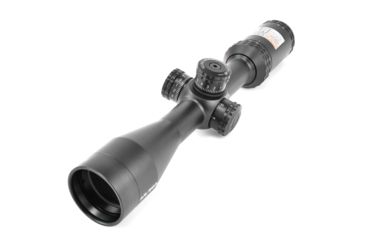 Bushnell AR Optics 3-9x40 Riflescope Similar Products
opticsplanet.com
Check price
Enhance your accuracy by mounting a Bushnell AR Optics 3-9x40 Riflescope to your weapon. Bushnell designed these Riflescopes with fully multi-coated lenses for crisp, bright views, and the DropZone...
The reticle is simple enough for new hunters and people who do not like seeing a lot of markings in their sights. The ocular focuses very fast, too. This is ideal when shooting multiple moving targets. Such an attribute can guarantee a more engaging hunting trip.
The turrets have a nice feel to them that makes shot compensation a lot easier. The turrets click into position, and they can ensure better retention of the zero. Bushnell even included parallax compensation on the side of the scope so you will not disturb the dialed-in settings of the turrets.
What puzzled us about the Drop Zone is the inconsistency of its image quality. There are times when the image is amazingly clear. Other times, the image is as hazy. This poses some questions about quality control issues.
Pros
Good for different applications
Comes with dependable turret adjustments
Simple and clear reticle
Fast-focusing and reliable ocular
Durable and lightweight construction
Cons
Inconsistent image quality
Despite having inconsistent image quality, the Bushnell Drop Zone remains a favorite among hunters. We also believe that the device is a good choice if you do not have enough budget to buy a more expensive Bushnell. The Drop Zone gets the job done.
Bushnell Banner Dusk & Dawn Multi-X Reticle AO Rifle Scope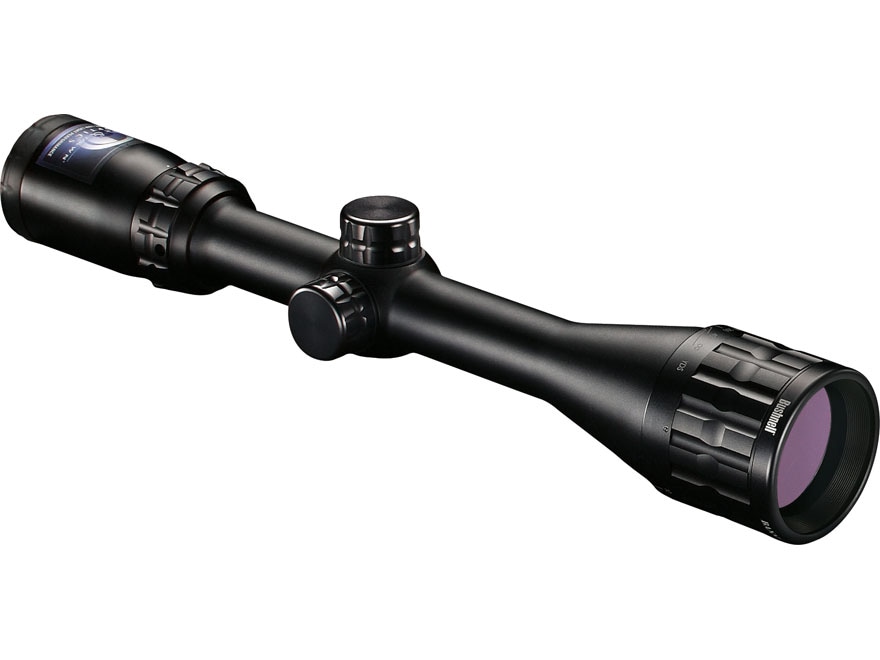 The Banner scope does not come with night vision capabilities. However, Bushnell designed a scope that has excellent brightness levels that help you see your target in the dark. While the scope can never compete with devices that use infrared or thermal imaging technologies, the Banner Dusk & Dawn can do an excellent job at hunting animals in the dark.
On this scope, we like the inclusion of MOA fingertip windage and elevation adjustment knobs. We did not have to set the rifle down to set the correct compensation. The construction is solid and is good enough for hunting on the harshest terrain or in rough weather. The distance between the ocular and the eyes is also ample. We never had issues with scope eye.
We had some issues with the scope's turret adjustments. They are easy to adjust, but unfortunately, they behave erratically. Sometimes, the turrets are as crisp as those in premium scopes. At other times, the turrets are difficult to set. Furthermore, when they do set correctly, they have trouble holding zero.
Pros
Clear and bright glass
Great for shooting in low-light situations
Finger-adjustable shot compensation
Ample relief for the eyes
Good weatherproof, fog-proof, and shock resistant
Cons
Some issues with the turret adjustments
Regardless of the issue with the turrets, the Bushnell Banner Dusk & Dawn is still a good-quality rifle scope. It comes at a friendly price and provides good performance for novice hunters.
UUQ 4-16×50 Tactical Rifle Scope
In this scope, we like the digital reticle system of the UUQ. We were able to choose the right size of the red dot to allow us a better picture of where we were aiming. We also tested the green laser sight that is very easy to mount and detach from the body of the scope. Hitting a target is easy, whether it is stationary or fast moving.
We also liked the UUQ's versatility. We mounted the device on different rifle platforms with relative ease. The turrets have an audible feedback in them that makes shot compensation more fulfilling.
Looking through the ocular of the UUQ is like looking through the glass of a premium scope. The lens is large, and it offers a very clear view of the target. It does not form condensation and is not vulnerable to the ingress of particles.
One difficulty we found in the UUQ is its mediocre battery life. The battery in our test unit died after only several hours of using the scope in its highest brightness setting.
Pros
Good FOV values for a tactical scope
Laser dots come in different sizes for greater accuracy
Turrets are very responsive and easy to adjust
Mountable on various platforms
Sophisticated and powerful design
Cons
Battery drains quite fast
This negative attribute of the UUQ has a very minimal impact on the overall rating of the scope. We consider the scope to be an excellent tool for tactical shooters, given its wide range of magnification and versatility. This is one of those inexpensive rifle scopes that can be the perfect all-around optics for different rifles.
Monstrum 1-4×20 Rifle Scope
What we find so remarkable about this affordable scope is that it comes with a solid construction. Monstrum utilized aircraft aluminum in the construction of the scope to give it lightweight characteristics. It does not feel flimsy, unlike other cheap scopes that come with mediocre-quality build. Adding to the quality of its construction is the scope's excellent weatherproofing.
The rangefinder reticle is also surprising. We did not expect to see such a feature in a scope of this price. This feature is helpful in making on-the-fly estimation of target range. It will also allow you to acquire your targets a lot faster.
While the diameter of the scope is small, it quality compensates for its size. The clarity of the glass is almost like that of an expensive scope.
We only wish that Monstrum will improve the quality of the reticle. While it is excellent in low light, the quality of the reticle image suffers immensely in broad daylight. It is as if you do not see any reticle at all.
Pros
Very clear glass for its price
Good scope build quality
Adjustment dials feel solid and responsive
Holds zero well
Delivers bright and clear images
Cons
Illuminated reticle loses clarity in bright light
Some people may find the design flaw of the Monstrum 1-4×20 to be unforgivable. However, we think that this is still a good magnification scope for short-range shooting.
Monstrum 3-9×32 Rifle Scope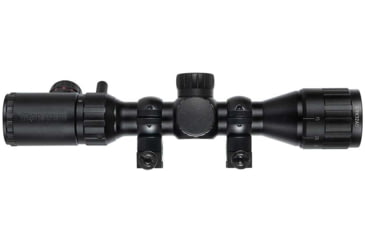 Monstrum 3-9x32 AO Riflescope Similar Products
opticsplanet.com
Check price
The Monstrum Tactical S3932-AO is a full-featured scope suitable for hunting, target shooting, or tactical use. The scope comes equipped with: Adjustable 3-9 times magnification, for targeting out ...
The design of the Monstrum 3-9×32 conjures images of a premium-quality Trijicon, or other tactical scope brands. It looks as dashing and masculine as any other tactical scope out there, especially if you mount the Monstrum onto an equally powerful rifle. It is good that the company already included mounting rings in the package, although we would have been happier if it also included some lens caps.
For its sub-$100 price, the sight picture that the 3-9×32 provides is almost similar to that of a $500 scope. It is clear enough to provide you with an excellent view of the target. The reticle also has the range-finding feature that many high endunits have. We also found the turrets to be surprisingly crisp. They lock right into place, and they were able to retain the zero with ease.
Our only concern about the Monstrum 3-9×32 is the number of customers who are complaining about the durability of the scope. While it looks formidable and solid, its performance in the real world may be less than what the company claims.
Pros
Good quality glass for its price
Adequate magnification for various applications
Bright and clear reticle
Already comes with mounting rings
Repeatable and resettable turrets
Cons
Some issues with durability
We believe that the Monstrum 3-9×32 deserves a spot on this list because of its noteworthy aiming performance. Due to its issues with durability, you will have to be extra careful in your handling of the scope.
BARSKA 3-9×32 Plinker-22 Rifle Scope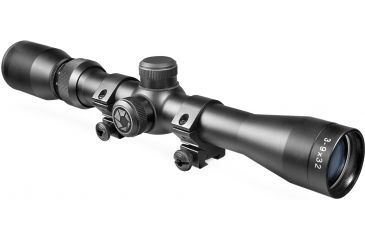 The Plinker 22 is the best friend of novice shooters who are sharpening their skills down the range. It works best with rifles that chamber rimfire cartridges. This will give you an idea about its construction.
The glass of the Plinker 22 is as clear as any other scope we have assessed. The clarity of the image is acceptable enough that it is easy to see the bullseye 100 yards down the range.
We like the overall construction of the Plinker 22's scope body. It has a solid feel to it that can make people think you have an expensive unit on your rifle. We also appreciate the other inclusions in the package, such as a lens cloth, mounting rings, and lens covers.
We did feel that the Plinker 22's turret adjustments need some improvement. Sighting the scope can be very tricky. We tried manipulating the dials, and we still ended several yards off our target. The scope does not hold its zero that well.
Pros
Perfect for plinking and hunting
Good shock-proofing, fog-proofing, and weatherproofing
Large scope diameter for better transmission of light
Comes with accessories for ease of mounting
Nice build for its price
The BARSKA Plinker 22 is one of the best inexpensive rifle optics you can buy. Its performance is perfect for shooting targets down the range or in the field. Overall, you can count on its quality and all-season build.
CVLIFE 6-24×50 Hunting Rifle Scope 
For starters, the wide range of magnification power of the CVLIFE already suggests that this scope should have a $400 to $600 price tag. We brought the scope down the range, mounted onto a modified rifle. We dialed the scope to its highest magnification of 24x, and we were still able to see a good view of the object some 800 yards away.
The FOV is remarkable in that you still get an excellent view of the farthest object the scope can possibly see. The scope's tube diameter helps a lot in giving you a superb target view.
The reticles are also excellent, as they come with adjustable illumination. They are repeatable and lockable, too. The distance of the scope to the eyes is enough to never cause you sore eyes.
We did find the CVLIFE 6-24×50 to be heavier and bulkier than we imagined. Most people will not have qualms about it, though. However, it can be a real pain if you mount it on an equally-hefty rifle.
Pros
Excellent FOV for a wider view of the field
Powerful magnification for long range shots
Clear and bright reticles
Easily adjustable turret dials
Does not cause scope eye
It does not surprise us one bit why the CVLIFE is a top-rated scope despite its heaviness. Its price alone is enough reason to get the scope. Additionally, its good construction and remarkable performance makes it a great scope for your rifle.
Hammers 3-9x32AO Air Rifle Scope
The Hammers is a scope that is perfect for air rifles. It is one of the brand's high-quality scopes designed for a special group of hunters. It comes with a lens system that guarantees exceptional performance in different lighting. The scope also performs well on almost any terrain. The seals are solid and intact. We found no traces of fogging when we brought the scope out an a humid afternoon.
For its retail price, the qualities of the Hammers scope can surpass that of a $600 scope. The range of objective power is like any standard hunter's scope. Dialing the turrets gives you a pleasurable feedback that is almost unheard of in scopes with this price.
We appreciate Hammers' inclusion of a one-piece mount. Unfortunately, this can limit its use to only certain air rifles. As a solution to this, remove the mounting rings and replace them with third-party accessories. This allows you to mount the Hammers AO on almost any air rifle.
Pros
Good choice for owners of air rifles
Good lens that delivers bright and clear images
Wide range of magnification for versatility
Clear and precise reticle
Crisp turret dials
Cons
May not fit certain air rifles
The Hammers 3-9×32 AO scope is a great tool for ensuring the best possible air rifle shooting experience. It performs very nicely for those who prefer air rifles.
Pinty 4-16X40 Rifle Scope
What surprised us the most about the Pinty is its high range of objective power. Most of the scopes that have this range will often be expensive. The quality of the Pinty glass may not be as high as expensive brands. However, it does give you enough clarity to hit a target with precision and ease.
The reticle is also impressive. It has a Mil-dot reticle that is unheard of in scopes that cost less than $50. The dials feel very nice to the touch. And when you turn them, the experience gets more fascinating. We like the Pinty's locking mechanism that allows the scope to retain its settings for longer periods of time.
We also commend Pinty for integrating a lens shade into the scope. It helps augment the reflection-reducing capabilities of the scope's multi-coated lens.
One issue we have about the Pinty is that the quality of the image tends to decrease as you move up the zoom range. As soon as we dialed in the zoom to about 8x, we began to notice blurring of the image. The distortion is highest at 16x.
Pros
Excellent range of objective magnification
Robust scope construction
Clear and reliable reticle
Resettable, lockable, and repeatable turret adjustment
Comes with a long lens shade
Cons
Image quality reduces with magnification
If you can forgive the low image quality of the Pinty 4-16x AO at higher magnification, then this is the best rifle scope under $50 you can get. It has reliable craftsmanship and its performance is at par with more expensive devices.
For Whom Are Cheap Rifle Scopes Under $100 Best Suited?
A rifle scope that costs less than $100 is for those who want a reliable device that they can fit into their rifle, without spending a fortune. Because of the low price tag of these scopes, you can expect that they may not have all of the remarkable qualities of high-end scopes. For example, the quality of their lens may not be as top notch. The build can also suffer. However, there are brands that strive to strike a balance between affordability and quality.
These scopes are perfect for everyone. Whether you are a beginner or a seasoned pro, there is bound to be an inexpensive scope for you. There are those devices for tactical shooters, allowing for precise and quick acquisition of targets. Some cheap rifle scopes are perfect for hunters and plinkers. These good cheap scopes can provide you with enough range of power to enjoy what you do. What is important in these devices is that they can assure reliability and good overall performance.
One should never look down on scopes that cost less than $100. There are good ones on the market that can rival the performance of a $500 scope.
What to Expect From the Rifle Scope Under $100
The best affordable scope for any rifle not only comes with a very friendly price, it should also come with an optical quality that is good enough for its intended purpose. For example, if you want a hunting scope, then it should offer you precision in acquiring your target game. The image quality should not suffer immensely as you zoom in or out of the scope's power range. It should also allow you the ability to adjust the scope's brightness settings. This will help enable you to see your target even in low-light conditions.
An affordable rifle scope for target shooting should also have the same qualities as an expensive device. It should guarantee precision, regardless of how far down in the range you are aiming at. You will also not want it to be very heavy to make aiming a lot easier.
A budget scope should also have good turret dynamics. You can adjust your aim by factoring the effects of both wind direction and velocity and gravity. The scope should also be able to hold its zero, regardless of how many rounds you fire. On that note, ample eye relief is ideal. You will never grow tired of looking through the scope.
The reticle of the scope should also be clear. It should not lose its clarity as you adjust the scope's magnification. Some of the best inexpensive optical devices also come with reticle illumination. This helps guarantee that you will have a better aim at your target.
How to Choose the Best Scope Under $100
You need to research if you want to determine the budget rifle scope that is perfect for your firearm. It will help if you will adhere to the following steps.
Determine the Purpose of Your Scope
Shopping for a scope starts with a determination of the scope's primary purpose. If you are into deer hunting, then it is imperative that you pick a scope that is ideal for such an activity. Target shooters may also benefit from the same kind of scope as those used by hunters. Tactical shooters will often require a red dot sight instead of a conventional scope. Determining the purpose of your scope will help you narrow down your selection of very nice scopes that can help you achieve your purpose.
Check the Quality of the Scope's Glass
A budget optical device should never come with mediocre quality glass. The scope's field of view is one aspect that you should also check. The reputation of the scope manufacturer can help determine quality scopes at this price range. There are brands that will always put emphasis on optical quality, despite their scope having a low price. We recommend visiting your local gun store and checking the lens quality of different scopes yourself. Check the scope's lens coating as it can also promote better views.
Determine the Power of the Objectives
This depends on the intended purpose of your scope. A good budget hunting scope should have a magnification range of 3x to 9x, depending on what you are hunting. Long range shooters may require a scope with higher magnification. Tactical shooters may not require variable power at all. Keep in mind that there should be no dramatic change in image clarity as you move up and down the power range.
Check the Size of the Lens
The diameter of the objective lens has an impact in light transmission. Large diameter objective lens promotes more light to enter. This brightens the view of the target and make target acquisition a lot easier. This is especially the case in situations where the lighting conditions are below average.
Check the Reticle of the Scope
Not all optical devices for rifles come with reticles. There are also those that utilize red dot sights. You can see these in tactical scopes. For those that have reticles, getting one with a duplex reticle is perfect as it is very easy to use. You can also go for more sophisticated reticles.
Assess the Dynamics of the Turrets
Parallax adjustment is only one of the things you need to check in a scope for rifles. You also need to assess the device's windage and elevation adjustability. Make sure that the turret's measurements are the same as those in the reticle. So, if you have MOA windage and elevation measurements, your reticle should also have MOA and not Mils. Check the crispness of the turrets.
Assess the Scope's Weatherproofing
You want a scope that performs well in different weather conditions. The scope's tube construction should have good weather-sealing. The glass should also be fog proof and the tube resistant to moisture, dust, and other particles.
Read Customer Reviews
Make it a habit to read reviews. The scope can be an excellent choice with regards to its fine characteristics. But, if the brand has poor customer service, then you may find yourself with more frequent bouts of headache than you can imagine.
(Source: [1])
Conclusion
A cheap rifle scope should never renege on the quality of its optics nor on the durability of its construction. Its price point should never be a direct gauge of what it can do in the field. It should always provide good magnification and ensure the crispness of its turrets. You should also be able to use it regardless of the weather or terrain.
A good scope should give you the confidence in your shooting skills. Whether it is for varmint hunting, game hunting, plinking, or tactical shooting, the best rifle scope under $100 should always give you more pleasant memories to cherish for the rest of your life.
Post ID: M1bb76kDV
Category ID: lMb9k43
The responses below are not provided, commissioned, reviewed, approved, or otherwise endorsed by any financial entity or advertiser. It is not the advertiser's responsibility to ensure all posts and/or questions are answered.